If you know where to find the best free attractions and easy-on-the-wallet entertainment, visiting Bristol with kids needn't cost too many of your pretty pennies! From fascinating museums to historic towers, city farms, brilliant play parks and of course, that mother of a bridge, you can experience some of the best things the city has to offer for no money at all. Here are my top free things to do in Bristol with kids.
Free things to do in Bristol with kids
Free Bristol landmarks
1. Ogle Clifton Suspension Bridge
Young kids might not give two squawks about Brunel's engineering prowess, demonstrated in one of Bristol's most famous landmarks, Clifton Suspension Bridge, but it doesn't half make for some smashing photographs. Spanning the width of the Avon Gorge, whatever direction you come at it, there are jaw-dropping views from every angle.
You have to pay to drive over the bridge by car (£1 each way), but it's free for walkers to cross and admire from each direction, plus there's a visitor centre packed full of history about the bridge on the Leigh Woods side. Some of the best viewpoints are near Clifton Observatory and the green patch of grass on Sion Hill, just along from The Avon Gorge Hotel by Hotel du Vin.
2. Slide down the Clifton natural rock slide
Don't miss the natural rock slide polished smooth by generations of whizzing bottoms, located right next to Clifton Suspension Bridge. I don't recommend going down it with a child on your lap though…it's a back killer and you definitely need two hands! 
At the top of Brandon Hill Park is Grade II* listed Cabot Tower, one of the city's most famous landmarks. It was built to mark the 400th anniversary of John Cabot's voyage from Bristol and subsequent discovery of North America on The Matthew in 1497.
It's possible to climb to the top of the tower, although be warned the steps are very narrow and steep inside, so it can feel a little precarious with young kids! However, you'll be rewarded with gob-smacking 360 degree views over the whole city from the top. If you're not one for heights, fear not, the views from Brandon Hill down below are pretty epic too! There is also a  childrens' playground at the bottom of the hill for an extra blast of fun.
4. Walk around Bristol Harbourside
It's possible to do a circular walk around Bristol's Floating Harbour, one of the city's most exciting spots. There's loads to look at on the way – including some of Bristol's most famous attractions, Brunel's SS Great Britain, The Matthew and the rainbow-coloured houses of Cliftonwood.
My daughters love leaping along the sleepers of the old railway track (where an old steam train occasionally runs – and can be ridden for a small fee – courtesy of M Shed).
If little legs get tired, Bristol Ferries stop at several points around the Harbour, and can whisk you off to your destination for a small fee.
Free things to do in Bristol: parks and gardens
Ashton Court Estate is a whopping 800 acres of woodland and green open space, just a hop across Clifton Suspension Bridge. Mountain bikers, horse riders, golfers and families flock here for countryside ventures close to the city. Fallow deer are easy to spot wandering in fenced-off areas and there are gargantuan redwood trees to admire. The estate is a pretty scenic picnic spot, with views gazing back over the city.
If you're visiting between March and October, be sure to check ahead to see if the Miniature Railway is running (90p a ride, 10 rides for £8) – it's brilliant, cheap fun.
It might seem an odd recommendation, to take your kids to a cemetery in Bristol, but this Victorian heritage site, set among 45 acres of woodland is a beautiful place for a walk. Hunt among the trees to find the fairy doors, or stroll all the way to Arnos park and its kid's playground next door.
During school holidays, Arnos Vale Cemetery often puts on forest schools and other sessions for kids, including interactive stomping storytelling and film screenings (which all book up quickly, so get in early!)
For a bit of free fun, head to the University of Bristol's Royal Fort Gardens, just off Tyndall Avenue. This city garden is great for picnics in a central location and for ducking in and out of the mirror maze structure. Just round the corner, another public artwork, Hollow, created by artist Katie Paterson with architects Zeller & Moye, houses a mini forest of 10,000 unique tree species from nearly every country in the world.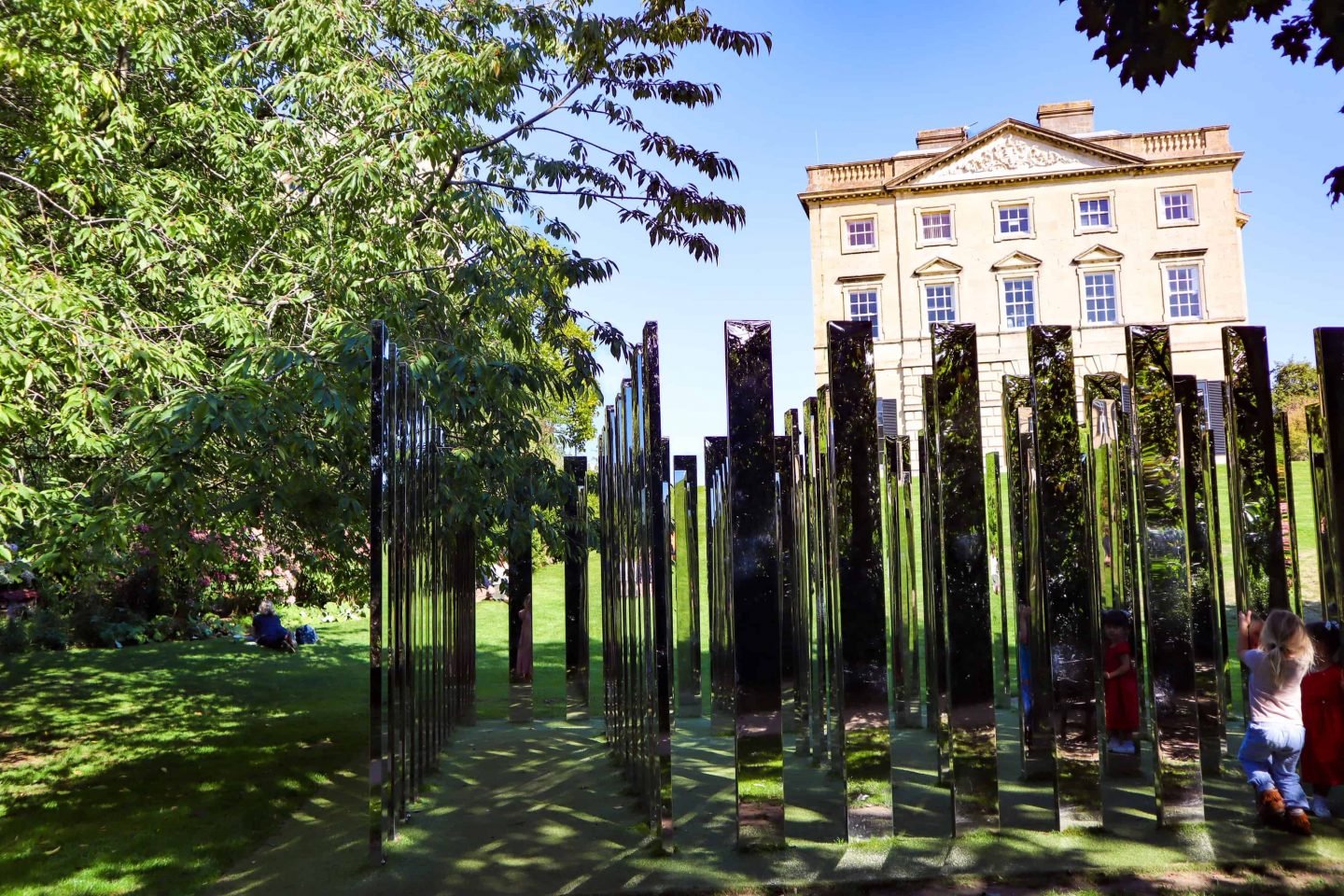 Just across the road from Blaise Castle Estate, is a hobbitesque hamlet of nine 19th century houses, set around a village green. While there's not a huge amount of 'kid stuff' to do there, it is lovely for a quick, picturesque stroll around if you've been visiting Blaise.
Blaise Castle Estate encompasses vast open areas, dreamy forested gorge walks with babbling streams, pretty ponds and a folly castle sitting atop a hill. It's said Bristol's Giants (them again) left their mark here and if you look closely you'll find Goram's Chair and footprint stomped into the rocks.
There are also two huge kids' playgrounds which cater for younger and older kids as well as a museum in the mansion house which is free for the public to take a gander. Look out for their 'fairy walks' and other free activities for youngsters during the school holidays.

Also close to Blaise Castle Estate is Kings Weston (it takes about an hour to walk between the two). This mansion house, surrounded by gorgeous parkland was actually designed by the same dude who designed Blenheim Palace and the gardens were once so famed across Europe, they drew lords and ladies from far and wide.
There are lovely views across to the Severn Bridge and Bristol Channel from here, plus lots of wooded trails, open green space and a water fountain, which kiddos love to splash in. Park next to the house itself or in the Shirehampton car park.
Stoke Park Estate is right on our doorstep and during lockdown we visited this park almost daily. Each time, we discovered something new, including an animal sculpture trail, a duck pond, winding woodland trails and panoramic city views.
Despite the proximity of the M32, you can often feel like you're walking in deep countryside here. And there are miles of trees to explore, which are particularly pretty with wild garlic and falling blossom in spring.
Close to Clifton Suspension Bridge is Leigh Woods, a National Trust protected area of woodland that it is free to enter. There's a range of colour-coded pathways to explore depending on how far you want to walk, although for kiddos I'd recommend incorporating the natural play areas (there's a basket swing, balance logs, hollow log tunnel and little roundhouse) into the walk as little leg motivation.
Durdham Downs (or just 'The Downs' if you're a local) is a 400-acre area of flat green space between Clifton and Henleaze. It's great for walking, scooting, cycling and generally running wild and free. One end, Sea Walls, has some pretty stupendous views of Clifton Suspension Bridge and Avon Gorge and come autumn you're guaranteed some cracking conker action.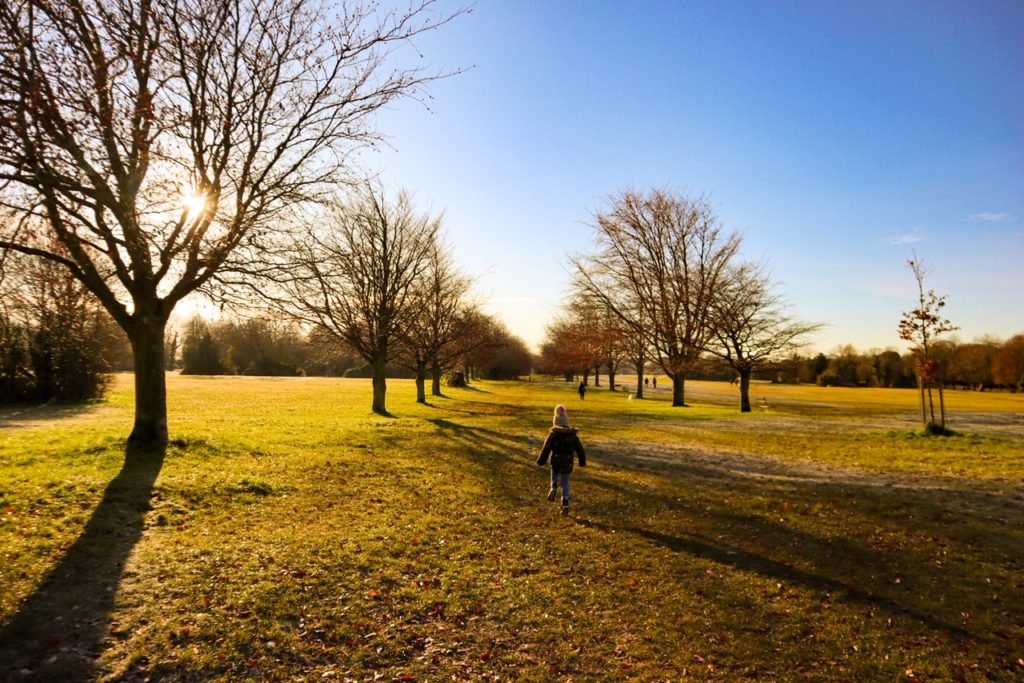 I only recently visited Troopers Hill for the first time and fell instantly in love with the place. This burrow-like nature reserve has some of the most stunning views over a very green-looking Bristol for miles. Paths run higgledy piggledy all over the hillside, all the way up to the tower (with cubby hole to crawl in), down into the woods and out onto a green, where there's a kid's playground and football goals too.
Free things to do in Bristol: museums
You get a lot of bang for no bucks here. The building itself is really quite beautiful and it's filled to the rafters with interesting exhibits – literally – an aeroplane and Pliosaurus hang from the ceiling, Chinese dragons snake along the walls and there are several floors to explore.
Kids will especially love the wildlife displays, dinosaurs and small children's play area where they can dress up, construct an ancient vase and get hands-on with various puzzles. There's plenty to keep adults interested too – look our for the statue covered in spilt paint – a throwback to when infamous Bristol-born street artist Banksy commandeered the museum back in 2009.
The museum is free to enter and completely geared up for families – you'll find feeding and changing rooms, a great café serving light bites and kids' 'choose 5 items' lunch boxes and buggy-friendly lifts. The museum regularly runs family events and special exhibitions so keep an eye on their What's On page for up-to-date information.
The story of Bristol and its people is told at this free-to-enter museum, a converted 1950s' dockside transit shed. Interactive displays and quirky paraphernalia detail the city's history from prehistoric times to the present day.
Kid favourites include a double decker bus, life-size horse and suspended hot air balloons as well as a blown-up map view of Bristol covering the floor where locals can seek out their houses using a magnifying glass. During the holidays, they offer train and crane rides along the dockside as well as Pyronaut trips on the water. Head upstairs for killer panoramic views over the Harbourside from the roof.
Underfall Yard is a working historic boatyard at the Spike island end of Bristol Harbour. Inside there's a free visitor centre with interactive displays and a giant map of Bristol's floating harbour and water system. Outside, there are always boats strung up, so you can get a fascinating view of their underbelly.
This 18th century, six-storey townhouse has been restored to its former glory. Originally owned by John Pinney – a rich slave plantation owner and sugar merchant, it is also where the enslaved African Pero Jones (who is commemorated by Pero's Bridge, the footbridge crossing Bristol's waterfront) lived. The museum offers a fascinating insight into the life and times of Georgian Bristol.
This ship is a replica of the caravel in which John Cabot sailed across the Atlantic and discovered North America, in 1497. With its masts and general olde worlde ship appearance, it exudes some pretty strong pirate-y vibes that kids will love. It's moored on Bristol Harbourside, just outside M Shed, is free to hop aboard and fascinating to look around. If you're happy to pay a bit more for a Floating Harbour-faring adventure, you can also climb onboard for a special fish and chips or afternoon tea cruise – check their website for dates.
Bristol's free city farms
20. Meet farm animals at Bristol's city farms
Bristol's city farms are a brilliant budget day out option. The most central, St Werburgh's City (north of the river) and Windmill Hill City Farm (south of the river), are both free to enter and are perfect for learning about farm animals. All are heavily community-minded, have lovely cafes serving wholesome food (using produce from a nearby allotment or the farm itself), and childrens' playgrounds for the kids to muck about it.
Further afield, there's also Lawrence Weston Community Farm, Grimsbury Farm and Hartcliffe Community Park Farm.
21. Clamber about at one of Bristol's kids' playgrounds
Kids' playgrounds are some of the best free ways to entertain the kids in Bristol. The city is home to a whopping 400 parks and gardens and many of these have brilliant children's play areas. From playgrounds with huge outdoor paddling pools, jaw-dropping city views or nestled deep in beautiful woodland, there is a fantastic selection to choose wherever you are staying in the city.
Discover the full list of Bristol's best kids' playgrounds here.
Free child-friendly Bristol festivals
Bristol has more family-friendly festivals than you can waggle your glittery tail-feather at and the best part is, most of them don't cost a penny to attend.
For a full rundown of the city's best family festivals, read my blog here.
On the second weekend in August, Ashton Court becomes a sea of colour and activity when the visually-spectacular and free Bristol International Balloon Fiesta makes itself at home in the grounds. Over 100 hot air balloons take off (weather permitting) at dawn and dusk and there are also special balloon night glows, fireworks, aerial displays and fairground rides over the course of the four-day festival, making it one of the most eye-poppingly pleasing event.
This annual, free, family-friendly dance, music and arts spectacle takes place along Bristol's Harbourside, from Underfall Yard all the way to the Cascade Steps, Thekla and Queen Square. As well as live music and entertainment, there are also comedy shows, aerial acts, circus acts, arts and crafts, a dance village, food markets and a whole lotta maritime fun.
Dress up in all the colours of the rainbow for the UK's biggest Pride festival. Loads of free fun is put on for youngsters of all ages during Pride Day (11 July), for example Drag Queen Story Time, kite-making and Super Pirates who create colourful and wildly fun play areas.
Europe's largest live street art festival sees 250 artists descend on the city to create spectacular murals on city walls. Along with the live graffiti display, there are music stages, food and drink stalls, and loads for families, including kids workshops, a doodle wall and lots of free arty fun.
Image source – Upfest
One of Bristol's most iconic festivals, St Pauls Carnival, celebrates the best of the city's Afro-Caribbean culture. It's free to attend and showcases the area's creativity, diversity, music and arts, with plenty of yummy street food to keep you dancing all day long. Don't miss the carnival procession itself (midday), starring thousands of spectacular costumes, brightly-coloured floats and musical performances.
Produced by The Architecture Centre as part of nationwide Heritage Open Days, Bristol Open Doors lets you peek behind the city's normally-closed doors to discover fascinating buildings and spaces. The events takes place over the course of a weekend and offers visitors unique behind-the-scenes access and one-off experiences at landmarks across the city.
Free things to do in Bristol: art galleries 
Spike Island is an international centre for contemporary art and design, located near Bristol Harbourside. The Gallery is free all year round and hosts extremely popular monthly Baby Art Hour sessions as well as family-friendly Open Studios events with brilliant exhibitions, events, demonstrations, art work for sale, and street food.
One of Europe's leading centres for contemporary art, Arnolfini (also on Bristol Harbourside), Arnolfini hosts family-friendly events throughout the year. From Drag Queen Story Time to a 'Fluffy Library', be sure to check their What's on page for free family activities, particularly during school holidays.
Walking trails in Bristol
30. Seek out street art
Bristol is the hometown of street artist Banksy and there's plenty of his work around the city that you can hunt down. For seeking it out with younger kids, it might be easier to go at your own pace by downloading the Banksy Trail app  or following this self-guided tour of his artworks, rather than joining a tour.
However, it's not just Banksy who has decorated the buildings of Bristol. The city's walls are an ever-changing gallery of jaw-dropping art and there's always wonderful new pictures to discover. My two particularly love finding pictures of animals – Montpelier, Stokes Croft, Nelson street and North Street in Bedminster are always a good bet for this.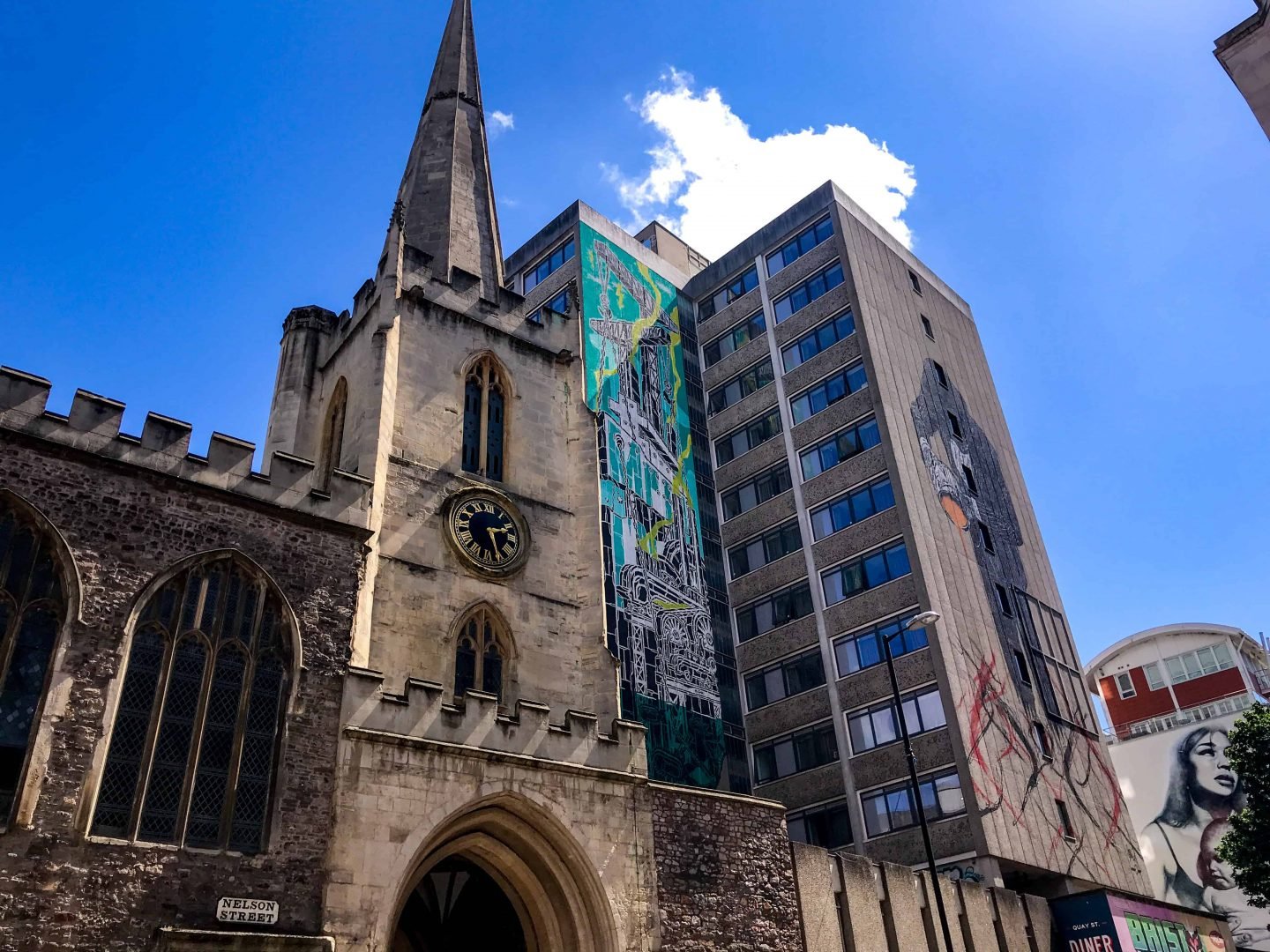 31. Take on the Treasure Island Trail
This mile-long trail around Bristol Harbourside highlights the city's connections with Robert Louis Stevenson's Treasure Island. The route takes you to eight 'Black Spots' that tell the story in sequence, from King Street to M Shed. Find the spots yourself or download the app for £1.99.
Don't worry, I realise taking kids to a place of quiet reflection is not often top of anyone's agenda, but Bristol Cathedral runs a number of popular events throughout the year which are a godsend (pun intended) to parents. 'Crafty Cathedral' often takes place during the school holidays and the Christmas nativities are full to bursting in attendance terms.
Bristol Cathedral is free to visit and open to the public 365 days a year. As well as exploring the building, there are gardens out at the back, free exhibitions and free lunchtime concerts to enjoy.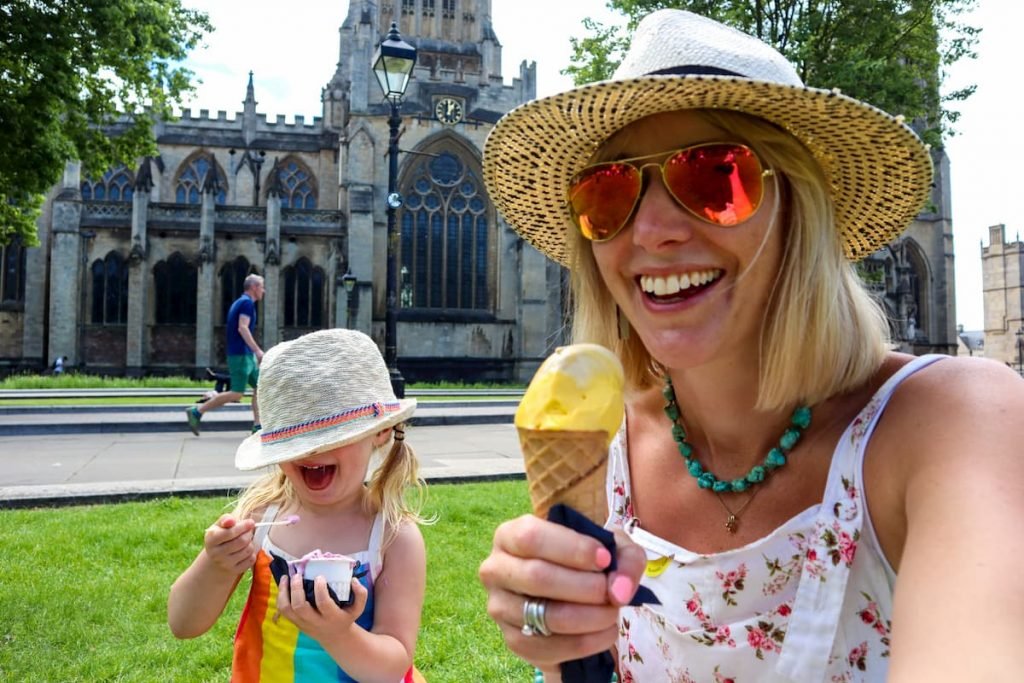 33. Head to the seaside on a daytrip from Bristol
One of the best things about living in Bristol is that the coast is an easy (and free) day trip away from the city and you can escape to the seaside in under 90 minutes. Here's a list of the best beaches to visit near Bristol.
Walks in and around Bristol
34. Explore the city on foot for free
Walking around Bristol is free, and the city is the perfect size to explore many of the main attractions or glorious green spaces on foot. There are plenty of buggy-friendly routes too, so don't let that hold you back!
Play by the water
35. Swim in Clevedon Marine Lake
Take to the water in the pretty seaside town of Clevedon, just a short hop down the M5 from Bristol. The 15,000m² marine lake fed by the Bristol Channel is a great spot for a refreshing scenic dip, or spot of paddleboarding.
Best splash pads and outdoor water play in and around Bristol
Hop on ya bike
Travel between Bristol and Bath on the The Bristol and Bath Railway Path. A 13 mile off road route which is open to walkers and cyclists. Discover some fascinating history, spot wildlife and visit intriguing places just off the path such as the Frome Valley Walkway, Willsbridge Mill and the River Avon Trail. Once there, wander the pretty streets, explore Royal Crescent – there's of course tons to see in this UNESCO World Heritage City.
If the round-trip is too much for little legs, you can always hop on the 13-minute train back from Bath to Bristol Temple Meads.
Benefit from Bristol libraries
36. Read a book at a Bristol library
There are brilliant libraries all over the city, and most of them offer free singing sessions for babies as well as a wealth of books to borrow. Bristol Central Library located in an impressive building near Bristol Cathedral is bright and colourful and has a huge pirate ship for kids to sit inside.
37. Watch a movie on the Big Screen in Millennium Square
Pin it:
SaveSave