Need some respite when Bristol swelters in a heatwave? Stay cool with lidos, fountains, a marine lake, splash pads and outside water play in and around the city. Here are 25 water parks in Bristol (and nearby!) to visit when the temperature rises.
Disclaimer: This post contains affiliate links. If you click to purchase, it is at no additional cost to you, but I receive a small commission to help keep this blog going.
Water parks in Bristol
Millennium Square, Bristol
Millennium Square has its own little water park outside We The Curious (Bristol's excellent interactive science centre) and its giant disco ball. There are fountains and water features galore – perfect for splashing in on a hot day and staying cool in the heat in Bristol. Pitch up and paddle – there's plenty of space for little ones to go nuts – just check the water beforehand, these are city centre fountains after all.
Water fountains at Cascade Steps
Just round the corner from Millennium Square, the outdoor water fountains at Cascade Steps are also fun for a kiddo splash-about.
These are city centre water features, so people are urged to check for dangerous or sharp objects before entering or allowing children to go into the water, and consider wearing footwear as a further precaution. However, the fountains are checked, treated and cleaned regularly.
You're right next to the Floating Harbour here and Bristol Ferry Boat pontoon, so afterwards you could take to deeper water and pootle around the Harbourside.
The Wave Bristol is a state-of-the-art surfing lagoon located just outside the city in Easter Compton. Offering perfect surf all year round, and boasting as many rideable waves in one hour as you would get during eight hours in the sea, it has been luring beginner surfers as well as intermediates and pro surfers since it opened in October 2019. You'll need to book a lesson or session in advance if you want to ride the waves here, otherwise spectators can pay £2 to watch from the (very lovely) cafe.
If your kids are too small to surf, let them splash around in the shallows with The Wave's 1-hour Play in the Bay sessions. Bodyboards and water aids are allowed and it's suitable for all ages (although under 8s must be accompanied by an adult at the ratio of 1 adult per child). They've also just opened a brand new playground which looks fandabbydocious.
Lido in St Andrews Park, Bristol
St Andrews is one of Bristol's loveliest parks – a classic Victorian landscaped park with a fantastic playground for kids, including a large sand pit. The park comes into its own in summer and families flock to the large, free paddling pool for young'uns to splash about in.
There's plenty of grass to picnic on, gorgeous old trees for shade and when ice cream sellers aren't wandering the pathways there's a charming little kiosk at its centre where you can get refreshments to cool your innards down.
Water parks in Bristol
I've heard more than one person describe being at The Lido in Bristol, 'like being on holiday'. And I agree, the place oozes such chilled vacation vibes, that even on a dreary day, you can be transported to the sparkling waters of foreign climes.
Come summer, it's the perfect place to chill out and stay cool in the heat in Bristol. The low-chlorine, open-air, infinity-style pool is heated year-round (but still feels refreshing on a hot day). Victorian-esque dressing rooms run down one side, a pool-side restaurant serving delectable tapas, cooling cocktails and a la carte upstairs, the other.
Kids can join their parents in the swimming pool between 2pm and 4pm during the non-member swim sessions (Mon-Fri 1pm-4pm). All under-18's must be accompanied in the pool on a one to one basis. £7.50 per child aged 4-17, or free for children aged 3 and under (swimming nappy required). Afterwards, whiling the afternoon away with your poolside Alhambra beer should swell the soul.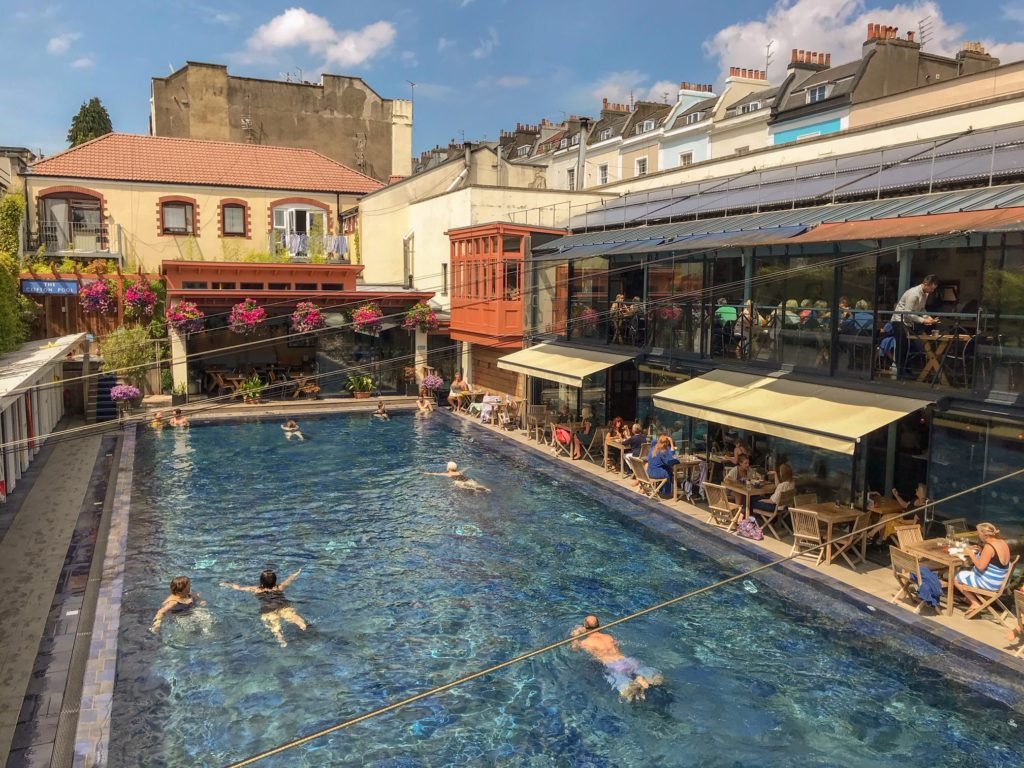 Hengrove playground
It might seem a little elusive, snuck away behind Cineworld and Frankie & Bennie's, but lo and behold, Bristol's biggest free kids' playground comes with sand and water play aimed at younger children. You can see a map of the facilities here.
There's also a 12m high climbing dome with a gigantic twirling slide, plus a hamster wheel for older kids, swings, a zip line, tyre see saw, boat-style slides and a play garden with wooden bridges and tunnels.
At the newly-opened West Country Water Park, you'll find water-based activities like lake swimming, a floating inflatable obstacle course, paddleboarding, kayaking and jet skiing as well as go karts, a café, shop, equipment hire centre and more activities coming soon.
Water parks near Bristol
Avon Valley's massive paddling pool is back this summer, with a new sand and stream water play area and a foam party to end each day!
⁠
Please note the paddling pool will only open if it meets daily safety checks and they will not open the paddling pool if it is raining.⁠
For a bit of relief in the sweltering heat, head a few miles out of Bristol, to Portishead (where the famous band got their name) to a picturesque spot overlooking the Bristol Channel. Portishead lido is a large open-air pool heated by green energy with a non-slip, shallow toddler pool alongside for little ones to cool down in.
Amphitheatre-style steps make the most of the view and are a great sunbathing spot when you're not wallowing in the water. There's also a tuck shop and onsite cafe for snacks, or bring your own for a picnic by the sea.
A short hop down the M5 from Bristol and you'll reach the charming Victorian seaside town of Clevedon. Famous for its historic pier, a huge draw for water lovers is the 15,000m² marine lake (fed by the Bristol Channel) for cooling off hot bods. Visitors can also hire boats, 'zorb', paddleboard and canoe atop its waters.
This local woodland was once part of the Earl of Warwick's hunting estate, and then became part of local coal mining activity. These days it's great for adventurous families who want to get back to nature and experience a bit of wild swimming and outdoor water play. From the parking area, it's a short walk through beautiful countryside to a shaded shallow stream and waterfall.
Whether you're an avid twitcher or a bird-loving tot, WWT Slimbridge is a fantastic, wildlife-filled day out. Spring brings newborn ducklings, cygnets and goslings around the centre, summer is perfect for splashing around in the outdoor splash pad, Welly Boot Land (although if you take wellies and a puddle suit, it's great during colder months too!)
A shallow streams wiggle its way around a wooden obstacle course, through soft green astroturfed ground and alongside slides and roundabouts. Waterwheels, bridges and fountains make this a one of the best watery playgrounds we've experienced. Top tip – pack a floating device to take with you and you'll be the envy of all other parents there.
For more waterborne fun, there's also a kilometre-long canoe safari (extra fee payable) where you can explore areas of the wetlands that aren't accessible on foot. Spot water voles, dragonflies, kingfishers and more!
A big park with play equipment including a water spray area, toilets and a small stream babbling alongside. During peak times there's usually an ice-cream van to please the crowds.
Warleigh Weir, Claverton
It's estimated up to 500 swimmers a day visit this 100m long weir near Bath (30 minutes' drive from Bristol) during the summer. Considered one of the UK's best wild swimming spots, there's a leat where people take inflatables, shallow paddling areas above the weir and play areas under the weir near the bank. Just be sure to take your rubbish away with you!
This kids' park has a farm theme and is home to animals, assault courses, jumping pillows, play barns, trampolines and a splash pool. The splash pool is available from May half term until September and is a great way for kids to cool off of after racing around the adventure park. For those that adore being close to the water on a hot day, there's also a boating lake, with canoes available for hire.
Brean Splash water park is located at Brean Leisure Park near Burnham-On-Sea. It's about an hour's drive from Bristol, but if you're looking for an outdoor splash pad on a scorching hot day, then it's worth the journey.
There's a seaside water play area for under 12s made up of 3 water slides within a shallow pool, plus 3 super water slides for older kiddos and a sunbathing area. If the weather should dramatically change, there's an indoor splash pool, indoor swimming pool and baby pool. The waterpark is normally open from Whitsun through to the end of August.
This seasonal water park (normally open from mid-April to September) sits on Weston-super-Mare seafront next to a large play area. Kiddos will love the aquatic playground with sprinklers, fountains and sprays triggered by sensors and buttons.
Expect shrieks of delight as little ones try and dodge the rain shower. Located next to Melrose Car Park.
I didn't realise until April 2023 that Weston-super-Mare had a marine lake, and it's absolutely gorgeous. Over 200m long, it's located on the seafront next to Knightstone Island and is a safe place to swim, splash, float or paddle and you don't have to wait until high tide.
When the tide is in, the effect is that of a gigantic infinity lake – one of the largest of its kind in the world! There's also a sandy beach around the edge and a lakeside fresh water shower, making it the perfect place to take little ones for some wild swimming on a hot day.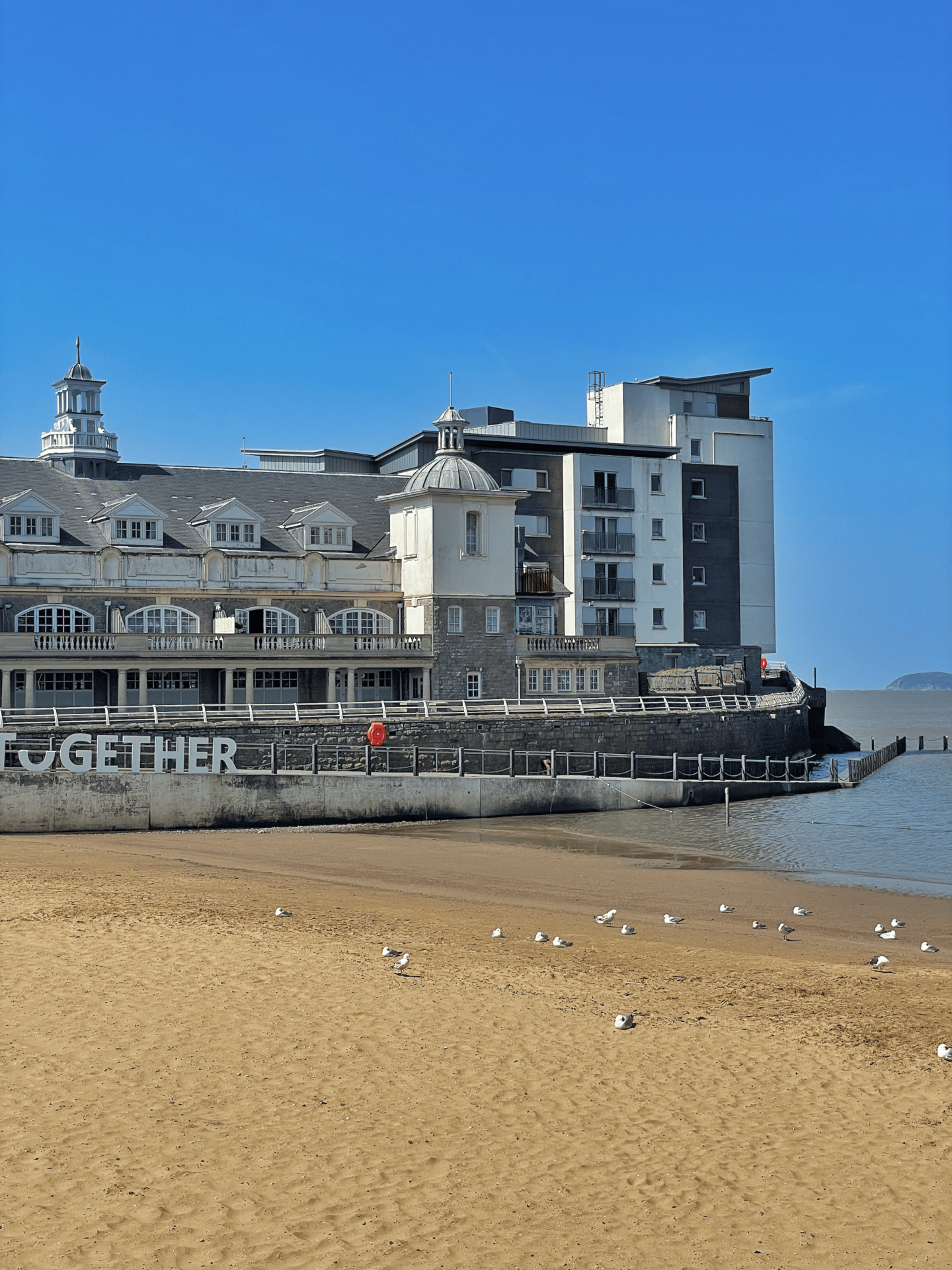 The water park in Victoria P​ark has oodles of splash-tastic water features for kids which are spread out across three zones designed for toddlers, juniors and families. Due to the pandemic, the number of children allowed to use the facility is limited to a maximum of 50 at any one time. During peak and busy times, twenty-five minute time slots will be in operation.
Just over an hour away from Bristol, perched high on a hill in the Welsh Valleys, is the castellated mansion, Cyfarthfa Castle, near the town of Merthyr Tydfil. It might seem like a long way to go to find a water park, but there's so much for families to do onsite, it's perfect for a day trip from the city.
The beautiful grounds, filled with immaculate flower gardens, green fields, woodland and lakes, stretch out over 65 hectares, and there's an animal sculpture trail (ask at reception) to motivate kids to explore.
Within the parkland is an outdoor splash pad, located within sight of the Canolfan Cyfarthfa's café – check ahead for opening times as seasonal timetables do apply.
Once kiddos have frolicked in the water to their heart's content, there's also a miniature train to ride (seasonal opening times apply) which skirts the lake, museum, adventure playground, bowls, golf and tennis courts.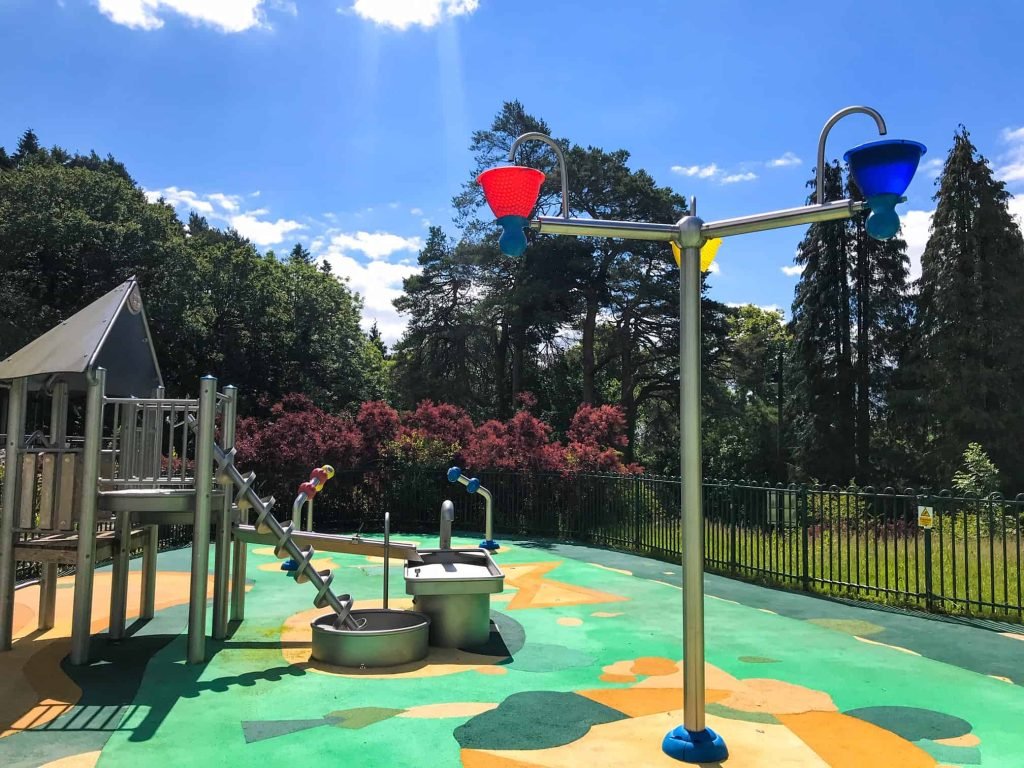 Shepton Mallet Lido
Eco-friendly Shepton Mallet Outdoor Pool dates back to the 1950s but was refurbished in 2006, and is warmed using recycled heat from the Brother's Cider factory next door! The lido is great for kids as it has a toddler pool, fountains and water jets to play in, plus a children's play area on the grass.
Greenbank swimming pool is my new favourite place to take the kids for a splash around. Along with a shallow pool and its little water slide, there's a big swimming pool for adults and older kids, a mini splash pool, and a water play area with fountains that's soft and squishy underfoot (so little ones won't hurt themselves like falling on concrete). Plus the water is BALMY!
Be warned though, in hot weather, and with summer holidays imminent, this pool does get busy. Definitely pack a picnic to eat on the lawns after you've been for a dip, otherwise you're right in the middle of Street, with plenty of cafes and Clarks Village next door.. Around an hour's drive from Bristol.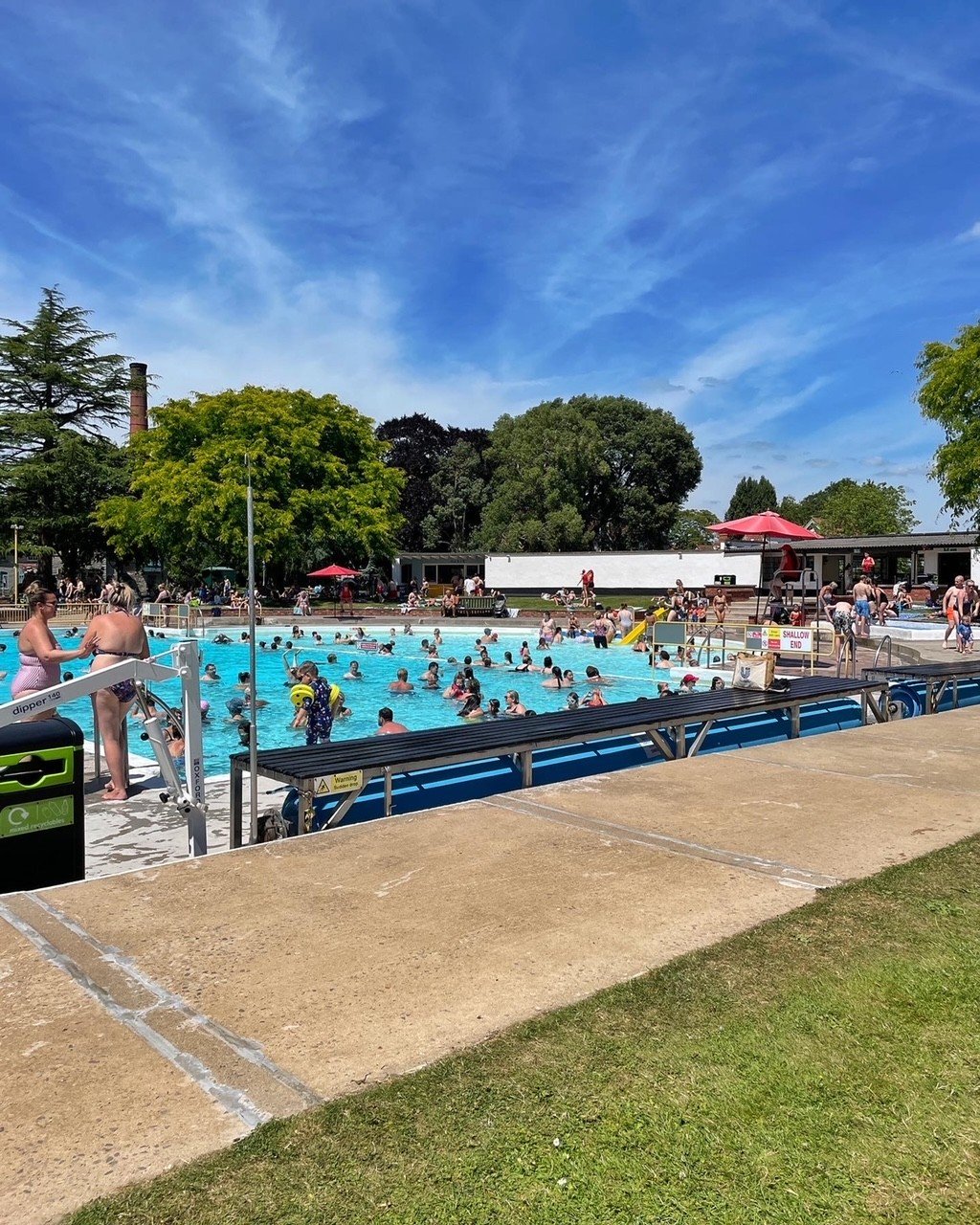 A beautiful green space in the heart of Chippenham, this park's splash pad uses non-chlorinated water, caters for children under 12 and is open from May – September.
Based around a lake with a soft sandy beach, this outdoor water park near Cirencester has a swimming and paddling lagoon, watersports, a giant inflatable AquaVenture for older kids, SUP, kayaking, pedalos, boat rides and more! Don't worry if you don't have your own kit – you can hire everything onsite.
Book ahead to avoid disappointment as entry tickets will sell out on hot days. Around an hour's drive from Bristol.
This heated outdoor swimming resort with a sauna and cafe in the heart of Cheltenham is one of 98 remaining lidos in the UK and one of the biggest outdoor pools (50m) in the country. Kids love it especially for its water slides, children's pool and paddling pool. Basketball, volleyball and table tennis are also available, included in the entrance charge. Book ahead online to avoid disappointment.
Around an hour's drive from Bristol.
Liked water parks in Bristol? Read more:
Enjoyed this post on water parks in Bristol? Read more summery Bristol content…
12 Beaches near Bristol: escape to the seaside within 90 minutes
Things to do in Bristol when it's raining
Must-do day trips from Bristol
Pin water parks in Bristol: