One of the peachiest plus points about living in Bristol is that the coast is easily daytrippable, and you can escape to the some lovely seaside locations and beaches within 1.5 hours. In preparation for warmer days and summer escapes, I've put together a list of the best beaches near Bristol.
Beaches near Bristol
Severn Beach, South Gloucestershire
Next to one of Bristol's other famous bridges (the Prince of Wales Bridge a.k.a Second Severn Crossing), and one of the nearest beaches to the city, is Severn Beach (note not Seven Beach). It's around a 25-minute drive from Bristol, or you can take a 40-minute train ride from Bristol Temple Meads to this small South Gloucestershire village. If you're coming by car, head towards Station Road (BS35 4PL) to park. From there it's easy to get onto the flat concrete path that skirts the coastline in both directions.
Strolling south (away from the bridge), will take you to the shingly beach with views out to Flat Holm Island, lights of Portishead, Welsh coastline and the more industrial Avonmouth. Or, follow the concrete promenade north (passing under the M4 bridge) for one mile to discover a protected saltmarsh where thousands of birds stop by on their annual migration. The flat pathways are perfect for little ones on their bikes and scoots and very popular with dog walkers.
It feels quite stark and rugged out here, and it's certainly not the most idyllic of beaches, but it's perfect for a brisk, wintry walk to watch the sun set and Shirley's Cafe is a great spot for that brilliant British beach treat, fish and chips and a cuppa. Or, if it's big skies and a chance to gaze over water that you're craving on a hot, sunny day, Severn Beach might just do the trick.
Clevedon Beach, North Somerset
Clevedon is one of the loveliest Victorian seaside towns near Bristol and is firmly in the category of beaches under 1 hour away from the city. Overlooking the Bristol Channel, it has a long pebbly beach with a slipway running into the sea. It's a haven for sea glass seekers and you'll see plenty scouring the rocks for their treasures. At the beach you'll see the town's historic Grade I* listed pier which you can pay to walk down. Eagle-eyed visitors may recognise it from One Direction music video 'You and I' and the Keira Knightley, Carey Mulligan and Andrew Garfield movie, 'Never Let Me Go'.
A short stroll away from the beach, past ornamental gardens and a Victorian bandstand there's a big marine lake where you can swim, sail, canoe and even Zorb! For families with little ones, look out for the fun miniature train (£1.50) that does a circuit around Salthouse Fields (where you'll often find a big bouncy castle too), or for a bit more exploring, there are some lovely coastal walks, including Poets Walk (around 2km) which you can pick up at the end of the marine lake for soul-warming sea views.
Cafes, restaurants and ice cream spots line the scooter-friendly seafront from the marine lake to the pier, so you're sorted if you get peckish or need the toilet. We love Salthouse Bar & Restaurant for its al fresco dining area with views out to the channel, kids' play area and nearby parking.
A bit further along, the small sandy/rocky cove at Layde Bay in Clevedon is one of the prettiest beaches on the Somerset coast.
Clevedon Beach distance from Bristol: around 30 minutes drive. There are also good bus links from Bristol (the X7 leaves from Bristol Bus Station and takes about 50 minutes).
Weston-super-Mare Beach, North Somerset
Weston is a Victorian seaside resort that often gets a bad rap but I think it's one of the best seaside towns near Bristol. If you're after sandy beaches near Bristol on a sunny summer's day, it's brilliant. Just next to the Grand Pier there is a vast expanse of sand in front of the marine parade that is great for sand-castling. From this area of the beach, views reach over the water to the Brean Down promontory and the fort at its end – a National Trust protected patch.
It is possible to swim at Weston at high tide, but you need to be very careful and abide by lifeguard guidance and heed the danger signs. Tides are strong here and there is sinking mud in these parts.
Towards the Grand Pier, a range of outdoor beach activities can keep the kiddos amused, should they ever tire of digging (is that even possible?) – bouncy castles, swing boats, ice cream and donkey rides! The Grand Pier itself – basically an indoor theme park – has everything from a Go Kart track to roller coasters and arcades to keep all ages amused.
For a quieter patch of golden sand, head towards Uphill Slipway Beach, just across the River Axe from Brean Beach or the slightly wild Sand Bay (shingley and sandy) sits two miles north of Weston and has nice views.
Beach distance from Bristol England: around 45 minutes by car. Weston is also one of the beaches that can be reached by train from Bristol and there are services from Bristol Temple Meads which take around 30 minutes as well as the X1 bus (which takes just over an hour).
Weston super Mare beach dog-friendly except from 1 July to 31 August from 10am to 6pm.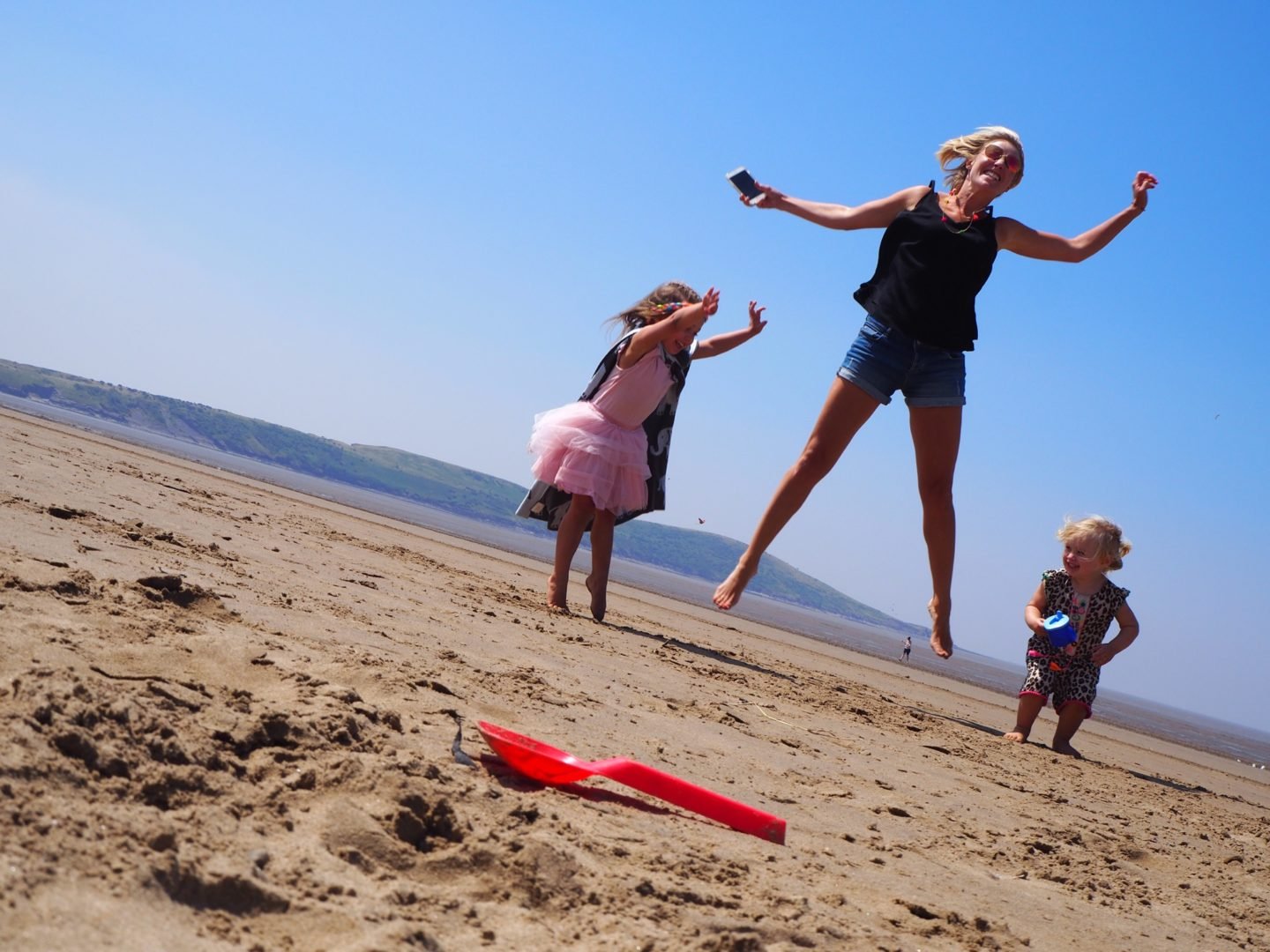 Seaside places near Bristol
Brean Beach, Down Road, North Somerset
Two miles down the coast from Weston-super-Mare is one of the longest stretches of sandy beach in Europe – a 7-mile stretch of beach and dunes. It's a funny drive to reach the beach, through lots of caravan parks to a wild and rugged piece of coastline. Again, this is mudflat territory so it's not a strip-off-and-flee-into-the-water kind of day out, as it's dangerous to walk too far out at low tide, but if you heed the warning signs then the flat sands are more than enough to quench your beach appetite.
Down one end, the beach's flatness attracts many a landkiter to whip across its surface, while down the other is one of the great landmarks of the Somerset coastline – Brean Down. Within its dramatic cliff walls, there is a small but exciting cave to explore, plus a number of nearby rocks to clamber on.
The adventurous and energetic can climb the steps (there are over 100) to the top of this 97-metre high 'natural pier' for exquisite 360 degree views over the Somerset Levels and Bristol Channel, back to Weston-super-Mare. If it's not too blowy up there, go all the way to the end to discover the ruin of a Victorian fort – built to defend the country against a possible Napoleonic invasion.
As it's National Trust protected, there is parking (free for NT members), as well as a National Trust shop and cafe right next to this part of the beach, plus some stinky toilets should you need them.
Distance from Bristol: around 60 minutes by car.
Berrow Beach, North Somerset
Leading on from Brean Beach and stretching for miles – 6.5 to be exact – is sand dune-flanked Berrow Beach, a popular spot for dog walkers, horse riders and windsurfers. Views out to sea gaze over the island of Steep Holm and Flat Holm, which can both be visited on scheduled boat trips. Back on shore, look out for the shipwreck of the Norwegian barque SS Nornen (best seen at low tide), which met its fate in 1897 and is an exciting discovery for imaginative pirate lovers.
Again, this part of North Somerset coastline is known for its mudflats, so look for the warning signage against swimming and do be careful at low tide when they're exposed. Cars can park on the beach and parking charges are taken manually from the kiosk near the coast road.
Distance from Bristol: 50 minutes.
Image – Adobe Stock, credit cmoffat
Portishead, North Somerset coast
If you're looking for sandy beach, Portishead is not your lady! Although it is one of the nicest coastal towns near Bristol. Just a short hop away from the city (and just five minutes from the M5 motorway), it's not so much a tropical paradise as a rocky, muddy seafront, however I'm mentioning it here as you do get sea views along the murky-coloured Bristol Channel and if you're desperate to be near the coast on a hot day, this goes some way to doing the job. If you want to get into the water, Portishead Open Air Pool is perched right next to the waterfront. There's a tuckshop right next to the swimming pool as well as a cafe serving yummy food with both indoor and al fresco tables on the beach's edge.
Distance from Bristol: 30 minutes by car, or you could cycle (there is a route which follows a riverside path along the Avon Gorge, 11.5 miles from Bristol!)
Kilve Beach, North Somerset
Sitting on the Quantocks' coastline, Kilve belongs to the group of slate and shingle rockpool beaches that kids can explore around low tide. Wordsworth once raved about Kilve's 'lovely shore', but others have nicknamed it the 'Jurassic Coast on the Bristol Channel' thanks to its abundance of ammonites and long-departed-reptile remains (if you're lucky enough to find some though, don't take them away – Kilve is a Site of Special Scientific Interest (SSSI), so removing fossils from the cliffs and bedrock is prohibited.
Behind the beach, limestone cliffs loom and a big grassy area welcomes picknickers. It's a tiny bit over an hour and a half away from Bristol, but I left it in as it's close enough!
Distance from Bristol: 98 minutes by car.
Image – Adobe Stock, credit acceleratorhams
Burnham-on-Sea, North Somerset
Altogether there are eight beaches in the Burnham area, all of which are within 15-minutes of the M5, junction 22. Burnham-on-Sea is a beach with promenade and Victorian and Edwardian guest houses line the edge of this classic Victorian seaside resort. You'll also find a brilliant stretch of sandy beach and somewhere to paddle and swim (patrolled by lifeguards in summer), plus British seaside traditions like donkey rides on the beach, funfair rides, Mr Whippys and candy floss.
Distance from Bristol: 45 minutes drive.
Image – Adobe Stock, credit Jenny Thompson
St Audries Bay, North Somerset
The two waterfalls at this pebble beach (around an hour and a half's drive from Bristol) are the main draw! At the foot of the Quantock Hills, St Audries Bay is a mix of pebbles, shingle and rock with sand that muddies the closer it gets to the sea and the Bristol Channel. Park at the local holiday park, and access the bay via a path leading down steps to the beach.
Ogmore by Sea, Vale of Glamorgan, Wales
My latest find in the beaches near Bristol category, is this gigantic sweep of golden sandy beach at the mouth of the River Ogmore. Just whack Ogmore by Sea in the SatNav and you'll be guided to the beach car park (located right behind), where sheep wander freely. It costs £6 for the day to park (unless you arrive after 4pm) and from here it's just a short stroll down the slipway to the beach. Or if you prefer you can clamber down the rocks, across the pebbles to the sand.
Smooth soft rocks provide perfect little dipping pools for paddle-loving kiddos, so you can be miles back from the sea, but have little ones happily splashing next to you. The beach feels wild and rugged, in a not-that-many-people-know-about-it kind of way. There are a handful of houses overlooking the coast behind the carpark, but on a sunny-ish May weekend, the beach's main visitors were Pen Y Bont's surf lifesaving school, dog walkers, a couple of horse riders, the odd campervan and bucket-wielding families. 
To our delight, a Dusty Knuckle campervan in particular had set up in the car park (not far from the toilet block), stone oven in tow, and was selling mallowy-doughed salami, goats cheese or Margherita pizzas on the embankment – beats sandy sandwiches any day! Once you've finished your beach activities, there are miles of the Merthyr Mawr warren sand dunes to explore (they are some of the largest in Europe and a haven for wildlife). To reach them by foot from Ogmore by Sea, walk up to the ruins of Ogmore Castle, cross over the stepping stones, and return walking along the river. Keen strollers can take on a coastal walk that leads all the way to Southerndown Beach, or cold beers at The Pelican as an after beach treat didn't look half bad either.
Distance from Bristol: 75 minutes by car.
Rest Bay, Porthcawl, Wales
A RNLI lifeguarded sandy beach just outside the town of Porthcawl, this spot is a surfers' fave when the waves are pumping, so if you're a city-dwelling wave rider, mark this down on your 'Beaches near Bristol' list. On flatter days, fishers, swimmers and canoers take to the water, or if you've got keen rock poolers with you, they won't be disappointed here. Parking is easy – there's a large Pay & Display car park about 100 metres back from the beach and if you're here for the day, there are toilets, a cafe, showers and drinking water.
Distance from Bristol: 75 minutes by car.
Image – Adobe Stock Image, scotttnz
Dunraven Bay a.k.a Southerndown Beach, Wales
Paddlers, surfers, swimmers and canoeists, rockpoolers (at low tide) and fossil hunters love pretty Dunraven Bay (or Southerndown as it's also known) in Wales. Surrounded by countryside, this large stretch of sandy beach is located on the Glamorgan Heritage Coast, the next beach along from Ogmore by Sea. It's a walk-lovers' heaven with beautiful coastal walks that lead all the way to Ogmore or head in the other direction along the coast path and you'll get to Dunraven Castle ruins – a kind of castellated mansion house. Above the beach is a car park with toilets, the Visitor Centre is nearby and there are lots of pubs in Southerndown village should you need some liquid refreshment or good grub.
Distance from Bristol: 95 minutes by car.
Image – Adobe stock image, Helen Hotson
Whitmore Bay, Barry Island, Wales
Gavin and Stacey shot Barry Island to fame back in 2007, but the area has been drawing visitors looking for seaside fun since the end of the 19th century (and Torchwood, Doctor Who, Casualty and Being Human have also all filmed here).
Its reputation hasn't always made it seem like the most desirable place to go, but the sweeping promenade along the seafront has been given a fresh lease of life and is packed with cafes and restaurants, brightly-coloured beach huts and family entertainment such as adventure golf, a tourist heritage railway, indoor play area and fairground rides.
Horseshoe-shaped Whitmore Bay, the golden sandy beach in front of Barry, is great for swimming, sunbathing and a fun-filled family beach day out.
Distance from Bristol: 75 minutes by car.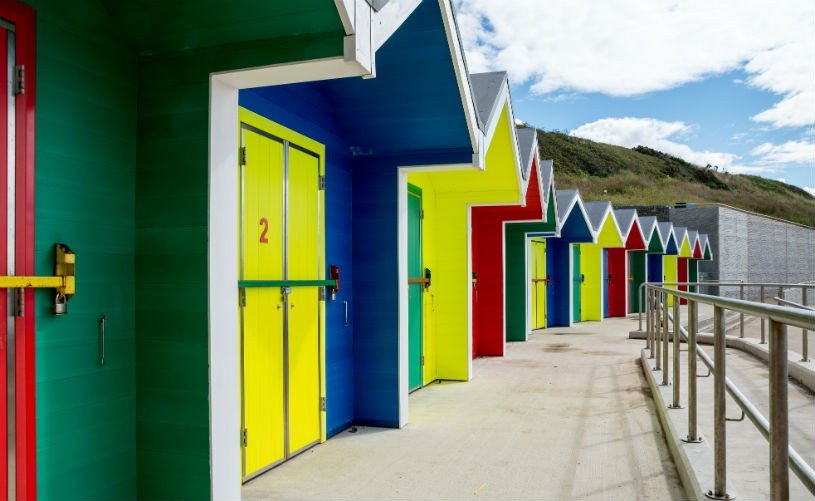 Image – Adobe Stock, credit phil darby
For more ideas for a day out in Bristol or things to see in Bristol UK, check out the blogs below.
Day trips from Bristol: family days out within 1 hour's drive of the city
Just off the motorway: family-friendly M5 stop offs near Bristol
Splash pads and outdoor water play in and around Bristol