One of the city's most iconic sights since the 19th century, Clifton Suspension Bridge Bristol is a must-see, must-photograph, must-'gram spectacle to behold. But where can you get the best view of Bristol Suspension Bridge to snap that money shot?
Well, whatever angle you choose to peruse the magnificent Avon Gorge-spanning bridge – whether that be crossing the bridge itself, or gazing at it from ancient woodland – you'll be treated to an unfailingly photogenic display. So here are 10 ways to get the best view of Clifton Suspension Bridge…
This post about where to view Clifton Suspension Bridge contains affiliate links, which means I may receive a commission if you click a link and purchase something that I have recommended. While clicking these links won't cost you any extra money, they will help me keep this site up and running!
1. See Clifton Suspension Bridge Bristol from the water
The Matthew
A replica ship of the Caravel sailed by John Cabot in 1497 (when he 'discovered' North America) imbues Bristol Harbourside with olde worlde pirate-y vibes, where it's docked. For a unique experience that'll send you hurtling back to the sailing ship glory days of yore, The Matthew runs 3-4 hours trips down the River Avon, underneath the Clifton Suspension Bridge and beneath the towering cliffs of the Avon Gorge to Pill and back. It's a fantastically memorable way to get the best views of Clifton Suspension Bridge and snap some cracking shots of its underbelly!
*Side note, if you want to take young kids, do make sure they can handle such a long trip.
Bristol Packet Boat Trips' Avon Gorge Cruise
Cruise underneath Clifton Suspension Bridge on a timeless Art Deco-era passenger boat ,with an open deck for maximum bridge-gawping. Hear about the origins of the Floating Harbour and Bristol's most famous bridge as you float underneath on a 3.5 hour trip (March-November, tide dependent).
All boats have a fully licensed bar, WCs and facilities for playing your own music through the onboard PA system and catering and welcome drinks can be provided by arrangement, so it's a great option for a special group outing.
*Not recommended for under 6s.
2. From Clifton Observatory and caves
Perched on the edge of the Avon Gorge, just a short walk away from Clifton Suspension Bridge in Bristol, is Clifton Observatory and caves. The observatory houses a cafe with rooftop terrace for the ultimate in scenic bridge-gazing drinking spots, as well as a Camera Obscura above and a 'Giant's Cave' 27 metres below.
The Giant's Cave Bristol* (so-named after mythical Bristol giants Goram and Ghyston who, according to folklore, are said to have created the gorge while fighting over Princess Avona) is reached via a steep, narrow tunnel carved out into the cliffs of the gorge. The path opens out onto a yellow balcony half way down the cliff face, to a breathtaking Clifton Suspension Bridge viewing point. *NB Under 4s are not allowed down to the Giant's Cave.
You don't have to go into the observatory for views though at all, right outside there's a large area of grass where you can soak up those Clifton Suspension Bridge views to your heart's content. Why not try the nearby Bristol rock slide (a super smooth slope thanks to years of whizzing botties) while you're at it!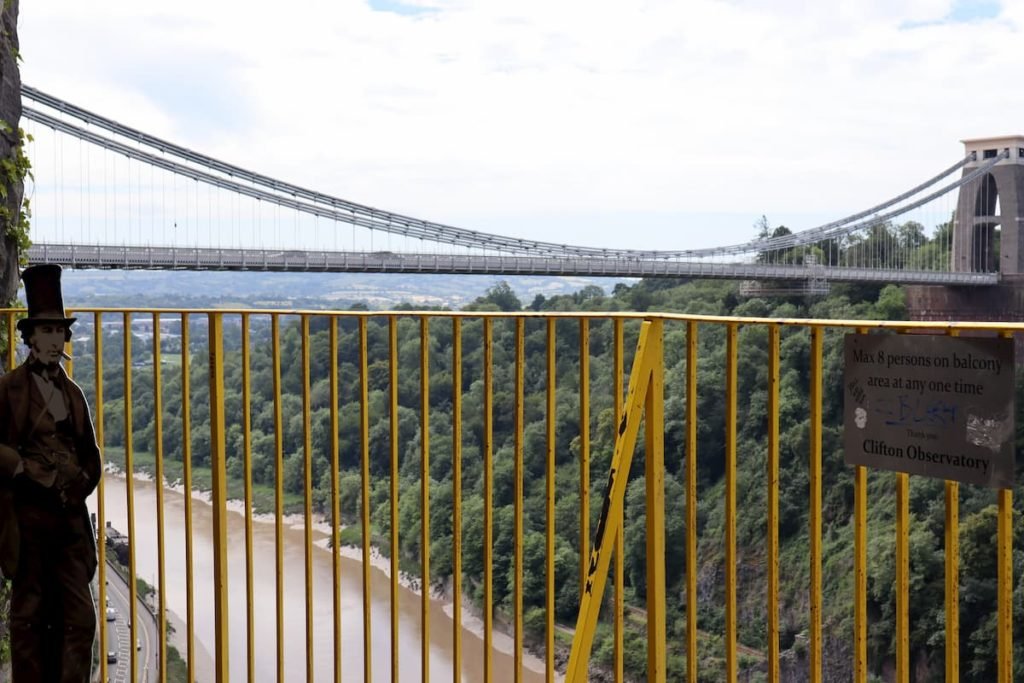 3. From the Avon Gorge Hotel
One of the city's prime bridge-snapping, beverage-consuming positions. When the weather's good, people flock to the outdoor terrace of the Avon Gorge by Hotel du Vin or its bar, The White Lion Avon Gorge for its stunning Clifton Bridge viewpoint and dramatic cliffside views.
If conditions are right, there's a high chance of hot air balloon sightings from the Ashton Court Estate launch ground just across the ravine. Of course, as it's a hotel, you can stay here – treat yourself to a gorge-side room with a balcony for long, dreamy views across to the bridge (even better if you're not in labour, like I was at the time!)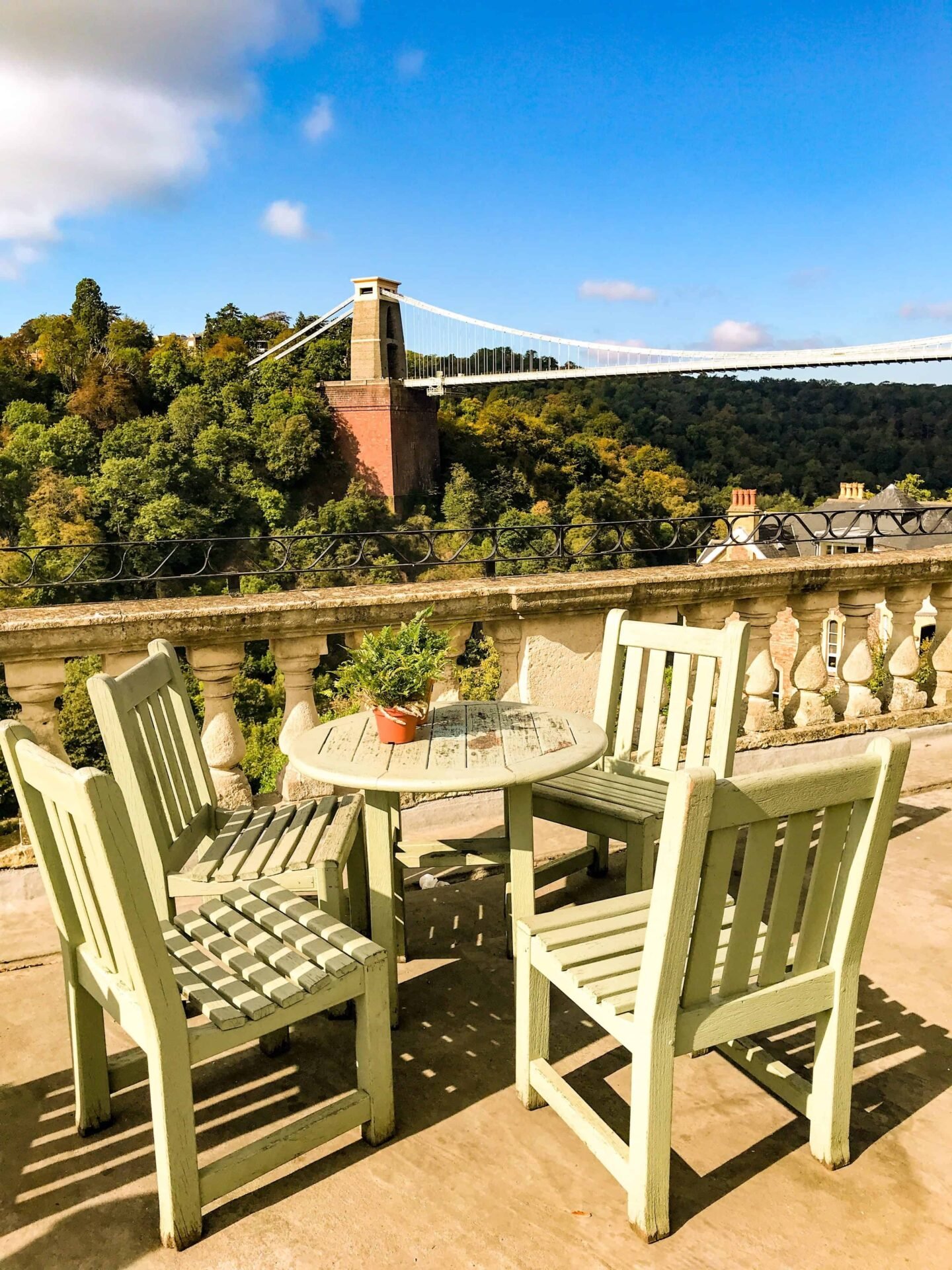 4. See Clifton Suspension Bridge from Leigh Woods
On the opposite side of the Avon Gorge to Clifton Village is Leigh Woods, a National Trust protected area of woodland that it is free to enter. It's a beautiful wooded spot with mountain bike and buggy-friendly trails, natural play areas (there's a basket swing, balance logs, hollow log tunnel and little roundhouse) and a tree-peeping view toward Clifton Suspension Bridge
Head to Nightingale Valley for sensational views of Brunel's engineering masterpiece.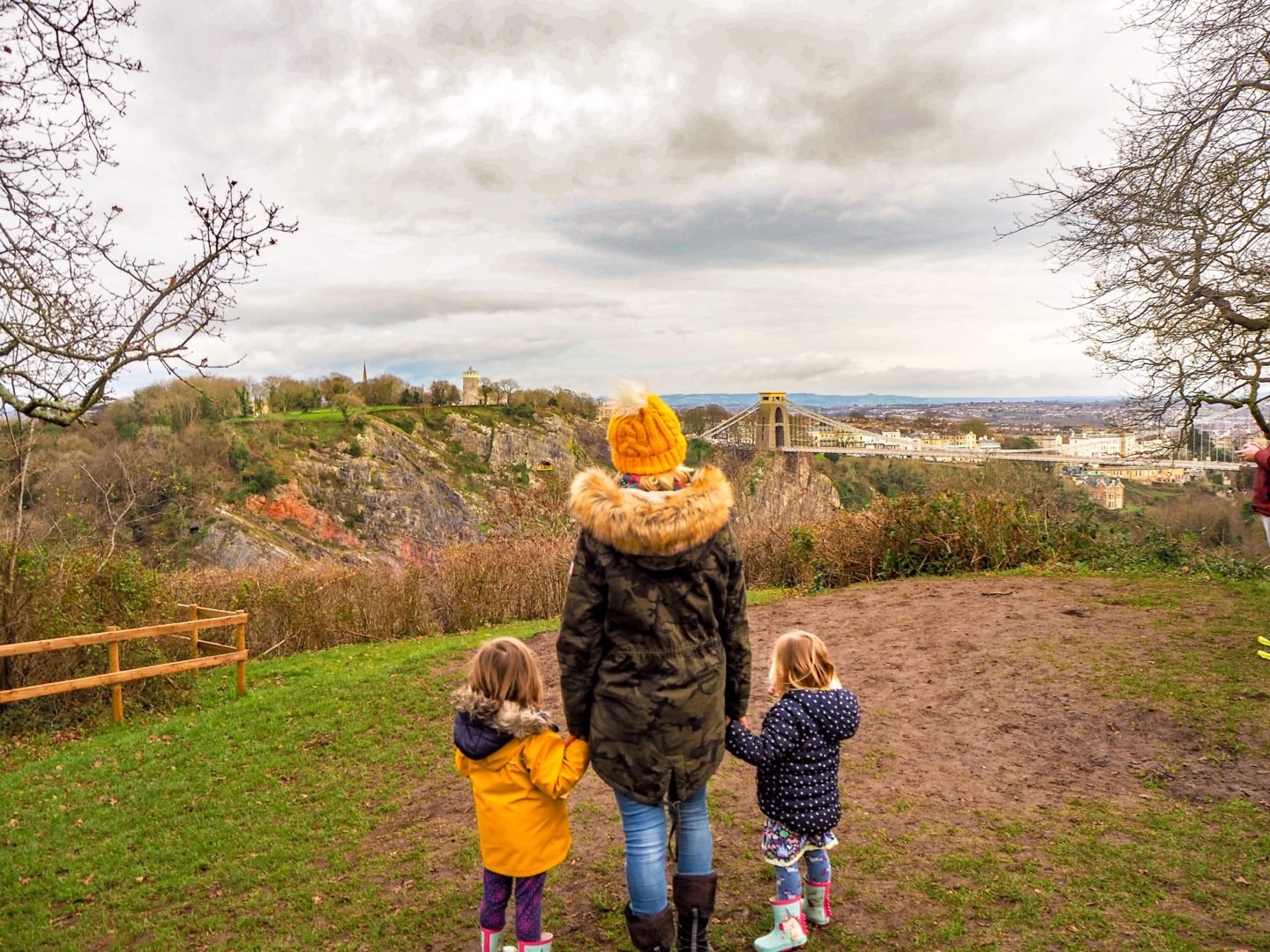 5. From the Bristol to Portishead cycle path/Cumberland Basin
The Bristol-Portishead cycle path skirts the edge of the River Avon from the Create Centre, next to Brunel way and the Cumberland Basin in Bristol, passing Pill on the way. Follow the path and you'll end up journeying underneath the bridge, with some magnificent views to boot.

6. From The Downs
Durdham Downs, otherwise known as 'Bristol's green lung', is a 400-acre patch of parkland in the upmarket Clifton/Redland area of the city. From the Seawalls/Avon Gorge end of the Bristol Downs, there's a spectacular viewpoint where you can see all the way down the gorge to Clifton Suspension Bridge in one direction, and the Severn Bridge in the distance in the other. There's often an ice cream van parked here for a tasty treat to accompany your landscape-gazing.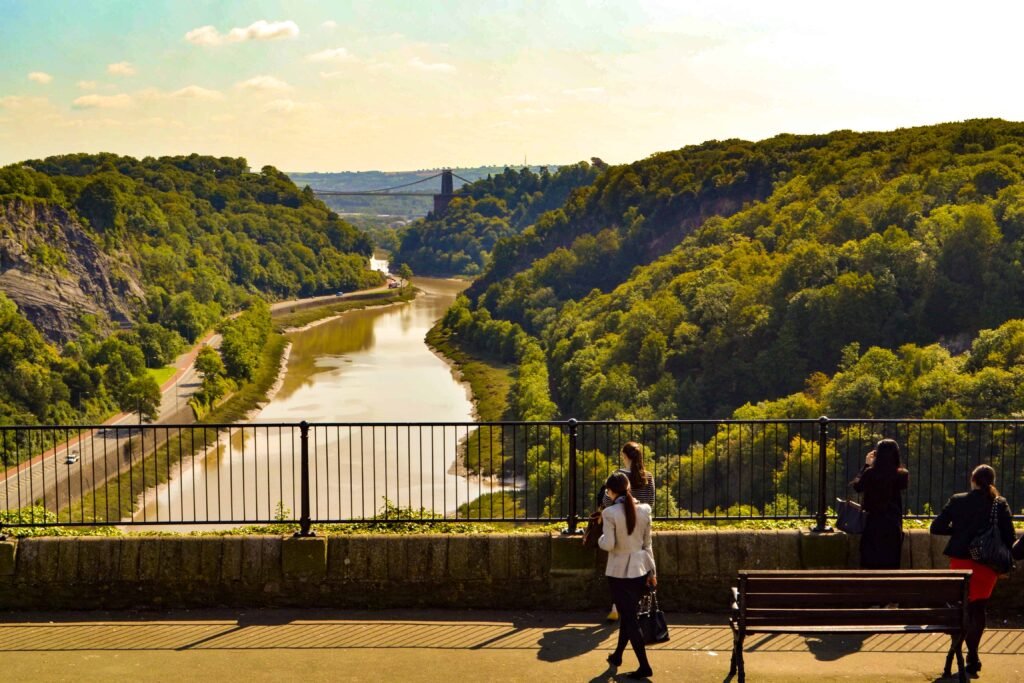 7. From the Portway/Bridge Valley Road
On the other side of the River Avon, running practically in parallel with the Bristol to Portishead cycle path is The Portway. Being a major road, it's not quite as peaceful as it's traffic-free pedal-friendly counterpart, but if you're on a bike, running (the Bristol half marathon often incorporates this bit of tarmac) or driving, you can count on some epic bridge views en route.
You won't be able to grab a snap of Clifton Suspension Bridge while you're driving along the Portway, but you could consider a Toot Bus tour. This new hop on-off open top bus route lets you explore the city using an interactive map to find monuments, must-see landmarks and audio guide commentaries. The bus tour passes underneath the suspension bridge, meaning you'll have both hands free to get the money shot.
8. See Clifton Suspension Bridge from Cabot Tower
Cabot Tower was built to honour the 400th anniversary of John Cabot's voyage from Bristol and subsequent discovery of North America on The Matthew in 1497. It's one of Bristol's most well-known landmarks and has some serious gawp-worthy views.
For those that can manage the steep, winding steps up to the top, (climbing them with young kids can feel a bit precarious and it's not for those with a fear of heights or enclosed spaces), the reward is jaw-dropping 360 degree views over the whole city, Clifton Suspension Bridge included.
9. On Clifton Suspension Bridge itself
There's nothing quite like getting up close to the beast of the bridge itself. Cyclists and walkers can travel across the bridge for free (the Clifton bridge toll is £1 if you're driving) and drink in the epic, slightly vertigo-inducing view from Clifton Suspension Bridge, of the gorge, and all the way out to the Mendip Hills beyond.
While you're there, pop into Clifton Suspension Bridge Visitor Centre (on the Leigh woods side) to discover all you need to know about the history of the bridge.
If you'd like to take your adventures one step further, you can take a hard hat tour down into the vaulted chambers of the red brick abutments on the Leigh Woods side of the bridge – utterly fascinating.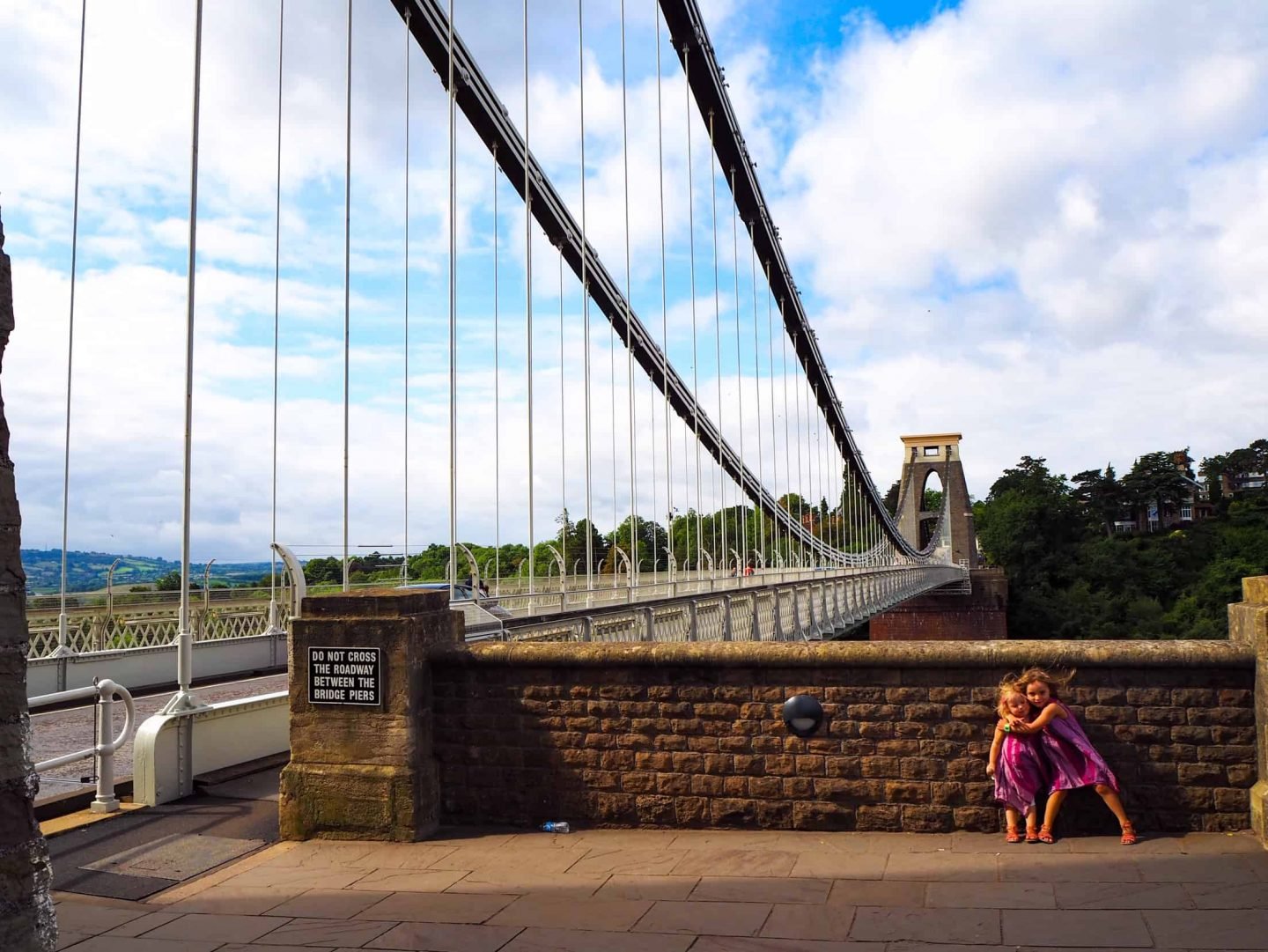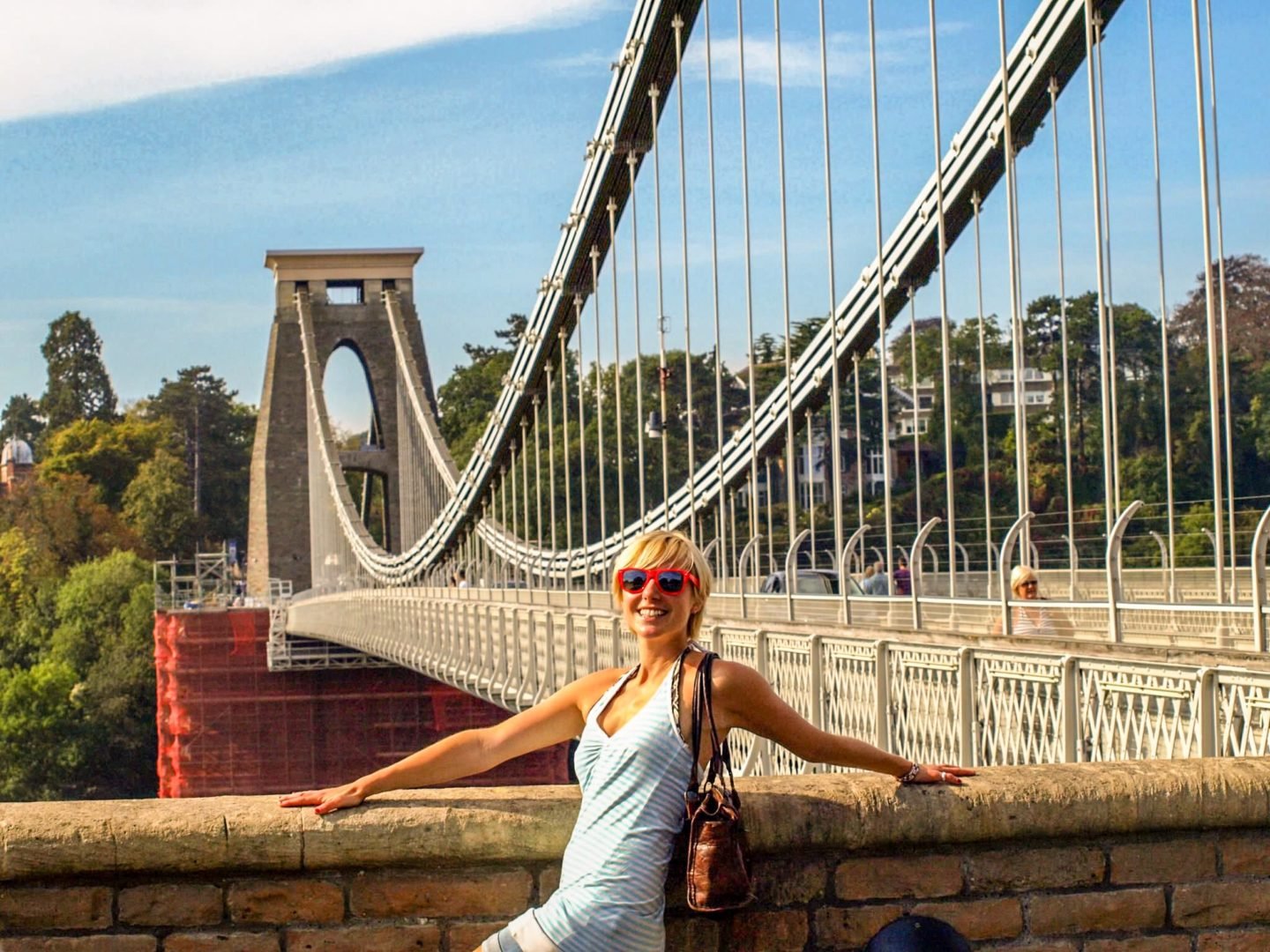 10. See Clifton Suspension Bridge Bristol from a hot air balloon
The most expensive bridge-viewing option for sure, but in my opinion, the most unbelievably special and unforgettable way to see the beauty that is Clifton Suspension Bridge. I've been lucky enough to fly over Bristol in a hot air balloon twice and both times were equally magical.
From above, Bristol appears to both shrink instantly – the houses looking not unlike the pieces of a monopoly game – and stretch for miles in all directions. From a tiny basket dangling in the sky, you have unparalleled birds-eye views of the bridge against its dramatic gorge backdrop (wind dependent of course). Utterly breathtaking.
There are several companies in Bristol where you can buy a hot air balloon flight ticket – Elite Air, Bristol Balloons, and Baileys Balloons. Flights are also bookable during Bristol International Balloon Fiesta.
Quickfire questions about Clifton Suspension Bridge, Bristol:
Can you walk over the Clifton Suspension Bridge?
Yes you can! It's free to cross and there is a walkway on either side of the bridge. It is only closed on rare occasions, such as the annual Bristol International Balloon Fiesta.
Can you drive over Clifton Suspension Bridge?
You can! The toll is £1 each way, you can pay by card or cash.
Where to park to see Clifton Suspension Bridge?
Parking in Clifton Village is pay and display, with up to 30 minutes free of charge (obtain a ticket from the machine). Payment for longer periods can be made with coins, or by using the RingGo phone app. Use postcode BS8 4AW for your satnav. This will take you to the junction of Observatory Road and Sion Hill on the furthest side of Clifton Village.
What river flows under the Clifton Suspension Bridge?
The River Avon flows under the Clifton bridge Bristol.
How to get to Clifton Suspension Bridge from Bristol? Where is the suspension bridge?
The Avon Gorge Suspension Bridge sits on the edge of Clifton Village in Bristol. If you are staying in Bristol City Centre, travel by bus or follow the Avon Trail riverside and woodland walk to reach the bridge. Take the No 8 circular bus from Bristol Temple Meads railway station or at the Centre Promenade opposite the Hippodrome theatre (near the statue of Neptune). Get off the bus at Clifton Village or at Christ Church, Clifton. The bridge is a short level walk from either of these bus stops. This bus journey is timetabled to go roughly every 10 minutes and will take approximately 24 minutes.
Can you tell me Clifton Suspension Bridge length?
The bridge is 412m (1,352 ft) long.
Liked this post on the best place to view Clifton Suspension Bridge? Discover more about Bristol with these blogs:
What to see in Bristol with kids: 25 family-friendly attractions
50 free things to do in Bristol with kids