Knowing where to find the best playgrounds in Bristol is an essential area of expertise for anyone tasked with entertaining children in the city. There are over 400 gardens and parks in Bristol, including some excellent play areas for kids. So whether you're looking for a bit of respite on a jam-packed sightseeing trip, or somewhere new to burn off some kiddo energy, here's a list of the best play parks in Bristol – best visited with buddies, your brood and a reusable cup full of coffee.
Best playgrounds Bristol – North
Blaise Castle House Museum & Estate
The play area in the grounds of this mansion house estate is one of the largest playgrounds in Bristol. Separated into two fenced-in areas, one side of Blaise Castle play area is perfect for smaller kids, while the other is geared towards older kids or youngsters after a challenging clamber.
It's unlikely kiddos will tire in here, but if they do there's plenty of parkland, a gorge with stream at the bottom (paddle-able at certain points), pond with troll bridge and lots of trails to explore. Or weave upwards through the woodland in the middle of the grounds, to a folly castle at the top to fulfil fairytale fantasies.
Landscaped Victorian St Andrews Park, fringed by pretty houses, is the Bristol play area to go to on a hot, sunny summer's day, thanks largely to its huge paddling pool. This fenced-in mini-lido heaves with splashing children as soon as school is out if there's a hot fiery object in the English sky.
There's a lovely kids play area with a large sand pit (bring a bucket and spade!) and all the usual favourites. Refreshment-wise, a little kiosk sits at the centre of the park selling great coffee and ice creams with a few tables and chairs dotted around, although sadly it's future is currently in the balance.
Address: BS6 5AX
Where to park: free on-street parking on roads around the park.
Another one to add to the Victorian Bristol play parks collection. This one has football pitches, tennis courts, a bowling green, sunken garden and pretty lily pond, plus a great play area. Climbing frames shaped as helicopters, double swings (handy for a joint toddler and baby-pushing scenario!), a sand pit and swings are part of the offering here. If you're in town in November, the fireworks night in the park is very popular and one of the best in Bristol.
Address: 67 Canford Ln, Bristol BS9 3NX
Practical stuff: there is no dedicated parking, but you can find a space on a nearby road.
Located alongside 'Lovers Walk' – an avenue of trees opposite a street full of pretty Georgian houses and close to Redland Station and Gloucester Road, this children's playground has all the kiddy favourites.
Address: Redland Grove, BS6 6AG
Parking: Residents' parking exists in the area, look for the pay-and-display machines for public parking spots.
Backed by multi-coloured houses on one side and street art the other, this childrens' play park is steeped in Bristolian vibes. The Montpelier playground for children stands in the old churchyard of St. Andrews Church, which was demolished in 1969. It's a quiet little enclave of green, fully-immersed in bohemian Montpelier, and not far from independent-minded Stokes Croft. The playground itself is grassy and has swings, climbing apparatus, springy horsies and benches to gaze over Bristol buildings.
Address: St Andrews Road, Bristol, BS6 5PT
Parking: It's residents-only parking along the neighbouring strip of road, but there are parking meters where you can pay for up to 3 hours. Otherwise, quite a way towards Cromwell Road at the top of the street you'll also find free road-side places to park.
There are a couple of playgrounds located on Horfield Common – one opposite Horfield Leisure Centre, the other opposite Tesco, Lime Trees Road (so useful if you want to combine/bribe your kiddo to do a bit of grocery shopping before/after the park!)
Each Horfield park is quite different, I personally prefer the opposite-Tesco one as it feels a bit more maintained, plus you also have Horfield Common Cafe there, with its indoor and al fresco seating in the centre of the park. It's handy parental intelligence to know that there is a conker tree in the playground here, which is great in autumn and is one of the best playgrounds in the shade in summer. Both childrens' playgrounds are set in a large green, so there's lot of space for kicking a ball around, scooting and biking.
Address: The Ardagh, Kellaway Ave, BS6 7YL
Parking: I tend to park in Tesco car park just across the road and do shopping afterwards, otherwise you can find somewhere along Kellaway Avenue.
The Mall play area is one of the newest playgrounds in Bristol. Have this wooden park in your back pocket if you absolutely HAVE to take the kids shopping with you – you can appease them with the prospect of hurtling around this outdoor playground in return for letting you peruse the shops in peace. In theory anyway.
Located just outside Boots, not only does this big play park look fantastic, it has been made in collaboration with a local, sustainable company and is environmentally friendly!
Address: The Mall Shopping Centre, Cribbs Causeway
Parking: Free parking at The Mall
Ashley Down Green
This little playground for kids is tucked away behind a housing development off Dirac Road. The park is only a few years old, so it's in pretty good nick. You'll find a roundabout, wooden obstacle courses, spidery climbing net, slide, swing and ground-level trampoline. Views from the top of the park look out over the city, with the historic buildings of Ashley Down behind (originally built as orphan houses by George Muller, who cared for over 10,000 orphans in Victorian Bristol).
Address: Dirac Road, off Ashley Down Road.
Parking: Walking is better, but you can find parking on nearby roads.
Elm Park playground, Filton
This children's outdoor play area is right next to Filton Leisure Centre, so you can do a swimming session (check their website for timetable), then have a play about in the park afterwards. The Elm Park playground for children overlooks big green fields and has swings, roundabouts, slides, mini climbing walls and lots more.
Address: Elm Park, Filton, Bristol, BS34 7PS
Parking: At the leisure centre next to the playground
Find out more about Elm Park Filton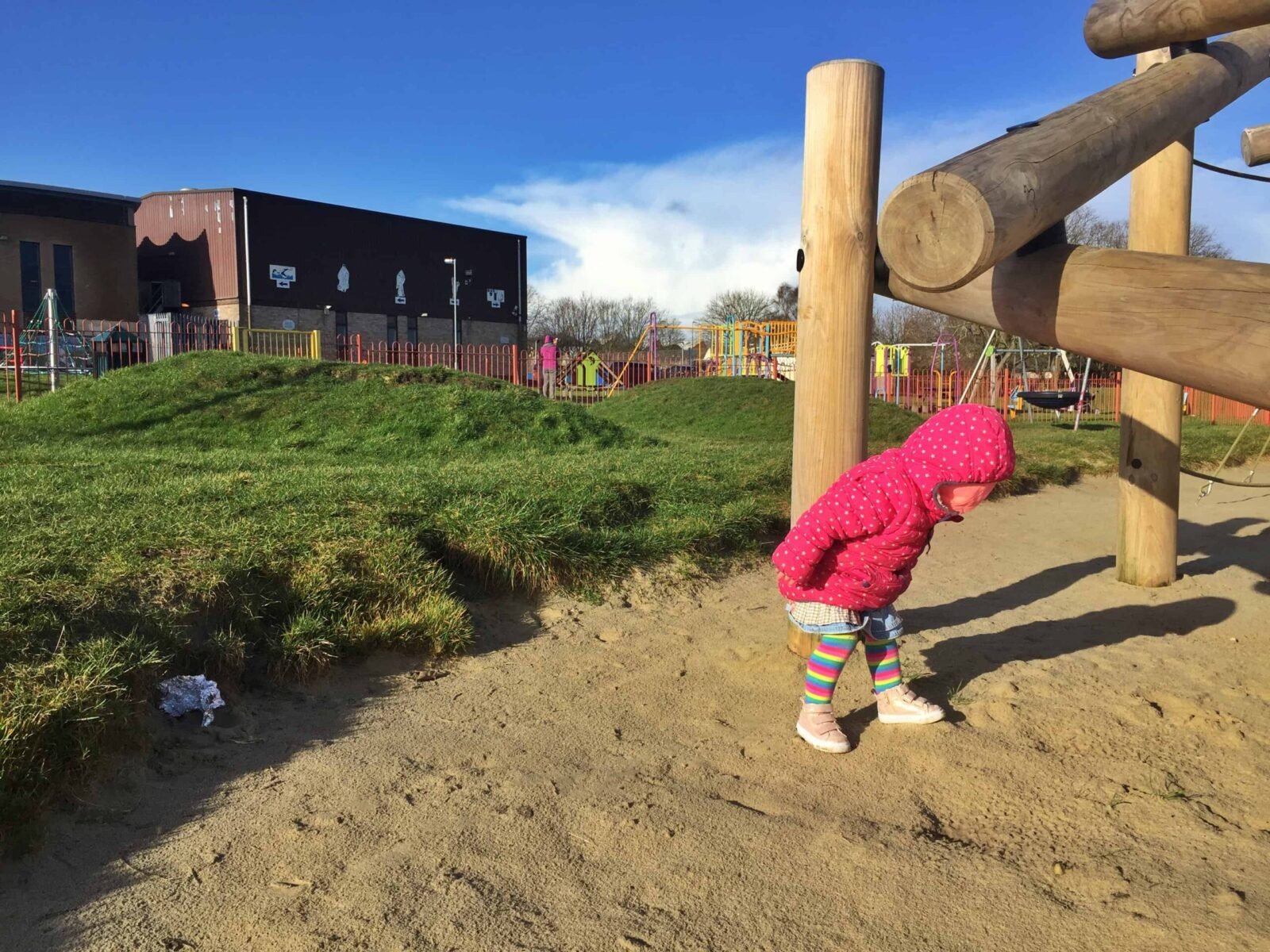 St Werburghs City Farm
This free city farm is a good one to have up your sleeve as you can tick off several child-friendly activities here. Firstly there are farm animals to see, pigs, sheep, ducks and chickens – all good kid staples! Then pop across to the wooden adventure playground – all tunnels and climbing frames, right next to a Gaudi-meets-the-hobbit-esque cafe. Some of the food from the cafe is grown in the allotments next door, so super fresh and wholesome like the vibe of this community farm.
Address: Watercress Rd, Bristol BS2 9YJ
Parking: The farm has no parking of its own. Parking can be quite limited on Watercress Road, so try and park before the tunnel and walk two minutes to the Farm.
Find out more about St Werburghs children's farm Bristol
There are a couple of ways to get into Redland park childrens playground, one on the St Oswald's Road side where the track dips down into a well-groomed grassy bowl before bringing you out at the playground or you can get in on the other side via Redland Road.
The latter is equally as picturesque, with its tree-lined street and impressive Redland Parish church. The playground has a variety of play equipment including a climbing frame, swings, a witches hat-style roundabout and a zip wire. There's also a bowls court, tennis court, picnic spots and giant wooden benches with carved leaves, which little ones love.
Address: Redland Green Park, Redland, Bristol, BS6 7EH
Parking: there is no dedicated car park, but there is parking on nearby side streets.
Stoke Park Estate, Stapleton, Bristol
Long did I wonder what the parkland surrounding the big yellow castle (Dower House – the one visible from the M32) was like and I have to say, I was MORE than pleasantly surprised. The combination of the Stoke Park Estate's vast open space, pretty woodland walks (particularly pretty at the start of spring), lake views, winding tracks and wooden sculpture trail, followed by a turn in the Stoke Park playground (found near Admiral Close) makes for a lovely morning out, especially in the sunshine.
While it's not the best playground in Bristol (the actual play park is quite small), it finishes the walk off nicely and you can coax your kids on with the promise of it at the end.
Address: Stoke Park Estate, Duchess Gate, Park Road, Stapleton, Bristol BS16 1AU or to park near the Dower House – Parnell Rd, Stoke Gifford, Bristol BS16 1ZS
Stoke Park Parking: There are a couple of entrances, but no dedicated car park near either – find a nearby road to park your car.
Find out more about Stoke Park Estate here.
Playgrounds in East Bristol
Oldbury Court Play Park, Fishponds
Three miles from Bristol city centre, this big green estate in fishponds has woodland, riverside paths, a cafe kiosk and a fantastic kids' playground. It's one of the more exciting play areas, entered via a Jurassic Park-style wooden totem gate, with a pirate ship, zip wire, water and sand play zone, accessible roundabout, see saw, nest seat swing, super long embankment slide, springies, toddler spinners, climbing rock feature with rope bridge, natural play features, woodland den area, open grass to run around on, plus equipment suitable for disabled children.
Combine a park trip with a walk through the parkland – you can follow the path down to the river Frome towards Frenchay, or in the other direction, to Snuff Mills, an historic section of the Frome Valley Walkway. Wildlife hunters should keep an eye out for glimpses of kingfishers, herons, foxes, owls, bats and deer.
Address: Oldbury Park Bristol, BS16 2HH
Practical stuff: there is a free car park onsite.
St George Park
I only discovered the St Georges Park Bristol playground recently and I can't believe I didn't venture here sooner! Over in East Bristol, the park here has a large pond which is great for duck feeding, St George skate park and a long tree-lined avenue for a bit of natural wow factor. The playground itself has tunnel slides, a see saw, swings, sand pit among other play area favourites.
The toilets in the park were out of use the last time I visited, but if you or your little one get desperate, it's a short stroll out of the park (turn right at the gate) to cafe Grounded, where you can pick up a coffee and a cake and use the facilities, or stay a while and have a family-friendly lunch inside or in their little outdoor garden area.
Address: Church Rd, Bristol BS5 7AA
Where to park: you can stay for up to three hours in the free car park right next to the park.
Page Park playground, Downend
This large Victorian park, in the Staple Hill area (about 5 miles north east of Bristol city centre), has two large play parks (one natural wood, the other containing your classic kids' playground equipment), a sensory garden, cricket pitch, tennis courts, bandstand and an aviary. At it's heart, an impressive clock tower dating back to 1910 – whose beams provide an extra place for hide and seek – chimes every quarter of an hour. It's a pretty park with scooter/buggy-friendly pathways, the Bean Tree Cafe (where family-friendly outdoor performances often take place in school holidays) and just 400 metres from the Bristol to Bath cycle path (which exits onto Signal Road).
Address: The park is enclosed by Broad Street, Hill House Road, Park Road and South View.
Parking: find free parking on a nearby road
Discover more about Page Park play area
West Bristol playgrounds
Leigh Woods National Nature Reserve
Just across Clifton Suspension Bridge is Leigh Woods, a National Trust-protected area of woods with play area that it is free to enter. There are several colour-coded pathways and mountain bike trails to choose from, plus woodland play equipment for kids including hollow log tunnels, carved wooden sofas, a woodland fort and a basket swing dotted around the woods to amuse your little woodland elf.
You can download the Wild Woodland Adventure Trail with Franklin the Fox before you go for an extra bit of family fun.
Address: Valley Road, Bristol BS8 3QB or Abbots Leigh, Bristol BS8 3QE
Leigh Woods car park: there are a couple of places you can park, either along North road, just off Abbots Leigh Road or follow the tree-lined Valley Road to a car park (with seasonal kiosk).
Clifton Suspension Bridge Playground
Surrounded by the rocky walls of the Avon Gorge, this pretty Clifton playground sits on the edge of upmarket Clifton Village, a stone's throw from Bristol's iconic Clifton Suspension Bridge. This is a park with slides and swings, a mini ground-level trampoline and structures to clamber on make this a winning park in kids' eyes.
Don't miss the nearby natural rock slide (polished smooth by generations of sliding bottoms) – a fairly extreme experience as far as slides go, as it is quite bumpy and very fast. I don't advise going down while holding a toddler as you kind of need both your hands to steer yourself down the slope! Terrifying! See video evidence below…
Playground Clifton address: Sion Hill, Bristol BS8 3LX
Parking: You have to pay to park in designated areas in Clifton – look out for the pay machines and signs to check it's not a Resident's Only zone.
Parks in Bristol City Centre
Brandon Hill Park
One of the best ways to get to Brandon Hill playground, is to wander along one of Bristol's famous roads, Park Street, then nip along Great George Street, past the aesthetically-pleasing music hall, St Georges and drop down the hill to the children's playground. As well as tons of stuff to climb and swing on, there are stupendous views over the city to make the most of from sloping Brandon Hill and lovely gardens surrounding iconic Cabot Tower to enjoy.
Address: Great George Street, Bristol, BS1 5RR
Parking: The playground is best accessed by foot or public transport, or you might get lucky on Park Street or Great George Street (but parking is limited and payable).
South Bristol playgrounds
Arnos Park playground, Brislington
Arnos Court park sits just down the road from Arnos Vale Cemetery and you can either stroll along the pavement between the two, or climb the hill to a gate which connects the park with the the cemetery's woods (a much nicer route in my opinion with views to boot). At the bottom of the hill, close to Bath Road, is where you'll find the kids' playground with its zip line, slide, swings, dish spinner and play sand.
Address: Hampstead Rd, Bristol, BS4 3HJ
Parking: If you're exploring the neighbouring cemetery as well, Arnos Vale Cemetery parking has about 30 car park spaces, otherwise you should find a space on nearby side streets.
Victoria Park Bristol
Victoria Park children's play area sits south of the river in Bedminster (near the train station. The train passes by on one side of the park, which is exciting for young transport lovers!) and has tennis courts, a skate park, views across the city in all directions, a basketball court and ping pong tables.
There are three separate childrens' playgrounds in the parkland – one at the northern end of Nutgrove Avenue, one near St Lukes Road and another on the Fraser Street side (although this one is quite bare). Nutgrove Avenue play area offers the most varied equipment and is more geared towards younger children – the area is fenced off and includes a grassy knoll of a slide, swings, climbing frames, a seesaw and views of Totterdown's houses tumbling down the hillside.
St Lukes Road playground has a wooden climbing frame which has swinging steps and rope bridges among other things. The park also hosts many events throughout the year, one of the key ones being a huge Guy Fawkes Night, with bonfire, 'judge the guy' competition and food and drink stalls.
Address: Hill Avenue, Bedminster, BS3 4SN
Parking for Victoria park play area: There is no onsite parking, but there are various surrounding streets where you can search for a spot. There are also bus routes and the park is close to Bedminster Train Station.
Windmill Hill City Farm is free to enter and a perfect place for pottering about and learning about farm animals (they sometimes run goat walking events here!) It's a place with strong community and environmental vibes. Next to the lovely café (which serves some of their own produce grown onsite), there is a small play area, but head over to the right hand side of the entrance and you'll find a larger, wooden kids' playground. It's mostly wooden and features a caterpillar-style rope swing, a tipi, some rope clambering equipment, sand pit and a few ride on toys for little kiddos.
Address: Philip Street, Bedminster, BS3 4EA
Parking: There is on-street parking in the surrounding streets (note meters operate Mon – Fri 9am to 5pm £1/hr max 3 hrs, evenings and weekends are free). For longer visits, Bedminster car park on Dalby Avenue, BS3 4HH is a very short walk from their rear entrance near Clarke Street. The Farm is a 15-minute walk from Temple Meads Railway Station, or via The closest bus stops are on Bedminster Parade (numbers 52, 75, 76, 90, 121, 510, 511, 672).
It might seem a little elusive, tucked away behind Cineworld and Frankie and Bennie's, but once you're in the right place, lo and behold, Bristol's biggest playground. I mean, it's huge! The park is separated helpfully by animal boards, recommending ages and heights best suited to various parts of the equipment.
There is one serious 12m high climbing dome with the mother of all twirling slides, plus a hamster wheel and various other bits of kit for older kids, then swings, zip line, tyre see saw (lots of fun for co-adult/kid playing), boat-style slides, a sand pit, water play feature (which I imagine gets going in summer) and a play garden with wooden bridges and tunnels. Those with weak bladders will be pleased to hear there are toilet facilities onsite, as well as a café. It's worth checking the opening times for the park before visiting as opening hours vary depending on the time of year.
If your kiddos are into spinning some tricks, there is a skate park next door with half pipes, rails, bowls, ramps and boxes to play on with a skateboard, rollerblades or a BMX bike.
Address: Hengrove Way, BS14 0HR
Parking: there is no dedicated parking, but there is plenty of spaces for cars at the Cineworld industrial complex right next door.
It's crazy to think that Greville Smyth Park was once part of Ashton Court Estate. The playground here is fun, pretty big and surrounded by open green space with some great views of Clifton Suspension Bridge. It is also the only park in Bristol that includes playing structures for teenagers.
From here, it's a short walk to the Brunel pump track, street art of Bedminster and Bristol Harbourside.
Address: Ashton Gate Road, BS3 2EA
Parking: On street parking
Great playgrounds near Bristol
Mundy Playing Fields, Thornbury
Thornbury is a sweet little market town close to Bristol, in South Gloucestershire. It's famous for its castle (once holidayed in by Henry VIIII and Anne Boleyn, and now a luxury hotel) and its 6 O'Clock Gin distillery, the latter are both best done without kids in tow though!
The playing fields on the other hand are fab, set in a vast grassy park, there is lots of fun equipment – some of which I've never seen before, including a modern, funky see saw. This park really comes into its own in summer with the splash park and there's also a babbling brook at the foot of the hill with a tiny stone bridge which looks like it gets its fair share of paddling. Wander into town afterwards for a mooch or if you'd like the kids to keep amusing themselves on the slides while you sink a cheeky cider, The Anchor Inn has such a thing in its own little beer garden.
Address: High Street, Thornbury, BS35 2AR
Parking: There is a free car park next to the park.
Kingsgate Park, Yate
We visited Kingsgate Park playground right after lockdown 1 ended in England and needless to say, after weeks of not be allowed to go to a park, it blew our daughters' minds! Kingsgate playground is HUGE, with loads of different types of equipment for kids to play on, so there aren't too many children gathered together at any one time. All the faves are there and there's plenty of picnic space as well as a lovely lake. Thumbs up from us!
Playgrounds in Bristol on my bucket list:
Old Quarry Park, Henleaze
Stoke Bishop Play Park
Easton Community Play Park
What other playgrounds in Bristol should be on my list? Let me know in the comments below!
Liked this Playgrounds in Bristol post? Read more…
What to do in Bristol with kids when it's raining
What to see in Bristol with kids: 25 family-friendly attractions