Having some good pram friendly walks up your sleeve is essential parenting knowledge. Somewhere you can escape to when you need to get out of the house with a newborn, or when you need to nap the baby while you let your older children burn off some energy…before they turn into uncontrollable creatures that ping from wall to wall, leaving a trail of destruction in their wake!
Accessible trails with well-maintained paths and easy terrain make the following routes great pram friendly walks in and around Bristol.
Map of pram friendly walks Bristol
Here's a map of the pram friendly walks in and around Bristol, so you can plan where you want to visit.
Pushchair friendly walks: Bristol Harbourside
As well as being one of Bristol's prettiest, historically-rich spots, the Harbourside is a circular, flat, pram friendly walk. The beauty of this stroll is, if little walking legs get tired, or you don't think you'll manage the whole route, Bristol Ferries stop at several points around the Floating Harbour, and can whisk you (and your buggy) off to your desired waterfront location for a very small fee.
Click here to see a map of Bristol Ferries' waterbus service
If you're driving into town, park at The Grove Car Park near Queen Square (payable). Turn left next to Mud Dock and carry straight on until you meet Prince Street. Turn right and then immediately take the first left down a small side street to cross over Pero's Bridge to Bordeaux Quay. Here you can either turn left and wander past the restaurants to get to Lloyd's Amphitheatre, or carry straight on towards Bristol's famous silver ball (We The Curious' Planetarium), past Bristol Aquarium into Millennium Square and round to Lloyd's Amphitheatre that way.
This is a great option in summer when the water fountains are on – find out more in my post on water parks in Bristol.
Follow Hannover Quay along the edge of the Floating Harbour and for foreign quayside vibes, be sure to take the pontoon wooden boardwalk right next to the water's edge, just before a little Harbour Inlet. Here you'll discover a lovely little nook containing waterside cafes and restaurants (Spoke and Stringer and Broken Dock both get a big thumbs up) with a view across the water to Brunel's SS Great Britain.
If you want, you can hop on the Cross-Harbour Ferry across the water to Brunel's SS Great Britain from here, or carry on walking.
If you do opt to carry on walking with the pushchair, follow Capricorn Place along the water's edge, past the Grain Barge (a floating bar/restaurant) and Mardyke Ferry Landing to Pooles Wharf Marina and its lovely little balconied houses, where you'll cross a blue footbridge. Shortly afterwards, you'll see the Pumphouse (great pub/restaurant with an excellent gin selection) on your right. Go through the car park, turn left across Junction Swing Bridge and follow Avon Crescent round, taking the second left into historic boatyard, Underfall Yard. Stop in at the Underfall Yard Visitor Centre to discover the fascinating history of Bristol's Floating Harbour. There is also a cafe here.
Follow the Floating Harbour past The Cottage Pub, and Bristol Marina where you'll get a colourful view of Hotwells' rainbow houses. You then need to walk inland for a few yards, past the Chandlery and Bristol Sails, before taking a little path that leads you to Gas Ferry Road and Brunel's SS Great Britain car park.
If you've never been inside Brunel's SS Great Britain, the magnificent ship that sits flags-a-waving on Bristol Harbourside, I urge you to go (if not on this walk then another time!) The ship is alive with sights, sounds and smells of life on the ocean in Victorian times. Events and fun activities take place all year round with lots going on during school holidays.
To complete your circular pram friendly walk, keep following the water towards Wapping Wharf. There are old rail tracks along here that are fun for kids to jump along and a steam train runs up and down the Harbour from M Shed on special dates.
If all that buggy walking has worked you up an appetite, you'll find the Olive Shed, plus a whole host of independent eateries in Cargo 1 and 2 at Wapping Wharf. For extra kiddy entertainment, the pirate-like Matthew ship is often moored outside M Shed (a free museum). To get back to The Grove car park, walk past the Harbourside cranes, turn left, cross Prince Street swing bridge and then take the first right.
A Great Bristol Elephant Adventure, Bristol Old Vic
Launching in October 2022, just in time for half term, six of Bristol's cultural venues are joining forces to bring you a new stroller friendly trail for pre-schoolers, that is sure to excite miniature culture explorers! Pick up a free trail booklet from any of the participating venues – RWA, St George's Bristol, Bristol Old Vic, Bristol Beacon, Brunel's S.S Great Britain and M Shed – and join Elephant in their search for Mr Giraffe.
Most locations on the route are 10-15 minutes apart and accessible routes have been chosen with buggies in mind. Follow the map in any order and at any pace you like (just check opening hours at each of the locations first, if you would like to go inside). Collect all 6 stamps for a full set to reunite Elephant with Mr Giraffe and earn your Heritage Explorer Certificate.
Blaise Castle, Bristol
Blaise Castle Estate is home to 650 acres of glorious parkland, a folly castle and museum. Park at Blaise Castle Estate main car park for free and follow the hard-surfaced path past the cafe and kids' playground (one of the largest in Bristol) towards the mansion house. Inside the house is a small museum containing dressing up clothes and displays of toys from days of old, but for a long pram friendly walks, you'll want to carry on round past the house and downhill into the bottom of the gorge.
The pathway will take you down to a stream (paddle-able with stepping stones at certain points) and trails leading off in different directions. For a buggy friendly stroll, cross over the pooh stick bridge opposite Stratford Mill. Look out for The Giant's Footprint around here – local legend suggests it was created in a fit of anger by mythical Bristol Giant Goram. It's actually an area of horizontally-bedded carboniferous limestone, exposed through glaciation around 10,000 years ago.
Turn right to walk alongside Hazel Brook, past a pretty pond and mini waterfall. You can carry on for a couple of miles, all the way to Coombe Dingle Estate Car Park.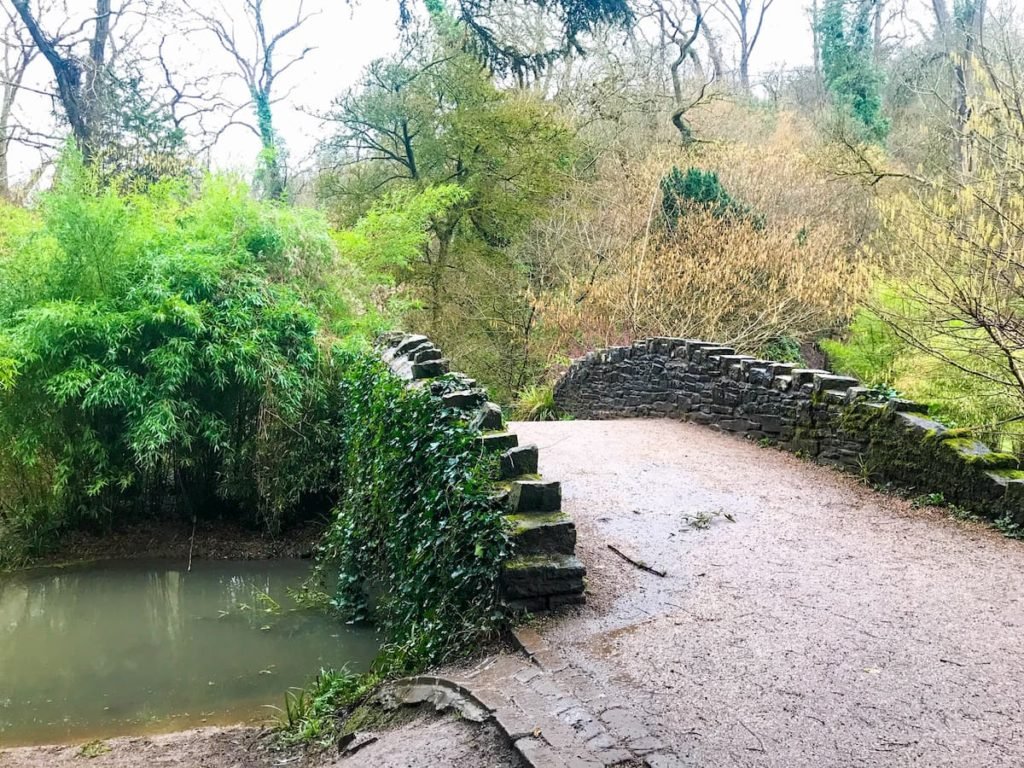 Pram friendly walks, Ashton Court Estate
The sprawling 850-acre estate of Ashton Court has hard-surfaced and un-surfaced paths that are perfect for pram friendly walks. There are a couple of options for parking and where you start your walk.
From the 'top' car park: Ashton Court Golf Course Car Park, BS8 3PX:
If you're feeling like you can manage a bit of uneven ground with your pushchair, head from the golf course car park towards the path behind the cafe. This will take you towards the woodland where big wide pathways meander alongside a mountain biking trail. Turn left at the fork to take you out into the heart of the park, or turn right to head down to the bottom of the park (nearer the Long Ashton side) through the trees.
A slightly easier option is to keep to the tarmacked track that follows on from the entrance road into the park. Downhill is easy, with far-reaching views across Bristol, but beware, the return uphill journey is quite steep! Look out for the park's fallow deer as you walk – they are kept behind the fence. You'll eventually come to a fork in the path, turn left to head towards the bright yellow Ashton Court mansion (behind which you'll find The Stables Courtyard Cafe) or turn right to reach the park gate next to Long Ashton village.
Keep your peepers peeled for hot air balloons – in August, Ashton Court Estate is the site of the spectacular Bristol International Balloon Fiesta, and hot air balloons take off from here fairly often early morning and late afternoon during the ballooning season.
The other options are to start in the 'lower' car park next to The Stables Courtyard (Kennel Lodge Rd, BS3 2JT) which is accessed via the Ashton Gate entrance or find roadside parking in Long Ashton village and enter the estate that way.
Parking costs £1.20 per vehicle per day in Ashton Court Estate and you can use your parking ticket in any of the Ashton Court car parks for that day.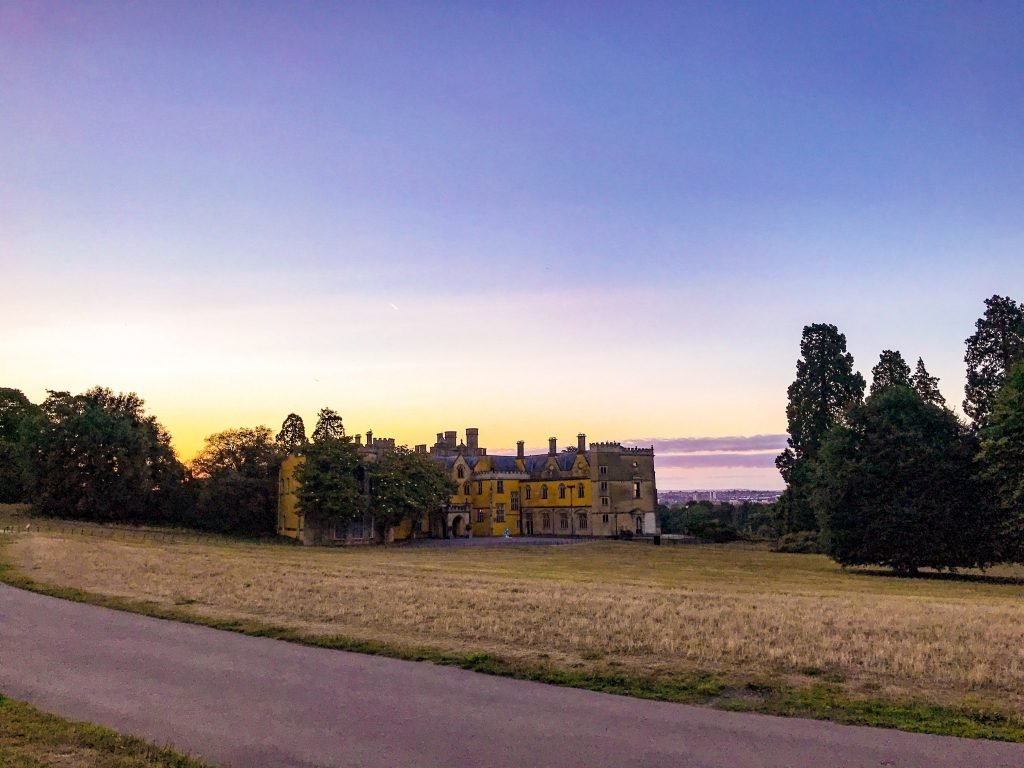 Leigh Woods Nature Reserve
Just across Clifton Suspension Bridge is Leigh Woods, a National Trust protected area of woodland that it is free to enter. There's a great network of hard-surfaced, colour-coded pram-friendly pathways to choose from depending on how far you want to walk (although they do get muddy in bad weather). I'd recommend incorporating the natural play areas (there's a basket swing, balance logs, hollow log tunnel and little roundhouse) into the walk – your little woodland elf will love them.
Den building is also popular here and you'll see the evidence of organised den construction events all over the wood. For a bit of extra family fun, download the Wild Woodland Adventure Trail with Franklin the Fox before you go and seek out the iron age fort and animal tracks. Don't miss the spectacular view of the Avon Gorge and Clifton Suspension Bridge from this side of the gorge.
There are a couple of places you can park, either along North road, just off Abbots Leigh Road (postcode BS8 3QE) or follow the tree-lined Valley Road to a car park (postcode BS8 3QB). Follow the colour-coded signs – the purple trail is about 2.5km (45-minutes) and is recommended for families as it's mostly level and ideal for families with prams.
Click here to check out the map of the Leigh Woods walking trails.
Badock's Wood, Bristol
This is a relatively unknown nature reserve in north Bristol. In fact, I lived just down the road from the woodland for nearly six years and only just discovered it and its pram friendly walks for the first time last year.
Park on Lakewood Road, or if you have a double buggy, the Doncaster Road entrance is the recommended option as the gate can be a bit of a squeeze.
If you've come in via Lakewood Road, follow the tarmac path with the River Trym on your left as it trickles through the valley floor, past trees that are up to 400 years old. When you come to a fork in the trail, you can choose to go left or right to follow a circular loop. We chose to go up past the open green playing fields, past wild flower meadows and follow the path round past Badock's Wood primary school before meeting up with the River to return to Lakewood Road.
If it's warm enough, or you have brave kiddos and a change of clothes, the river is shallow and fun to paddle in.
Stoke Park Estate, Bristol
You might not know it by name, but Stoke Park Estate is the one with the big yellow castle (Dower House) that is visible from the M32 on the way into Bristol. Despite the proximity of the busy road, the estate's vast open space, views across the city and little lake, make for a lovely pram friendly walks, especially in the sunshine.
There are three walks to do in the park, but for buggies you're slightly limited to the linear path, best accessed from Parnell Road or Duchess Gate opposite Broom Hill (unless it's dry, in which case you can try entering via Jellicoe Avenue too). Parnell Road is our favourite route in, as you can find somewhere to park and then marvel at the clock tower set amid a grassy square, before going to explore the estate.
For more information and a map, click here.
Snuff Mills and Oldbury Court Estate
Snuff Mills gets its name from the old mill onsite which was once used to grind corn, and whose waterwheel can still be seen churning water today. This is a lovely pram friendly woodland walk which follows the River Frome through a beautiful rocky valley with lots of wildlife to spot. Rumour has it otters have returned to the river here, and you'll often see nature enthusiasts out with their camera trying to glimpse kingfishers, cormorants, foxes, herons, bats, owls and deer. It's hard to believe you're in the middle of a city here.
Park at Snuff Mills free car park (postcode: BS16 1DL) -there are also toilets and a cafe kiosk here – and follow the path, past the mill along the Frome Valley Walkway beside the river. It's flat down by the water's edge and easy for buggies to manoeuvre along, although it can get muddy in parts. Cross over Halfpenny Bridge and continue to follow the river past the weirs until you get to a fork in the path. Turning right will take you uphill to Oldbury Court Estate, a lovely park with a fantastic kids' playground. Heading left will take you towards Frenchay, further mills – some well-preserved since the 17th century.
Another option is to park in the free Oldbury Court Estate car park (postcode: BS16 2JW), visit the playground first (although I always find it a good motivator for little legs to save it until last) and do the walk the opposite way round.
If you don't head up to Oldbury Court, you can walk as far as you want as the Frome Valley Walkway is an 18-mile (29km) long path which can be picked up in Castle Park, in the centre of Bristol and followed all the way to the Cotswold Hills in South Gloucestershire.
Click to see the Frome Valley walking booklet.
Durdham Downs pram friendly walks
Durdham Downs is a 400-acre area of green space between Clifton and Henleaze that is nearly entirely flat. Parking can be found on the roads that surround the Downs – I often find a space on Ladies Mile in the middle and walk from there. Depending on how long you'd like to walk for you could either stick to the pavement and walk around the entire edge of the grass on a circular walk, or criss-cross across the middle on tarmacked tracks that cut across the wide open space.
If you're doing a shorter walk, try and include the Sea Walls end of the Downs on your stroll, which overlooks the Avon Gorge. From here you can see Clifton Suspension Bridge to your left and the Severn Bridge in the distance on your right. There's often an ice cream van parked up here too.
In autumn, the pretty tree-lined avenue of Saville Road is the place to head for lots of conkers. It's also worth knowing that there is a cafe and toilets right next to the Water Tower, which is roughly in the centre of The Downs. From here it's easy to walk into Clifton Village, down Whiteladies Road or into Henleaze.
If you'd like to take things to the next level with your pram walking, personal trainer Vicky Hill runs postnatal Buggyfit classes for mums and babies on Durdham Downs.
Clifton Observatory, Bristol
Find somewhere to park along Clifton Down (fee payable) and hop out to walk uphill along the tree-lined avenue. Follow the path as it winds round into the trees and brings you out right next to the Avon Gorge. The views of Clifton Suspension Bridge from here are quite breathtaking.
Keep on the concrete path, towards Clifton Observatory (where you'll find a camera obscura and a cave – kids must be over 4 to go down into the Giant's cave due to the steep steps and there is a small fee to enter, buggies must be left at the top). The cave leads out onto a little balcony halfway down the cliff face of the Gorge for even more bedazzling views of Clifton Suspension Bridge.
There's also the 360 Cafe here, with indoor and open-air rooftop seating and equally mind-blowing bridge views.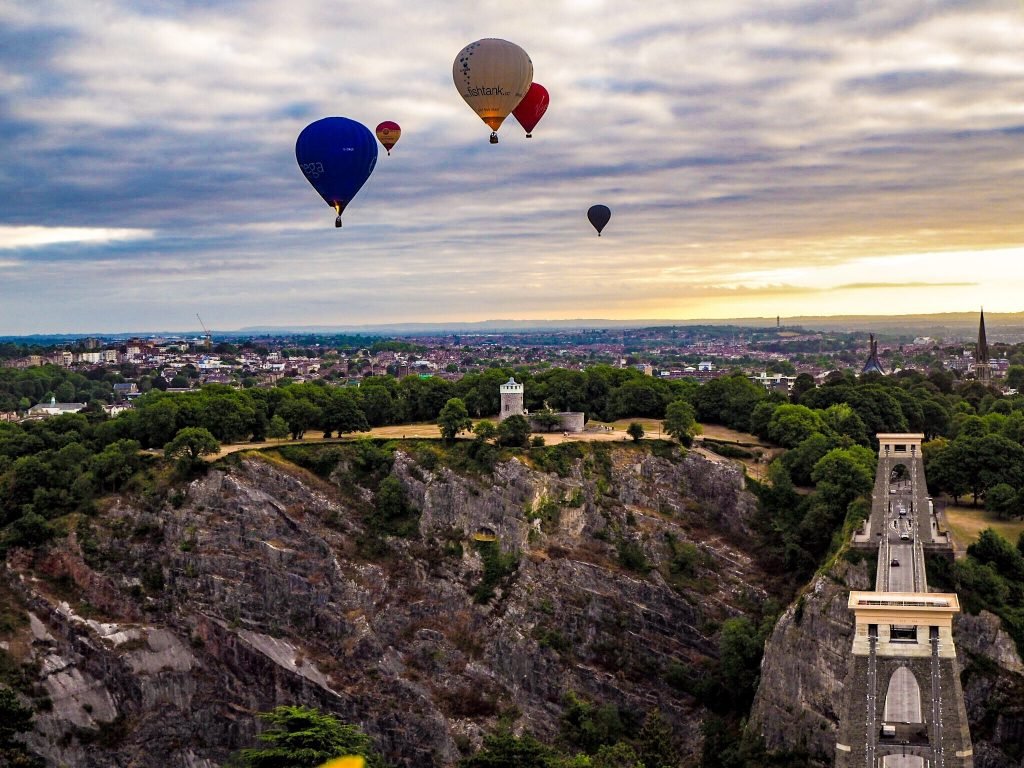 Follow the path round past the natural rock slide (polished smooth by generations of sliding bottoms) – a fairly extreme experience as far as slides go as it is quite bumpy and very fast. I don't advise going down while holding a toddler or if you've recently had a back operation, although it is quite fun for older kids!
At the bottom, round to the left, you'll find a playground surrounded by rocky walls. Round to the right, pass the public toilets to cross over Clifton Suspension Bridge for heady views out to the Mendip Hills and dramatic Avon Gorge. You can carry on all the way to Ashton Court or Leigh Woods on the other side if you want to extend your stroll.
The mansion house at Kings Weston Estate was actually designed by the same dude (Sir John Vanbrugh) as Blenheim Palace and the gardens were once so famous across Europe, they drew noble folk from far and wide. The grounds still hide a number of historic features, as well as semi-ancient woodland, far-reaching views, a wild flower meadow and age-old avenues planted with specimen trees. It's more pram friendly on a drier day as the uneven woodland paths can get muddy.
You can park for free in Shirehampton Car Park, off Shirehampton Road and once you're in, there are a number of ways you can go. Follow the lime avenue towards the impressive mansion house (you can see the Severn Bridge and Bristol Channel in the distance from here) and round, up the path which leads into the woodland past elaborate stone arches and views across to Shirehampton Park. With all the trees, it's a great spot for conkers in autumn.
Or you can head left, into Penpole Wood, keeping an eye out for badger setts and former quarries, before working your way back.
You can see a map of Kings Weston Estate here.
A nature reserve of former farmland on the southern edge of Bristol (Brislington way) with wildflower meadows, hedgerows, ponds and woodland. Along with vast stretches of green, there is a cement trail all the way round, making it really easy for buggies, prams, scooters and bikes.
We park at Hungerford Gardens (postcode BS14 8XX), where you can easily see the entrance and playground. From here you can follow the path alongside the golf course, until you reach the open meadows.
Alternative entrances include Whittock Road, Stockwood Road and Holsom Close and The Coots, Stockwood (postcode BS14 8LJ). Dogs are allowed, but must be kept on lead.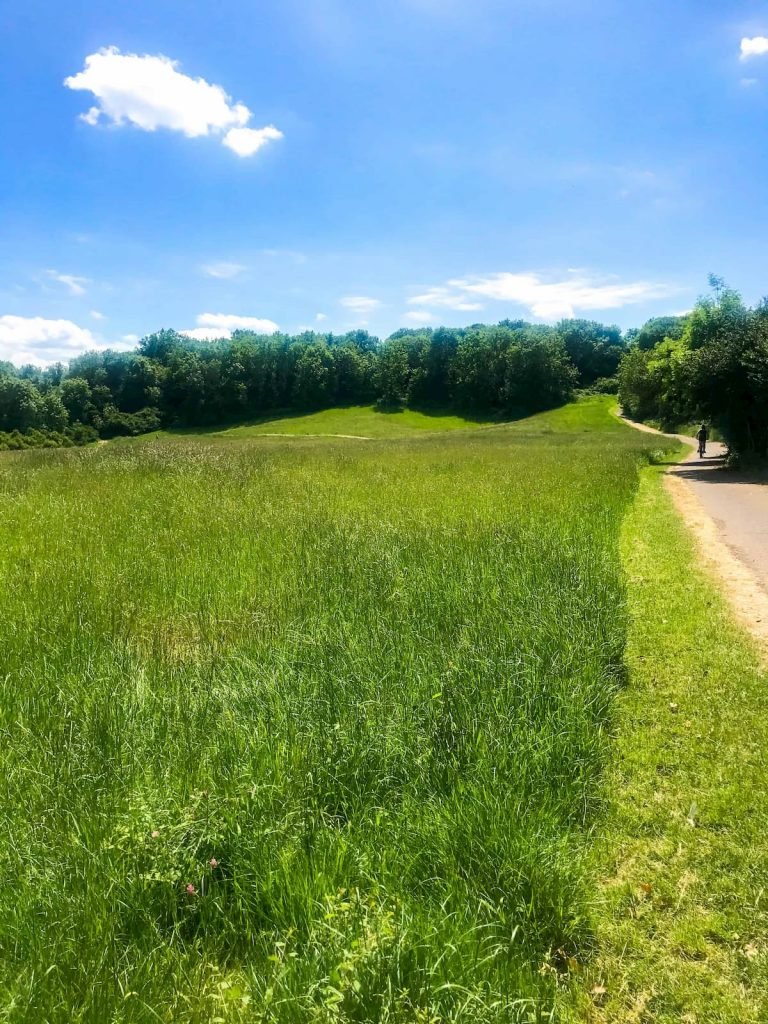 Severn Beach pram friendly walks
Next to one of Bristol's other well-known bridges (the Prince of Wales Bridge or Second Severn Crossing as it's known) is Severn Beach. It takes about 25-minutes to drive from Bristol, or you can catch a 40-minute train ride from Bristol Temple Meads to this South Gloucestershire village.
If you're going by car, head towards Station Road (postcode BS35 4PL) to park on the street. From here it's easy to get onto the pram friendly flat concrete path that skirts the stark coastline in both directions.
If you turn left away from the bridge you'll follow alongside the shingly beach with views across to Wales, Flat Holm Island, the lights of Portishead and industrial Avonmouth. Or, take the concrete promenade north – under the M4 bridge – for one mile to discover a protected saltmarsh where thousands of birds stop by on their annual migration. The flat pathways are perfect for buggies and little ones on their bikes and scooters.
For a post buggy walk refuel, try Shirley's Cafe for fish and chips and a cuppa or plan ahead.
Clevedon
This Victorian seaside town in North Somerset overlooks the Bristol Channel and has a long pebble beach with a slipway running into the sea.
Pay for parking next to the Salthouse Bar & Restaurant (if you end up eating here, you can claim some of your fee back). From here it's easy to get onto the pram-friendly seafront walk, starting at Clevedon marine lake, where can swim, sail, canoe and paddleboard. Follow the promenade along the edge of the shore, past ornamental gardens and a Victorian bandstand, cafes and restaurants until Clevedon Pier comes into view.
Things to do in Clevedon with kids
From here you can wheel on down to the pebble beach, or carry straight on to the historic Grade I* listed pier which you can pay to walk along.
On the return journey, just before the Salthouse car park, look out for the miniature train (£1.50) that does a circuit around Salthouse Fields (there's normally a bouncy castle here too) – a treat for kids after a brisk stroll.
If you're after a bit more exploring without a buggy, there is one particularly lovely coastal route, Poets Walk (around 2km) which you can pick up at the left hand side of the marine lake (if you're looking at the sea).
Conham River Park
Conham River Park makes up part of the River Avon Trail that goes all the way from Pill to Bath. If you're looking for blissful riverside pram-friendly walks, this will be right up your street.
Of course, Pill to Bath is a very long way, which will not work so well for young kids, but you can potter along sections of it with your buggy. One good place to start the stroll is Conham River car park (postcode – BS15 3AW), which is free and has toilets. There's also a nice little riverside picnic area here with tables and BBQ.
Follow the trail alongside the river, keeping your peepers peeled for kingfishers and cormorants. The woodland next to the river is home to owls, foxes, deer and a bat cave!
Keep walking, and just past the arches of Brunel's Great Western Railway, you'll see Beese's Riverside Bar on the other side of the river. From Easter-mid-September, it's possible to hop across the river by ferry to Beese's for about 50p. If there is no ferry present, you can always ring them to see if they can pick you up (details are on a board near the riverside).
You can cut the walk short here with a drink in the sunshine for not-so-keen mini-walkers, or carry on to the lock gates at Netham Park (the start of Bristol's Floating Harbour) if you're more of an enthusiastic trekker. The paths are flat, but muddy after rain, so just bear that in mind with prams and buggies.
Wild Place Project
Sister attraction of Bristol Zoo Gardens, Wild Place Project is located just moments off Junction 17 of the M5, although its green space is so vast, it's hard to imagine the motorway so close! It's a paying attraction whose woodland has become home to European brown bears, lynx, wolves, wolverines for the first time in hundreds of years.
Visitors can walk on a raised pram-friendly walkway through the trees, pop into 180-degree, floor-to-ceiling glass viewing areas and 'dens' for an up-close view of the animals.
Buggy-friendly paths navigate through habitat-themed zones and visitors can also spot exotic beasts such as cheetahs, giraffes, zebras, eland, geladas and okapi wandering the wilds. Buggies have to be left outside for the lemur walkthrough and you might find it a bit tricky to push them in Tower Meadow, but the latter is the perfect place to sit down for a picnic and let the kids run free.
There's also the Barefoot Trail where kids can sink their toes into all kinds of outdoor textures, a walled garden full of exotic birds and meerkats, plus a number of play areas and an indoor Fun Fort (handy if its raining).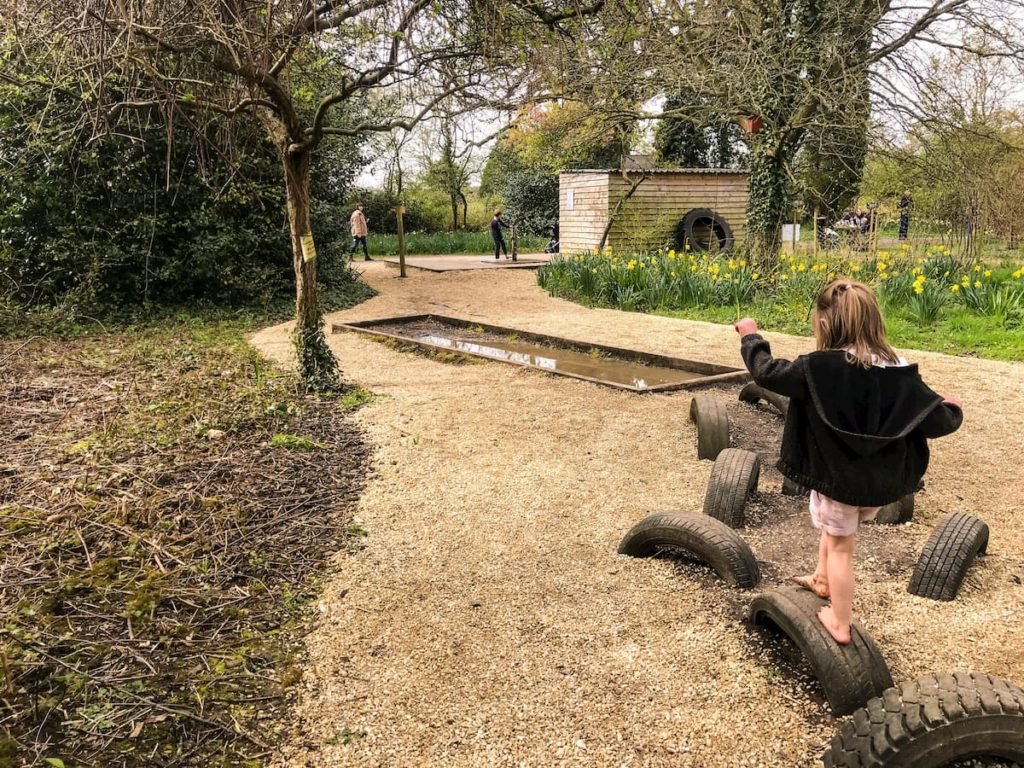 It's a steep downhill concrete path from the car park to the 17th Century mansion house at the heart of the park, or there is a free shuttle bus which ferries people up and down every 15 minutes throughout the day.
Down at the house, the Courtyard Tea Room offers children's meals, cream teas (possible to take away), vegan and gluten free options, drinks (including wine, Bath Ales and Dyrham Park's very own cider), babyccinos, high chairs and a baby station complete with microwave.
Fallow deer roam freely in the estate and there's ducks to spot on elegant ponds in the beautiful gardens behind the house. You're free to explore the chapel and mansion house (which was used for filming in BBC1's Poldark), but buggies must be left outside for this.
The most exciting part of the park for kids is the Old Lodge play area, but it's quite tricky to get to with a pram. There you'll find brightly coloured vintage tractors to sit on, a bug hotel, ride-on smaller plastic tractors to navigate round a track, a very realistic looking Cedric the cow to feed, wagons to climb and a natural wood play area with balance beams.
This handsome, gothic-style Victorian mansion sits in gorgeous grounds, surrounded by beautiful countryside. As with most National Trust places, it's extremely family-friendly, with pram friendly walks, acres to explore, a natural play area and child-friendly activities taking place all year-round.
Park at the onsite car park and pick up a map from reception to help navigate your way around. Seasonal trails for kids are also available here and often involve treasure hunt style clues around the estate.
There are a couple of cafes onsite – a self-service one close to the entrance in the old cow barn and The Pavilion cafe is right opposite the natural play area, so you can scoop up a coffee or afternoon tea while the little'uns take on the wooden obstacle course.
Seasonal events take place all year round, so it's likely your visit will coincide with some kind of natural crafting, or outdoor ventures. My favourites are the during the festive period, when the house is decorated in authentic Victorian fashion and Halloween when the orangery is filled with pumpkins of all shapes and sizes.
WWT Slimbridge
If you don't mind heading off on a short day trip from Bristol to get yourself some lovely pram-friendly walks with plenty of entertainment for little ones, WWT Slimbridge in Gloucestershire is well worth it. This wetland and wildlife conservation area is home to over 2000 birds, otters, the largest collection of amphibians in the UK as well as lots of other wildlife.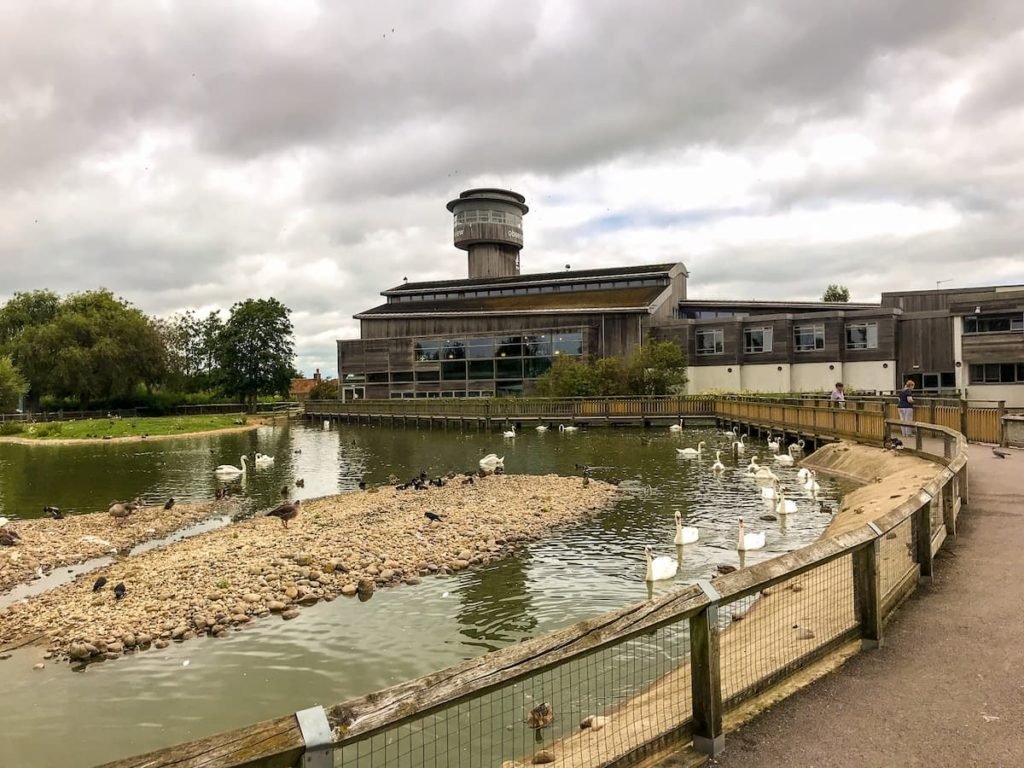 The Wetland Centre is huge (the site covers 2000 acres) and with purpose-built, flat pathways, it's easy enough to wheel your way around, exploring the different habitats. There is also step-free access to most of the hides.
Click here to see a map of WWT Slimbridge.
Buy a bag of bird seed on your way in (£1.50) to scatter among the many different species of birds for extra walking motivation for non-buggy-sitting tiny legs! Make sure you take wellies, waterproofs or a swimming costume for little ones – Welly Boot Land is one of the best splash parks I've come across, with winding streams, an over-water obstacle course, slides and picnic tables. There are also kids' playgrounds and stepping stones to lark around on.
Westonbirt Arboretum is just half an hour away by car from Bristol and is one of the most spectacular places to go for a walk at any time of year, although autumn (with its glowing Japanese Maples) and spring's magnificent bluebell carpets are particularly breathtaking.
The arboretum sprawls over 600 acres and is home to 2500 types of trees and shrubs from all over the world. There are pram friendly walks, family trails and nature-based activities to take part in – ask at reception for a map.
The dog-friendly Silk Wood trail, which is off to the right as you enter the arboretum is around 1.5 miles and and hides the characters from Julia Donaldson's Gruffalo book. The Old Arboretum trail (a dog-free zone), off to the left-hand side is about a mile long, with a natural play area, Gruffalo's Child sculpture and other carvings to spot en route.
Entry to the arboretum is payable, there is parking onsite and a nice cafe.
Grebe Nature Trail, Chew Valley Lake
Chew Valley Lake is the largest reservoir in South West England. It's also an idyllic place for pram-friendly walks, especially on a sunny day.
Park at the Chew Valley Lake car park (BS40 8XS) where the short circuit begins and ends at the wooded picnic area, taking you into the heart of the conservation area. The trail is a hard-surfaced, all-weather circular path (1.2km) with lots of local wildlife to look out for en route – prick up your ears to hear Cetti's warblers, spot swans and moorhens.
Treat yourself after your stroll with some of the most scrumptious fish and chips around at Salt and Malt (overlooking the lake, postcode BS40 8XS), there's also a children's playground here. Otherwise, you could pop to nearby Chew Magna for a pub lunch.
Read more:
Bristol's best kids' playgrounds
13 Beaches near Bristol: escape to the seaside within 90 minutes
Where to take cracking photos of hot air balloons in Bristol