The wise Winnie the Pooh once said 'nobody can be uncheered with a balloon' and I tend to agree with him. There are few things more exciting than watching hot air balloons float over your head. Hot air balloon fans around the world count down to the biggest balloon festival in Europe on the second weekend in August, Bristol International Balloon Fiesta. However, you can see hot air balloons in Bristol from March to October. If you'd like to up your balloon photo game, these are the best places to take cracking photos of hot air balloons in Bristol (wind direction and weather conditions dependent!)
Where to take cracking photos of hot air balloons in Bristol
Of course there's no better time or place to spot hot air balloons in Bristol than at the city's spectacular balloon fiesta. Taking place on the second weekend of August every year, this free four-day festival promises breathtaking balloon scenes that make the most dazzling photographs. Set your alarm and head over to Ashton Court early doors to capture the morning light during a dawn mass ascent or pop over in the afternoon for the early-evening golden hour version (Fri, Sat, Sun).
The magical 'Night Glows' can be seen on the Thursday and Saturday night of the festival, when the balloons' burners are ignited in time to music, which also makes for splendiferous photos.
The site of the Bristol International Balloon Fiesta and the launch pad for Bristol Balloons, Bailey Balloons and Elite Air UK, this enormous estate is a good bet if you're hunting out hot air balloons. If you aim for the middle of the sprawling grounds, just opposite the bright yellow Mansion House at dawn or late afternoon you might be in photographic luck during the ballooning season.
Bristol Harbourside
Witnessing hot air balloons over Bristol Harbour has never failed to disappoint. If the wind is sending them over the city's buzzing waterfront, there are a plenty of ways to grab an awesome shot of them floating overhead. Waterfront hangouts such as Arnolfini's outside space mean you'll be able to snap them against the backdrop of M Shed's industrial bulk, while one of Bristol's most famous landmarks, Brunel's SS Great Britain, offers Victorian-style decadence (as well as a lovely platform) for balloon gazing – look out for their Fiesta sunset lates or breakfast with balloons events which coincide with Bristol International Balloon Fiesta.
If you're a dab hand taking pictures while balancing on the water itself, then hook up a session with SUP Bristol and seek out hot air balloons while paddleboarding around the Harbourside. If that sounds too precarious, you can still capture the balloons from a water's perspective on an evening cruise with Bristol Packet Boat Trips, or the historic Matthew ship.
Or, just take a wander round, for backgrounds of multi-coloured houses commandeering the hillside, repurposed shipping containers, sailing boats and shimmering – albeit slightly murky – water.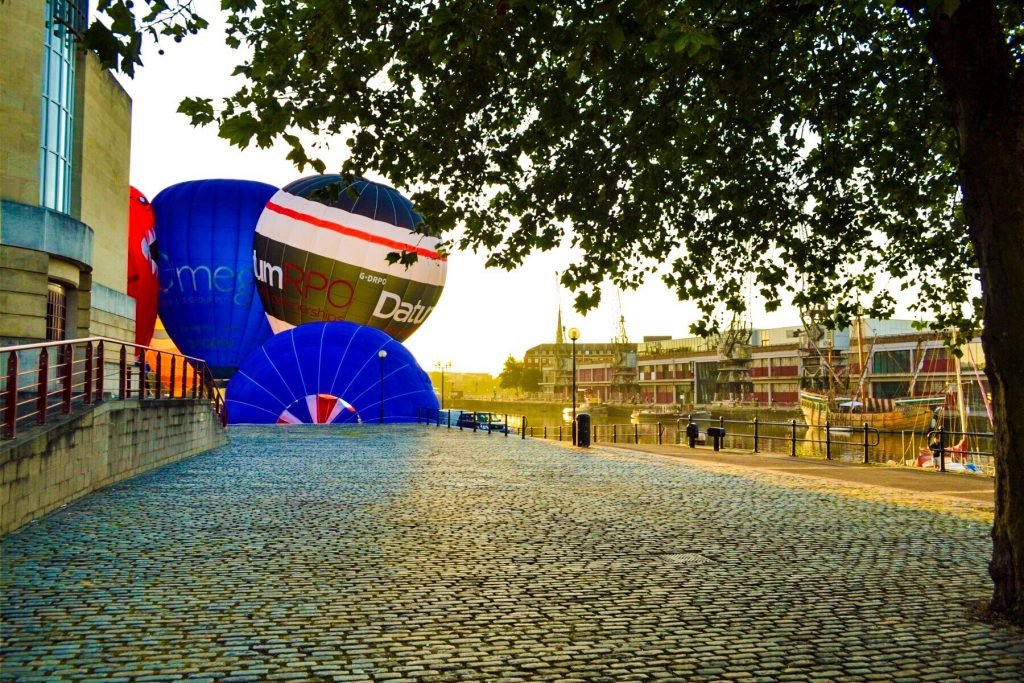 With one of the best views of Clifton Suspension Bridge in Bristol, the grassy patch of land next to Clifton Observatory is prime hot air balloon photography territory. From here you can snap the perfect shot against a backdrop of jaw-dropping views across the city, bridge and Mendip hills beyond. Depending on how long you hang around after the balloons have passed by (they're normally down by 8am), the new 360 Cafe, which opens at the end of July 2019, has a roof terrace where you can refuel after an early start with cake and coffee.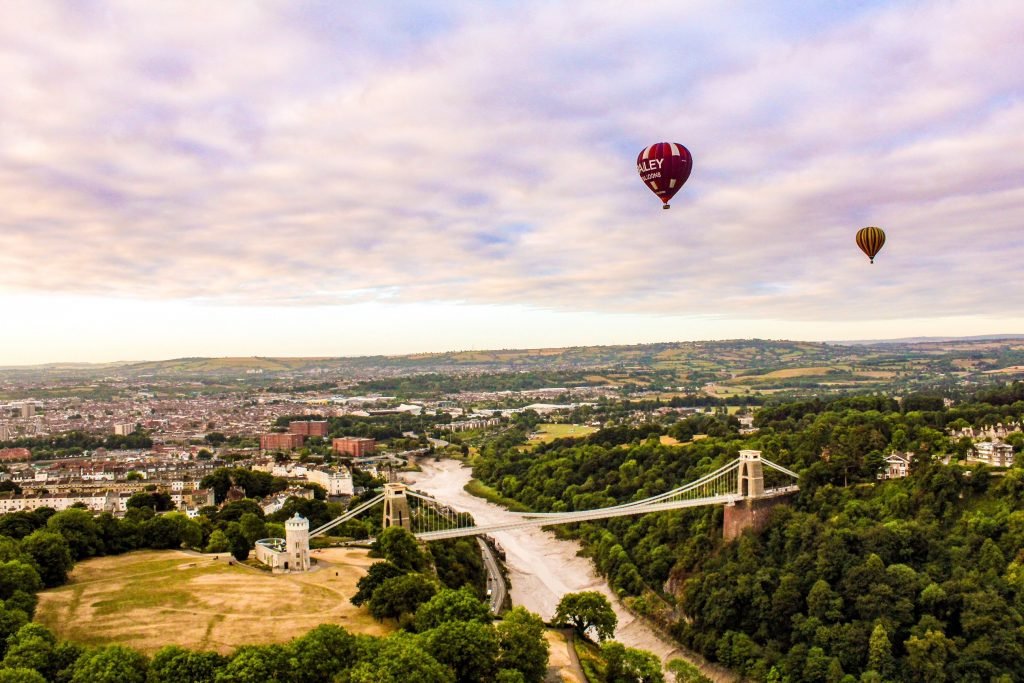 When the weather's good, people flock to the outdoor terrace of the Avon Gorge Hotel for its dramatic cliffside views over the gorge and iconic bridge. If it's balmy out, there's a strong chance of hot air balloon sightings from the Ashton Court Estate launch ground just across the ravine. With eye-popping views to gawp at from every angle, this is an upmarket balloon-snapping spot. For equally good piccies, head for the green patch of grass on Sion Hill, just along from the hotel.
Brandon Hill surrounds another of Bristol's famous landmarks, Cabot Tower. It's a lovely hilly park with stupendous views looking down over Bristol's Floating Harbour and countryside beyond. Given it's wide-ranging gaze and high viewpoint, it's also a darn good place to take photos of hot air balloons in Bristol should weather conditions be right.
From a hot air balloon
If you're lucky enough to get the chance to ride in a hot air balloon in Bristol with a fleet of others, you'll need plenty of battery and an immense amount of free sim card space for a ton of epic, unforgettable photos. Surveying the city and far-reaching landscape from above, it's hard not to take a smashing hot air balloon shot as Bristol's tiny buildings drift by underneath, like some magnificent monopoly land. It's from this birds-eye view you realise just how photogenic the city is! To fly high in a hot air balloon over Bristol check out Bristol Balloons, Bailey Balloons and Elite Air UK or the Bristol International Balloon Fiesta website.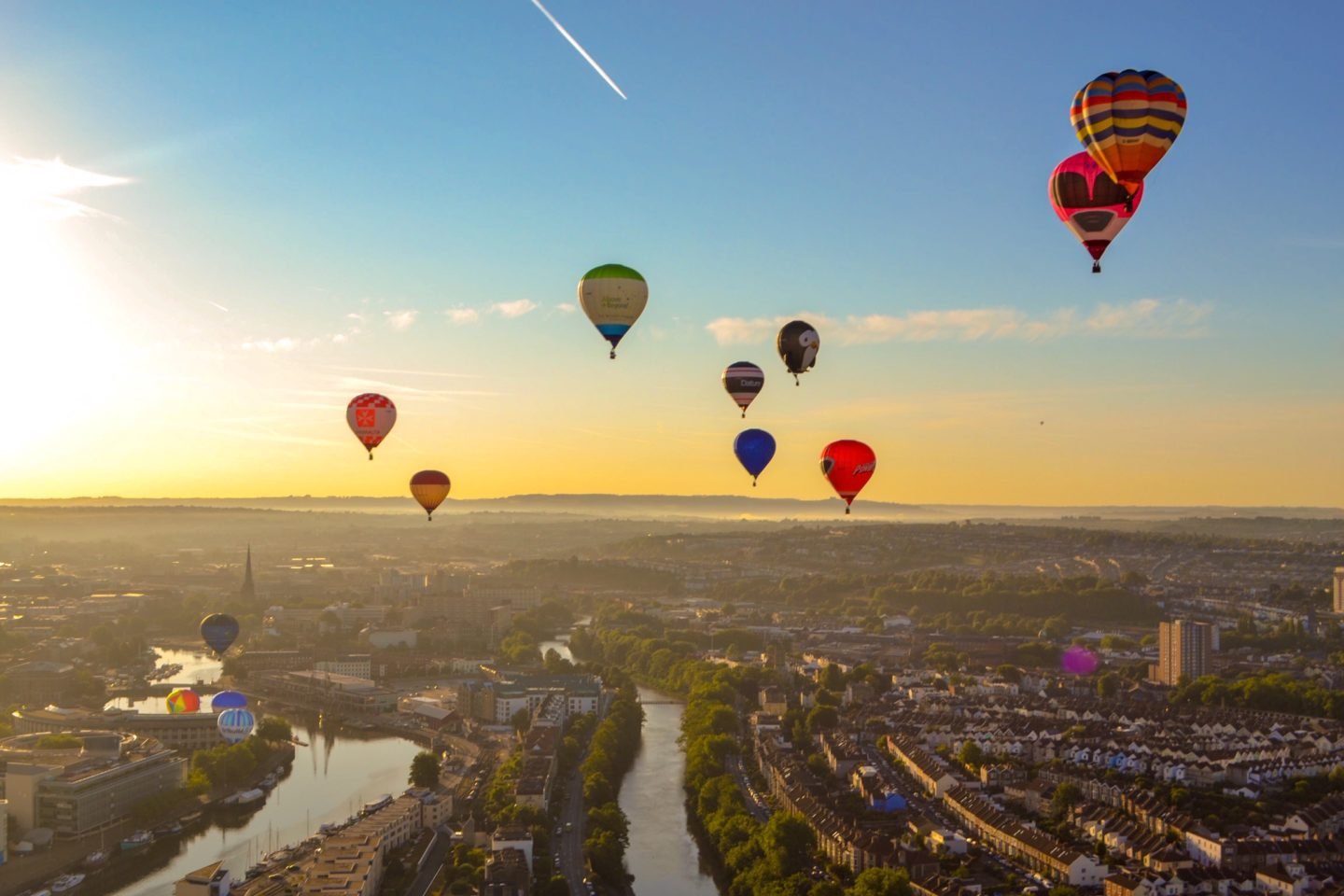 Purdown
I live in Horfield in Bristol and there have been many nights when, putting the kids to bed, the familiar sound of a hot air balloon burner has interrupted the routine, to send us shooting up to the loft. Our reward is a glimpse of balloons soaring over our house (it once seemed that they may even land in our garden!) to down balloon canopy (not a technical term) somewhere beyond the BT Tower of Purdown park in Lockleaze. If you happen to be over in this ancient green space at the correct moment, a hot air balloon photo masterpiece is yours for the taking!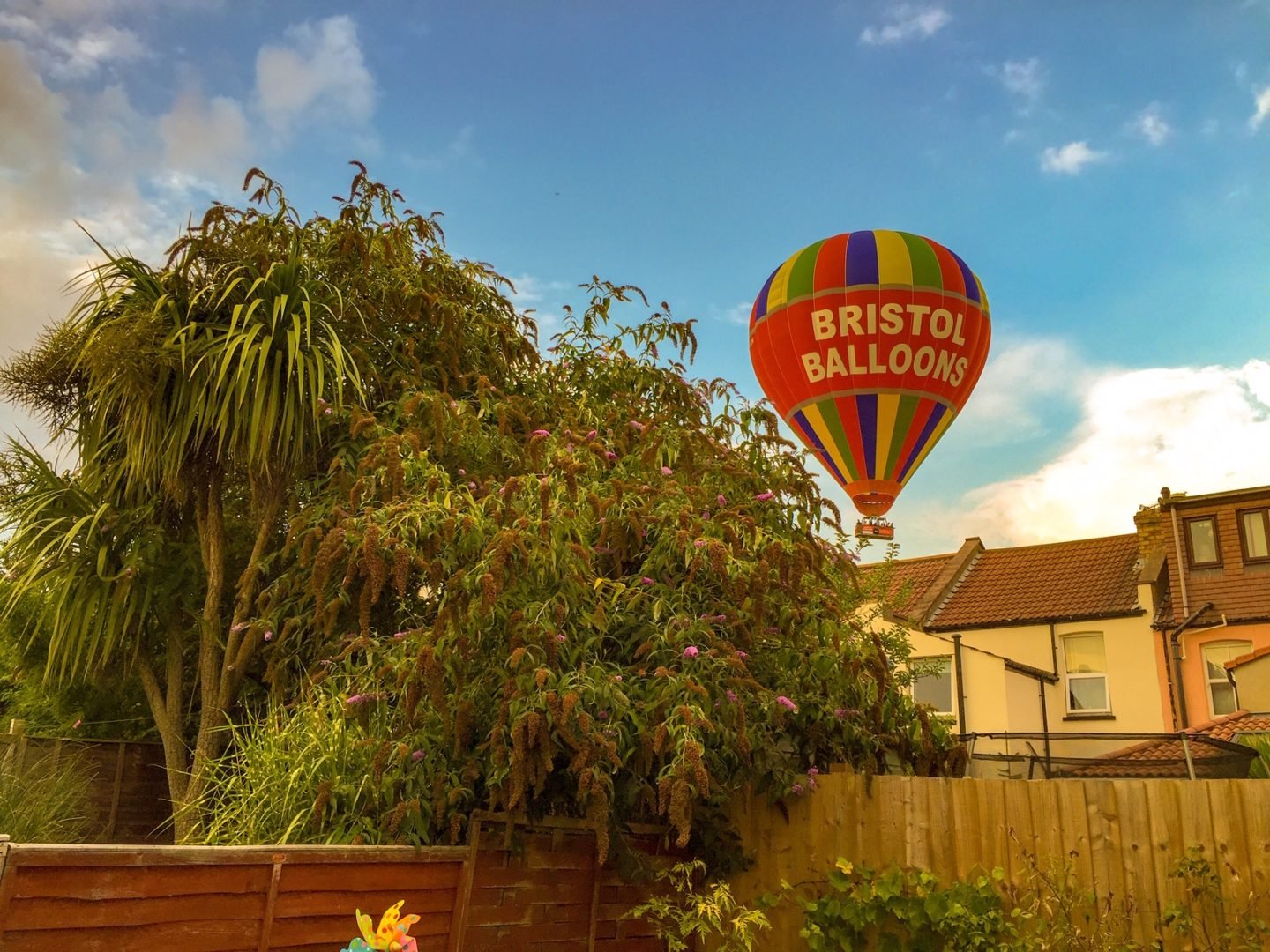 The Downs
A humongous green space which lies between Clifton and Henleaze, this vast patch of parkland overlooks the Avon Gorge and Leigh Woods from its Sea Walls end, meaning if hot air balloons are launching from Ashton Court, it's likely you'll be able to see them from here. Occasionally they land here too! When I was lucky enough to go up in a balloon, we touched down on The Downs, much to the surprise of early morning dog walkers.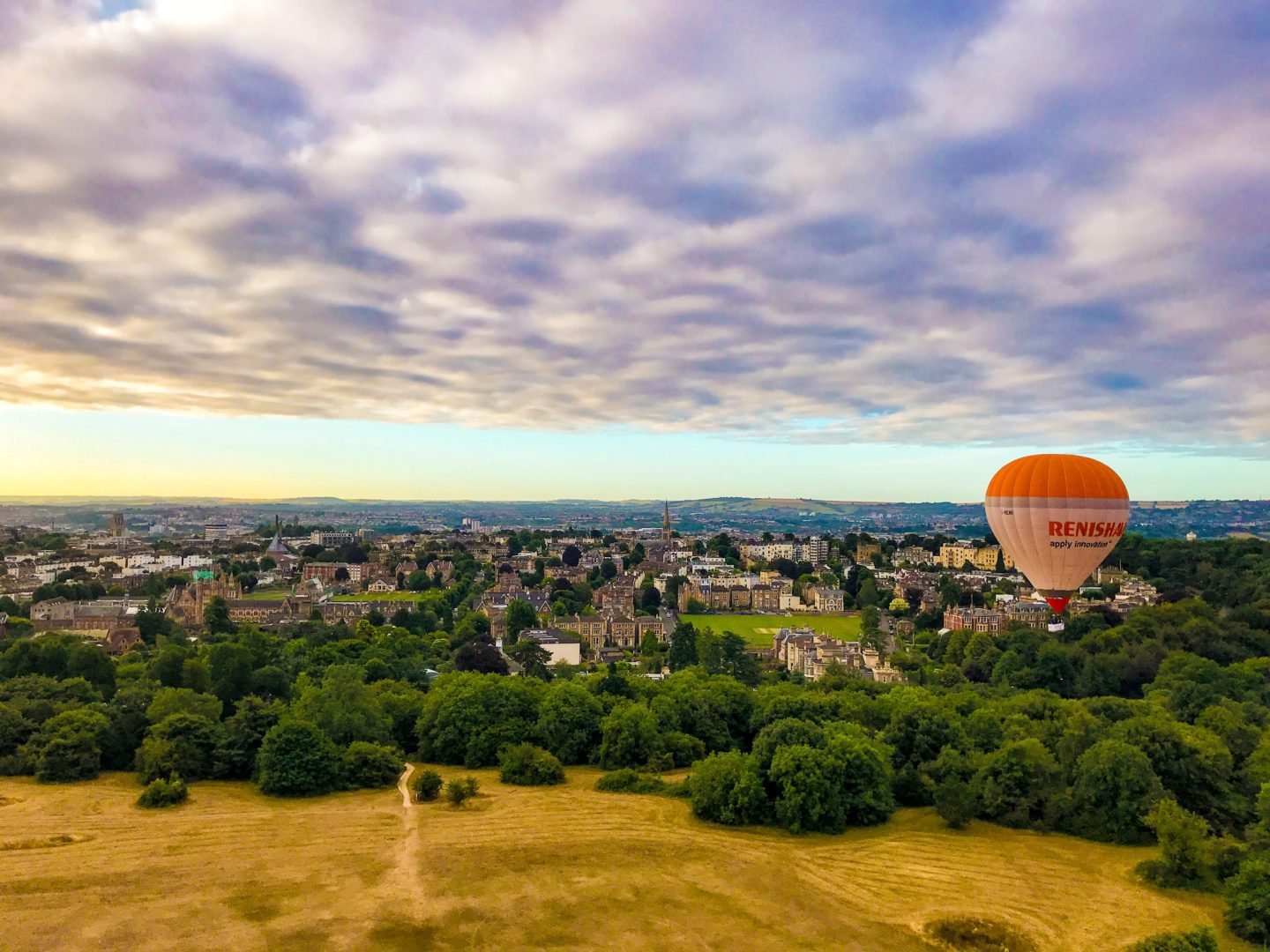 Victoria Park
Victoria Park sits south of the river in Bedminster and has tennis courts, a skate park, a basketball court, ping pong tables, and most importantly views across the city in all directions. In one direction, Totterdown's houses tumble down the hillside, while the other, city high-rises dot the skyline for urban balloon drifting shots.
Trooper's Hill
This hill in East Bristol is both nature reserve and excellent panoramic viewpoint for taking photos of hot air balloons soaring through Bristol skies. Recognisable by its hilltop chimney, the steep slopes that descend from this former copper smelting funnel offer fantastic views over the lay of Bristol land, distant hills and River Avon below.
Dundry Hill
South of the city, Dundry Hill overlooks the city of Bristol from its countryside perch. Plonk yourself down next to the church to snap money-shot pictures of hot air balloons floating in front of both Clifton Suspension Bridge and the Severn Bridge in the distance.
For more Bristol hot air balloon photography inspiration check out @Bristolsballoons and @bristolballoons.
Read more:
10 summer day trips from Bristol
10 Coolest things to do in Bristol with kids
Bristol's best kids' playgrounds
Pin it: