I'm a bonafide sun-worshipper and summer is my favourite season. Aside from my love of basking like a lizard in the merest snifter of sunshine, I love the summer for getting kids outdoors and exploring. With so many brilliant family attractions and glorious countryside within easy reach of Bristol, it's easy to find inspiration for day trips from the city. Here are my top 11 summer days out near Bristol.
11 summer days out near Bristol
Westonbirt Arboretum in the Cotswolds is just half an hour away by car and one of the most breathtakingly beautiful, nature-filled days out near Bristol, especially on a blue-sky day. Home to one of the finest collections of trees and shrubs in the world, it's a great one with kids as there are Gruffalos to hunt, natural wood play areas, plenty of shaded spots, trees to hide behind, sculptures to seek and a spectacular treetop walkway that lets you meander through the tree canopy.
30 miles from Bristol, Longleat makes a jam-packed family day trip with tons of wildlife to see, including a sea lion and hippo-filled lake, farm animals, brand new Koala Creek (the only place to see koalas in England) and plenty of animal encounters. Don't miss the world-famous safari drive through wild roaming animals (if you don't want to self-drive you can take the bus for £5 each), but don't be put off by tales of monkey destruction, you can by-pass this en route and still see the other animals if you choose. There's also the biggest kids' adventure playground (with a splash park) I've ever seen, a couple of rides, a giant maze and the gardens of this gorgeous mansion house to explore.
Are you like me and keen to make more day trips to Wales? Just over an hour away in the Welsh Valleys is Grade 1* listed Cyfarthfa Castle (the best example of a 19th century Ironmaster's residence to have survived in South Wales), perched high on a hill overlooking emerald green hillsides, the town of Merthyr Tydfil and the historic site of the Cyfarthfa Ironworks. The grounds – kempt flower gardens, green fields, woodland and lakes – stretch out over 65 hectares, with an animal trail available from reception to entice children to explore. There's also a splash pad, mini train (seasonal opening times apply), museum, adventure playground and cafes onsite.
Bird lovers will be in their element here, but aside from feathered friends there's also otters, field mice, water voles and other wildlife to see on day trips to Slimbridge. Grab a bag of bird feed on your way in (£1.50) to scatter among the many different species of birds and you'll be amazed how far your kiddo will walk! With acres of space and themed habitats to explore, this is a great motivator. Be sure to take a swimming costume for little ones in Welly Boot Land – one of the best splash parks I've come across, with winding streams, an over-water obstacle course, slides and picnic tables (oh, and take a floating device to watch it float all the way round the water ways). More adventure awaits on the canoe safari (for an additional cost of £7), stepping stones and kids' playgrounds.
Wild Place's brand new Bear Wood opened at the end of July 2019 and is home to European brown bears, lynx, wolves and wolverine – the first time these animals have been returned to UK woodland in hundreds of years. Visitors to Bear Wood can walk through the exhibit on a raised walkway through the trees with 180-degree, floor-to-ceiling glass viewing areas and 'dens' giving punters an up-close view of the bears living alongside each other.
There's also a huge amount of green space, animal habitat-themed zones and exotic beasts wandering the wilds here, including cheetahs, giraffes, zebras, eland, geladas, okapi and a lemur walkthrough.
As well as these majestic creatures, there's the Bear Sculpture Trail, a Barefoot Trail, a walled garden full of exotic birds and meerkats, plus a number of play areas and an indoor Fun Fort (handy if the weather isn't playing ball).
One of the easiest day trips from Bristol, this handsome Victorian mansion sits in a beautiful sprawling estate, surrounded by rolling countryside. As well as acres of to explore, logs to balance on, a natural play area with wood obstacle course and ancient tractor, family-friendly activities take place all summer-long.
National Trust near Bath and Bristol: days out with kids
Views spill across the valley to the 17th Century mansion house and Cotswold hills beyond at the heart of this spectacular park. Fallow deer roam freely in the estate and there's ducks to spot on ponds in the beautiful gardens behind the house – a lovely picnic spot in summer. As ever with National Trust places, Dyrham Park is brilliantly equipped for families.
The Courtyard Tea Room offers children's meals, cream teas (possible to take away), drinks (including wine, Bath Ales and Dyrham Park's very own cider), babyccinos, high chairs and a baby station complete with microwave. Once you've explored the beautiful grounds, including the mansion's very own chapel and tractor play area for kids, it's a steep walk back to the car park, or just hop on the free shuttle bus which ferries people up and down every 15 minutes throughout the day (do check if this is running during the pandemic though).
About a 45-minute drive from Bristol, the Cheddar Gorge and Caves are designated as an Area of Outstanding Natural Beauty. As well as spectacular views from the top of England's longest gorge, it's also possible to explore Gough's cave, which is over 500,000 years old! Day trips there this summer to get into the cave man spirit and see where Cheddar Man, Britain's oldest most complete skeleton was discovered. Find out how humans lived over 40,000 years ago in this very spot, and forage among the great grasslands for food. There's also prehistoric dress-up and thumb clay pot-making, plus tons more for families.
Bath
Did you know Bath is only 13 minutes by train from Bristol? It's not that much further by car, and you can even cycle all the way there on the Bristol to Bath Railway Path (or if that's too much for little legs, stop at Bitton). Once you're there, the Roman Baths, Egg Theatre, Fashion Museum and No.1 Royal Crescent are just some of the attractions to explore on family day trips, or check the calendar for family-friendly summer festivals in this UNESCO World Heritage City.
The beach
One of the peachiest plus points about living in Bristol is that the coast is within easy reach of the city and you can escape to the sea often in under 90 minutes! If the sun is shining there are few better places to be or things to do than summer sandcastling on the beach, Weston-super-Mare and Clevedon are really close, but you'll find 12 more beaches that are an easy day trip near Bristol in this blog post.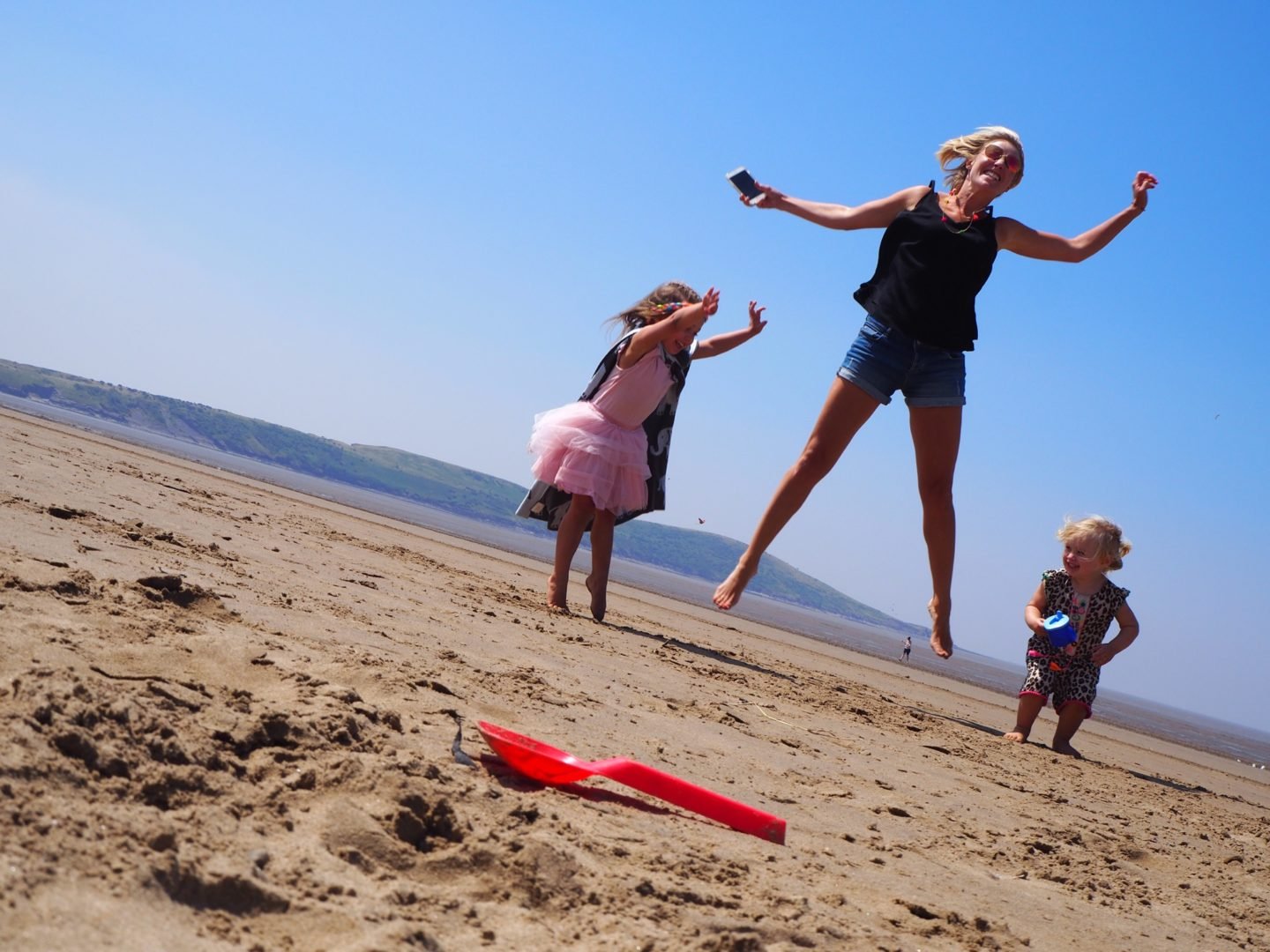 Crealy Resort in Devon is the South West's largest theme park with over 60 rides, a splash park, farm animals and adventure playgrounds that will appeal for kids aged from tots to teens. Crealy has recently transformed one area of the park into a brand new Sooty Land! This unique attraction, dedicated to the world's longest-running TV show features daily performances of The Sooty Show, four new rides (geared towards younger kids), 10 new indoor attractions, Sooty's Hall of Fame exhibition, Sooty's Magic and Souvenir Shop, new Sooty-themed restaurants, a new outdoor play park and wheelchair and accessible play equipment.
It's a thrilling, jam-packed day out, so make sure you arrive early to make the most of the park. Crealy is around an hour and a half from Bristol.
Read more:
What to see in Bristol with kids: 25 family-friendly attractions
National Trust near Bath and Bristol: days out with kids
Just off the motorway: family-friendly M5 stop offs near Bristol
Pin it