Grey clouds, lashing rain, or miserable drizzle, it's not the most unfamiliar sight in the UK, and Bristol – with its location to the coast and Somerset hills – often gets more mizzle than most. If your kids are anything like mine, they need to be out of the house by 10am, otherwise they start going bat shit crazy and on rainy days it can be a real struggle to keep them entertained and also stay sane! So what is there to do in Bristol with kids when it's raining? The answer is – loads! So if you're visiting Bristol and are unlucky with the weather, or you're a local parent and in need of some child-friendly fun, I've put together a list of rainy day indoor activities in Bristol for kids.
Rainy day indoor activities Bristol: Attractions
This museum is my go-to on a rainy day. Not only is it free to get into, it is jam-packed with interesting exhibits aimed to spark excitement in children. Downstairs you'll find displays of local wildlife, Egyptian mummies, a Banksy statue (a remnant of when the Bristol-born artist took over the museum back in 2009) and an interactive play area for younger kids where they can dress up, construct an ancient vase and chill out with books (*tip get there early to have this little nook of fun to yourself).
Upstairs, there are dinosaur bones and more exotic animals – Alfred the gorilla (previously resident of Bristol Zoo), a giraffe, zebra and even a stuffed dodo (not real…although I will admit I had to check). The museum regularly runs family events and exhibitions so keep an eye on their What's On page for up-to-date information. The building itself is really quite beautiful and the aeroplane hanging from the ceiling as you enter makes a big impact. There are drawing areas set up for kids dotted about and there's a lovely family-friendly cafe with seating under the gigantic Pliosaurus to keep the kids enthralled as you eat.
In terms of practical stuff, you'll find lockers to store all your offspring-related paraphernalia, a buggy park and lifts to get up and down stairs. Based near The Triangle and Park Street, there is parking (paid) on nearby roads or there are plenty of buses that can drop you nearby.
Another one of Bristol's fantastic free museums, this one is based on the Harbourside and has a real-life old-fashioned double decker bus inside – which you're welcome to board, an air raid shelter and lots of of interactive exhibits where kids can press buttons. M Shed showcases the city's social history and on selected dates runs an old steam train outside (for when it's not raining!), which trundles up and down the length of the Floating Harbour.
On certain days you can also have a go at working one of the cranes, or take a trip on what is believed to be the oldest surviving steam tug in the world, the Mayflower – so look out for these.
There's probably not a whole day's worth of rainy day indoor entertainment for kids here, but it's nice for an hour or so in the morning followed by something yummy in one of Cargo's trendy converted shipping container restaurants (just next door). Make sure to take a trip to the upper floors of the museum for some spectacular views over the water.
In Bristol's city centre, We The Curious is a hands-on science centre absolutely bursting with fun stuff for kids to try out, experiment with, watch and learn – it will totally blow their minds, no matter what age they are. From blowing giant bubbles to experiencing the inside of a womb, posting balls up a suction tube (I need one of these installed in my house for the length of time my two year old spent on this), to space exploration in the UK's first 3D planetarium, making your own Aardman animation and sending parachutes soaring up into the air, you really need a good day here to make the most of everything.
WTC run toddler takeover days at discounted prices which always get fully booked so if you fancy it, get your tickets early, although if I'm honest I actually prefer the 'normal' days and paying a bit more to have fewer fellow visitors around. You receive a band when you enter which lets you come and go as you please throughout the day, so you can either eat lunch at the onsite cafe, or pop to nearby Pizza Express, Pieminister or Wapping Wharf for some grub.
If you were familiar with Bristol a few years ago, you may remember the big curved building down near the waterfront that used to house the old IMAX cinema. This has been transformed into Bristol Aquarium, an exciting underwater world that takes visitors on a journey through exotic marine waters to Britain's coastline, freshwater creatures, mangroves, rainforest pools and more. My favourite parts of the attraction are the re-creation of Bristol Harbourside and neon jellyfish!
In school holidays, you can often meet a real-life pirate or mermaid or take part in specially-themed activities. It's all indoors and there is a cafe with little play area for kids adjacent to the cafe seating for kids to play in while you have a coffee.
The ship that changed the world resides on Bristol's Harbourside. Created by one of the city's most famous adopted sons, genius Isambard Kingdom Brunel, this ship/interactive museum (complete with authentic sights, sounds and smells) has outdoor areas such as the weather deck and Great Western Dockyard, but you could easily spend a day checking out all the indoor activities here and dodge most of the rain.
As well as being able to go below the ship, under the magic 'glass sea' to marvel at the hull and giant propeller, you can learn about the history of the SS Great Britain in the Dockyard Museum, dress up in Victorian garb and take a piccie, board the ship and go below deck to see how various classes of passengers would have lived as well as visit indoor museum, Being Brunel for a glimpse into the life and mind of the Victorian engineer.
During the school holidays, thrilling events take place here, often featuring the 'Ragged Victorians' who bring the authentic dockyard to life.
While there is a lot of outside space and activities here, there are enough undercover areas and indoor activities at Bristol Zoo to make a rainy day visit worthwhile. In bad weather, you'll often have the entire place to yourself, or only have to share with a handful of people if you go early and out of school holidays.
The Twilight Zone is indoors, as are the Reptile House, Aquarium, Bug World, Butterfly House, Bird World, the immersive underwater viewing galleries in Seal and Penguin Coasts, the Activity Centre, 180 degree Gorilla-viewing house and of course, the Hide Cafe (which has cool moving animal graphics on the walls) and gift shop. Puddles gathering around the gardens also make for a splashtastic time.
This aviation museum is perfect for plane-mad and engineering enthusiasts on a rainy day. On display are engines and planes of all kinds from over a century of powered flight. The show-stopping centrepiece however, is Concorde Alpha Foxtrot which fills an entire hangar to herself, complete with plane-blazoned graphics and her own exhibition.
You can go aboard the legendary plane and get an insight into life on-board for those travelling at the speed of sound! While there weren't as many interactive exhibits as my children would have liked, there is plenty to see and do, the odd aeroplane to clamber aboard, an outside play area and a nice cafe.
Rainy day indoor activities Bristol: small museums
Did you know Bristol was named Museum Destination of the Year 2018 in the Luxury Travel guide awards? The city is home to a number of small museums which are great for dipping in and out of on a rainy day.
Blaise Castle House Museum (open from April) on the vast Blaise Estate is located in the mansion house and contains a dressing up area, fascinating old-fashioned toys and an old school room. There is parking onsite, but you will have to walk a little way to get to the museum and get past the kid's play area which might be tricky once little ones have clocked it!
Red Lodge Museum (open from April) looks tiny from the outside, but its little red door conceals an impressive Elizabethan house and knot garden. Over at The Georgian House Museum (open from April), you can find out how a plantation owner with a slave would have lived back in the height of the slave trade.
Rainy day indoor activities Bristol: shopping escapes
Ok, I admit I normally avoid shopping centres like the plague, especially with more than one child. But if it's a quiet rainy weekday (not around December) then there are a few things to keep kids occupied at Cribbs, located just off Junction 17 of the M5.
During holiday time, they often run a miniature train which pootles up and down the gigantic inside space of the mall. You'll also find a Build-a-Bear shop, where your child can concoct their dream teddy from all sorts of exciting costumes and accessories, before seeing it stuffed before their eyes. There are all the usual high street shops, so you could pick up some craft supplies before heading home or treat your kiddo to lunch at Yo Sushi – the conveyor belt is always a source of great fascination for youngsters! And Lush allows visitors the chance to try out some of their soaps and bath bombs – always a favourite thing for my girls!
I guess this one is more for locals, as I probably wouldn't suggest tourists spend their time visiting Bristol's retail parks for rainy day indoor activities! While useful, they're not particularly pretty and the city certainly has a lot more to offer if you're only here for a few days.
It first hit me just HOW much my life had changed after having a baby when I visited Eastville Retail Park and had the best time EVER. Having been mildly repulsed by edge-of-town retail parks pre-bubba, the discovery of the convenience such a shopping location could offer me, just minutes from my house was a real game-changer.
Here you'll find a Pet Shop with real-life bunnies, guinea pigs, hamsters and fish where they often put on pet handling events.
There's also a George ASDA, Boots, an M&S food and a humongous 24 hour Tesco superstore just across the road. The cherry on the cake is IKEA (on a quiet week day – I wouldn't suggest this an indoor activity on a rainy weekend, I'm not a sadist), where little ones can run free, follow the arrows, play pretend in fun bedrooms and try out everything in their children's department.
Indoor activities Bristol – kids' cafes
In Bristol, parents are spoilt for choice with kids cafes which are perfect for a spot of rainy day indoor entertainment.
KudaCan, just off Gloucester Road in North Bristol has an outdoor play area with lots of those Little Tikes cars and an indoor soft play next to tables where mums and dads can gorge on coffee while kids go mad in the soft play. They also run classes and workshops like baby massage and martial arts pre-school.
Not far away, Playful Cafe just off Bishop Road is brilliant for babies and toddlers. There are comfy sofas, loads of toys and books to play with and a indoor play area with slides and climbing frames. South of the river, you can find the Bubble Play Cafe in Bedminster – which has a giant soft play area for kids, and The Milk Shed in Southville.
Exciting rainy day indoor activities Bristol
Based in an industrial warehouse – which never sounds appealing, but you tend to get used to it on a desperate hunt for rainy day activities – this place runs baby to pre-school trampolining and gymnastics session and soft play. The club has a ton of trampolines, some that your kiddo can just bounce on, a really long one that they can run the entire length of and foam pits to ping into, plus lots of toys for younger kids and babies to play with.
Every weekday there is a non-structured pay-as-you-go family fun session for parents and toddlers (aged 0-4) to enjoy together. Adventurers sessions (for 2-4 year olds) are also drop in (always useful if your plans change regularly and you don't feel you can commit to a 6-week term) – see their timetable here.
Bristol is blessed with the biggest trampoline park in the world – AirHop. I could be jealous of the resources the youth of today have access to, which didn't exist when I was little, but places like these are also immensely fun for adults (pelvic floor withstanding of course).
A dodgeball area,  basketball court, foam pit and wall to wall trampolines, plus a Gladiators-style Battlebeam are all to be found within. For the under 5s, AirHop run MiniHoppers sessions, where pre-schoolers can take over the place from 10am-12pm Tuesday-Friday and 9-10am Saturday and Sunday.
If you've got a climbing ninja in your brood, look no further. Clip n'Climb offers kids the chance to scale thrilling, vibrant coloured walls of all shapes, nooks and surfaces. Just clip 'em into a harness and off they go. There are also bouldering walls to scamper across and delicious nutritious snacks at the onsite cafe.
Rainy day indoor activities Bristol: soft play
Some parents shudder at the thought of them, others love them (do they know something I don't? Perhaps luxury ones serving Prosecco and gin I wonder?) Either way, they're an unavoidable right of passage for most parents, and a great way to wear tinies out on a wet weather day.
Jump near Cribbs Causeway is one of the biggest in the country. It's housed inside gigantic warehouses with masses of space for kids to run wild in (but little natural light). Boing in Lockleaze is another favourite, and of course there are Kudacan and Bubble Play Cafe as mentioned above.
Littleton is a colourful stay and play roleplay space for under 8's – think CBeebies Biggleton – that is designed to fire little one's imaginations and promote cooperative play. Inside you'll find a pretend village shop, puppet corner, festival food truck and a miniature vet, plus coffee and cake on offer for adults! Price: £5 for over 1's, £3.50 for babies over 6 months for 90 minutes play.
What better way to combine a rainy day activity with doing good for the planet and getting some of your shopping done? Take your empties along to this eco-friendly, plastic free shop and fill up your washing liquid, hand soap and washing conditioner, baking supplies or vinegars (not rice though – the organic rice is super expensive!).
You can also find vegan, plastic-free products such as hard shampoo, bamboo toothbrushes and the like. My kids absolutely LOVE coming here and helping to fill up containers – just be careful they don't start opening anything while your back is turned and release millions of tiny cous cous onto the floor…There is a similar shop, Zero Green in south Bristol if you're over that side of the city.
Yes really, B&Q is an extremely exciting place for pre-schoolers. Why? Because of their giant wall of light switches! All different kinds. It blows their minds. They can flick them and click them over and over and over again, to their little heart's content on rainy day! Just don't go with the intention of actually achieving anything useful while you're there.
Libraries in Bristol
I have recently fallen in love with my local library. Gone are the days when it was obligatory to be quiet in a public library, these days libraries are embracing the joy books bring to kids and letting them and their carers spend time reading aloud, getting excited about the stories and playing with a load of toys in an open area. My personal favourites – are Bishopston (mainly because its close and brand new) and Bristol Central Library (which has daily rhyme time and a pirate ship).
Libraries are a great way to refresh reading time in your house without having to buy more books and it also gives youngsters a chance to demonstrate their much-craved independence by choosing their stories for the week. There are often sing and rhyme sessions, it's good to support them and best of all, they're free. Win win all round.
Indoor activities Bristol: drop-in classes
Hawks Gymnastics in Easton (where Olympian Claudia Fragapane trained) run weekday session for ages 18 months to 5 years old , along with their parents, to go and clamber, climb, slide, ping, balance, rope swing, dangle, leap and have a taste of acrobatics at a well-equipped gym. The sessions are 45-minutes and, under the supervision of an instructor, kids are free to explore at their own leisure, and brought together for a song in the middle and at the end along with some stretches.
Bristol Gymastics on Gloucester Road run drop-in, hour-long Saturday morning classes for school-age kids starting at 9am and finish at 12.30pm. There is no need to book, but they do get busy, so arriving early is advised. Kids learn the basics of gymnastics through activities and help from a coach. Cost £5.
These classes are great for babies to pre-school age, and I personally really love the drop-in nature as with bubbas around, it can take a while before they're predictable! The fun sessions involve singing children's favourites with lots of interactive elements – parachutes, bubbles, cuddly toys etc. Bristol classes take place at The Eastfield Inn – a lovely family-friendly pub with outdoor space and if you're in a class you get 10% off your food if you eat there afterwards!
This place seems like it's in an entirely random location, but inside, there's a whole universe of fun for little ones including a bouncy castle, spring floor, rocking things, sliding things, tunnels, soft play equipment, tunnels and lots of baby-friendly fun to be had. Sessions are run on a drop-in basis for 10-months-4 years Mon, Tues, Weds, Fri 10am-12pm and Sat 9.30am-11.30am (£4 a session).
Cinema with kids in Bristol 
Independent cinema Watershed offer Cinebabies, Showcase Cinemas run baby-friendly films and The Orpheus in Henleaze is my all-time favourite cinema for its intimate size, well-stocked bar and general toddler-friendliness. By that I mean, it's not too loud, they offer booster seats and great snacks.
What are your favourite indoor activities in Bristol to do with kids when it's raining? Let me know if I'm missing out on something epic in the comments below!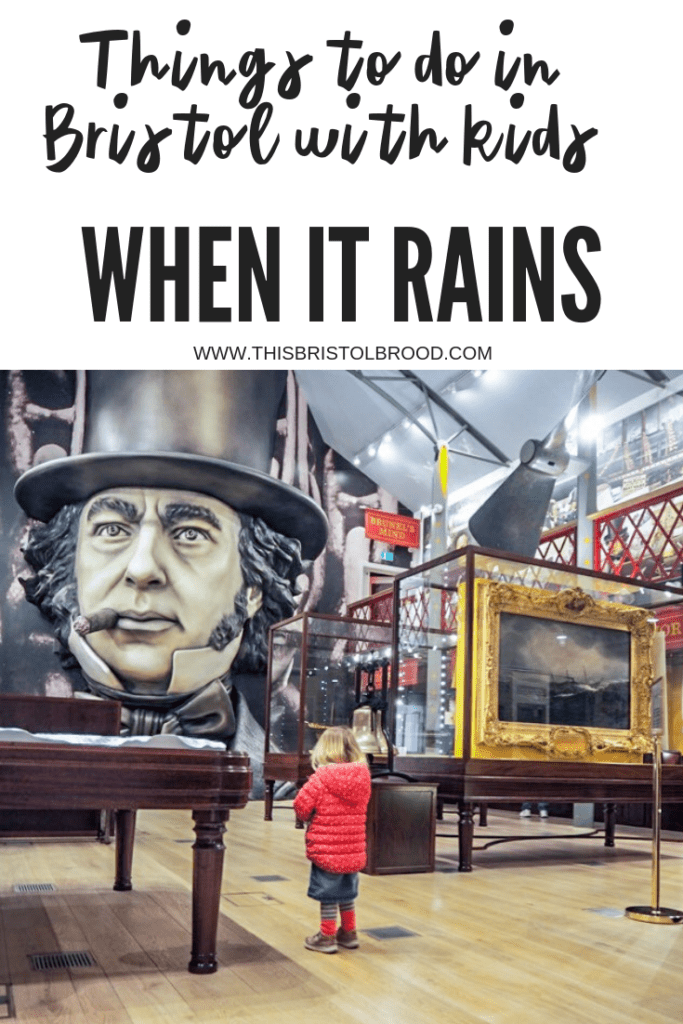 Read more: