Once upon a time, Queens of England wandered Sudeley Castle's grounds, but for October half-term 2019, you're more likely to find magical fairies, a wolf disguised as a Grandma and a princess that has been asleep for 100 years. If you're a fairy tale fan, or know somebody who is, Enchanted Sudeley – the castle's Halloween event – is just that – enchanting, particularly for pint-sized story-lovers. 
*Disclosure: my spooky tickets to Sudeley Castle were gifted in exchange for content about the Enchanted Sudeley trail, in collaboration with Visit Cheltenham. As always, opinions all my own.
Enchanted Sudeley Castle gardens fairy tale trail
I'd only seen Sudeley Castle in the pitch dark, festooned with neon lights, glittering trees and glowing lawns at their Christmas Spectacle of Light extravaganza, so it was eye-opening to see it in the daylight. While there were no colourful lanterns illuminating our route this time, the vibrant leaves stole the show – all golds, russet and fiery deep pinks. October half-term is a great time to visit Sudeley Castle gardens as the autumnal vibe is quite spectacular when set against the backdrop of an ancient castle and surrounding rolling countryside.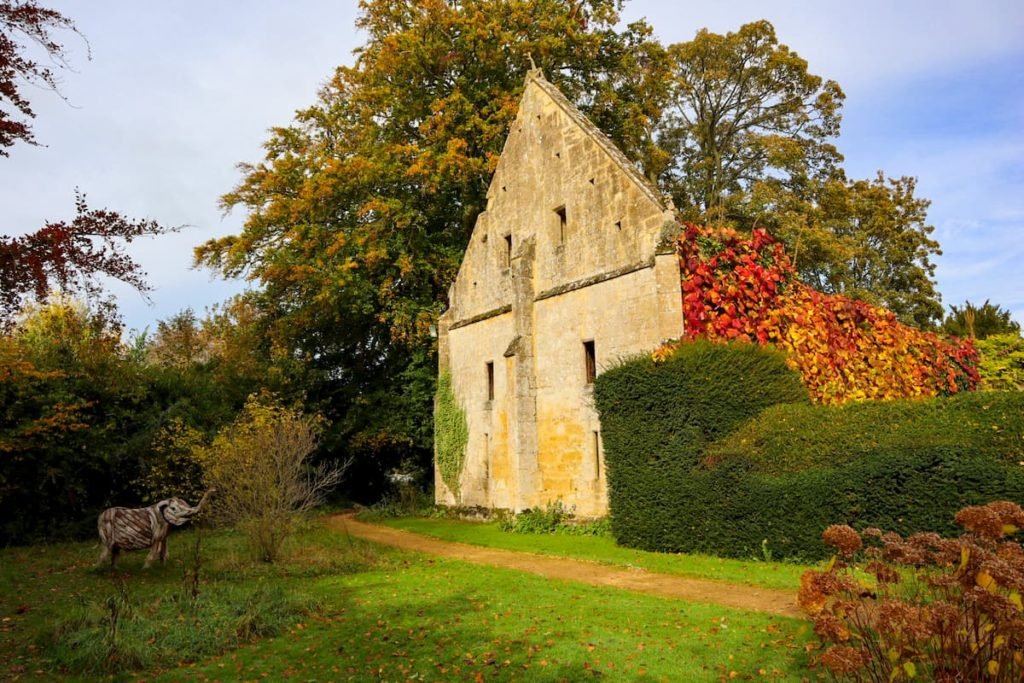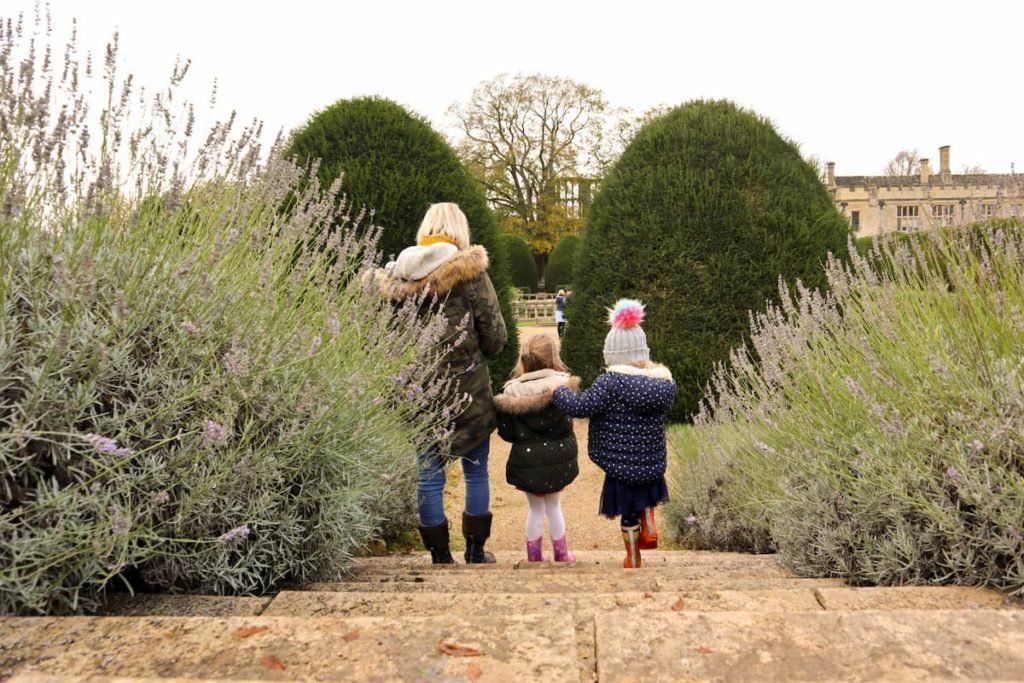 The castle gardens are really quite exceptional and the kids had a whale of a time exploring the grounds, nipping down pathways, scurrying through narrow hedgerows, skirting glamorous topiary, galloping across vast patches of grass, ducking under archways and delving into castle rooms on the hunt for people and things from their beloved stories.
To add to my girls' delight, real-life characters from Grimm's fairy tales would appear as if from nowhere; Prince Charming strolled past and a little old lady that looked very similar to a wolf popped over for a chat! My daughters' little faces were a picture as they spotted the Fairy Godmother in the distance, and they set about nervously trailing her through the bushes until she noticed them, whereupon she offered her magic wand for holding. 
A special map indicated where we should be headed and the fairy tale trail took us through the glorious Sudeley Castle gardens to scenes from famous stories including Cinderella's sparkling gown, a golden goose and Rapunzel's hair. I will admit, the real-life nature of the characters, did mean they had often wandered from the spot we were supposed to discover them, but we managed to catch up with most of them elsewhere.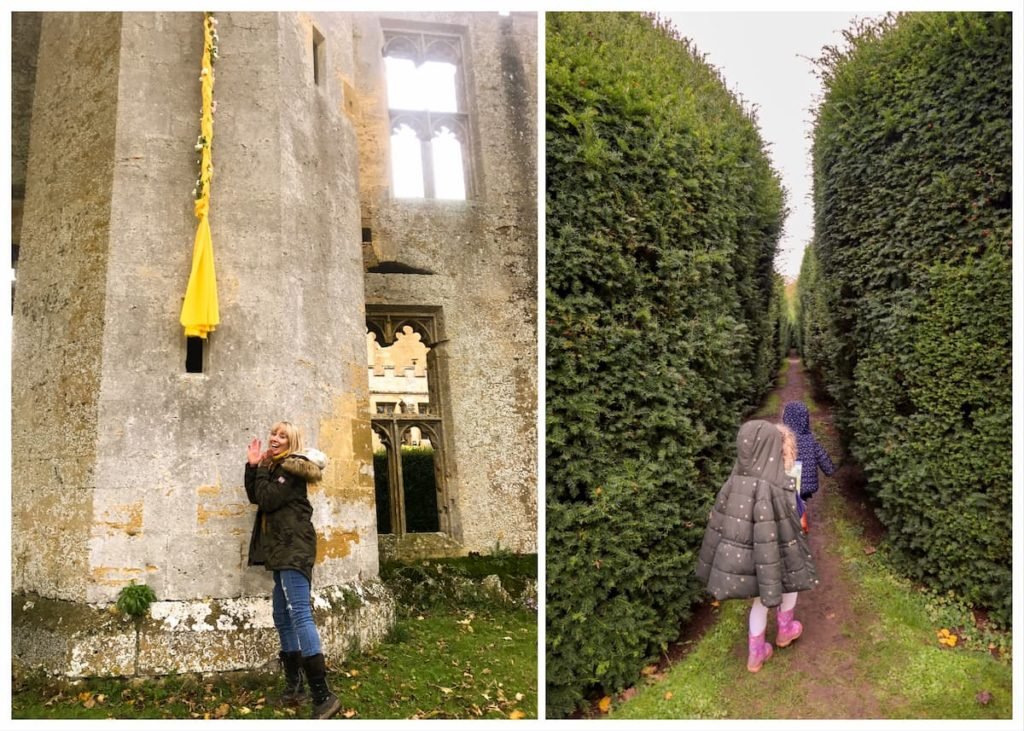 The hunt took us into all areas of the grounds, through the breathtaking ruins (the ancient tower doors to nowhere and skeletal windows are a personal fave) and present-day inhabited areas of the castle. The very presence of an actual castle immediately sets imaginations racing and never mind the fairy tales, Sudeley Castle's own story is utterly fascinating. Signboards spell out some of the most interesting true-life tales of Katharine Parr, Lady Jane Grey and the customs that used to befit the Queen (I'd never seen a velvet covered toilet or heard of a Groom of the Stool before now…yes your guess is right!)
The trail then leads you through the Pheasantry towards the Forbidden Forest where Sudeley Castle grounds have had a Halloween makeover. It was thrilling for my kids, who are as excited about Halloween as Christmas and squeal every time they see a pumpkin or anything vaguely related to All Hallow's Eve. Spider webs, a glowing cauldron and a triggered cackling sound were just the ticket to end the fresh-air adventure on a Halloween high.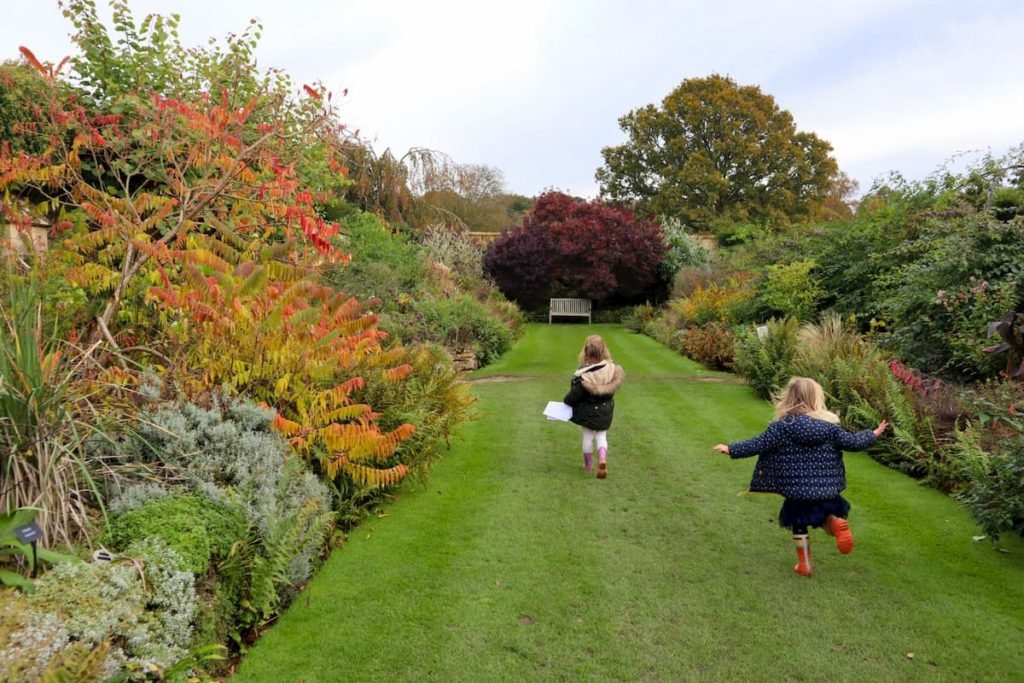 Sudeley Castle playground
Before we left for the return journey to Bristol (just over an hour away by car), we had time to play in Sudeley's epic children's playground. A vast area of land, the thrilling centrepiece is a huge wooden fort with slides, climbing wall, fireman's pole and ladders to climb. There's also a couple of obstacle courses and a zip wire to keep littles entertained for ages!
Final thoughts on Enchanted Sudeley Castle Gardens
Enchanted Sudeley makes a brilliant family day trip from Bristol during October half-term. There's so much to see and explore in the gardens and finding the fairy tales kept my two kids engaged for hours – so much so, I didn't have to enter any negotiations about carrying my three year old v.s her walking – she ran the entire way round! 
Practical stuff
Enchanted Sudeley is on until 3 November and is perfect for a festive Halloween treat and half-term outdoorsy activity.
Once you've confirmed the required tickets you can choose optional extras for your visit, including a guidebook and afternoon tea.
Grimm fairy tale storytelling will also take place with the Wicked Stepmother on 1, 2 and 3 November at 11.30am and 2pm each day.
Pin it