Christmas means light shows and there aren't many as spectacular as the Sudeley Castle light show. The four of us took an evening trip from Bristol (around an hour or so from the city to the castle's Cotswolds location, and here's what I thought of it:
*Disclaimer: Sudeley Castle gifted us a family ticket in exchange for related content, as always, my review is my honest opinion.
Sudeley Castle Light Show
 "I wonder if the snow loves the trees and fields, that it kisses them so gently?" , Lewis Carroll, Alice in Wonderland & Alice Through the Looking Glass. Well, there wasn't any snow (although it felt cold enough for it!), but I wonder if the trees, and plants of Sudeley Castle love the glittering neon colours and flickering candles that light them up for Sudeley Castle's Spectacle of Light, transforming them in to the most glamorous topiary, magical branches, and dazzling enchanted Alice-themed wonderland. My feeling is that they do, thanks to the delighted looks and grins of wonderment on visitors' faces as they make their way round each glowing twist and turn of the Sudeley Castle light show…
My two girls have never seen or read Alice in Wonderland, but it didn't stop them from being totally in awe of the glimpses we got of her and the classic tale here and there on our twinkly journey through the dark. From a disappearing and reappearing Cheshire Cat high in a tree, to a caterpillar high on a toadstool surrounded by smoke plumes, a March Hare surrounded by clocks and real-life Mad Hatter chattering away in snowflake beams, we excitedly picked up bits of the story and pieced them together for the little'uns as we made our way round Sudeley Castle's gardens.
As well as visual effects, certain areas of the gardens had audio accompaniment – a character from Alice in Wonderland could be heard spinning a yarn or music would be playing to enhance the gleaming visuals. This was a nice touch, although our two year old took the foreboding music to mean that there were monsters about to leap out at any moment!
When the illuminations weren't directly relating to Carroll's children's book, the effect was  more abstract (unless my Alice knowledge is lacking), but equally breathtaking. Some of our favourites included a gigantic moon 'rising' out of the water, fountains set to music against a backdrop of 15th century castle ruins and torches flickering in a maze-like hedge, beneath a centuries-old wall.
The night we visited it was bone-bitingly cold, the thermostat said -2 and I'd be lying if the kids didn't struggle a bit with the chill in the air (my fault for not wrapping them in thermals), but in my book we lucked out – dry, crisp and festive with clear skies and a visible moon was the best night for it in my opinion. Warmth came in the form of cockles-warming hot chocolates with whacking great dollops of cream and flakes on top, plus a bar serving burgers and the like about half-way round, to add to the merriment.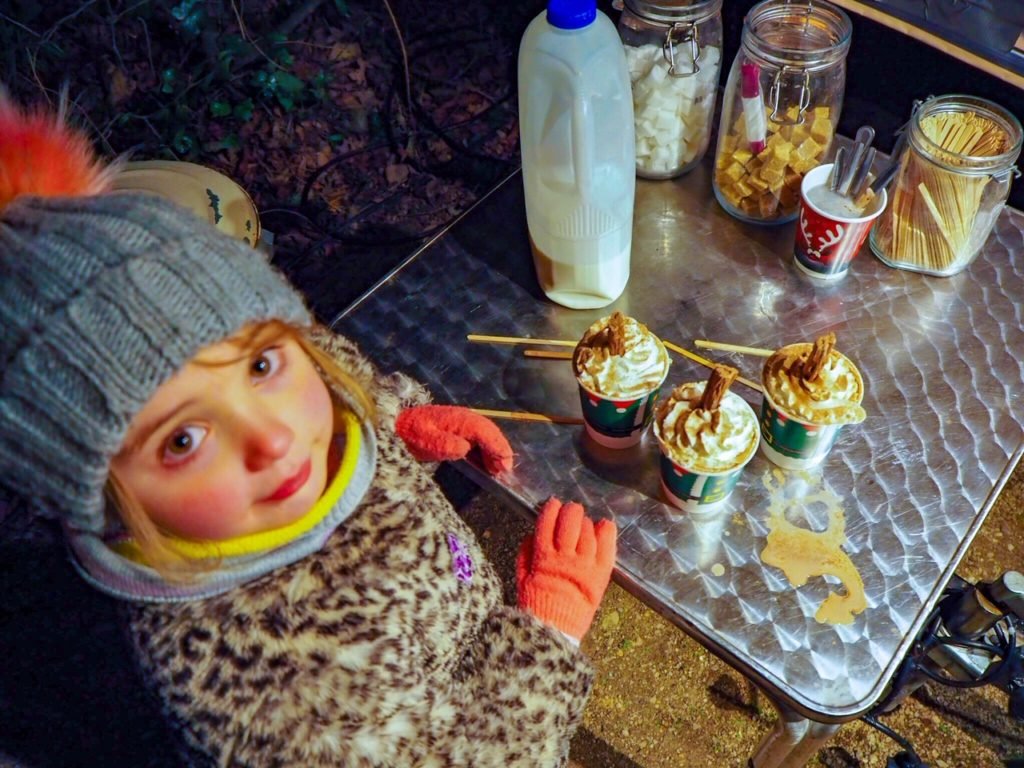 More than just a light show
We travelled up from Bristol to see Sudeley Castle's Christmas light show and were blown away by the festive decorations. For us, the evening was more than just a light show, it was the lead up through the Cotswold town of Winchcombe –  a quintessentially English town that wouldn't look out of place in a Hollywood blockbuster's re-imagining of England in winter. Filled with dreamy stone houses, decorated to festive perfect and an olde worlde pub bedazzled by sparkly Christmas trees and a ton of Friday night jolly locals.
It was also the Salvation Army band, tooting out Christmas classics on their brass on arrival and departure that gave the castle an extra helping of Yuletide buzz. And the feeling that, not only were we in the realm of the Queen of Hearts, but that of four of England's queens – Anne Boleyn, Katherine Parr, Lady Jane Grey and Elizabeth I all once trod upon the original Tudor Parterre here.
Final thoughts on Sudeley Castle Light show – is it worth it?
Sudeley Castle's Spectacle of Light was beautifully done, with wow moment followed by sparkly thrill after another. I'd highly recommend it for a family-friendly Christmassy (or Twixmassy!) night out. Just be sure to wrap up warm and don't forget your gloves like I did!
Practical stuff about Sudeley Castle's Light Show
Sudeley Castle's Spectacle of light is on from 30 November until 30 December 2019, perfect for a pre-Christmas festive treat, or school holiday Twixmas activity.
Book advance tickets to save 10% (advance adult £15.75, advance child 3-15 £9.90, child under 3 – free, advance family 2 adults, 2 children £44.55).
If you're travelling from far away, pack toothbrushes and pyjamas for your kids so they can fall asleep on the way home and you can bundle them into bed fuss-free!
Pin it for later: