Have you planned some egg-citing things to do at Easter yet? There are some cracking Easter events for kids in Bristol this year – from Easter egg hunts to animal encounters, Easter bunny visits, crafts and Easter shows, just take a look at this egg-cellent lot…
Easter events Bristol
Easter trails and Easter egg hunts
The Sensational Sheep Easter Trail, Bristol Shopping Quarter
Follow the flock to Bristol Shopping Quarter to find 31 sensationally-decorated sheep hiding in the shops. Created by local schools and groups, the sheep will be displayed in shops throughout Broadmead, Cabot Circus, The Arcade, and The Galleries.
Once you have completed the trail, pop along to John Wesley's New Room in Broadmead to pick up a small prize.
Giant Easter Egg Hunt Bristol 2023, Penny Brohn Gardens, Pill
Head to the beautiful grounds of Penny Brohn UK for a fun, outdoor children's Easter Egg Hunt (£8 per child). Seek out the eggs in six acres of gardens, meadow and woods to win a chocolate prize. Bring a picnic to enjoy in the gardens!
The Brightwell Easter egg hunt, Bradley Stoke
Families will follow trails around the Bradley Stoke area to search for hidden letters displayed on decorated Easter eggs.
On completion of all four trails, families can bring their completed answer sheets to The Brightwell to receive an Easter surprise and a fun photo opportunity. There will also be the option to enter the Brightwell Easter raffle with some brilliant prizes up for grabs.
Easter Bunny Trail in Clifton Village
Not a lot of information about this one yet, check their website for more details!
Easter Trail at Woodhouse Park Activity Centre, Almondsbury
The Easter Bunny has hidden clues for you to find while you enjoy a walk around the beautiful grounds of Woodhouse Park Activity Centre. When you've finished your walk and found all the clues, head back to reception to collect your egg.
At the start/finish there will be stalls selling hot dogs, mini pizzas cooked in the new pizza oven and go kart racing, all of which can be booked and paid for in advance when booking.
The Giants' Easter Hunt at Clifton Observatory
When? 2 April, 17 April (10am-5pm)
Search high and low at Clifton Observatory to find the Giants and their eggs, then answer some questions along the way to win a special prize at the end.
This Bristol Easter Treasure Hunt activity costs £2.50 per child. You can purchase tickets here or buy them in reception upon arrival.
Easter Sculpture Trail at University of Bristol Botanic Garden
When? 7-10 April, 10am-5pm
Entering this beautiful oasis is like stepping into a secret garden, behind whose door hides a mixture of tropical climes, Jurassic Park-style palms and English country garden vibes. Seek out a dinosaur skeleton, sculptures, medicinal plants, an African Rondavel, annnnd a whole host of exciting structures as part of the Sculpture Festival! Mosaics, stone classics, sci fi metal work, ceramics, and African carnival faces will all feature this year.
Visitors will also get to enjoy (and have a go at) demonstrations of willow weaving, pottery, stone carving and woodworking, and take a tour of the garden which will be bursting with spring flowers.
Easter egg hunt for kids at Tyntesfield
Tyntesfield's family-friendly trail has fun, nature-inspired Easter activities for children with a Victorian twist for you to do along the way, plus a chocolate reward at the end! Non-members can book tickets and it's well worth the entrance fee to the gorgeous Tyntesfield House and grounds.
The house is open, and you'll also find a couple of cafes, acres of gardens and a natural wood playground for little ones to run free.
Discover more Easter holiday family days out at National Trust near Bath and Bristol: days out with kids
Easter Duck Detectives trail, WWT Slimbridge
Calling all 'Duck Detectives' for Easter days out at WWT Slimbridge. 'Quack the case' and solve the case of the missing duck to win prizes, discovering more about Slimbridge's real birds on your way.
As well as the trail, there's lots of other quack-tastic Easter activities for kids taking place at the Wetlands centre over the Easter holidays, including theatre shows, pond dipping and canoe safaris.
Willsbridge Mill duck race
Ready, quack, go! Head to Willsbridge Mill for the popular Duck Race and Easter Bunny Trail -there are prizes to be won! There'll also be live music, cafe specials and more.
Easter Eggsplorers, Wild Place
Put this cracking trail at Wild Place Project on your list of family days out this Easter. On your way round, Eggsplorers will spot incredible animal species, hear free daily talks and watch feeds taking place.
Enchanted Easter at Avon Valley Adventure and Wildlife Park
For fun days out this Easter, head to fairy-dust sprinkled Avon Valley Adventure and Wildlife Park. Follow the trail and find all the fairy houses, keep an eye out for a roaming dragon, make your own slime, craft your wand, watch theatre shows and head off on an egg hunt!
There's also the South West's largest collection of animatronic dinosaurs, farm animals and adorable small furries, a raptor encounter (!), Mini Jeep Safari, Chair-O-Planes ride, Miniature Railway, Massive Jumping Pillows and outdoor playgrounds.
Hide & Sheep trail at Noah's Ark Zoo Farm
Noah's Ark has teamed up with Aardman to stage a baa-rilliant new event for 2023. Get set for a farm-tastic experience with an augmented reality trail starring Shaun the Sheep.
Download the free app for The Hide & Sheep trail, enter Noah's Ark unique location code 1999, and find the 11 Shaun the Sheep markers around the zoo. The trail is fully accessible to wheelchair users and buggies, with plenty of rest stops around the zoo to enjoy too. Once found, these markers will bring the popular character to life at the zoo in 3D.
Ultimate Easter egg trails at Mendip Activity Centre, Winscombe
Satisfy adrenalin junkies with tobogganing, air rifles, glow caving, archery, axe throwing and glow egg caving!
Take part in an Easter-themed orienteering adventure around the woodland to win an egg (£2), finished off with hot chocolate and Easter eggs in the Alpine Lounge.
Zog and Spring Family Trail at Westonbirt Arboretum
Easter activities for families at Westonbirt involve beautiful trails among the trees. Download the new 'Zog: A Forest Adventure' app before you visit, pick up an activity pack from reception (£4 on top of entry fee) and ta da, your kids miraculously have the ability to walk for at least an hour, once Julia Donaldson's characters are involved! This self-led Zog augmented reality trail around the Old Arboretum features Zog and friends, and using the technology, you'll be able to collect golden stars on your way round.
While you're there, look out for the new (free) spring trail, another self-guided trail, suitable for children aged 5 years and over.
Easter egg Hunt at Clearwell Caves
The Woodland birds have hidden their nests of eggs all through Clearwell Caves for you to spot. Every entry will be entered into the Grand Easter Prize Draw, with a chance to win goodies from the Gift Shop.
Gough's Giant egg hunt at Cheddar Gorge & Caves
After a visit from the Easter bunny, 50 glowing Easter eggs have miraculously appeared in Cheddar Gorge & Caves.
Using your trail sheet to find your way through the cave, your task is to crack the mystery code the Easter Bunny has left behind. Unravel this Easter enigma and you'll receive a yummy treat!
You'll also have the opportunity to get hands on with some Easter crafts in the Museum of Prehistory and make your own decorations for your home.
Good Friday Easter Egg Hunt, Newton Farm, near Bath
For Good Friday activities for kids, join the Newton Farm Easter Egg Hunt, meet the Easter Bunny and visit the animals! Book your preferred time slot. Under 10's only.
Make stuff – Easter activities Bristol
Easter Holidays cookery classes for children at Cooking It!
Got some budding GBBO contestants in your household? Send them off to a baking class (1 April), ice cream class (3 April), Italian cookery (4 April), sushi (5 April), Mexican cookery (13 April) and edible treats (14 April).
The classes are hands-on and kids will learn new skills as they create their own culinary masterpieces.
Curious Kids Bake Off, Aztec Hotel and Spa
Join the Aztec Hotel this Easter with kids for an afternoon of creativity with the award-winning kitchen team.
Each child will get to decorate biscuits and cupcakes in preparation for their very own show stopper that will be judged by an expert on the day. The budding bakers will receive a complimentary apron and a prize will be awarded to the Bake Off winner!
£30 per child
We Are Family Where does Colour come from?, Arnolfini
When? 4 & 11 April, 11am-1pm, 2-4pm
Join resident creatives Let's Make Art in an exploration of colour to celebrate the joyful world of Garry Fabian Miller's Adore exhibition. There will be many activities to enjoy, including weaving, investigating natural dyes and playing with light.
Harry Potter Potion Class, The Manor at Coalpit Heath
EGGSPELLIARMUS! This Harry Potter Potion Class involves making two magical potions, The Patronus Punch and the Quaffle Pop and the chance to meet a real life House Owl.
Kids will each receive an Easter Egg as part of the event from the Easter Bunny. Feel free to dress up in any Harry Potter attire and bring your wands!
£20.00 per person, suitable for all ages but pupils under the age of six will need to be supervised by an adult.
Easter things to do – Theatre and film
Zog Bristol Old Vic
The smash-hit stage adaptation of Zog from Freckle Productions is back and promises to be bigger, brighter and more roar-some than ever before! With lively songs from Joe Stilgoe and directed by Emma Kilbey, Julia Donaldson and Axel Scheffler's much-loved Zog is a magical production.
A riotously fun environmental tale fuelled by rock'n'roll, from Roustabout Theatre for ages 3-8 and their families this Easter.
Dive headfirst into a weird world of poisonous parents, courageous quests and magic this Easter holidays with Scratchworks Theatre Company tale of Brunhilda & Mitzi, the true brains behind the Brothers Grimm books…
David Walliams' Demon Dentist, Bristol Hippodrome
Don't miss Demon Dentist – a terrific tale from the West End producers of David Walliams' Gangsta Granny and Billionaire Boy, which were both nominated for an Olivier Award.
Young Frankenstein, The Redgrave Theatre
This monster musical comedy by Mel Brooks, adapts his legendary funny film into a brilliant stage creation. With songs like 'Transylvania Mania' and 'Puttin on the Ritz', Young Frankenstein is monstrously good entertainment. For ages 13+
The Smeds and the Smoos, Redgrave Theatre
When? 24-26 April, Relaxed performance on 25 April at 1pm
A stellar new show about a pair of star-crossed aliens, based on the book by Julia Donaldson and Axel Scheffler. The Smeds and the Smoos offers music, laughs and interplanetary adventures for everyone aged 3 and up.
I Want My Hat Back Trilogy, Tobacco Factory Theatres
Following their hit digital series on Little Angel Theatre's YouTube channel, and a sold out run at their venue, lockdown sensations Ian Nicholson and Sam Wilde are back. Showcasing their trademark cardboard design across the UK on the first ever tour of I Want My Hat Back Trilogy.
Jon Klassen's beloved books, I Want My Hat Back, This is Not My Hat and We Found A Hat, have found a new life of their own LIVE on stage. All your favourites including Bear, Little Fish and the Turtles will be making an appearance in this one-of-a-kind trilogy.
Alice in Wonderland at Clifton Observatory
This April, Clifton Observatory are screening films inspired by English literature as part of Bristol Film Festival.
Head to the iconic attraction to see Walt Disney's thirteenth film, the 1951 Lewis Carroll adaptation Alice In Wonderland.
Bristol Easter holidays films at The New Room
Following on from the Bristol Shopping Quarter sheep-themed Easter trail, The New Room will be screening two Shaun the Sheep movies on 14 April.
Shawn the Sheep Movie: 10.30am – 12.30pm
Shaun the Sheep Farmageddon: 2 – 4pm
£4 per child/per session including popcorn
Bristol Easter family events at attractions
Bristol is one of the best UK city breaks for families, with brilliant attractions and budget-friendly activities and many are holding special Easter events for children. Check out the 25 best family-friendly attractions to see in Bristol with kids here.
Events for Easter at Brunel's SS Great Britain
This Easter Holiday you are invited to sample traditional Victorian puddings, inspired by the First Class Bill of Fare (menu) during SS Great Britain's voyage to Australia in 1861.
There is also an Easter animal trail for children, complete with a chocolate treat at the end! Pick up your map at the Visitor Centre to help Captain John Gray find all the missing creatures on board the ship.
This Easter, go back in time! Learn about the prehistoric creatures that ruled the sea, become a Palaeontologist as you dig for fossils, and take part in the prehistoric trail! The Prehistoric trail spans across our seven exhibits in the Aquarium.
Don't forget to be on the watch for dinosaurs!
Red Arrows Easter holidays at Aerospace Bristol
Visit Aerospace Bristol this Easter for a packed programme of fun family events, including a new Red Arrows simulator and chance to hear from former Red Arrows pilot, Mike Bowden.
On 4 and 5 April, The Joystick Club will also be bringing a selection of pedal planes as well as two more simulators for budding young aviators to pilot.
Easter family Fun at The Wave
As well as surf sessions and lessons, the popular Play in the Bay (book in advance) will be returning this Easter! Plus there's a play park and space for scooting and skateboarding.
Family Wildlife Walk of Oldbury Court
An Easter Holiday walk around Oldbury Court with Steve England, learning about the trees, plants and wildlife that appears at this time of year throughout the different habitats.
On this circular walk, you will take a look at local wildlife, learn interesting facts about its birds, mammals, creatures, the plants, flowers, hedgerows, field species and trees that make up the estate.
Funderworld on Durdham Downs
The the UK's largest mobile Theme Park, Funderworld, will once again take place on Durdham Downs.
This year's event will be packed with unique white knuckle thrill rides including the 60m Sky Swing and Airmaxx, three Roller Coasters and plenty of Funfair favourites like the Waltzer, Dodgems and Sizzler! There's plenty for smaller kids too.
Family Easter UV Party, Almondsbury Creative
6 April (neon party), 13 April (Raptor Rampage)
Join kids' party entertainers Almondsbury Creative and Party Peeps for a family rave featuring Neon Effects, Party Games, Easter Egg Hunt, Neon Confetti Cannons, Easter Crafts and more! Children are £10, Adults are £5 unless in Neon fancy dress, and then it's £4.
Don't miss Raptor Rampage if you're after some dinosaur-themed Easter holiday ideas! There will be giant dinosaurs, fossils, interactive triceratops and baby dinosaurs PLUS DJ with party games and Face painting, plus a Dinosaur Egg hunt!
Popkids Neon Rave, The Fleece
For unusual fun things to do in Easter holidays, head to The Fleece for two hours of entertainment with music for all ages. Kids will be able to sing along and dance to songs they know from Disney to chart, plus Club DJS, Full Lighting, laser show, Confetti, Foam, a facepainter and more.

Aimed at children 4-12.
24th Birthday Party at IKEA Bristol (Kids event)
Head to IKEA Bristol's Swedish Restaurant to celebrate 24 wonderful years of IKEA Bristol, with lots of activities, entertainment and food. £7.95 /pp
Easter bunny visits
Easter bunny visits at Dobbies Garden Centre, Thornbury
Hop along to Dobbies restaurant for a tasty breakfast and some fun with the Easter bunny. They'll follow the bunny on a hunt around the store, enjoy some fun games and plant their own miniature carrots to take home.
This event is suited to families with children aged 3-10 years old. Children under 3 can take part in some activities with an adult.
Easter events for toddlers
Adventure Babies Easter Special Sensory Storytelling
Nailsea (3 April), Portishead (5 April), Clevedon (6 April)
Adventure Babies will be bringing an Easter-themed book to life in a special eggs-tended hour-long themed session. There'll be interactive storytelling, puppets, sensory props and activities, sensory lights and messy play, plus a free gift and craft activity for your little bunnies!
Suitable for 0-4 years (mixture of mobile and non-mobile babies.) 50% discount available for second sibling.
Easter days out 2023 from Bristol
Easter at Wookey Hole Caves
Wookey Hole Cave's Big Easter Event will be filled with adventures, family fun, the Witch of Wookey and chocolate! Every child goes home with an Easter treat.
Kids Mud Master and Obstacle Course at Puxton Park
When? 1 April, arrival 8:30am – 9:30am, group warm up 9:45am
Kids Mud Master is a fun but challenging day of mud, water and over 20 obstacles to combat, with events for all fitness levels. All participants will be awarded a medal and goodie bag including one complimentary Puxton Park admission ticket. There are free spectator viewing points throughout the course.
Best Easter activities for kids at Old Down Country Park
Eggcellent activities, competitions and entertainment at Old Down Country Park include springtime crafts, an Easter code-cracking trail around the Maze and the chance to see their first lambs of the season.
Avon Valley Chocolate Train
Celebrate Easter at Avon Valley Railway and see the restored locomotive from the Fry's chocolate factory in Keynsham. Discover more about this special locomotive, see displays on its history and talk to retired employees. As a special Easter treat children get a FREE bar of Fry's chocolate too!
Trains depart Bitton at: 1045, 1200, 1315, 1430 and 1545.
Berkeley Castle events at Easter
When? 8-10 April, 16 April.
Travel back to 1642 at Berkeley Castle with exciting horse, foot and canon arena displays, period music, have-a-go dancing and children's easter activities.
And if age-old battles are your thing, make sure you're at Berkeley Castle on 16 April to try your hand at archery, witness the power of the mediaeval longbow, find out about its origins and cheer on your favourite competitor in this action-packed day.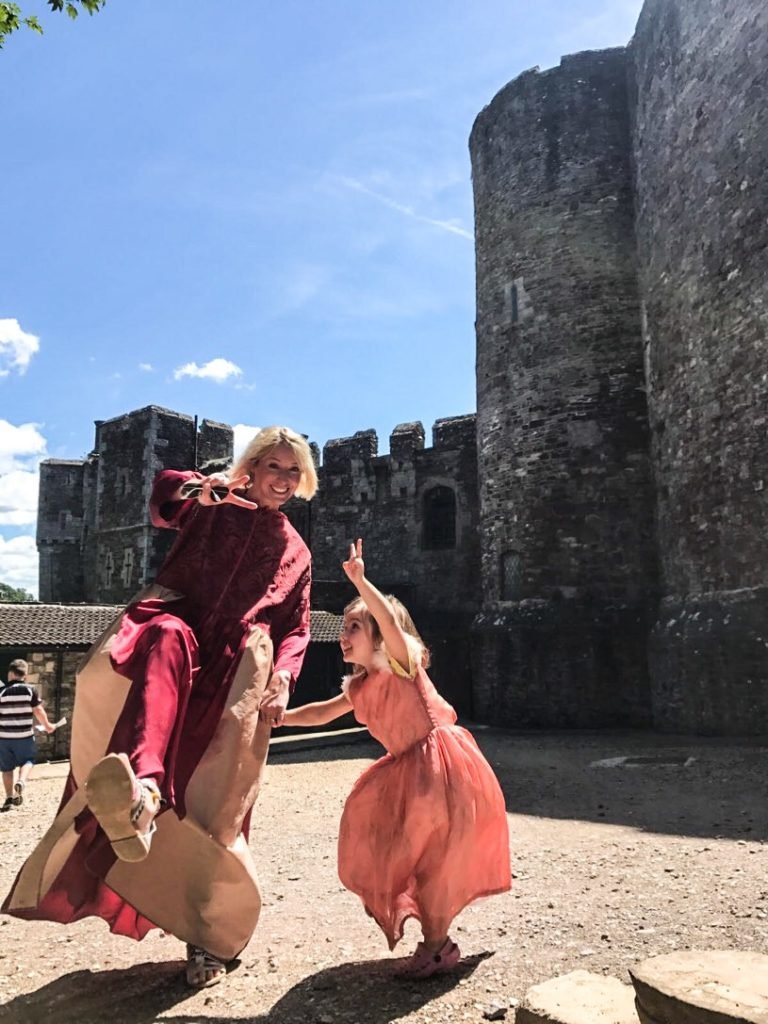 Easter days out 2023 at Bowood House and Gardens
Head off on a Wonderland-themed BIG Egg Hunt in Bowood House and Gardens Arboretum, create your own 'Mad Hatter' teacup in the Gardeners' Bothy on 15 and 16 April, have your face painted (Easter weekend) and more!
Cattle Country Easter 2023 activities
Meet the new arrivals at Cattle Country as they welcome lambs, chicks, piglets and goat kids to The Animal Barn. If you're looking for a full day of farm park fun, with Easter treats too, look no further!
Whats on at Easter at Farrington's Farm
Collect a clue sheet from the Playbarn which will take you on a tour around Farrington's Farm, with the chance to win an Easter Egg. There's also farm animals to meet, a straw pool for kids to ping about in and afternoon tea with an Easter themed twist (served from 27 March – 15 April, Monday – Saturday from 2pm).
Easter events for kids at the American Museum & Gardens
Hunt for our creative and colourful egg installations throughout the American Museum and Gardens and answer the simple quiz question at each egg station to complete the fun trail (additional £2.50) with a chocolate treat at the end.
There's also creative Easter activities for children at the crafting station every day, a storytelling circle (3, 4, 14, 15 April) and facepainting 7, 8, 9, 10 April.
Alice in Wonderland egg-citing Easter Eggstravaganza at Longleat
Join Alice, The Queen of Hearts and the White Rabbit for an immersive experience full of twists and turns for events over Easter at Longleat Safari Park. Have a game of mini golf in Tulgey Wood, celebrate an un-birthday with The Mad Hatter himself, and get creative making origami roses for the Queen of Hearts' Love Maze. Keep an eye out for Tweedle Dum and Tweedle Dee as you explore the grounds!
There are also nine giant Easter eggs to be found – find all the clues and crack the code to receive your special treat.
Things to do this Easter at Sudeley Castle and Gardens
Learn more about our native birdlife at Sudeley Castle with the 'NestFest' Egg Hunt! Collect the NestFest sticker sheet when you arrive, then explore the castle gardens to find six giant eggs and the birds they belong to and win an Easter treat.
There's also nature-based crafting fun on Tuesdays and Thursdays with Dig & Delve, including bird feeder making to wood cookie 'baking.
Surrounded by striking views of the Cotswold Hills, Sudeley Castle's award-winning gardens are full of spring colour at this time of year. There's hours of fun for kids too at the huge fun fort, willow maze and adventure playground.
SEND events in Bristol
Bristol.gov.uk have put together a list of activities specifically for children with SEND.
Visit a different playground
More Easter things to do with kids in Bristol
Discover a new playground nearby – I've got a list of some of the best playgrounds Bristol has to offer here.
Easter walks
if you want/need to get out and about for a ramble with little ones, don't let having to take a buggy hold you back! I've written up a whole load of my favourite pram friendly walks around Bristol.
Earn your Easter eggs by getting out and about for some lovely strolls on these Best Bristol walks with big open spaces.
Soft Play
Wear the kids out at these play cafes and soft plays in Bristol.
City swap
Bath is so close to Bristol, and yet so different! Swap cities and discover fun things to do in Bath with kids.