Got someone to woo? Then consider Bristol your perfect wing-lady. But where to start? The city has all the ingredients for a brilliant date – excellent restaurants, stunning views, romantic strolls, adventurous activities, cosy cocktail bars, live music venues and unique couple's experiences. So if you're looking for date night (or day!) inspiration, are trying to impress someone special in your life, or just fancy a night out with your beloved doing something different, then here are some of my top Bristol date ideas.
Fun date ideas Bristol
Picnic by Clifton Suspension Bridge
One of the city's most iconic sights, blessed with a stunning backdrop of rolling Mendip Hills and dramatic Avon Gorge cliffs, you can't go wrong if you're looking for date location WOW factor.
My husband and I had only just met when, after a night out in Bristol, him, his friend and I, decided to carry on the fun and watch the sunrise at some ungodly hour over Clifton Suspension Bridge. Our plan was slightly foiled by the clouds blocking said sunrise, but it was a most memorable night.
I don't suggest pitching up at the Suspension Bridge at 4am – picnicking on the patch of grass beside Clifton Observatory is far more civilised at say, lunchtime, or early evening.
Discover nine other stonking good spots to get a smooch-worthy view of the bridge here.
Drink on the rooftop bar at Clifton Observatory
If you'd rather something a bit fancier, but with the same colossal Clifton Suspension Bridge views, Clifton Observatory 360 Bar and Rooftop terrace overlooks Brunel's Avon Gorge-spanning landmark. Watching the sun set from this vantage point, tipple in hand, on a balmy summer's eve, doesn't get much dreamier.
Watch the sun set over the Avon Gorge at The White Lion Bar
Perched on the edge of the Avon Gorge with prime views of Clifton Bridge and surrounding countryside, The White Lion is one of Bristol's most scenic 'pub gardens'. Warning: you may find yourself gazing dreamily at that view rather than into your dates eyes…
Go on a scenic stroll
There are so many fantastic walks in and around Bristol, and several in particular spring to mind for an epic date in the city…
Bristol Harbourside
First up, the buzzing Harbourside makes for an exciting stroll whatever the time of day. It's possible to do a circuit around the waterfront, passing some of Bristol's iconic sights (Banky's Girl with a Pearl Earring, Brunel's SS Great Britain, Cabot Tower, The Matthew etc.) on the way round.
Pop into (free) contemporary art galleries Arnolfini or Spike Island en route for a splash of culture, stop for a drink at one of the many bars dotted around the Harbour, or grab a drink and plonk yourself on the Harbour's edge (very popular on a hot summer's day!)
Sit down for something delicious from one of the indie restaurants at Wapping Wharf to spice up your date – and if you're lucky you might just see a hot air balloon fly-by.
Climb Cabot Tower
As long as your date isn't afraid of heights, this is a great activity to have up your sleeve. Cabot Tower was built to honour the 400th anniversary of John Cabot's voyage from Bristol and subsequent 'discovery' of North America on The Matthew in 1497. It sits on top of view-tastic Brandon Hill, just off Park Street and is surrounded by parkland, landscaped gardens (another great romantic picnic spot) and Georgian houses.
Steep, enclosed, winding steps lead up to the top of Cabot Tower, and it can feel a bit precarious, but the reward is a jaw-dropping 360 degree panorama over the whole city.
Stoke Park Estate
Despite living in Bristol for some 19 years, and just down the road from this gigantic patch of parkland for 8 years, and it was only during lockdown that I actually discovered what a gem it is. If you think your date might not know the area (it surrounds the yellow Dower house you can see from the M4 on your way into Bristol, close to Lockleaze and Horfield), then take them here to impress them with some seriously gawp-worthy views over parts of the city they might not have seen from this angle before.
Food and drink experiences
Gin experience at Psychopomp, St Michael's Hill
Psychopomp Micro-Distillery produces craft distilled gin in small batches and limited quantities. I'd go as far as saying it's my favourite gin on Earth, which, if you know me, really is saying something.
Bond with your date over learning how to make gin, alongside a tutored tasting. You'll get to take a bottle home with you (handy if things look like they might turn into an all nighter!)
Or you could try one of their weekly gin masterclasses, which includes a gin and tonic on arrival at the distillery, a brief history of gin and the process of making it, followed by a tutored gin tasting, and another G&T to finish the session. Bookings available through Yuup. And a word of warning, you might want to eat something substantial first!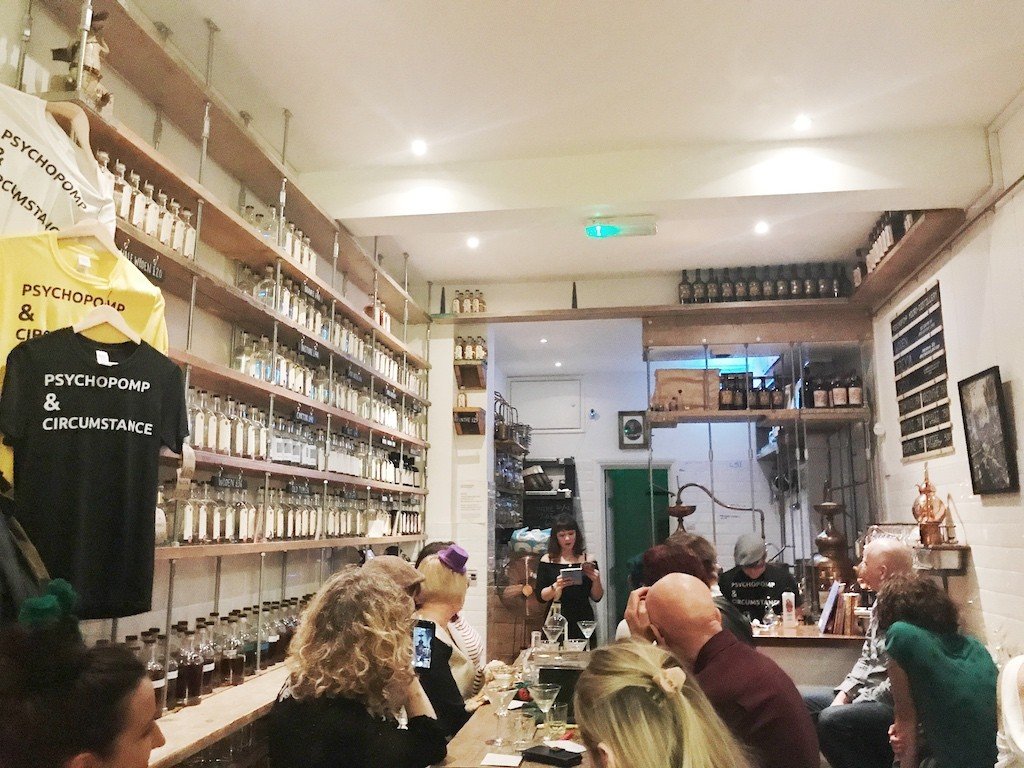 Wine tasting, KASK, Bedminster
When a wine bar tells you they take a stand against shit wine, I can tell instantly they're my kind of drinking establishment. Add local cheese and charcuterie to that palette-tantalising vino and you've got yourself some great ingredients for a date night in Bristol. If you'd rather cosy up at home for a special evening, KASK also offer virtual wine tastings on Zoom or DIY tasting kits.
Cider tasting tour
As capital of the West Country, it's no surprise that Bristol knows a thing or two about cider. Delve into the world of scrumpy on this 2-hour tour, as experts lead you around historic Bristol and the top local craft cider haunts, with tasty pitstops along the way.
Beer tasting at Wiper and True
Bristol brewery, Wiper and True, creates beautiful craft beers and shares them at its taprooms in St Werburghs (open every weekend) and Old Market (open every Wednesday-Sunday).
Whisk your date off for a guided beer tasting, or up the ante and check out some of their other unique beer-y events. Combine pints and pottery, join a busker's banquet bonanza, boogie the night away at an al fresco disco, or book a special four course dinner with beer pairings at Strawberry Thief.
Self-guided Craft beer tour
Just want it to be the two of you? Explore Bristol's craft beer scene with a self-guided walking tour around Old Market. You'll receive a welcome envelope with beer tokens and a map telling you where to go. Add on an optional guided tasting to try three beers at the breweries along your tour route.
St Nick's Market
St Nick's covered market in Bristol's Old City was named as one of the ten best markets in the UK. Underneath the glass arcade you'll find a diverse range of permanent stalls with food from all over the world.
From excellent British pies and Pieminister, to Moroccan dishes from Al Bab Mansour, gigantic Persian wraps from Matina and more. The atmosphere and eclectic goodies on offer make this an excellent place to potter around, stopping wherever takes your the pair of you's fancy.
Adventure date ideas Bristol
Stand-up paddleboarding Bristol
As the saying goes, a couple that paddles together, stays together…or something like that. For a fun, active day date idea in Bristol, get a unique perspective on the city's famous Harbourside landmarks from a Stand Up Paddleboard. Take on a Harbourside Adventure with SUP Bristol through the city's exciting historical waterways, before paddling off into the sunset together…or something like that.
Go surfing at The Wave
The Wave Bristol is a state-of-the-art inland surfing lagoon located just outside the city in Easter Compton. Offering perfect surf all year round, and boasting as many rideable waves in one hour as you would get during eight hours in the sea, you can have a go at waveriding whether you are a beginner, intermediate or pro.
Book a one-hour lesson or session for two in advance to surf the waves here – wetsuits and boards are included (although you can bring your own). Afterwards, debrief together on your wipeouts and gnarliness over some yummy food from the onsite cafe as other surfers take to the water.
Tour Bristol on a tandem bike
Hop on a bicycle made for two from Bristol Tandem Bike Hire. Rentals are available from a half day to a full week or weekend, and route guides can be provided for themed trails around the city (e.g The Graffiti Trail and City docks to medieval pools).
Add on a pre-made hamper (including crockery and a picnic rug) using food from independent traders in Bristol for extra date brownie points!
Cycle to Bath
A mere (or whopping, depending on how you look at it) 13 miles separates Bristol and Bath, and the two cities are connected by an off-road cycle path that passes through some lovely countryside. Whack on some sexy lycra and hop on your bike to explore the delights of Bristol's neighbouring UNESCO city together.
Once you've made it to Bath, you and your partner can treat aching muscles with a dip in the Thermae Bath Spa, explore the ancient Roman Baths, take a sightseeing boat cruise with Prosecco, get all hot under the collar on a Bridgerton walking tour, and potter around gorgeous Georgian streets. If you're too tired to cycle home, you can take your bike on the 11-minute train journey back to Bristol Temple Meads.
Bowling at Roxys or The Lanes, City Centre Bristol
A far cry from the sticky, kids' party-tastic chain bowling alleys (no kids allowed after 5pm), Roxy's promises booze and ball games. Choose a cocktail, then challenge your partner to a skittle-hitting duel.
Similarly, The Lanes is far more adult-oriented and hosts live music, karaoke and pool.
Cocktail bar date night ideas
Impress your date with top-notch tipples and a dash of glitz and glamour at one of Bristol's cocktail bars.
Hyde & Co.
Tucked away down a side street off Clifton Triangle (look for the bowler hat sign), prohibition-style bar, Hyde & Co.'s dimly-lit drinking den is inspired by the great cocktail bars of New York City. Serving up creative concoctions, it's perfect for an atmospheric nightcap.
Milk Thistle
Hyde & Co's sister venue, The Milk Thistle is much larger, but no less characterful. Spread across four floors, with a grand sweeping staircase and decadent and eclectic decor, the venue also houses a clandestine Whisky vault, which is available for private hire and tasting.
Cosy up under candlelight in one of the comfy booths or soak up the city buzz on the outdoor terrace on warmer nights.
The Raven
From the creators of Hyde & Co and Milk Thistle comes mysterious cocktail bar, The Raven. Located above Four Wise Monkeys on St Nicholas Street, musicians, dancers and magicians entertain the guests on a regular basis with a focus on tarot and magic.
The Clockwork Rose
Themed around the fictional adventures of Captain Sebastian Commodore and his airshop, The Clockwork Rose is a steampunk-inspired cocktail bar that oozes quirk and romance. Drinks are derived from the Commodore's tales – expect ingredients to include the likes of Tooth of an Algolian Tiger and Fallian Marsh Gas…
Her Majesty's Secret Service
Located near Clifton Train Station, the Bond-esque adventure begins as soon as you arrive at Her Majesty's Secret Service cocktail bar. Enter via a phone box to sup wildly imaginative cocktails – served in everything from a terrarium to a red telephone box.
Kinkajou
Hidden away next to The Downs, Kinkajou serves up great quality cocktails in sophisticated surroundings.
Unusual date ideas Bristol
Hot air balloon ride
Love is in the air! For the ultimate in romantic gestures, book a balloon flight with your beloved. Soar over Bristol, for unforgettable shared memories, then, who knows, perhaps in the quiet that comes with floating gently above the Earth, sacrifice those views for a moment to get down on one knee..!
A celebratory glass of Champers will be awaiting when you touch down. Bristol Balloons, Bailey Balloons and Elite Air UK all offer Champagne packages, or you could take off in a fleet of balloons during the Bristol International Balloon Fiesta – check their site for more details.
What's it like to take a balloon ride over Bristol?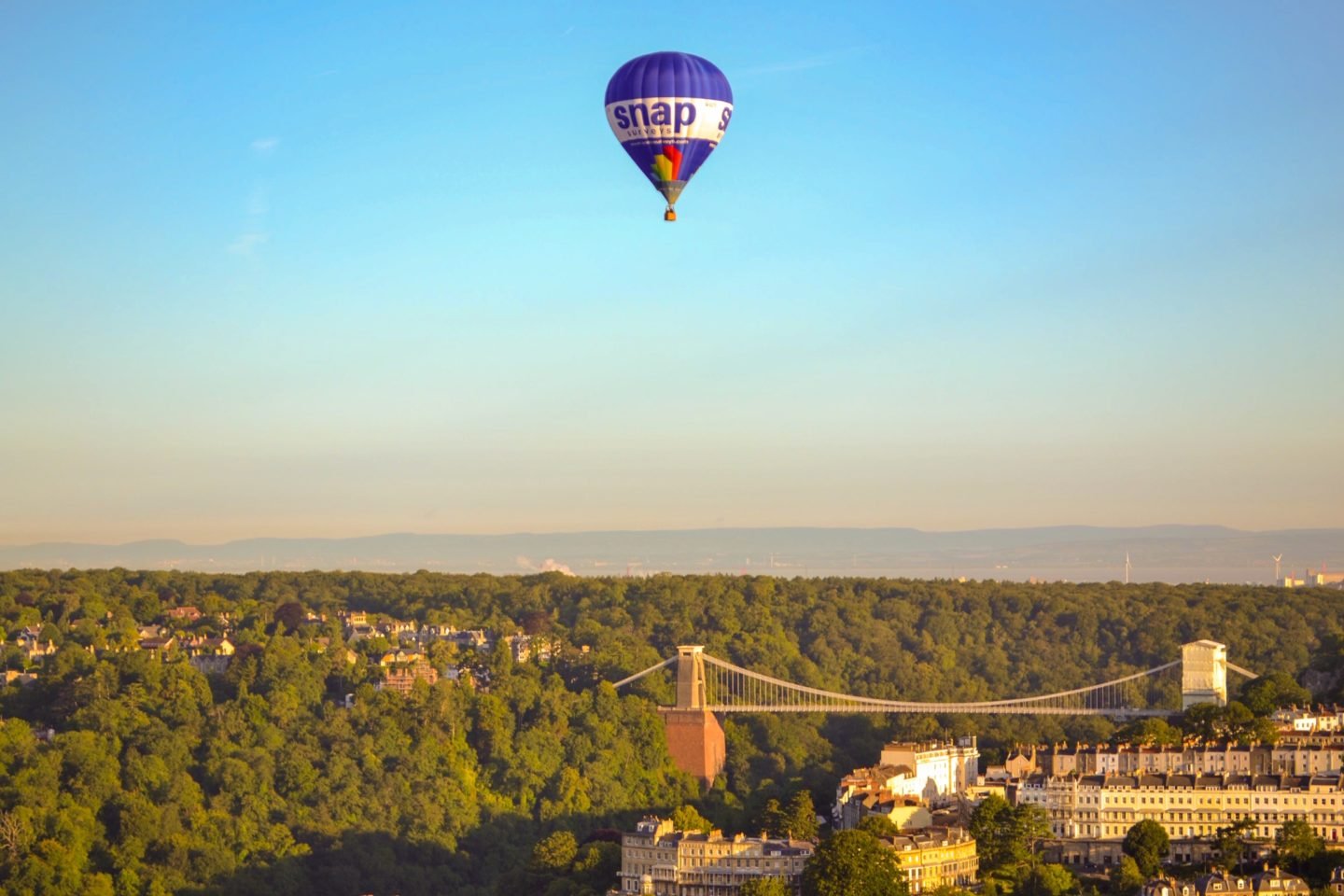 Urban axe throwing
You're bound to have a lot of laughs hurling axes at a wall at Bristol's Whistle Punks! Over the course of 70 minutes, professional instructors will teach you how to throw an axe, and hopefully hit some targets. Afterwards, celebrate your bullseyes and new found shared passion with a few craft drinks and delicious pizza.
Mini golf bar
Located on Millennium Promenade, Par 59 Bristol is a brand new bar featuring two custom-built 9-hole mini golf courses! On top of pitching and putting, you can try your hand at darts and tuck into scrummy food from independent kitchen, Dirty Birdie.
Spa date ideas Bristol
Relax at Bristol Lido
Tucked away in the back streets of Clifton, this refurbished Victorian lido in Bristol has got everything you need for a luxuriously relaxing date. A eucalyptus-scented steam room, Scandinavian-style sauna, outdoor hot tub, low chlorine open-air pool and treatment rooms make up the spa element of the Lido.
Opt for one of their packages to combine a swim and massage with a meal or tasty tapas at the stunning glass-fronted, poolside restaurant.
Chill out at Bristol Harbour Hotel Spa
The name of this hotel is a slight misnomer, as you can't actually see the Harbourside from here, but it's not far away! Housed in the former bank vaults, the subterranean HarSPA has a pint-sized pool, sauna, steam room and lots of pampering treats on offer. I had a massage here and it was delightful – sent me right to sleep, although that could have had something to do with my pre-spa Prosecco in the bar upstairs (combined with baby sleep deprivation, that's a winning snooze cocktail!).
The HarSPA Together package gives you a full day's use of the HarSPA's facilities for two people, plus a 60-minute treatment each and afternoon tea in the restaurant.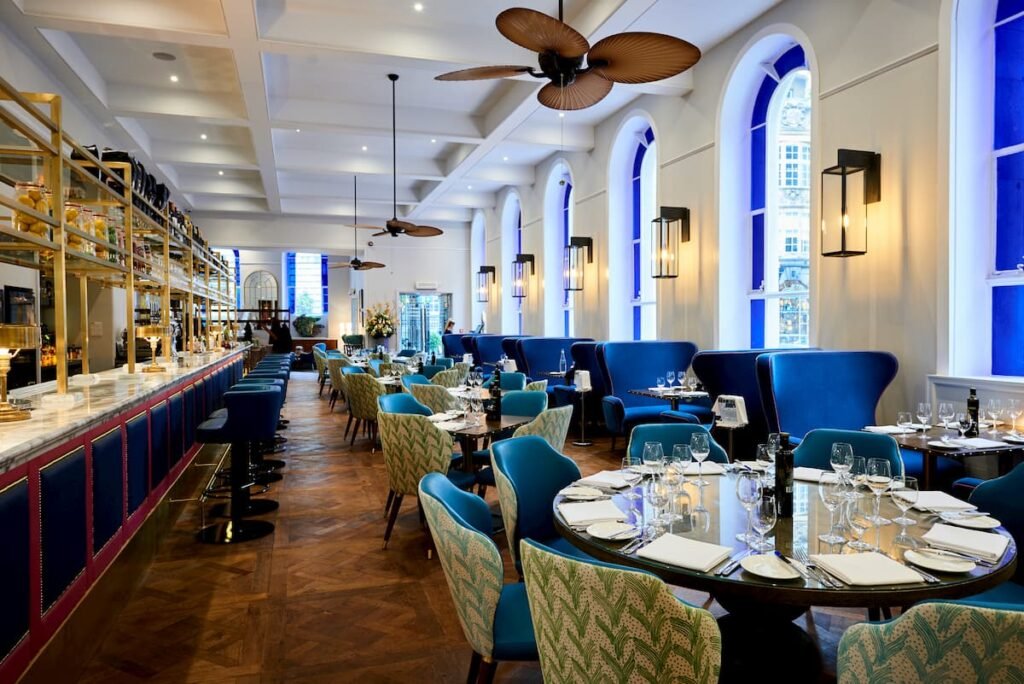 Seek out Bristol's street art
The city's many murals have seen it dubbed, 'England's urban art capital' and seeking out the fabulously emblazoned walls is one of the most fascinating and fun things to do on a date in Bristol.
For an introduction to Bristol's street art world and other graffiti artists' iconic pieces, join a walking tour with an expert guide. They'll lead you around the city, showing you key graffiti spots, Bristol's best bits and a whole host of interesting titbits.
If you'd rather explore at your own pace with, opt for a self-guided tour – The Banksy Bristol Trail is an easy-to-follow smartphone App packed with facts, and useful interactive map guides. Where the Wall's 'A piece of…Banksy' covers 13 significant Banksy locations and is narrated by John Nation, a central figure in the Bristol/Banksy story of the eighties.
Comedy club date
Ramp up the feel-good factor and see if you and your date have a similar sense of humour, with a night out at one of Bristol's Comedy Clubs. Try The Hen and Chicken, Bristol Improv Theatre, Alma Tavern Theatre, Bristol Old Vic, The Wardrobe Theatre and Tobacco Factory Theatres for regular side-splitting comedy nights.
Live music date
If music be the food of love, then you'll want to whisk your other half along to one of Bristol's live music venues…
The Old Duke jazz and blues pub is one of Bristol's most famous historical buildings (dating from approximately 1775), and something of a stalwart on the city's live music scene. With free gigs every night of the week, it adds a little va va voom to a standard drinks date.
Evenings at The Gallimaufry are often filled with live music, and the food is fantastic here too (they do one of the best roasts in the postcode). If the weather's nice, the outdoor seating area is great for Gloucester Road people watching.
Make time for the two of you to enjoy world-class live music at the city's largest concert hall, Bristol Beacon. Search for the ideal gig from major names in rock, pop, jazz, folk, world and classical music.
See a show date ideas
Do the classic 'dinner and a show' on your Bristol date night! The city has a buzzing theatre scene, with everything from world-famous musicals to West End shows and cutting-edge plays. Look out for pre-theatre dining deals.
Bristol Hippodrome
One of the most prestigious provincial theatres in the country, Bristol Hippodrome frequently features shows from London's West End (I'm seeing Disney's The Lion King here in 2023!) when they tour the UK, as well as an annual pantomime.
Bristol Old Vic
Bristol Old Vic is the oldest continuously-working theatre in the English speaking world. Expect pioneering 21st century theatre inspired by the history and magical design of the beautiful playhouse. Onsite bar and restaurant.
The Wardrobe Theatre
The Wardrobe Theatre is Bristol's award-winning fringe studio venue and arts hub for alternative theatre, comedy and music. Onsite bar and restaurant.
The Redgrave Theatre
The Redgrave Theatre provides an intimate space for a variety of professional touring companies, comedians, film societies, music concerts and dance pieces. The Theatre also plays host to several Bristol Old Vic Theatre School productions each year.
Tobacco Factory Theatres
Tobacco Factory Theatres presents works by the likes of Shakespeare, Molière, as well as more modern shows. Onsite bar and restaurant.
Cinema date
Snuggle up together and enjoy a movie. Bristol has all the usual chain cinemas, but my favourite is the smallish Orpheus (Scotts Cinemas) in Westbury Park, which sells local G&T and cider as part of their refreshment menu.
For extra comfort, book the XPlus experience at Showcase Cinema de Lux at Cabot Circus (don't worry it's not as dodgy as it sounds). For this you'll get a supersized, giant screen, Dolby Atmos sound system and much nicer seats.
Best date restaurants Bristol
I've given you a ton of suggestions for alternative date nights and days in Bristol, but you can't beat a classic dinner date with the object of your affections. Bristol has some serious gastronomic game, so there are too many options for me to list here, but I'll give you some recommendations for some of the best romantic restaurants that will guarantee you an excellent foodie night out.
Upmarket elegance:
The Ivy Clifton Brasserie, Clifton Village – sophisticated all-day dining.
For tremendous views:
Avon Gorge by Hotel du Vin – restaurant with unparalleled views of Brunel's iconic Clifton Suspension Bridge,
For Michelin-starred food
Bulrush, Cotham – innovative and seasonal Modern British combinations at this neighbourhood restaurant.
Paco Tapas, Lower Guinea Street – a modern tapas bar bringing a taste of Andalusia to Bristol, close to the waterfront.
Wilsons, Redland (Michelin Green Star) – small, independent restaurant serving a daily set menu, using ingredients from their farm and the surrounding area.
The Ethicurean, Wrington (Michelin Green Star) – wow the senses and be connected with nature at this ethically-conscious restaurant set in a walled garden. Beautiful countryside views.
For exceptional food:
Box E, Wapping Wharf – tiny seasonal, sustainable Bib Gourmand-awarded restaurant in two shipping containers, with a terrace stretch tent on Bristol's Harbourside.
Root, Wapping Wharf – a modern, veg-led, small plate restaurant spread over several shipping containers on the waterfront. Bib Gourmand.
Pasta Loco, Redland – Bristol's first dedicated fresh pasta restaurant in a small, intimate and lively venue, where the menu can change up to twice a day.
Pasta Ripiena – sister restaurant to Pasta Loco serving expertly-crafted stuffed pasta, paired with exceptional wines.
The Ox, Corn Street – Prohibition-decor-style steak restaurant and cocktail bar in a basement bank vault, new outdoor dining area.
Littlefrench, Westbury-on-Trym – cosy neighbourhood restaurant from Freddy Bird, serving a french-inspired menu, classic cocktails and an excellent steak as I recall.
Pony Bistro, North Street, Bedminster – restaurant from Holly and Josh Eggleton, with all the charm and deliciousness from the original Chew Valley Pony and Trap.
Tare, Wapping Wharf – 20-cover Harbourside restaurant in a converted shipping container, featuring small plates and drinks.
Klosterhaus, Quakers Friars – opulent Grand Cafe located in a former friary, serving German and central European dishes (think herring, sausages, schnitzels, strudels and the like).
Adelina Yard, Welsh Back – an underdog of a restaurant that doesn't get shouted about enough, but deserves all the accolades. Modern, innovative food.
Little Hollows, Chandos Road, Redland – fresh artisan pasta restaurant.
Marmo Restaurant and Wine Bar, Baldwin Street, City Centre – Italian dishes from an open kitchen under high ceilings, serving organic and biodynamic wines.
For excellent tapas:
Bravas, Cotham Hill – lively and atmospheric Andalusian-inspired, softly-lit tapas bar. Fried aubergine with molasses are a must-try!
Poco, Jamaica Street, Stokes Croft – Rustic bar serving global tapas with an ethical spin, made using local and organic ingredients.
Gambas, Wapping Wharf – authentic Spanish-inspired tapas, with a focus on fresh fish and seafood overlooking Bristol's Harbourside.
Four Wise Monkeys, Clare Street, City Centre – Another from the from the Hyde & Co group (formerly Pata Negra), now serving Pan Asian fusion food with a retro Tokyo vibe.
For low-key date deliciousness:
The Grain Barge, Hotwells – A historic converted barge with a sun deck, on Bristol's Floating Harbour. Craft beer, local cider and wines, with a veg-focused and seafood menu, using ingredients from their farm in Backwell.
The Pump House, Hotwells – seasonal British gastropub in an old Victorian pumping house with waterside seating (where the city docks meet the River Avon at the Cumberland basin). Gigantic gin menu.
The Olive Shed, Princes Wharf – a small Mediterranean restaurant with an ever-changing tapas menu that has been part of the Bristol Harbourside forever.
Mud Dock Cafe, The Grove – an iconic bike shop (below) and café (above) with views over Redcliffe and the Floating Harbour from the balcony. Serving tapas, mezze and grill dishes.
Riverstation, The Grove – go downstairs for causal bites, upstairs for a fancier meal with optional wine flights. Both floors have alfresco, riverside seating.
Thali Cafe Easton, St Marks Road – award-winning Indian restaurant and eco tiffin takeaway, which started as a street food truck at Glastonbury Festival.
The Garden of Easton, St Marks Road – pretty plant-filled restaurant for artful meals and drinks, using locally sourced ingredients.
Fishers, Clifton Village – a long-standing Bristol seafood restaurant (it's been around for some 20 years!) Local, seasonal, sustainable, fresh fish, seafood and shellfish.
Seven Lucky Gods, Wapping Wharf – Critically-acclaimed Japanese bar and restaurant inspired by the Izakaya bars of Tokyo. Outstanding Asian small plates, sushi and cocktails.
Souk Kitchen, North Street, Bedminster and White Ladies Road, Clifton – modern Middle Eastern restaurant serving dishes inspired by Ottoman and Mediterranean flavours. Expect colourful mezze, slow-cooked meats and curries.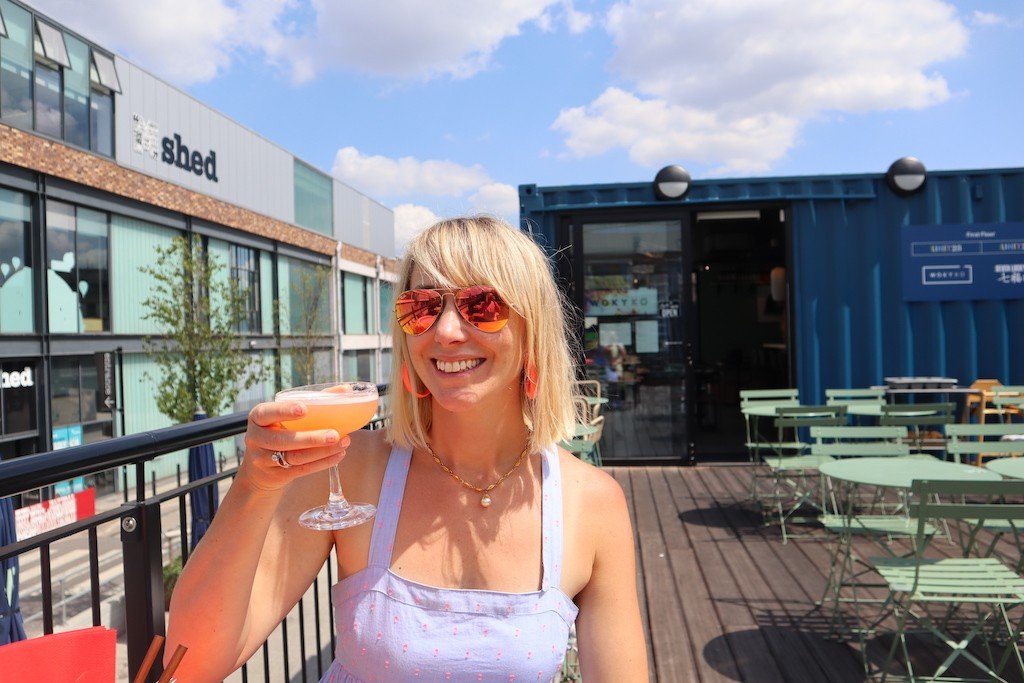 Where to stay – hotel date night ideas
So you've got your romantic Bristol activities planned, but where to stay? Of course, there are Inns of the Holiday and Premier variety, but wouldn't you rather round off your loved-up ventures in the city by staying somewhere special? I've put together a list of local boutique hotels in Bristol that are sure to make your stay memorable, rather than mediocre.
Liked this post on Bristol date ideas? You might also like:
Ace cafes in Bristol with quite a nice museum attached
Glamping at Somerset Yurts: REVIEW
Review: Andrewshayes Holiday Park lodge with hot tub, Devon