My husband's family have a flat in Poole and we're extremely lucky to be able to use it throughout the year. As we're fast becoming regulars to the area – and extremely fond of it –  I thought I'd put together a little list of the best family-friendly places to eat in Poole (and nearby!) with sea views.
If you're visiting Poole on England's South Coast, chances are you're a fan of the sea like me; perhaps you like to shimmy across the water on a kite surf, splash about in the waves with the kids or just gaze at the ocean while tucking into scrummy food and a delicious tipple. If the latter is the case, here are my favourite family-friendly places to eat in Poole with sea views.
Ever since The Pigs opened (there are sister hotels in Honiton, Brockenhurst, Southampton and Bath), visitors have clamoured to sleep, eat and be merry in the rustic country houses they have transformed. From Poole, the Dorset-based Pig – a 16th century manor house – is a hop across the waves on the Sandbanks to Shell Beach chain ferry, followed by a short drive down rambling roads to Studland, an area of coastline with World Heritage site status. As such, the hotel is surrounded by a wonderfully rural patch of countryside with quintessential English vibes and uninterrupted views out over the sea to Old Harry Rocks from the grounds.
The sea views are also visible from the hotel's Greenhouse-style restaurant, gorgeous thatched Roundhouse (which, as you can see in the piccie, is the dreamiest of summerhouses for private dining with friends and family) and the outdoor dining area with its I-want-that-in-my-back-garden rustic pizza oven and bar, so you'll want to linger a while over your meal.
The menu changes daily depending on what has been foraged or grown onsite in a kitchen garden of epic proportions that guests are free to explore. The cuisine is imaginative, seasonal British garden food, influenced by the surrounding coast and their '25-mile menu' shows just how dedicated to using home-grown and locally-sourced produce. Think Poole Bay mackerel, 'Polytunnel' tomatoes, Portland Crab and Piddle Valley (yes this is a place in Dorset!) Chicken Breast alongside unpretentious potted herbs, vintage cutlery, recycled menus as napkin holders and cheery staff.
The price tag is a bit higher than your average family dining experience, but when it's this special, it's totally worth it, and guaranteed to have you going wheeeeeeeee all the way home.
My favourite place to eat in Poole! You just can't beat it on a warm day. The best way of getting to South Deep Cafe in Poole is to work up an appetite with a pedal or stroll along the waterfront cycle path (along with many other motivational exercising bods) that skirts the edge of Whitecliff Harbourside Park. When you get to Parkstone Marina, turn into the boatyard, and there tucked away among the yachts is the cafe, one of the best family-friendly places to eat in Poole with sea views. Of course it's popular with the yachting crowd, but if you don't have millions to spend on a boat, fear not! This place is just as welcoming, friendly and a joy to hang out in.
If you're in a car, there is parking onsite, but this gets busy during the summer months when priority is given to berth holders and marina customers. You'll also find free parking along Turks Lane and Sandbanks Road, plus there is a car park situated across the park in Whitecliff, just a 5-minute walk away.
In warm weather, al fresco dining here is a must – there's a large outside area with tables and a grassy patch where customers pull up a pew on sunshiney days, separated from the water by a thicket of reeds. There's also a sheltered outside dining area – perfect for large family parties – a wooden boat for kids to play on, as well as a digger and car knocking around to help keep little ones amused while their parents knock back a gin or two.
In chillier climes, this kid-friendly restaurant is just as appealing; a roaring fire is ready to warm wind-swept folk and the sea views are just as good from the indoor tables, thanks to the wall-to-wall glass interior.
As for the menu, it's full of healthy smoothies, great brunch options, light lunches (served until 3pm), delicious Sea Bass and Moules dishes, Sunday roasts and cakes. On my last visit, I also spotted a brand new gin boat nearby (opening November 2018), so watch this space for more on that!
From Poole, sandy Shell Bay is really easy to get to – just a quick nip across on the Sandbanks chain ferry (check ahead to make sure it's running!) and it's right on your left. If you're in the car, there's a National Trust Car Park right next to the beach, or you might be able to find a free parking spot along the road if you're there early. In summer it gets really busy, so you could be better off as a ferry foot passenger, provided you can carry all your kit and kiddos with you! Just across the road from Shell Bay is the wonderful Shell Bay Seafood Restaurant, a seasonal family-friendly eatery with panoramic sea views across to Poole Harbour, Sandbanks and Brownsea Island.
The glass-fronted restaurant area with À la carte menu (which you can book) tends to be a slightly more formal affair, serving fresh, local seafood overlooking the waters from whence most of it came. If you're more beach-ready or just dropping in, there are relaxed picnic tables outside with the same sea view whose menu features lighter bites, snacks and coffee. The tables are surrounded by hammocks swaying from trees and steps lead down to a little beach – perfect for keeping kiddos (and adults!) entertained in between ordering and eating.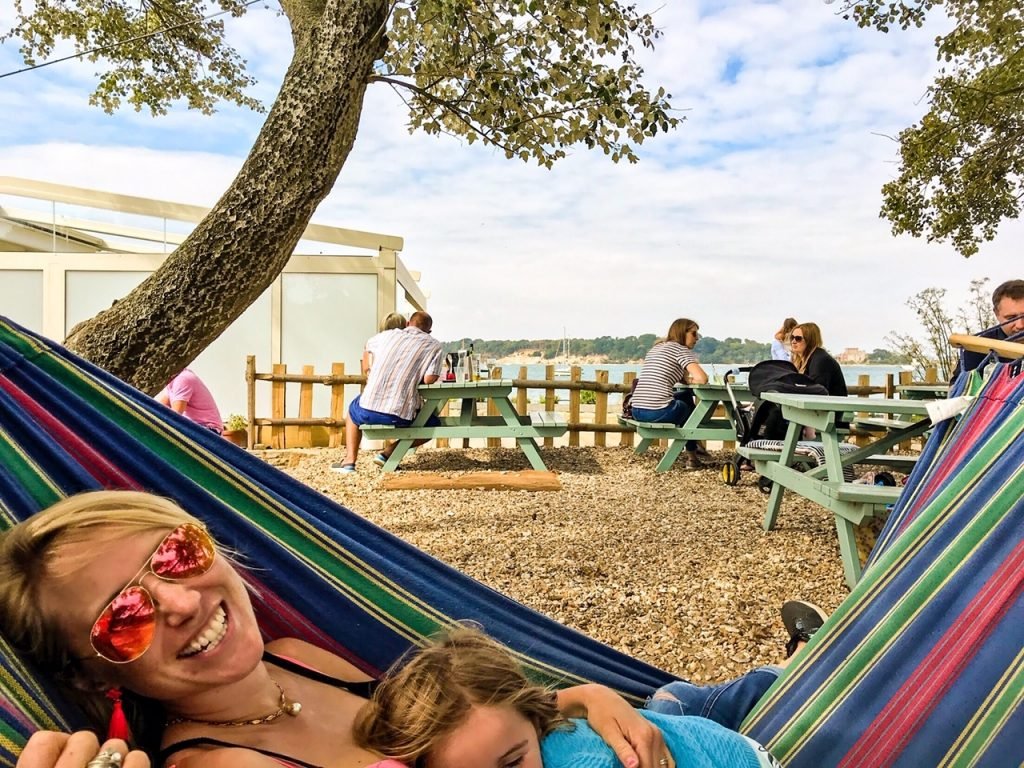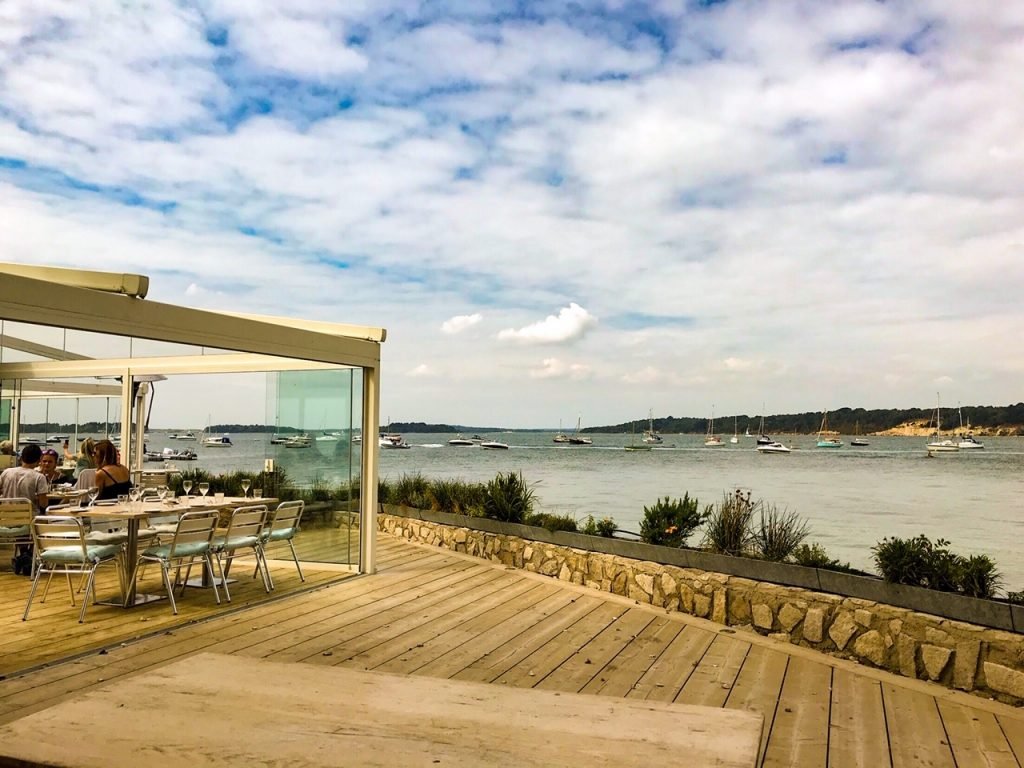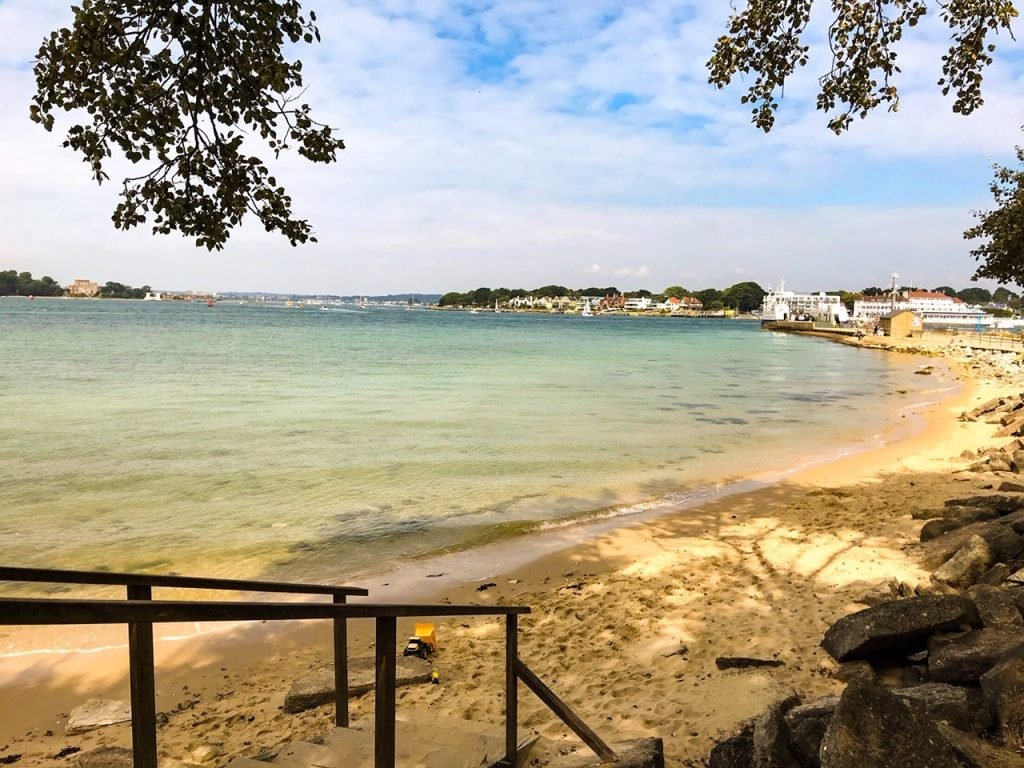 Places to eat in Poole: The Stable, Poole Quay**NOW CLOSED
For delicious, simple food that kids will love and West Country craft cider tasting trays that'll make adults go a bit twirly, head to The Stable on Poole Quay. Renowned for its sourdough pizzas served on wooden boards, The Stable is geared up for kids with a special children's menu and accommodating staff who will happily split a shared bowl of ice cream for two tinies (oh the arguments this saved!)
Located at the start of Poole High Street, snuggled in among the town's characterful olde worlde buildings, the restaurant's rustic insides hint at this building's old age and place in boating history. The picnic tables outside catch the lunchtime sun and have sea views over the Harbour – a great spot for watching boats breeze in and out.
For a fun little family-friendly post-pizza trip, there's the old-fashioned Truly Scrumptious sweet shop just moments away (think classic bon bons in glass jars) or kiddy-favourite – 2p slot machines and arcade games underneath Neptunes Funplex, just along the Quay.
Many people are familiar with celebrity chef Rick Stein's mastery of cooking a 'fishy on a dishy' and so his Sandbanks Restaurant was always going to be a hit. The restaurant is made up of an informal brasserie downstairs and a more lavish, white tablecloth dining area upstairs (both family-friendly), but only the upper floor restaurant has sea views.
And Mr Stein sure has made the most of those beautiful views, with wall-to-wall glass windows running along one side, which gaze over Sandbanks bay and the boats bobbing on the waves. Despite it's formal appearance, the upstairs restaurant welcomes families with young kids and didn't bat an eyelid when our two started to lose their patience with the whole sitting and staying put thing.
Of course, the menu features a lot of fish – choose from classic dishes such as fresh Cornish oysters, Indonesian seafood curry, Dover sole meunière, fruits de mer and good ol' fish and chips. For those going gluten-free, the restaurant also has a handy menu featuring only the dishes that don't contain gluten – which I found a helpful touch when I munched there on a gluten-free diet.
Ok, so perhaps not technically 'a sea view' as such, but the boating lake this chilled-out family-friendly restaurant sits besides in Poole Park is made up of sea water AND is right next to the sea, so I figure it counts. Set over two glass-fronted floors, The Kitchen serves European-inspired breakfasts, lunches and snacks, with 20% off on a Saturday morning for those that have braved the Park Run!
There's also an outdoor area for a cheery al fresco waterside beverage or two and the onsite Scoops Ice Cream Parlour when you need a pleasing selection of ice cream. I've known the menu to have some 'unusual' flavour combos, but generally, for an easy family-friendly meal out, you can't go too wrong.
To burn off energy in this pretty spot in summer, take to the water! You'll find swan pedalos, paddle boards and kayaks all for hire on the boating lake, right next door.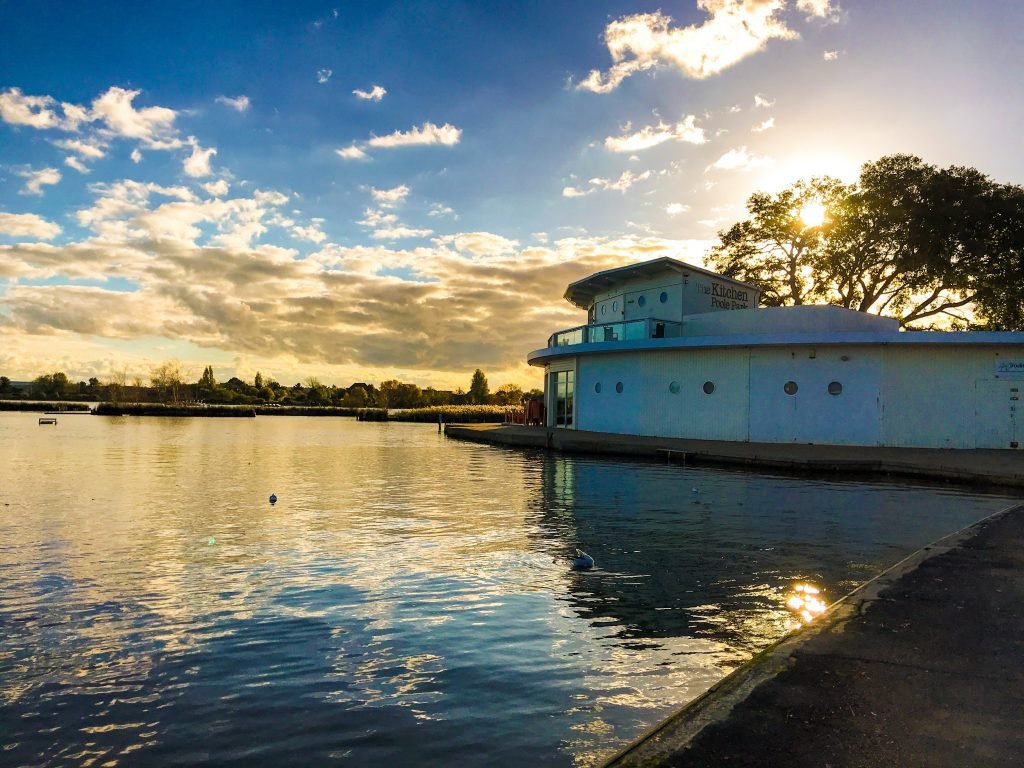 Like the aforementioned The Kitchen, The Ark doesn't exactly have sea views (although you can see the sea from the top floor of the soft play!), but also overlooks the boating lake and is within close proximity to the sea. As well as a cafe, The Ark also wears a number of other hats – ice-skating rink, under-11s soft play cafe and ice cream kiosk – making it a great family-friendly eating out destination pre or post kiddy entertainment under its roof (AND there's tons of ducks and swans to feed, plus an outdoor playground right next door).
The inside of the restaurant is pretty large and there's also a big terrace with outside tables for warm days, where you can watch the Poole Park Miniature Train pootle past (when it's running – our fingers are crossed it will start up again). As far as the menu is concerned, it's pretty standard cuisine for a child-focused establishment with homemade snacks and freshly-cooked meals. As you can imagine, thanks to its indoor activities, families with little ones flock here in bad weather, so it can get busy on rainy days, but it's a great, easy one to have in your back pocket for such an occasion.
You might also like: 
Family-friendly days out in Dorset (near Poole)
Splash pads and outdoor water play in and around Bristol
Days out in Devon: things to do near Dartmouth
Pin it: