Travel back in time 100 years and celebrate Christmas, Victorian-style at Brunel's SS Great Britain, a wonderfully festive day out with raggedy characters and falling snow. We spent a day out at this magnificent ship – here's my review.
A Christmassy Victorian Weekend at Brunel's SS Great Britain, Bristol
Soot-dusted scallywags selling oysters and crumpets, grubby-clothed ladies with bloodied noses and gruff-looking chaps in top hats are loitering on Bristol's dockside. Snow (albeit fake) is falling, transforming everything it touches – the Narnia-esque lamp posts, mistletoe-festooned crates and other 18th century dockyard paraphernalia – into a festive Dickensian land. For the Victorian Christmas Weekend at Brunel's SS Great Britain, each crusty character has a story to share, to transport you back to the Victorian era, including the most famous top-hatted Victorian among the lot, Brunel. It's a wonderfully festive day out with a raggedy Victorian twist.
Exploring Brunel's SS Great Britain during the Christmassy Victorian Weekend
After your initial introduction, there's more immersive, out-of-the-ordinary experiences to come. Delving below the water line of the dry dock and gazing up at the ship's hull and gigantic propeller in all its glory, you really get a sense of this colossal vessel. Down here beneath the glass sea, on the uneven Victorian cobbles, you can almost feel the weight of the water behind the Harbour walls, that once kept this ship afloat and now remain parted as if by some invisible hand of Moses.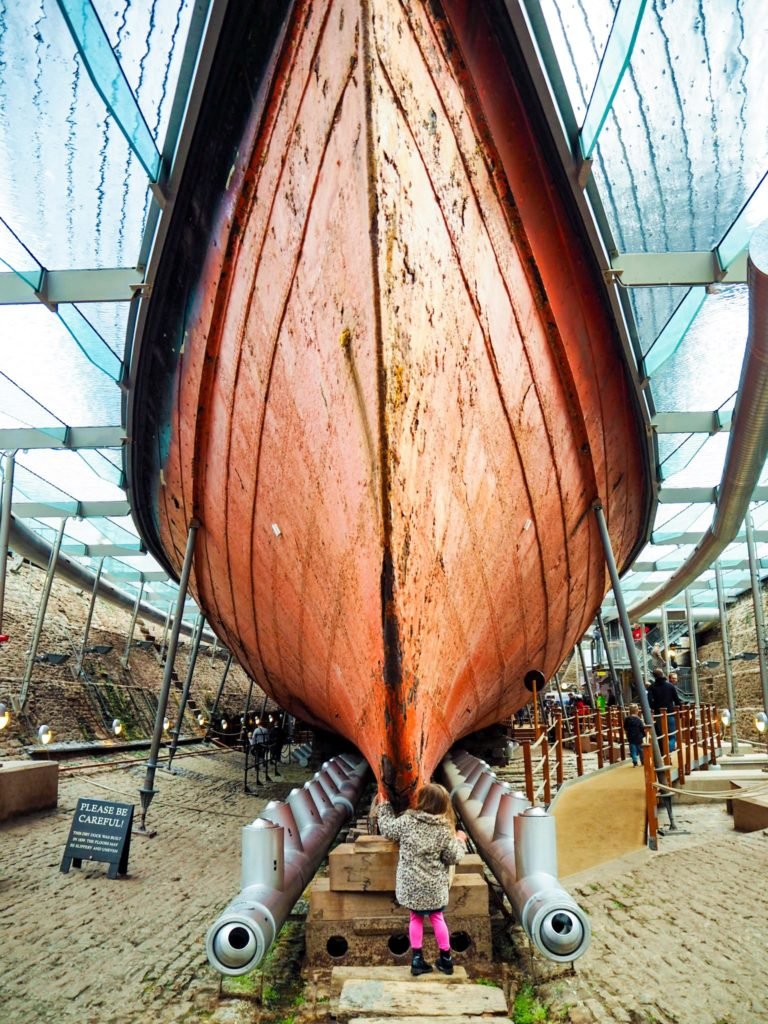 Back above ground, the Dockyard Museum reveals the fascinating history behind Brunel's SS Great Britain, from her rescue in 1970 to her grand launch. Unfamiliar objects and remnants from the SS Great Britain's past bring the adventure-filled stories of the ship and her passengers to life – from her role in two World Wars, to her time as a luxury liner and host to the first all-England cricket team to play in Australia…
It's also where the interactive fun starts. Stamp your ticket, steer the ship, dress up in Victorian garb for an old-fashioned photo and discover the stories of real-life past passengers. Ever the high achieving family it seems, Brunel's brother-in-law designed the first Christmas card, and as a festive treat, families can have a go at fashioning their own during the Victorian Christmas Weekend.
Onboard Brunel's SS Great Britain
From here, it's a short bridge hop across to the top deck of this magnificent steam ship. Her multi-coloured flags flapping in the breeze, she is a sight to behold from any angle, but even more so against her resting backdrop – the bright, cheery houses of Cliftonwood, Bristol's buzzing Floating Harbour and the iconic Cabot Tower, visible in the distance.
On the Weather Deck, over 10s can climb the rigging and walk out onto the main yard with Go Aloft! to see how they would have fared as a Victorian sailor in the 1800s (£10 for over 18s, free for under 18s). You can strut the length and breadth of the ship these days, crossing the white painted boundary once reserved for First Class passengers only, before going below deck.
Alive with the sounds and smells of Victorian life at sea (the fish-gutting room exudes a particularly authentic stench), the beautifully-decorated Promenade Deck propels you back in time, with the addition of costumed First Class passengers setting about their day as part of the Victorian Christmas Weekend. Nosy into their cabins, catch a glimpse of the ship's crew at work, marvel at the machinery that powered the vessel and taste Mrs Beeton's Christmas cake in the First Class dining saloon. It's utterly fascinating to imagine life onboard and kids will love peeking into the nooks and crannies of this animated ship.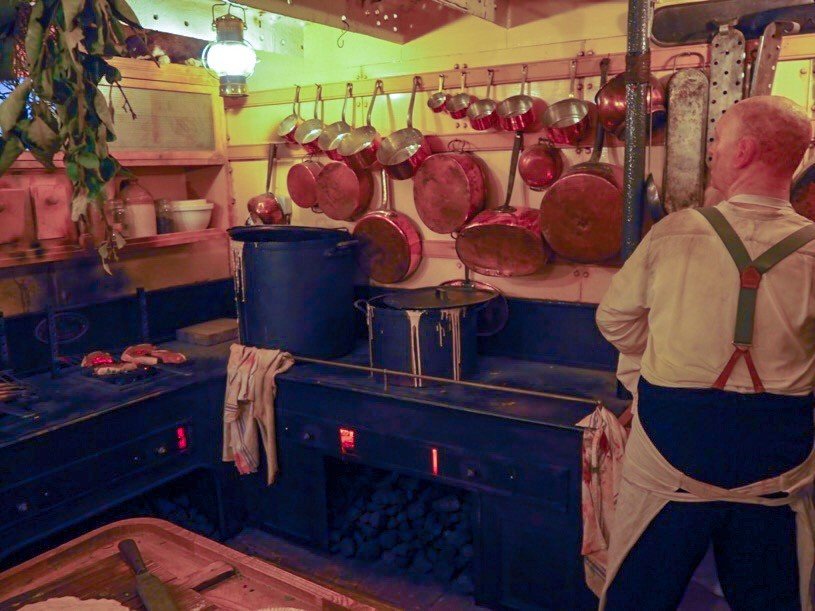 Sister museum Being Brunel
Alongside the ship, included in the price of your ticket, is new museum Being Brunel, which gives an insight into the legacy and accomplishments of engineering genius, Isambard Kingdom Brunel. Equally as inventive as its neighbour, the main thing you'll remember from this place is Brunel's gigantic face looming over you. His head is enormous for a reason – it houses his 'brain' that visitors can enter for an immersive six-minute glimpse into the life and mind of this extraordinary human. *Note, this isn't really suitable for young kids (mine got quite freaked from the sound and images half way through and we had to leave).
The rocking train carriage, with its iPad circle drawing challenge is a hit with youngsters though, as are the fruit machine buttons, opening drawers hiding bits and bobs from the engineer's life, train whistle and lifelike dog and fireplace in Brunel's study (so much so that my two year old lay cuddling the animal for several minutes before chucking coal on the pretend fire…apologies SSGB!)
Final thoughts on the Christmassy Victorian Weekend at Brunel's SS Great Britain
Brunel's SS Great Britain has won many awards and it's not hard to see why. From start to finish visitors are given a realistic insight into sailing life in Victorian times, when the ship was in its record-breaking heyday. From the realistic paraphernalia and characters in the dockyard, to the traditional Christmas decorations, to the sights, sounds, smells and festive food aboard ship, it's a thrilling experience, particularly on special days like the Victorian Christmas Weekend.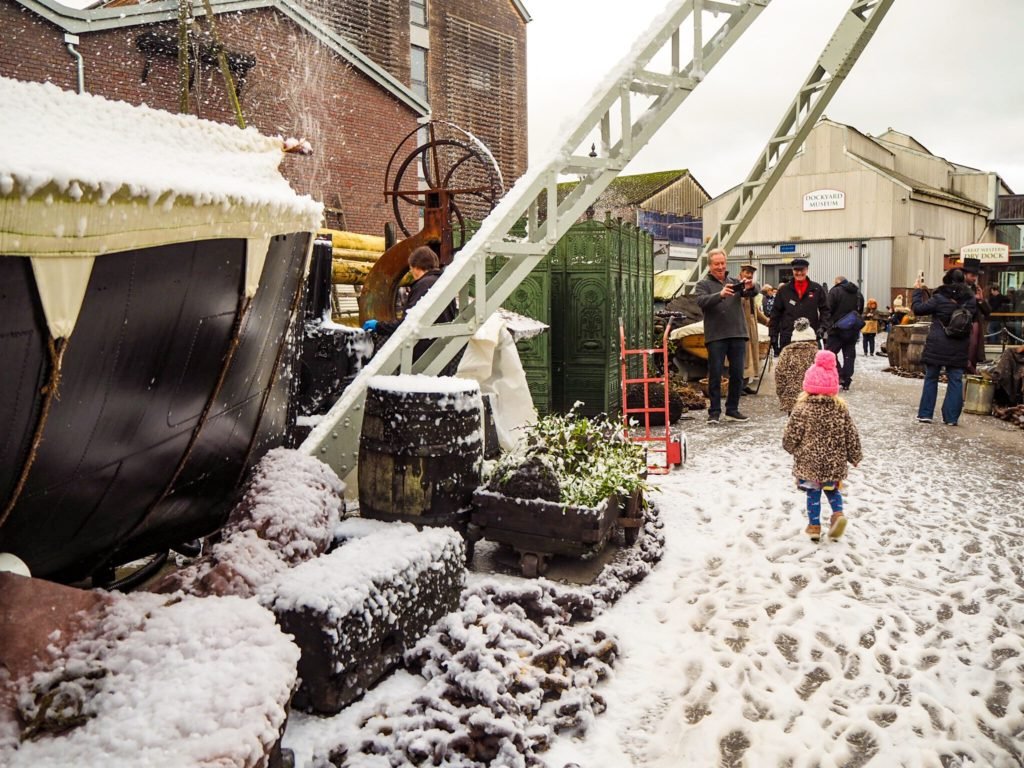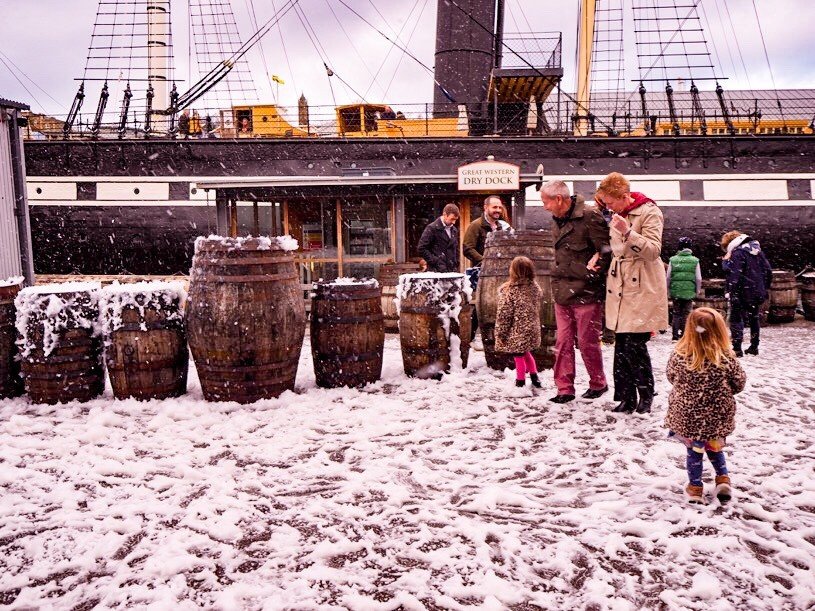 More Brunel in Bristol
If you like this ship, you'll love Brunel's other Bristol landmarks! This magnificent steam ship on Bristol Harbourside, is just part of Victorian engineer Brunel's spectacular portfolio and you should definitely add another of his designs, Clifton Suspension Bridge, to your Bristol bucket list if you've never seen it before.
Practical stuff for visiting Brunel's SS Great Britain
There is plenty of parking right next to Brunel's SS Great Britain. It is a paying car park, but if you take your parking ticket to the desk when you buy your tickets to the attraction, you get some of your money reimbursed.
By all means bring a buggy, there are lifts in The Dry Dock, Dockyard Museum, Brunel Institute and the ship. However, if you want to leave it behind, staff will happily store it behind the desk for you.
There is a cafe onsite, although if you'd rather eat elsewhere, it's a short walk down to Wapping Wharf where there are plenty of independent restaurants – some in trendy repurposed shipping containers. You can also pop across the Floating Harbour on another boat which drops on the other side at a little marina populated with restaurants and cafes like the excellent Spoke and Stringer and Broken Dock.
Bristol Insight open-top tour buses make a stop here, as do the Bristol Ferry Boat Company, if you'd like to rock up via a fun means of transportation.
Read more:
Find out what Travel to Recovery made of day out on Brunel's SS Great Britain
See more:
Pin it:
LIKED THESE PICS? FOLLOW ME ON INSTAGRAM