As far as UK holidays go, Devon is one of the prettiest, most family-friendly, activity-packed places to go. For several years now we've been holidaying in Kingswear on the Dart Estuary (opposite Dartmouth) and it's never grown old, there are so many exciting days out and things to do near Dartmouth each time we return.
Miles of stunning coastal walks, beaches, boat rides, steam train rides, fabulous sea food, jaw-dropping views, picturesque towns and stunning countryside mean it's a joy to re-visit old favourites, but there's always something or somewhere new to explore each time. I've put together a list of my top things to do near Dartmouth.
Things to do near Dartmouth
Travel back in time to 1950's England and the golden age of steam travel. A proper choo choo, the classic train carriages and Brunel's engineering are sure to delight both little ones and Grandpas alike. The train leaves regularly from Kingswear and chugs along a scenic route to Paignton, although you can get out at stops along the way.
I highly recommend going all the way to Paignton, then hopping off at Greenway Halt on the return journey to visit Agatha Christie's former holiday home (now looked after by the National Trust) – a short walk from the platform. If you're feeling fancy, or just want an extra good seat, shell out an extra £2 to sit in the 'Devon Belle' – an observation carriage with wall to wall glass – to make the most of the views.
2. Living Coasts Sealife Centre, Torquay *now closed
UPDATE: Wild Planet Trust has had to announce that it will not be re-opening Living Coasts as a visitor attraction following its closure during the global coronavirus pandemic. Falling visitor numbers and the forced closure of all its zoos due to COVID-19 has meant that it has had to look at its cost base and make efficiencies. After nearly twenty years of operation the site also needed substantial maintenance that the Trust is no longer in a position to afford.
If it rains during your visit to Pennywell, you can return for FREE within 7 days. You almost want it to as there is so much to see and do. The farm is a total delight, you can cuddle and feed practically everything there – guinea pigs, miniature pigs, rabbits and big pigs.
A miniature train skirts around a small track, a look out tower gazes over stunning views, there's a great toddler play area, complete with a miniature classic Devonian house, tons of tractors, a soft play area, bouncy castle, horse-rides (which you need to book), tractor-rides, ferret racing, shire horses, Go Karts and more…fun fun fun.
Pennywell would make a great day trip from Exeter if you're in the Devon area.
4. Day trip from Dartmouth by rail, river and road
Go on a transport adventure and travel by steam, boat and bus on a Round Robin ticket from Dartmouth Steam Railway and River Boat Company. Cruise the River Dart to Totnes for a spot of lunch, ride a Double Decker bus to Paignton before hopping aboard a steam train to Kingswear. It's a perfect day out for vehicle-lovers.
For shorter journeys, boats also buzz up and down the river to Dartmouth Castle, Dittisham and Greenway – an exciting venture for a little'un and a convenient way of getting from A to B, especially if you've walked one way and want to get back a bit quicker.
Passenger and car ferries also cross the estuary regularly between Kingswear and Dartmouth. If you are planning to use these a lot, make sure you buy a book of tickets – it's much cheaper.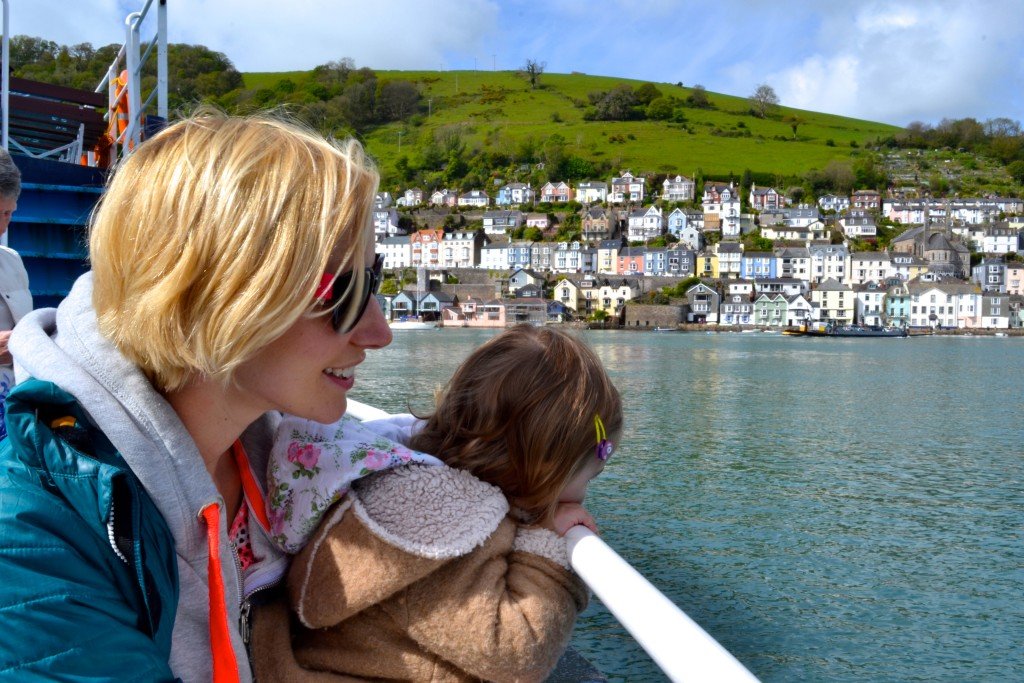 5. Head to a kids' playground near Dartmouth
The best thing about the play areas dotted around the Kingswear area are the gorgeous views. My favourite park is located next to grassy Coronation Square on the Dartmouth side, just a stone's throw from the pretty seafront. Here you'll find a giant sandpit complete with digger, swings and so many slides, plus a great view of the boats tinkling in the estuary and the steam train choo-ing back and forth. There's also picnic tables and a refreshment hut – perfect for snaffling an ice cream or bacon sarnie afterwards.
6. Hit the beach near Dartmouth
If the weather is fine, there are some beautiful beaches around. Four miles away, you'll find one of the UK's most beautiful beaches, Blackpool Sands, a sheltered shingle beach with Mediterranean vibes, lifeguards, plenty of water activities, sand pits and a café right on the beach. Sugary Cove, at the mouth of the river Dart is a bit more hidden away, just along from Dartmouth Castle and down quite a few steps – pack a picnic or pick up a treat from the Castle Tea Rooms before you descend and enjoy this little nook of joy. The family-friendly Goodrington Sands near Paignton has rock pools, a long stretch of sandy beach and quaint coloured beach huts giving it a lovely dose of quintessential Victorian England. Dartmouth Steam Railway running alongside does nothing to detract from this (head to the beach by steam train – Goodrington Sands is one of the stops). There's the lovely Salcombe (with its own gin distillery!), the extraordinarily picturesque Slapton Sands and Scabbacome Sands are all nearby and there's plenty more coastal exploring to do…
Blackpool Sands
Goodrington Sands, Paignton
7. Go walking near Dartmouth
If you can still fit your little one in a sling or backpack of some sort, there are some fantastic coastal walks around. You might need to do a little training beforehand however, as I wouldn't say they were particularly flat – we don't call it Cardiac Hill (on the walk back from Dittisham) for nothing you know…Following this particular incline I had to drag my husband up the hill from the lower Kingswear ferry after he carried a stone and a half of toddler (plus her milk, books, water and food…which he might not have known about) for two hours along the coast path. Not for the faint-hearted! However, the jaw-dropping views over multi-coloured houses and bottle-green battenburg-esque hills tumbling down to sparkling cobalt waters are totally worth it.
If you're National Trust members I highly recommend a visit here. And if you're not, definitely fork out for the entrance fee as the setting is quite incredible. Oh to be the current owner of this place! The house inside is interesting, fairly austere in its decoration with strong Art Deco influences. One room is dedicated to dressing up which is great for kids, but just watch them on the antique pots!  It is the gardens that are truly special though – all 24 acres of them. From the house they drop down all the way to Pudcombe Cove where a tidal sea water pool awaits. Vivid flowers brighten walkways, bamboo thickets tower, trees loom, plants boom and a stream is guided artfully to the ocean through ponds and pools. Beautiful.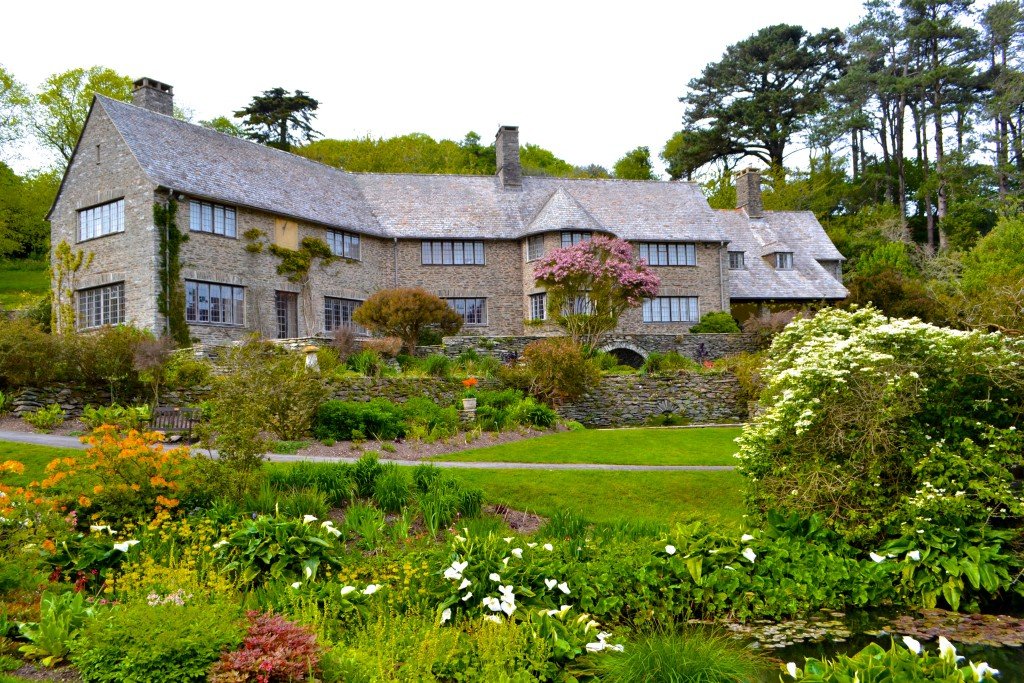 9. Greenway near Dartmouth
Agatha Christie's beloved holiday estate, now property of the National Trust is one helluva country pad. Tucked away on the Dart Estuary amidst woodland and vivid springtime blooms, it's little wonder Christie felt inspired here. The house is well worth a peek for its trinkets and treasures and beautiful views and the well-tended gardens are great for exploring. Plants are cultivated in old-fashioned greenhouses, pathways lead down to the water's edge and there's even a pet graveyard in memoriam of long gone doggies. As with most National Trust places the facilities are excellent and very family-friendly. You can walk here all the way from Kingswear, or if that sounds too strenuous, the Dartmouth runs to Greenway Halt from Kingswear and then it's just a short stroll from the station. There are also a number of ferries from Dartmouth, Torquay, Brixham, Totnes and Dittisham, or ample parking if you choose to drive.
Afterwards, if you come out of Greenway Estate and drop down to the water's edge you'll find a quintessentially English thatched cottage, that's pretty as a picture. It sits behind a café with a 'make your own Mr Whippy' machine – happiness in mechanical form! From here you can cross the river by boat to Dittisham – just ring the bell to grab the Captain's attention if he's on the other side. There you'll discover the yummiest seafood restaurant on the water's edge, The Anchorstone, which I highly recommend you factor into your trip.
If you're headed to South Devon over the May Day Bank holiday then don your most swashbuckler-ish outfit, summon your inner sea dog and head for Brixham's annual pirate festival. Sea shanties, pirate rock, street performers and pirate ships fill the town over the course of the three-day event, there are also historical re-enactments as well as lots of other family-friendly activities. Savvy?
On the river mouth, looking out to sea, this impressive fortress has guarded Dartmouth Harbour for over 600 years. Now looked after by English Heritage, you can walk or boat right up to the castle from Dartmouth. Pay the entrance fee and delve further into the castle – there are passageways, guns and cannons to explore. Have a nosy around nearby St Petrox Church or stop into the neighbouring Castle Tea Rooms for a Devonshire cream tea.
Waterfalls, magical woodland and animals await at this lovely park in Dartmoor, a short drive away from Kingswear. Keep your eyes peeled on the journey there as Dartmoor ponies wander freely and often aren't afraid to get up close and personal! Get little legs walking with a fun stamp card trail around the ancient woodland and cross stepping stones at the bottom of the waterfall, before bouldering back up hill. There's also a nature-themed arts and crafts room plus a whole host of furry, feathered and scaly creatures to say hello to. Take a picnic or grab something from the onsite café.
The largest theme park in Devon, Woodlands Theme Park sits a five mile drive across the water (the Kingswear-Dartmouth Ferry is quickest) on the Dartmouth side. You'll find lots of kiddy entertainment here such as jumping pillows, animals, a tractor ride with some very weird-looking llama statues (!), soft play, a Toboggan run, Watercoasters, all sorts of slides, a witch's hut, playgrounds and lots more. There were definitely fun bits to be sure, but we were a bit disappointed when we visited in April (so within the main season) as lots of the rides were shut, rangers were not around to open rides that were open, lunch pies and pasties were unavailable and we felt a bit cheated having paid £65 to look at some animals and only experience a couple of rides. It could just be that it was an off day, we tried to speak to somebody about our disappointment on our way out, but there was nobody around. However, I know of other bloggers who loved this place, but sadly, we just didn't get the right vibe.
What are your favourite family-friendly things to do near Dartmouth? I'd love to hear in the comments below!
Pin it:
SaveSave
SaveSave
SaveSave
SaveSave
SaveSave
SaveSave
SaveSave
SaveSave
SaveSave
Read more:
Things to do in East Devon with kids: weekend itinerary