The county of Dorset is renowned for its unspoilt countryside, quaint seaside towns, spectacular beaches, breathtaking natural landmarks, family attractions and historic castles. If you're planning a holiday or weekend trip in the UK, there's tons of family-friendly days out in Dorset to keep you occupied.
We often base ourselves in Poole, a town in Dorset that sits right on the sea, close to the World Heritage Jurassic Coast. With its large natural harbour, it's a destination that people often skip over, passing through briefly to cross over on the ferry to France instead. But having spent a lot of time in Poole recently, we've discovered oodles of stuff to do in the area with children. Here are my favourite family-friendly days out in Dorset (near Poole) with kids.
Days out in Dorset with kids: Poole
Poole Park Boating Lake
Throughout the day you'll see a constant stream of paddleboarders, laser picos, swan pedalos, kayakers and windsurfers take to the water here. If you fancy giving it a go yourself, you can hire equipment from Rockley Poole Park Centre, on the water's edge.
It's not just water-sports fans you'll find busying themselves around the water's edge though as umpteen cyclists, runners (the boating lake circuit is part of the Saturday morning Park Run route) and walkers are also drawn here thanks to the ready-made bike routes, flat pathways and fitness equipment dotted around the edge.
Family-friendly fun days with inflatables and face-painting often take place on the grass behind The Kitchen restaurant, so keep an eye out for those. There are are also two kids' playgrounds to choose from close to the boating lake, crazy golf, a softplay (more on those later) and a chance to watch radio yachts buzzing around on the water's surface most Sunday mornings.
On the edge of Poole Park, right next to the tennis courts, you'll find everybody's favourite wacky golf game to putt your way to victory on! The 12-hole course closes for winter, but tends to re-open for February half-term. You'll find their other crazy golf course over in Sandbanks, right next to the beach, which is open on weekends during winter.
The Ark, right next to Poole Park's boating lake, wears a number of kid-entertaining hats – as well as an ice-skating rink, and under-11s soft play, it's also a cafe, pottery studio and ice cream kiosk – making it a great family-friendly destination. Thanks to its indoor activities, families with little ones turn up in their masses during bad weather, so it can get busy on rainy days, but it's a great one to have in your back pocket if the English rain is lashing down outside. Right outside, there's an outdoor playground and cricket ground surrounded by a great, flat, concrete circular pavement that is perfect for learner cyclists.
Whitecliff Park, Poole
Walking by water is always a lovely thing to do and Poole has made it very easy! The path from Whitecliff Park skirts the edge of the sea on one side, with masses of green space on the other, all the way to Poole Quay. It's paved and totally flat, so perfect for cycling, scooting, walking, running, exercising pooches and wearing out kiddos. Look out for Whitecliff Playpark, a fantastic playground en route and don't miss family-friendly South Deep Cafe in the Parkstone Bay marina.
Poole Quay, Dorset
Poole Quay is the place to head for catching a Brownsea Island ferry. For days out in Dorset on the water, there are a number of other boat trips to Wareham, Swanage and the Jurassic Coast which also leave from here. A huge highlight for the kiddos is the Poole Quay Arcade, with its 2p slot machines and the chance to win about 4000 lollipops. Upstairs you'll also find a cafe, Neptunes soft play and a Harbour Pirates glow golf! Afterwards, it's worth a wander into the Old Town where you can find an old-fashioned sweet shop (if they haven't gorged on lollies!) and family-friendly restaurants like The Stable.
Just minutes away by car from Poole town centre, Upton Country Park is a huge wooded estate with a lake, bike-friendly tracks and grounds that stretch all the way to the shoreline of Holes Bay. A grand Grade II* listed mansion house sits next to the large, grassy front lawn and is open to visitors on Sundays and Bank Holidays from January to October. But the main draw for kiddos (aside from the soft play corner in the beautiful tea rooms) are the outdoor natural timber adventure play areas. Come summertime (May-September), the Walled Garden's Splash Fountain comes to life between 11am-1pm and 2-5pm – perfect for cooling off on hot days.
Check out their Facebook page for unscheduled, last-minute heatwave splash-abouts! The park is free to enter and there's a large onsite car park (charges apply), so you can rock up with all your kit for a day out.
Days out in Dorset: go to the beach
Well, duh! Dorset is one of the best counties in the UK for beach lovers. The Jurassic Coast (one of my favourite names for a coast) spans 95 miles of Dorset and Devon coastline and was the first ever site to be named as a 'natural' World Heritage Site. Some of the best beaches near Poole are Canford Cliffs, Branksome Dene, Sandbanks, Brownsea Island, Studland, Alum Chine, Boscombe beach and Lulworth Cove.
Sandbanks
Shell Bay, Studland
Shell Bay is one of the National Trust's protected Studland beaches which stretch along the Isle of Purbeck headland for four miles. From Poole, Shell Bay is a hop across on the Sandbanks chain ferry (check ahead to make sure it's running – if it's not, you can drive round, but it takes a lot longer!) The soft-sanded beach, reached via a boardwalk, is backed by dunes and has lovely views across the water to Sandbanks and the sea, which buzzes with boats all day long.
If you're travelling by car, there's a National Trust Car Park (with toilets!) right next to the beach (with free parking for NT members), or you might be able to find a free parking spot along the road if you're there early or out-of-season. In summer it gets really busy, so it can be better to go as a ferry foot passenger, provided you can carry all your kit and kiddos with you!
If you get peckish and haven't packed a picnic, fear not – just across the road is the wonderful Shell Bay Seafood Restaurant, a seasonal, hammock-dotted, family-friendly eatery with panoramic sea views.
Read my blog on Family-friendly places to eat in Poole with sea views
From the outdoor pizza oven to the gorgeous garden restaurant, thatched roundhouses and wooden sun loungers overlooking the sea to Old Harry Rocks, The Pig on the Beach is dreamy in every direction. For casual family dining, pizzas on the lawn are the easiest option with little ones although the food at the restaurant is locally-sourced, largely homegrown and down right piggylicious. Outside there are some serious veggie patches to explore (a thing of beauty), some pigs to gawp at and lots of outside space to run around in. There are gorgeous beaches on the doorstep too – you can walk down from The Pig to Knoll Beach and South Beach. Slightly further away (10 minutes by car) is the stunning Shell Bay – see above.
You can see Brownsea Island and its castle from Poole's shoreline, and while from this distance it looks like mainly trees occupy the place, there is so much more to discover behind its green frontage. Robert Baden-Powell held his first experimental camp on Brownsea Island back in 1907, laying the foundations for the worldwide Scouting and Guiding movements. These days it is possible to camp on the island from April-September, so you can test your own survival skills and live out all your 'marooned islander' fantasies!
If you're just going for the day, there are three marked walking trails around the island (it's a mile long and just under a mile wide) and although we didn't manage to get round all of them (travelling with little legs and all), we still covered some good ground. And what spectacular ground it was. In the short time we were there we walked through several different habitats – woodland, heathland and grasslands, past lagoons, into areas of vast green space, then nipped down tropical-feeling pathways to the stretch of empty beach and round the corner to find chickens roaming freely. Wandering around, you start to learn more about the island's fascinating history; through its village and vinery ruins and ancient pottery pier. There's also a lily pond, natural play area and wetlands to discover.
To get to Brownsea, you can buy ferry tickets on Poole Quay or Sandbanks (which run every half an hour from March to November). The ferry takes about 20 minutes to get to the island and about 40 minutes to get back as you return via the back of the island. Outside of these dates it's possible to visit Brownsea on a winter bird boat, but be sure to check the opening times during winter, as it isn't open daily until March. 
Once on the island, entry is free to National Trust members and look out for the giant Brittany Ferries sailing past to France – it's quite a sight!
For all the quintessential, countryside-cottage, English-seaside feels, take a day trip to Lulworth Cove. Famous for its stunning and unusual horseshoe-shaped bay and holey cliffs, this Dorset cove does tend to attract a ton of tourists in peak season, although when we visited in the midst of summer holidays, while fairly busy, it wasn't outrageous. From the car park (fee payable), it's a joyous stroll through the village, past traditional, chocolate boxey thatched houses, pubs and ice cream shops to the hilltop trail for the best views of Lulworth Cove from above. Do keep hold of kiddos here as it is fairly narrow!
Just 2.5 miles away is Durdle Door and it is possible to walk along the coast path from Lulworth. However, it did look pretty steep and our two young kids wouldn't have managed it. However, if you're keen to see this other archeological treasure, you can catch a boat from Lulworth in summer and see the coastline from the water. Otherwise, Durdle Door is just a 10-minute drive away and there are many other must-visit iconic beauty spots along the Jurassic coast.
Be sure to grab yourself a gourmet crab and lobster burger or some traditional fish chips from the shack by the beach before you leave!
Days out in Dorset (near Poole) with kids
If you've driven to Dorset before, it's likely that you'll have passed this ruined castle, which – despite its ravaged appearance, stands boldly surveying the spectacular Purbeck landscape from its ancient 55m high hilltop perch. Now owned by the National Trust, Corfe Castle has witnessed battles, mysteries and dangerous plots during its ten-century lifetime as a Saxon stronghold, Norman fortress, royal palace and family home. From the NT car park at the foot of the castle, there's a lovely countryside walk alongside fields and over a stream to the old English village of Corfe where you'll find the entrance to the castle grounds. Once across the bridge and age-old cobbled path, you're free to explore the rocky remains, conjuring for yourself a time when the castle and those within it dominated the land. As with many National Trust properties, you'll find regular events and activities taking place – when we visited during October half term, the place had been decorated in festive pumpkins, kids could zip-line teddies from the top of the castle and games had been lain out on the grass for people to help themselves to.
Just a short stroll away from Corfe Castle, through the delightful chocolate-box village of Corfe is an exact replica of the village in miniature form (open from Feb-November). Act like giants for the day and tower over the beautifully detailed stone houses, see the nearby Corfe castle as it would have looked in its heyday (before its destruction by Cromwell in 1646) and marvel at the pocket-sized concept of it all! You'll also find giant garden games like Chequers, croquet and hoops in the beautifully landscaped grounds, plus a haunted house, working stocks and pillories, an enchanting fairy garden (whose 'children-sandwich-eating-goblin' was our go-to disciplinary threat for a short time afterwards 😂) and a Courtyard Tea Room onsite.
Ditch the car and travel to Corfe in style on one of Britain's most popular heritage railways. Steam trains run between Norden, Corfe and Swanage every day between April and October. For the best glimpse of the glorious Purbeck countryside, bag yourself a seat in the observation car (just an extra £2 per person). There are also festive, afternoon tea and train driving experiences to be had!
The gigantic Paulton's Park (about a 40-minute drive from Poole) has over 70 rides and attractions, but the main draw for parents with young kids is the fact it is also home to one very famous celebrity pig. Love her or hate her, Peppa and her crew put on a fine day out for miniature fans. Entry to Peppa Pig World is included in Paulton's Park entry tickets (book online in advance to save money) and features rides based on all the well-loved characters from the show. Favourites of ours are George's Dinosaur Adventure, Peppa Pig's Balloon Ride, The Queen's Flying Coach Ride and venturing into Peppa's house to see the large animatronic pig family in the throes of a pancake disaster. Peppa and George pop up throughout the day for meet and greet photo opportunities and there's also a playground and splash park built in the cartoon style of the TV programme, plus a whole host of other rides. Once you've had your fill of the Peppa jingles (which are played repeatedly over the speaker system in her area of the park), there's the rest of Paulton's Park to explore with quieter queues for rides, more playgrounds, another splash park, picturesque gardens, seasonal decorations, an aviary.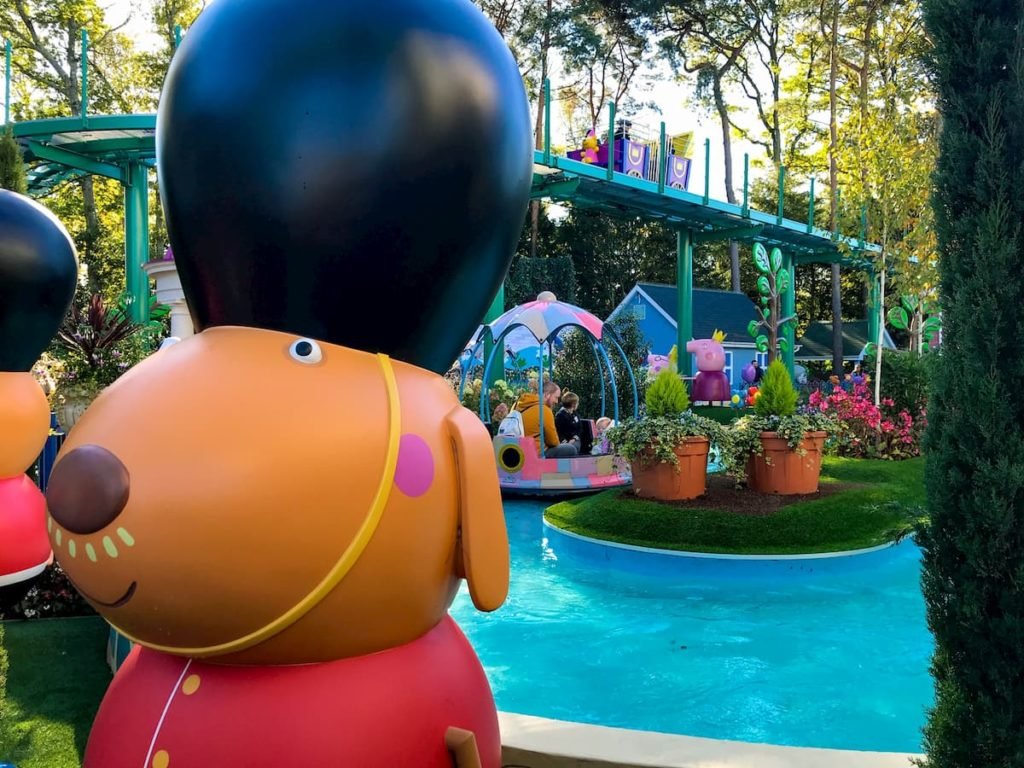 About half an hour drive from Poole, Moors Valley has tons of outdoor fun going on for families with kids of all ages within its 1000 acres. For those keen to burn off some energy in the great outdoors, it's a must! A mile-long Play Trail will keep kiddos entertained for at least an hour with its wooden play equipment, including a 'Crocodile Crossing' and 'Snake Pit'. Here, 5 metres up, you'll also find a Tree Top wooden walkway, which takes you through the forest, with great views down below. Other play areas (there are many!) hold a zip slide, sand pit, 'Go Ape!' high ropes course (minimum age 10yrs), tunnels, bridges and animal-shaped wooden wonders, interactive musical chimes plus lots more.
Make sure you factor in enough time to seek out all the Gruffalo sculptures in the picnic area and take a ride on the miniature railway which skirts the banks of the lake.
For exercise-loving families, you can hire bikes onsite (including child seats, trailers and tag-a-longs) and there are a number of walking trails which are mostly suitable for pushchairs.
If you've got animal-loving little ones, making the 10-minute drive from Poole to Farmer Palmers should definitely be on your 'things to do near Poole' list. It's a pretty good option if the weather's not great either as there are plenty of indoor play areas – a large soft play, barn filled with slides, straw and tunnels, bouncy castle, animal activities and a little farmers fun barn. Families can get up close to the animals by feeding a goat, holding a guinea pig, pony grooming and lots more feeding and cuddling events. Outside you'll find a Wendy House village, deer safari tractor ride, sand and splash area, bouncy castle, maize maze (seasonal), pedal tractors and pedal go-karts (great for racing fellow family members!) It's easily a full day out with little ones.
Bournemouth Oceanarium has got 'rainy day entertainment' written all over it…just maybe don't go on a rainy school holiday day as it's HIGHLY likely the rest of the parental population will have had the same idea. When we visited on such a day it was heaving with people hustling to glimpse a sea creature and as a result, not very enjoyable, but I can see that it would be great for kiddos when quieter. Highlights for us were watching the humongous turtle swim past our heads, the underwater tank, the otter feeding and the abyss. The Oceanarium sits right next to the beach, so if you're planning on making a day of it, might be worth keeping some buckets and spades in the car. I'd also recommend you buy your tickets in advance online as you can skip the queue if there is one.
My three year old is OBSESSED with cats, so when I heard about the cat cafe in Bournemouth, I thought it would be the perfect afternoon activity near Poole for my feline fanatic, particularly as our local Bristol cat cafe has a minimum age of 10. The ethos of the cafe is honourable – they promote ethical eating, their work placements are often offered to those with disabilities to gain confidence and skills, and cat welfare is a top priority.
Before your visit, you need to book a table. If you're going with kids under 13, there are two tables which you can reserve (tables 9 or 10). Entry is £5 per person and on arrival, expect a run-down of the rules, which include not waking or stroking sleeping cats, picking up cats or making loud noises near the cats. Which, it's pretty damn hard work with small children! It was difficult to feel like we were getting the experience we were after with these rules, as most of the cats were asleep (that's what cats mostly do in the day!) for the entire time we were there and nowhere near our table. Some sat in baskets under or on other people's tables, so we had to try and shimmy up next to them while they were eating and having private conversations in the hope that they might let us share their cat. Which never happened. It all felt a bit awkward and disappointing. But if you're happy to glimpse the odd cat from afar, it could be worth a visit.
If you've got a National Trust membership, you really are spoilt for choice in the area. A 20-minute drive from Poole, Kingston Lacy is a mighty-looking 17th century country mansion in the heart of extensive landscaped gardens and parkland. With two young kids, we came for the outdoor space (although the interior of the house sounds fascinating – it was previously owned by the phenomenally rich Bankes family, whose summer house was The Pig hotel, above). Outside will keep you busy for a while (the estate covers 8500 acres), it's said the gardens were second only to Kew gardens in their heyday! And it's still pretty impressive. A giant Egyptian obelisk is hard to miss, there's a Japanese garden to explore (which was in full fiery autumn red when we visited), woodland trails and little surprises along the way (think bell tents, poems to construct from pebbles and the like).
Read more:
Family-friendly places to eat in Poole with sea views
Pin it: