The question on many parents' minds agin this Christmas: is Father Christmas immune to Covid-19? I think we can guess the answer to that one. But luckily for 2021, the big guy in red is still planning on visiting Bristol! Yes, Santa Claus IS still coming to town – here's a round-up of places your little ones can see Santa in Bristol this Christmas.
*As with all events during these uncertain times, there is no guarantee that these events will go ahead. COVID-safety measures will apply – check the individual websites beforehand to avoid disappointment. Please let me know if you hear of any more Christmas events in Bristol and I'll add them to the list.
Where to see Santa Claus in Bristol Christmas 2021
It's a rare sort of Christmas up at Cribbs this year as kids can join Paddington on a magical Christmas adventure and meet Santa! With lively charming characters to meet and enchanting interactive scenes, visitors will be taken on a magical journey through the world of Paddington with the chance to have a photo with Father Christmas too!
Take part in a Christmas-themed sports session, live music from Rock Out Baby and get a visit from Santa Claus! There'll be luxury hot chocolate on offer, plus the chance to take away some magic reindeer food so Santa can find your house on Christmas Eve. There are two time slots available (9.15am and 10.30am), with limited numbers in each, see website for more information and COVID-safety precautions.
Search for Father Christmas with the Ferry Elves on their cosy festively-decorated boat. Once found, Bristol Ferry Boats' charming Father Christmas will entertain, dole out individual gifts for the kiddywinks – with mince pies and sherry for the adults – while you cruise around the harbour.
Pickup location is The Cascade Steps – please arrive a little early.
A special themed 15-minute Christmas photoshoot, Santa meet-and-greet and storytelling experience for the whole family. Your baby, toddler or teen are all welcome!
Includes a free gift for each child.
Photographs will be ready no more than a week later and can be purchased from a secure online gallery where you can order prints, gifts and download the digital files.
Take part in a Christmas-themed sports session, live music from Rock Out Baby and get a visit from Santa Claus! There'll be luxury hot chocolate on offer, plus the chance to take away some magic reindeer food so Santa can find your house on Christmas Eve. There are two time slots available (9.15am and 10.30am), with limited numbers in each, see website for more information and COVID-safety precautions.
The old man in red is swooping in to Boing Soft Play for a couple of hours (2-4pm) to read the kiddos a story, hand over a gift and have his photo taken with little ones.
Santa will be swapping his sleigh for a vintage steam-hauled train to meet visitors in their own compartments this Christmas. Tell him what's on your special list as you choo-choo through gorgeous countryside, he might even have an early gift for good boys and girls! You'll also be able to get your photo taken with him on return to Bitton. Don't forget to keep your peepers peeled for festive Christmas donkeys on the lawn!
Once you've left, the elves will then be working hard, cleaning and sanitising the train before the next passengers arrive.
As well as mulled wine, homemade cakes, Christmas games, raffles, facepainting and carol singing performances, Santa will be making an appearance in a magical festive grotto. Frozen fans should also keep their peepers peeled to meet Elsa The Ice Princess. The best part? Every penny raised goes towards caring for our animals during the festive period and beyond.
Open: 10am – 2pm. Entry: £2 (adults) £1 (under 13s) Tickets available on the door. Plus optional Santa visit (includes gift): £3 suggested donation per child (no advance booking – first come, first served). Elsa the Ice Princess meet & greets available 10.30am – 12.30pm (no booking needed).
Discover a magical land, hop on The Polar Express Miniature Steam Train (and snap a snowy shot!) before spotting Santa's reindeer and a nativity scene complete with live donkeys! You can make your own environmentally-friendly reindeer food to take home and the Post Room will be open for you to send a letter (or use the Avon Valley SMS – Santa Messaging Service) to send any last minute requests to Father Christmas.
You can also book a timed session to see Father Christmas and Mrs Claus and a pick a toy. Tickets include a full day at the park.
Santa's coming to Cadbury, The Elves are eagerly awaiting your arrival and busy making a gift for you to collect on the way out. Go for the Santa's grotto or Breakfast with Santa experience!
Meet Santa and his elves as you tuck into an all-day breakfast beside a flock of flamingos! Once you've got your festive fill (including a gift from Santa Claus himself), you can head off into 100-acres of beautiful winter wetlands to spot amazing wildlife.
This festive event includes breakfast for the whole family followed by games and a visit from Santa, with a gift for every child.
Breakfast with Santa at your local Harvester! Pre-booking is essential.
Secret Wonderland Room, John Lewis, Cribbs Causeway (5, 6, 10, 11, 12, 13, 17, 18, 19, 20, 21, 22, 23 December)
After being greeted by one of Santa's elves, you will be taken behind the scenes of John Lewis to meet Father Christmas in his enchanted wonderland. Get settled in and listen to a magical festive story for up to six children at a time. Each child will be presented with a beautifully wrapped, named gift, a bag of chocolate gold coins and a chance to have a photograph taken. Tickets cost £20 and places are limited.
To book yours, or for more information, call The Experience Desk on 0117 9581847 or email experiencedesk.cribbs@johnlewis.co.uk
Meet the jolly man himself, a quarter of a mile out to sea and receive a special Christmas gift.
Please note: this year's Santa's Grotto will be socially distanced so Santa will be two metres away from you and your children to help keep everyone safe.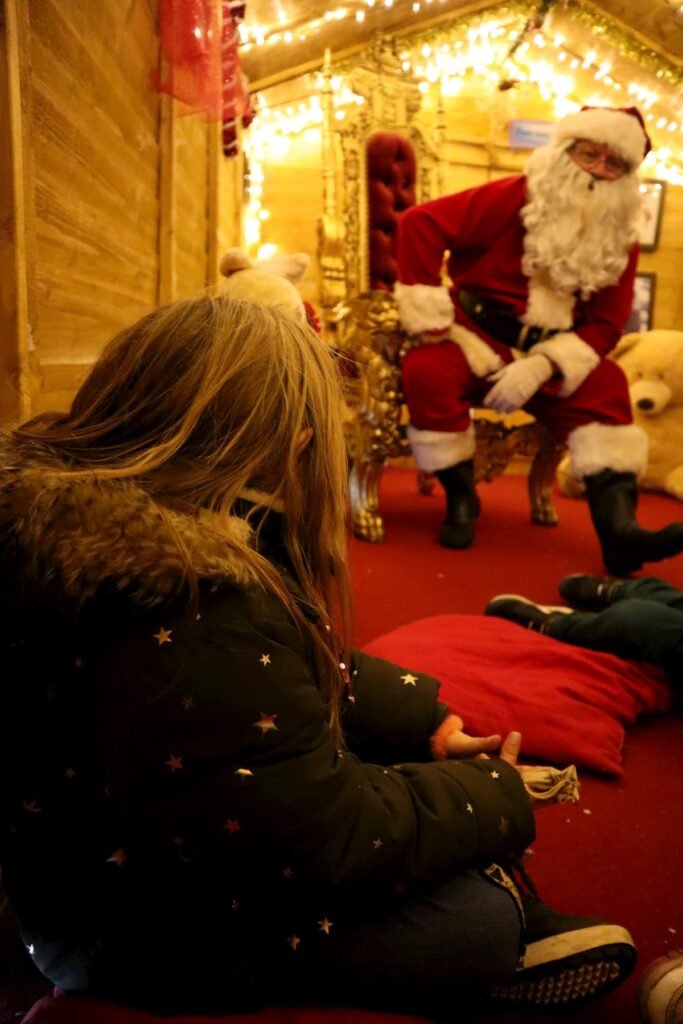 A Night full of Christmas! Santa will be at The Crown Inn (£10 with a gift and hot chocolate). Starts at 6pm.
No.1 Royal Crescent has created a new immersive experience which will bring the traditional Georgian Christmas to life through 12 tales and Santa is keen to hear them! Pop over to enchanting Bath for a story from Father Christmas, a chance to share Christmas wishes and a gift for your child.
Enjoy a magical 2.5 hour experience hosted by one of Santa's elves. Create your own reindeer food, decorate gingerbread snacks and make a Christmas decoration to take home. Santa Claus will pop by during the workshop and kids can go and see him in his socially-distanced, ocean-themed grotto, where they'll receive a present.
Kids will also be able to have a go on the soft play and can bring their own letter to Santa to post in the North Pole Express post box and receive a real reply!
Hop aboard the Twilight Express train for a magical journey through the illuminated woods, with a stop off to quaff hot chocolate, see Father Christmas at his snowy station and collect your wooden Christmas tree decoration. Click here to book.
If you're looking for an extra special treat this year, exclusive VIP packages are available include the chance to see Father Christmas climb down the chimney, listen to a Christmas story and chat with Santa in his festive engine shed. Tailored gifts, refreshments and a private carriage for up to 8 people on your train ride make this a truly festive treat.
Enter another world where forests grow underground and caverns are filled with twinkling lights and Santa and his elves are waiting to help you choose an early gift. Halfway through, you'll find Christmas stalls and an underground café with delicious cakes and warming winter drinks!
All aboard for the North Pole! Journey past Longleat's stunning Half Mile Lake before disembarking at an enchanting snow-covered winter wonderland where you'll find Father Christmas waiting for you in his grotto! Grown-ups can enjoy a delicious hot chocolate and festive mince pie while children will receive a special Christmas gift.
Wookey Hole (a 45-minute drive from Bristol) decorate their famous caves with thousands of fairy lights for their festive season, turning it into a magical twinkling grotto (with a few Santas and reindeer thrown in for good measure). Guided tours take you through the spectacular caverns and then you're free to explore above ground, where you'll find a giant gorilla, fairy garden, animatronic dinosaurs, festive 4D cinema, circus shows, soft play, Victorian-style arcade and as part of the Christmas festivities, a chance to meet Santa and his elves.
Read more: