I don't know about you, but after last year's lockdown Christmas, I'm chomping at the bit to get my festive on this year! So I've rounded up the best family-friendly Yuletide activities taking place this Christmas in Bristol and the surrounding area…#MERRYBRISTMAS!
*As with all events during these uncertain times, there is no guarantee that these events will go ahead. COVID-safety measures will apply – check the individual websites beforehand to avoid disappointment. Please let me know if you hear of any more Christmas events in Bristol and I'll add them to the list.
I'm all for adorning as many things in twinkly lights as possible, beaming neon-coloured lights into the world and making foliage glitter! One of our yuletide family traditions is to visit one of the magical Christmas light trails near Bristol each December and they never fail to get us into the festive spirit! Here are seven of the best Christmas illuminations near Bristol.
Christmas events in Bristol (and a chance to see Santa!)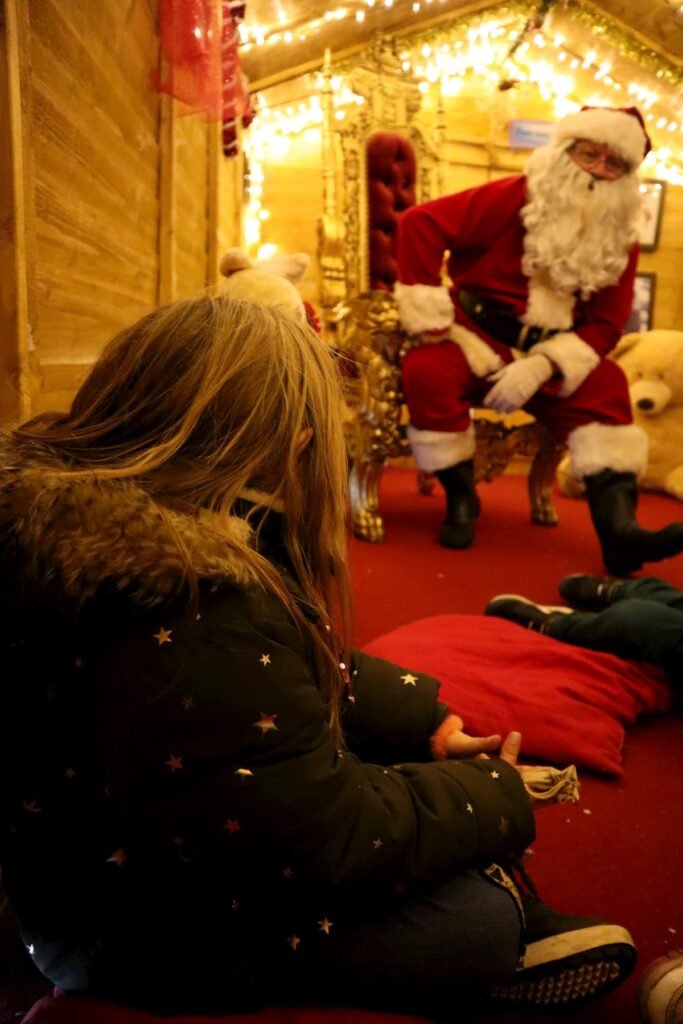 A collection of makers, artists and designers from the BS16 area of Bristol are coming together to bring you a market shopping experience. Makers display their work from front gardens, workshops, driveways and in some community spaces.
Robin Robin mural trail, Bedminster
Upfest and Lucas Antics have been working with Aardman and Netflix to create a brand new arts trail in Bedminster in celebration of the new Robin Robin film coming out in November 2021!
There are 11 pieces to find, spanning from North Street all the way down to Nelson Parade – all painted in Alex's signature style. 
Ride in your very own compartment on a heritage steam-hauled train and meet Father Christmas! Meet Santa as you journey through gorgeous countryside before receiving a gift from the big man in red himself and have your photo taken with him on return to Bitton.
Look out for the festive Christmas donkeys on the lawn at Bitton, either before or after you've travelled on the train. Once you've left, the elves will then be working hard cleaning and sanitising the train before the next passengers arrive.
Hop aboard the Twilight Express train for a magical journey through the illuminated woods, with a stop off to quaff hot chocolate, see Father Christmas at his snowy station and collect your wooden Christmas tree decoration. Click here to book.
If you're looking for an extra special treat this year, exclusive VIP packages are available include the chance to see Father Christmas climb down the chimney, listen to a Christmas story and chat with Santa in his festive engine shed. Tailored gifts, refreshments and a private carriage for up to 8 people on your train ride make this a truly festive treat.
Discover a magical land, hop on The Polar Express Miniature Steam Train (and snap a snowy shot!) before spotting Santa's reindeer and a nativity scene complete with live donkeys! You can make your own environmentally-friendly reindeer food to take home and the Post Room will be open for you to send a letter (or use the Avon Valley SMS – Santa Messaging Service) to send any last minute requests to Father Christmas.
You can also book a timed session to see Father Christmas and Mrs Claus and a pick a toy. Tickets include a full day at the park.
A magical 2.5 hour experience hosted by one of Santa's elves. Make reindeer food, decorate festive gingerbread snacks and create a decoration for the Christmas tree to take home. Santa will make an appearance during the workshop and invite children to come and see him in his socially-distanced (and Ocean themed) grotto. All kids visiting the grotto get a present that they will be able to pull towards them on one of Santa's smaller sleighs.
This experience also includes use of the soft play when not visiting Santa's Grotto. Children can even bring their letter to Santa to post in the North Pole Express post box and receive an actual reply from Santa!
Dean Forest Railway (27-28 November, 4-5, 11-12, 18-19, 22-24 December)
A Christmassy drive-in festival, The Parking Lot Social will be bringing seasonal cheer to Bristol with a host of yuletide socially-distanced events. From pantomime to cinema evenings and silent discos, all set against the backdrop of a 60ft tall rainbow-coloured Christmas tree and a giant DJing Santa Claus.
Christmas theatre
Lesley Joseph will be heading from Chigwell to Bristol this Christmas to star as The Wicked Queen in the Hippodrome's pantomime. Lesley will be joined by Rob Rinder making his panto debut as The Man In The Mirror and Bristol panto favourite Andy Ford as Muddles
This new production by Tobacco Factory Theatres and Pins and Needles is based on the original The Wizard of Oz books by L. Frank Baum. With imaginative storytelling, original live music and humour, OZ will transport you to lands both wicked and wonderful.
Will Dorothy have the heart, courage and wit to take on the Great and Powerful Oz in order to find her way home? Sometimes the smallest voice can shout the loudest…
Watch one of the most loved and classic pantomimes of all time, Jack and the Beanstalk! In this magical story, poor Dame Trot and her son Jack hardly have a bean. An adventure, love and Christmas celebration.
Got a Christmas event in Bristol? Email me at hello@thisbristolbrood.com
Read more
Where to see Santa in Bristol this Christmas
Best Christmas light trails near Bristol
Best Christmas light trails in Somerset
Pin it