Newsflash! Christmas isn't cancelled…yet! At least not in Bristol anyway. Yes, it's going to be a slightly different Yuletide season, but there are still plenty of things going on to get you in the festive mood. I've rounded up the best festive family-friendly activities taking place this Christmas in Bristol and the surrounding area…#MERRYBRISTMAS!
*As with all events during these uncertain times, there is no guarantee that these events will go ahead. COVID-safety measures will apply – check the individual websites beforehand to avoid disappointment. Please let me know if you hear of any more Christmas events in Bristol and I'll add them to the list.
Christmas light trails near Bristol
Westonbirt Arboretum Enchanted Christmas (5-21 December)
*UPDATE: if you're coming from Bristol (tier 3), you ARE still able to go to Westonbirt's Enchanted Christmas – check their website for more details.
Festive treats don't get much more magical than this! Delve into the dark woods, through the Candy Cane Forest and experience a glittering feast for the senses at Westonbirt Arboretum's Enchanted Christmas. Make your way along the mile-long illuminated trail through the trees, to discover the little-known 'West Pole' – Santa's workshop in the West Country!
As well as mesmerising light displays, expect talking trees (a big favourite in our family!), a chance to meet the elves and maybe even a glimpse of a very special guest from the North Pole…
For plenty of wow moments and dazzling thrills, book a ticket for Sudeley Castle's Spectacle of Light – themed around the magical characters of the Nutcracker. Follow Clara on an enchanting wander through the dark and discover glamorous topiary, sparkling water features, flickering fields of fire, wonderful music and much more! 
(4 December 2020 – 3 Jan 2021) 
Wander along the illuminated mile-long trail to see the beautiful National Trust gardens at Stourhead drenched in Christmas colour. Discover huge luminescent sculptures rising high into the night sky, glittering trees wrapped in light, giant baubles and a fire garden aglow with flames, all enhanced by a soundtrack of festive classics.
Specially created for the Longleat Estate, the Land of Light's technology, art and interactive installations will provide a stunning and unique alternative to Longleat's much-loved annual Festival of Light winter lantern spectacular.
Seven themed areas will be illuminated across the Wiltshire estate – see sensational projections light up the iconic mansion house, gawp at dancing fountains and animated light displays across the shimmering historic grounds and gardens. Stroll through motion-detected splashes of colour and sound, experience immersive choreographed lights, and make your way through a sensory tunnel to a 360° infinity experience in The Longhouse, featuring fully mirrored walls and hundreds of diffracted laser beams in a floor-to-ceiling optical and aural experience.
During the day, you may also enjoy all of Longleat's animal and adventure attractions, including the Safari Park, Koala Creek, Jungle Kingdom, Jungle Cruise and the iconic Longleat Hedge Maze.
Christmas events in Bristol (and a chance to see Santa!)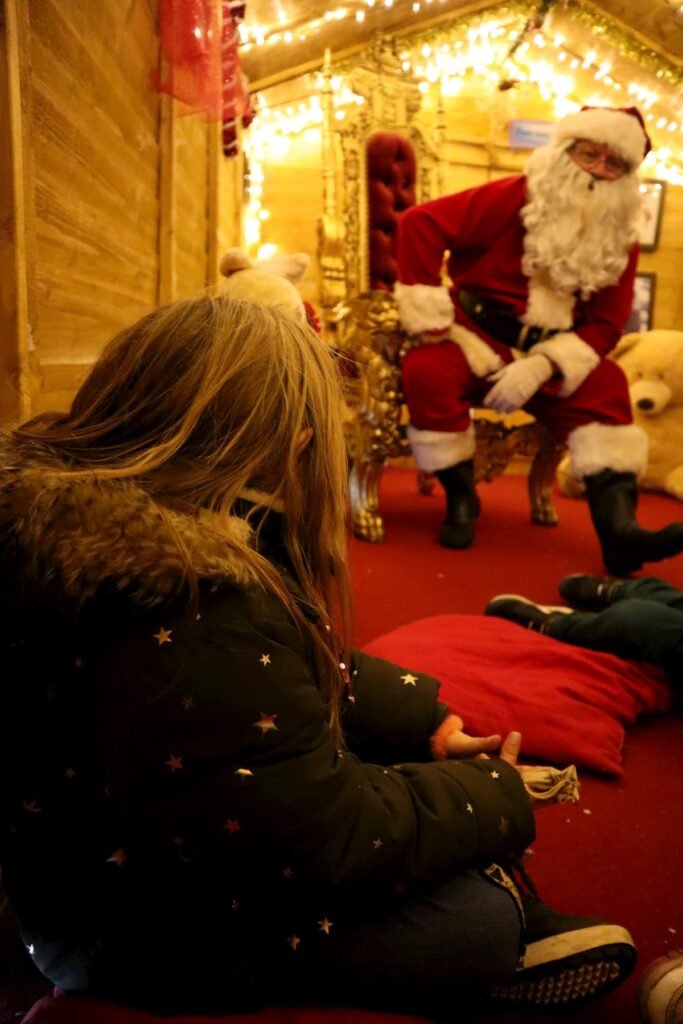 A festive community event organised by two BS7 mums, which hopes to get as many people singing Christmas carols on their doorsteps as possible! 5000 carol booklets are to be printed out and distributed, but you can also find the carol booklet using this link.
A collection of makers from the BS16 area of Bristol are coming together to bring you a safer 'market shopping' experience avoiding the crowds. Pick up a FREE printed map for the trail from any of the exhibitors or email for a PDF version.
Nativity Window Trail, North Bristol (11-13 December)
Emmanuel Bristol is organising a Nativity Window Trail for residents of Bishopston, Ashley Down, Horfield, Northville, Westbury on Trym, Henleaze and Westbury Park to enjoy. Residents are invited to uncover the wonder of the Christmas story by following the six unique trails. 46 houses are involved, with each house telling a stage of the Christmas story in creative and inspiring ways. You can start at the beginning, middle or end, take in the whole trail or just parts of it! The windows will be lit from 4-8pm.
At each window, there will be a QR code that links to a website containing the next part of the Christmas story and a Christmas Carol to play as you enjoy the scene.
Santa specials at Avon Valley Railway (weekends from 5-20 Dec, weekdays 7, 22, 23 & 24 December)
*UPDATE: Unfortunately, if you're booked for trains on the 5, 6, 7, 12 and 13 you wont be able to ride on the train as these are classed as 'indoor spaces'. BUT bring your 'household bubble' along to Bitton Station within 30 minutes of the time your train was due to depart and you'll be greeted by Santa's elves, see the Christmas donkeys, then meet Santa where he'll give out your presents and you can take photos with him. You'll also still receive your mince pies and festive biscuits to enjoy whilst you're at the railway too.
Ride in your very own compartment on a heritage steam-hauled train and meet Father Christmas! Meet Santa (from afar – unfortunately he can't enter the compartments this year) as you journey through gorgeous countryside before receiving a gift from the big man in red himself. You'll also be able to get your photo taken with him on return to Bitton.
Look out for the festive Christmas donkeys on the lawn at Bitton, either before or after you've travelled on the train. Once you've left, the elves will then be working hard cleaning and sanitising the train before the next passengers arrive.
Hop aboard the Twilight Express train for a magical journey through the illuminated woods, with a stop off to quaff hot chocolate, see Father Christmas at his snowy station and collect your wooden Christmas tree decoration.
If you're looking for an extra special treat this year, exclusive VIP packages are available include the chance to see Father Christmas climb down the chimney, listen to a Christmas story and chat with Santa in his festive engine shed. Tailored gifts, refreshments and a private carriage for up to 6 people on your train ride make this a truly festive treat.
Tickets are for a whole compartment – separated by glass from others.
Avon Valley Adventure & Wildlife Park Christmas Trail (18-23 December) – CANCELLED
Discover the magic, theatrics and candy shop (!) of the Avon Valley elves on a wander through the Avon Valley Winter Wonderland before spotting Father Christmas and his reindeer! This year Santa will not be giving gifts out, but he'll leave them under the tree for kids on Christmas Eve…The Elf Exchange will also be open for you to post a letter to Father Christmas and you can use the Avon Valley SMS (Santa Messaging Service) to send any last minute requests.
The one-way trail (which can take from 1-2 hours) will take you around the site and visitors can use the play equipment, funfair rides and other park activities as they go. However, as you move around the trail you will not be able to move back to areas you have already passed through.
Avon Valley will also be running 'Christmas Nights' from 4-9pm with all of the above on offer. Pop by one evening and immerse yourself in the festive atmosphere as the park lights up! There'll be apres ski vibes in the decking area and you can tuck into festive drinks and snacks before heading home.
Santa's coming to Slimbridge 2020 (12, 13, 19, 20, 21, 22 December)
Meet Santa and his elves (from a safe distance) over breakfast or scrummy afternoon tea against a backdrop of colourful flamingos! Once you've got your festive fill (including a pressie from the dude in red), you can spend a fun day out in nature, spotting wonderful wildlife in the stunning winter wetlands.
A magical 2.5 hour experience hosted by one of Santa's elves. Make reindeer food, decorate festive gingerbread snacks and create a decoration for the Christmas tree to take home. Santa will make an appearance during the workshop and invite children to come and see him in his socially-distanced (and Ocean themed) grotto. All kids visiting the grotto get a present that they will be able to pull towards them on one of Santa's smaller sleighs.
This experience also includes use of the soft play when not visiting Santa's Grotto. Children can even bring their letter to Santa to post in the North Pole Express post box and receive an actual reply from Santa!
These events are fully refundable up to 24 hours before the event start time.
Join the Froglets family for a Christmas-themed sports session and a visit (and pressie if you're on the nice list) from Santa himself! Sip luxury hot chocolate and take away some magic reindeer food so Santa can find your house on Christmas Eve. There are two time slots available, with limited numbers in each, see website for more information and COVID-safety precautions.
A Christmassy drive-in festival, The Parking Lot Social will be bringing seasonal cheer to Bristol with a host of yuletide socially-distanced events. From the first ever parking lot pantomime to cinema evenings and silent discos, all set against the backdrop of a 60ft tall rainbow-coloured Christmas tree and a giant DJing Santa Claus.
The Parking Lot Panto
Get your pantomime fix with this twist on the classic Cinderella. Featuring all the panto elements you know and love, plus a few 'drive-in' twists along the way, the live action will be beamed onto two 40 foot screens for all to see.
Social Kids
A party for little ones featuring family 'Christmas car-a-oke', an interactive quiz, a silent disco and Party Bingo hosted by Santa Claus himself! 
Christmas Movies
Watch festive favourites including Love Actually, Elf and Home Alone on two giant screens, with the sound broadcast straight into the cosiness of your car. Guests will be treated to pre-movie entertainment including quizzes and DJ sets and you can even have festive snacks delivered directly to your car from local food trucks.
Pop Up Play Village Bath are bringing their role play village to Wick, Yate, Winterbourne with some added Christmassy vibes! Kids can explore different areas such as the café, construction site and veterinary centre, complete with dressing up and props needed for your little one's imagination to take them anywhere they can imagine.
Pre-booking is essential, check their website for more details.
Christmas theatre
Robin Hood, Bristol Hippodrome *SHOWS SUSPENDED until 17 January
Pantomime is still a thing in 2020 – hoorah! Craig Revel Horwood is the fab-u-lous Sheriff of Nottingham in this magical socially-distanced production, which also features Sooty! Pre-sale opens at noon for ATG TheatreCard members (https://bit.ly/3mSiXUk). Tickets go on general sale from 9 November.
This production of Raymond Briggs' Father Christmas, full of merriment, glorious music and playful puppetry, has been newly-rehearsed and filmed especially to be watched in the comfort of your home. Watch the grumpy but loveable Father Christmas as he gets ready for his busiest day of the year, Christmas Eve.
Audiences will be able to purchase a ticket to access a high quality digital recording of the production, available to view from 9 until 24 December, so you can choose the time you watch to best suit your festive plans and enjoy the show as many times as you like between those dates.
Image credit: Richard Lakos
Christmas 2020 with The Wardrobe Theatre:
This December, The Wardrobe Theatre will present five fantastic live, interactive, online shows so people can enjoy the magic of the theatre from the comfort of their own homes,  two of which are perfect for family viewing.
Live, interactive, online and very silly, this brilliantly fun kids show by Roustabout Theatre is the hit improvised show which YOU help create! You choose the characters. You choose the costumes. You choose the stories. And, by sending us your drawings, you even design the set! You can send us anywhere – Rapunzel's Tower, a Minecraft world, or maybe even The North Pole!  For ages 3-8 and their families. 11am and 2pm, £5.
A ridiculous, funny and wonky family show for ages up to 12 with interactive games, real magic tricks and special celebrity guests, presented by Kid
Carpet and Pound Arts. 3pm, pay what you can.
Read my review of Kid Carpet's Noisy Nativity from 2019
Snow Day is a heartwarming tale about friendship and family aimed at ages 3-8. Join Flossie Fox, Oscar Owl and Harry Hedgehog (aka Spike) as they face the coldest Winter EVER. So cold, that their school calls Snow Day after Snow Day. No tests, no school and plenty of fun in the snow! However, as the days get colder, the animals must stay in their burrows to keep warm and suddenly Snow Days don't seem quite so wonderful… the audience watches how each family entertains themselves at home – whether it's mastering homeschooling, exercising to Snow Wicks or putting up with pesky siblings. Maybe school isn't so bad after all?
If Bristol goes into Tier 2 after the next restrictions are announced, Snow Day are hoping to go ahead with their 7 performances (if not, it will be postponed until February and tickets will rollover or be refunded).
A scaled-down production of classic fairytale, Sleeping Beauty, will be brought to life in traditional pantomime style this Christmas at The Playhouse. The seating plan allows for Government-recommended distances between patrons when seated, and with no interval intended, there should be no or minimal queuing for front of house facilities.
Street theatre meets travelling Santa's grotto experience! Two of Bristol's top comic theatre performers will perform an improvised routine on your doorstep which will include collecting your Christmas letter, delivering a small gift and conducting a street sparkler finale. There'll be music, sleigh bells and bucketloads of Christmas spirit!
The actors need approximately 20 children on a street in order to secure a booking. If your street can't hit that number they'll try and pair you up with another local street.  
Virtual Christmas
For a unique, 2020-style festive experience, join Santa in a special zoom cabin! You can book an appointment with Santa online, and chat to Santa from his workshop in Lapland! All zoom appointments last between 5 and 10 minutes and if you visit the garden centre, this will also include a gift.
There will also be virtual Magical Sleigh Rides on offer! Enjoy a fantastical Christmas journey when Santa's Sleigh goes a little wrong! The ride seats up to 6 people and takes you on a festive journey using headsets, a sleigh tilting forwards, backward, and side to side, while fans create a wind effect, giving the ride a full 4D effect.
The ride is ideal for all ages but recommended for aged 3+. It is a soft ride, not a scare ride. The ride lasts 3 minutes. Please arrive 5 minutes early.
Party Peeps – Children's Virtual Parties
Specialists in Virtual Parties for youngsters aged 4-14, Party Peeps are planning an online Christmas celebration that is sure to bring festive fun to your home. They do everything, from setting up Zoom to accommodating up to 100 guests, to creating personalised invites and a video keepsake of the whole event.
Got a Christmas event in Bristol? Email me at hello@thisbristolbrood.com
Read more
Where to see Santa in Bristol this Christmas 2020
5 Best Christmas light trails near Bristol
Pin it