Easter is the perfect time of year for a family holiday on the Isle of Mull, to make the most of bracing walks and roaring fires without the summertime midges. The island is mountainous, rugged and exceptionally beautiful, but is Mull – the second largest island of the Inner Hebrides – a child-friendly destination? Living in Bristol we're spoilt with kids cafes, attractions to suit all budgets and family-friendly events every day of the year, so going somewhere so remote sometimes poses the question – will there be things to do on Mull with kids? After the past year though, we've all got used to venues not being open and instead, bracing the Great Outdoors – something the Isle of Mull excels in!
Like the Isle of Skye, while there isn't a ton of young child-focused entertainment, the Isle of Mull offers families with a sense of adventure the chance to get back to nature, paddle on wild empty beaches, plus exciting wildlife to spot. Not forgetting those ancient castles and stone circles to fire young imaginations. Read on for my suggestions of things to do on Mull with kids.
Getting to the Isle of Mull
Depending on where you're coming from (we were driving from Bristol – so a good 9-10 hour drive away), if you're going to the Isle of Mull with children by car, I'd get up super early and try and transfer the kids into the vehicle while still snoozing and factor in some breaks on the journey. At Easter, driving through the UK's northern counties is quite spectacular – it's wonderful to watch the landscape change, civilisation thinning to rural countryside, snow-capped hills, chilly loch waters, rambling stone walls and beautiful places to stretch your legs – Loch Lomond being one. If you don't fancy driving all day with kids, you could try doing the drive in shifts overnight while they sleep, or fly to Glasgow and hire a car from there.
Stop over in Oban, Scotland
We broke up the road trip with a night at family-friendly The Oyster Inn Connell overlooking Loch Etive and the impressive Connel Bridge, five miles outside Oban. The attached pub, The Glue Pot serves locally-caught seafood and Scottish grub like Cullen Skink, neeps and Haggis alongside a roaring log fire. Their breakfast porridge with cream and a shot of whisky or full-on fry up is the perfect way to line your stomach for the next stage of the venture…
Oban Whisky Distillery
Before you begin your family holiday on the Isle of Mull, I'd recommend a few hours in Oban before getting on the ferry to Mull (which leaves from here). Whisky-lovers and the Single Malt-curious should take a tour of Oban Distillery (£10 Adult, £5 Child 8-17), just a stone's throw from the sea and distinguishable in the surrounding streets by a strong yeasty aroma. Apparently if one were to bottle these escaping vapours, known as 'The Angel's Share' you could make roughly one BILLION bottles of whisky!
As well as discovering the history behind this age-old liquid and learning about the whisky-making process, you'll get to taste a few samples and walk away with a lovely Oban Whisky glass. Children under the age of eight aren't allowed in, so this is an activity you may have to split up for. It's no hardship though, while one half are whisky tasting, you can take the other half up to McCaig's Tower for a gorgeous view from the top.
If you're self-catering in Mull, Oban is also a great place to stock up with food and booze for the week. My top tips is to order an online shop in advance to collect from the Tesco Superstore in Oban, before crossing on the ferry to the Isle of Mull. Aside from a small Co-Op in Tobermory and a SPAR, food shops are pretty scarce on the island, so this will set you up nicely for your stay.
The ferry to the Isle of Mull
To our great excitement, during our 45-minute ferry to Mull, it was announced that a whale had been spotted lurking in Oban harbour waters, although we failed to spot the sea-dwelling beast ourselves, it was incredibly exciting to be on safari for this calibre of wildlife! Book your ferry in advance, especially if crossing with vehicle. You can check timetables and book your ferry to Oban here.
Arriving on wild and beautiful Mull feels like landing on a distant planet or an uninhabited moon, landscapes are sparse, there's just a smattering of buildings and other vehicles are rare; the only obstacles are sheep, which occasionally cause you to slow as they meander aimlessly across the road.
Where to stay on the Isle of Mull
Craig Ben Lodge in Kinlochspelve, stands majestically just a short hop from Loch Uisg, an outstandingly beautiful corner of Mull. If Scottish castles are the stuff of your dreams, this less-than-humble abode goes a long way to fulfil fantasies of Scottish Laird-dom with its turreted spire, grand fireplaces, wood-panelled entrance hall, humongous dining table, high-ceilinged stately rooms and view-pondering windows.
And the views are well worth pondering too. Outside, barren undulating landscapes guard glittering loch waters; the only telltale signs of other humans are church lights across the loch and distant smoke plumes. Exquisite sunsets are a familiar feature in these Scottish skies and their reflection in the still loch waters below the Creach Bheinn mountain make for an awe-inspiring sunset double whammy.
Craig Ben Lodge is perfect for a cosy Scottish family holiday on the Isle of Mull. Inside rooms are filled with bury yourself-in-a-book chairs in front of the big bay windows (perhaps when the kids go to bed, as there's not much chance of reading while they're awake!) A post-box-red aga breathes warmth into the kitchen, rainbow-light pours in the stairwell's stained glass window and a Ping-Pong table promises daily championships in the games room. The turret is locked to visitors, only heightening the mysterious swirling rumours of a 'ghost cat' on the property.
The house sits within huge gardens which stretch down to the loch shore, offering the perfect opportunity for the brave (or crazy?!) to take a dip in the icy loch (you'll need a whisky and a hot bath afterwards!). Kiddos will love a little paddle or stone skimming competition on the water's edge and there's oodles of space for them to run around in. The beauty of visiting at Easter means there's no sign of mosquitoes, but that water sure is bracing! Garden games and wicker hampers for loch picnics are also provided, which is a lovely touch and great fun when you're not off exploring the island.
Walking on the Isle of Mull
The best way to blow whisky-heads away is to take a bracing stroll through the wild, desert-like countryside. From Craig Ben Lodge, you can walk out down a single-lane, buggy-friendly road (passing cars are rare), past the Bronze Age Lochbuie Standing Stone Circle, towards the stunning shores of the ocean-like Lochbuie and circle back past a dilapidated castle and a magnificent mansion house. It's a spectacular hike through rugged scenery as Golden eagles circle above, otters sunbathe, sheep wander willy-nilly and highland cattle peer out from under shaggy manes – a real Hebridean safari!
Mull beaches to play on
If your kids are beach babes, you're not short of wild, empty and magnificent coastline on Mull. Isle of Mull Cottages have a brilliant list and map of them all here. We didn't get round them all on our family holiday on the Isle of Mull, but the ones we did see were like a Scottish Carribean equivalent. For example –
Bagh a Chnoic Mhaoileanaich
This is one of those beaches where you have to check your Google Maps to make sure you are actually in the country you thought you were in, and haven't been magically transported to a tropical paradise. Ok, well the temperature might give it away…but the colour of the clear glass sea and white sand is deceptive.
Park in the village of Fionnphort – located on the western end of the Ross of Mull. If you're in need of any extras, there's also a little restaurant and cafe here, plus a well-stocked general store – The Ferry Shop – and an ATM. It's also the place to catch the ferry to Iona (which you can see in the distance from here) and Staffa.
Lochbuie, Mull
Next to the car park at Lochbuie, you'll find a large shed-sized 'honesty Post Office' manning itself, and stocked with cans of drink, brownies, postcards and local meat for peckish passersby – just tip the appropriate amount of cash in a bowl for your chosen goods. It's such a lovely idea and so reflective of the island's community culture. A triangular cairn watches over the water, while the rocky shores offer great clambering and stepping stone opportunities. Who needs soft play when you have a backyard like this right?!
Tobermory, Mull
If your kids are familiar with CBeebies 'Balamory', they'll'll recognise Tobermory, as this colourful waterfront town was the setting for the programme. So what's the story in Tobermory? As the capital of Mull, it has shops, great seafood restaurants, a theatre, arts centre, Mull Aquarium, it's own whisky distillery (of course), Mull Museum, swimming pool and even a soft play – so a great rainy day back up plan for kids. We had a fabulous fresh seafood lunch sat outside on the terrace (it was warm enough!) at Cafe Fish, and tucked into succulent scallops and gigantic langoustines while watching otters sunbathing in the harbour. If the sun's shining, get your other half to take the kids off to the small harbour front beach, while you peruse the shops…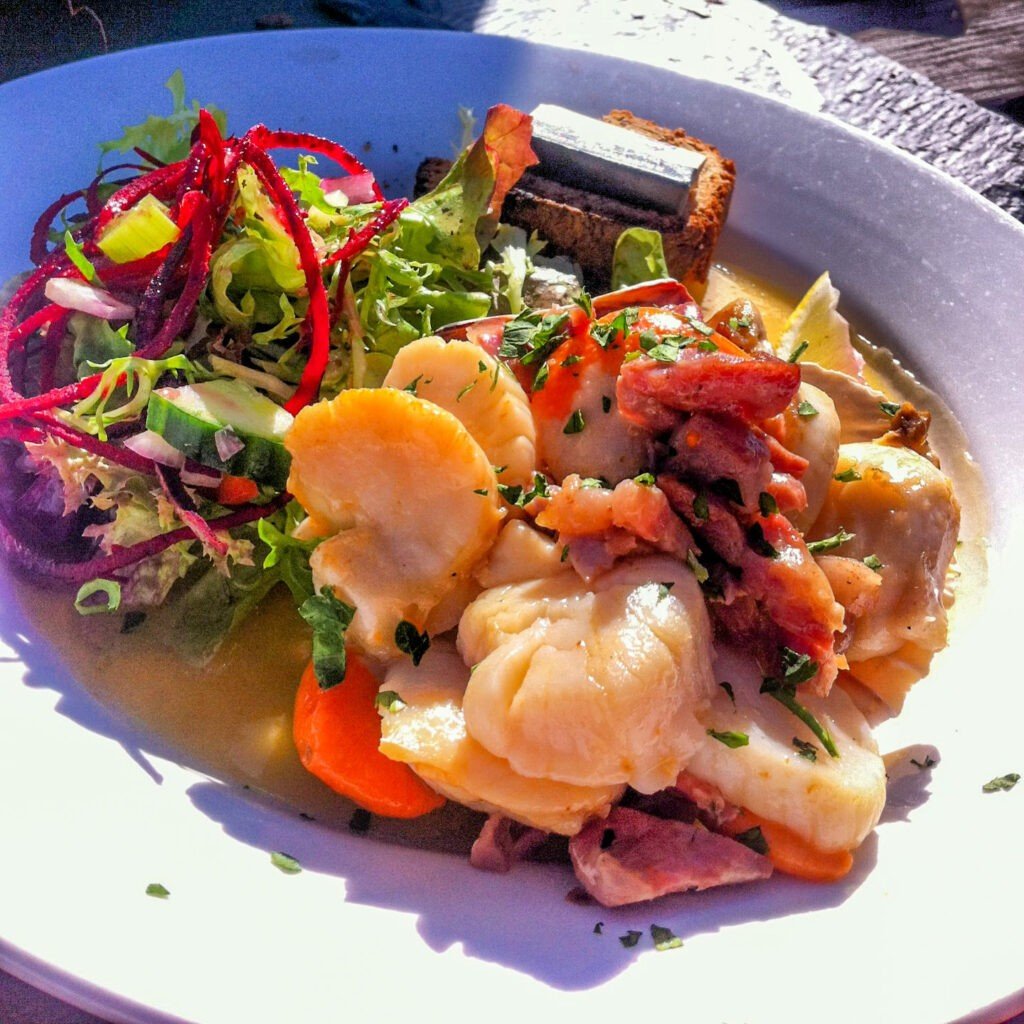 Rubha nan Gall lighthouse
A 25-minute coastal walk from Tobermory town is Rubha nan Gall lighthouse, a wonderfully remote off-grid spot with no vehicle access. If you take a liking to the area, you can actually rent out and stay in the old Lighthouse Keeper's Cottages which look super cosy and have breathtaking views.
Aros Park, Tobermory, Mull
A family holiday on the Isle of Mull should include Aros Park – a great option for walking with little legs. Located south of Tobermory, Aros Park has a network of (some) buggy-friendly tracks. If it's warm, there's a huge patch of grass for ball games, picnics, plus a climbing frame for little monkeys. Raining? All the better! If it's been lashing it down, the park has lots of magnificent waterfalls that smash into the sea of Tobermory harbour. There are also trails into the woods with adventure courses to complete and jaw-dropping Tobermory harbour views.
Go on a quest, Mull
Today the Isle of Mull is a welcoming haven for visitors, but this was not always the case! In days gone by adventurers, warriors, saints and explorers came to Mull, Iona and the surrounding islands in search of new land to conquer and search for treasure.
Take on your own Mull quest by completing as many of the clues (hidden at well-known, free-to-visit landmarks) as you can. Clue sheets cost £5 per family and are available from Craignure Visitor Information Centre as well as several locations across the island, or you can download a digital version from the website. Return it to the Visitor Centre (you don't need to find them all) to receive your certificate and special prize!

Duart Castle, Mull
Castle-loving kids, history buffs and Outlander fans (because it has all the Outlander vibes) will love visiting one of the last surviving Clan Castles in Scotland the ancient Duart Castle, standing boldly – as it has done for 800 years – guarding the sea cliffs. Inside, learn more about The Maclean Clan's tempestuous past, brave the spooky dungeons, marvel at the Banqueting Hall and stunning roof terrace views. There's also a tea room for growling tums, a woodland walk and a sandy beach to seek out.
Things to do on Mull: Family board games by the fire in your cosy Scottish getaway
We spent the evenings ogling the stars of the night sky, which in this street light-free spot are mind-blowingly beautiful, and consuming drams of local whiskies while playing Cranium by the open fire (I was actually pregnant and jealously sober). There were the usual hilarious consequences – Dad heckled tipsily throughout the entirety of the game, everyone felt about in hysterics during the 'move your team mate like a puppet' routine and Ma fell off her chair (was it twice?) from laughing too much. Nothing to do with the obscene amounts of whisky of course…
Overall thoughts for things to do on Mull
For me, the sign of a great family holiday is entertained kids + adult time with a dash of relaxation. On Mull, if you're lucky with the weather, the great outdoors is the perfect playground for happy children and the slower pace of life and large doses of fresh air means it's quite a revitalising break. You may struggle for things to do on Mull if the weather is bad for your entire stay, but Tobermory might be your saviour on that front. If you choose the right place to stay, like ours with its play room and big gardens then you're on to a winner.
How to get to the Isle of Mull, Scotland
Drive the whole way, or get the overnight sleeper train to Glasgow from London and hire a car from there.
Or you could fly to Glasgow airport via Easyjet and hire a car.
Travel to Mull via the Caledonian MacBrayne ferry from Lochaline to Fishnish or from Oban to Craignure.
However you choose to get to Mull, you can plan your trip, tour options, what time of year to visit, check maps and ferry crossings in advance here.
Pin it for later:
Read more:
Isle of Skye with a toddler – 7 outdoor activities
Review: Osprey baby carrier – the best child carrier backpack
Review: Ergobaby Embrace Baby Carrier – newborn sling for back support