What's it like visiting the Isle of Skye with kids? Is there enough for them to do on the largest and most northerly island in the Inner Hebrides? While there isn't a huge amount of ready-made child entertainment in the everyday sense (I'm thinking soft plays etc), if you're into buckets of fresh air, wide-open spaces, eerie rock formations, impossibly photogenic scenery, fresh seafood and exploring the Great Outdoors, then yes, you'll be happy here!
On our Isle of Skye family holiday, our toddler delighted in outdoor activities like splashing in waves and fairy pools, hiking past waterfalls, clambering up mossy ledges, spotting Isle of Skye animals and playing on the beach.
If you're planning a trip to this stunning Scottish Island, here are seven things to do in Skye for families.
Things to do on the Isle of Skye
1. Visit the Fairy Pools
A brilliant attraction on the Isle of Skye for kids – just the name of this place excites my make-believe, Tinkerbell-loving self. While there isn't a fairy in sight, this is a lovely gentle walk alongside the River Brittle which trickles down from the Black Cuillin mountains, morphing into a waterfalls, a babbling stream or crystal clear pools. The shallower bits are perfect for toddlers to splash in wellies and there are a couple of picnic benches next to the car park, complete with BBQ hot plates.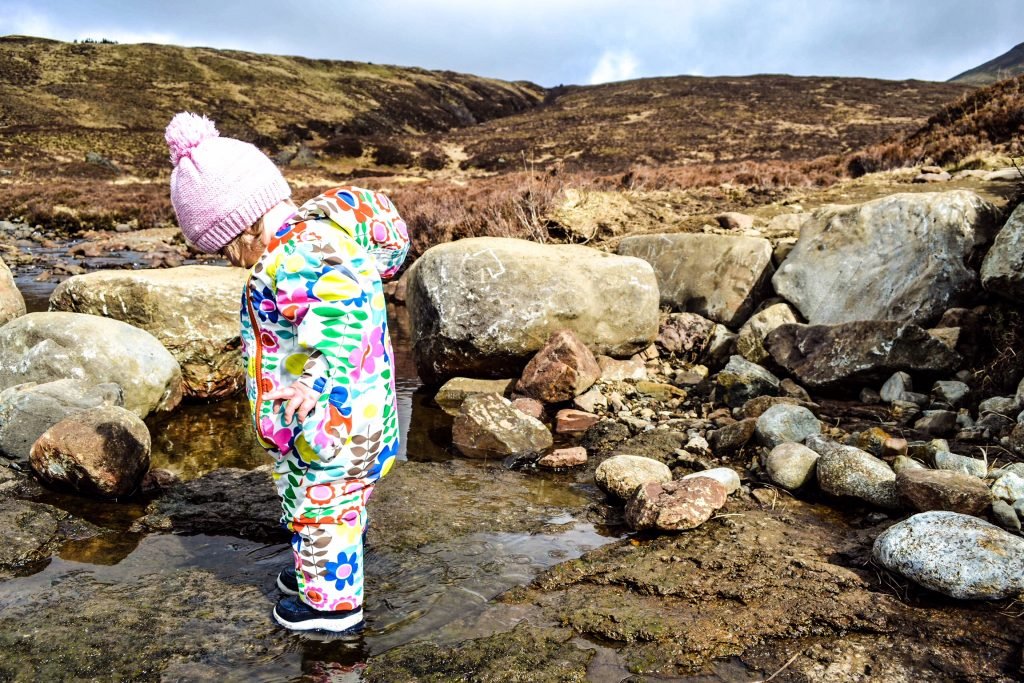 2. Walk to Talisker Bay
If you're looking for things to do in Skye with children, this gentle stroll beside hills that erupt from the sea, as waterfalls cascade from the cliff-sides into the saltwater, is perfect terrain for toddler-sized legs. The beach is slightly trickier for kids –  swooshed with shingle, silvery black sand and large, smooth rocks, it's great for 'stepping stones'. Sheep dot the hillsides and an ethereal mist transforms the landscape as it shifts throughout the day, draping the mountains in fog one minute, igniting the hillsides burnt orange the next.
3. Animal spotting on the Isle of Skye with kids
"All I can see are sheep's faces", announced my dad on his telescope findings. I think he'd had a couple of Scottish beers… it's true there are a lot of sheep on Skye, we even encountered a few dead ones…but there's plenty more besides. Animal spotting makes a great outdoor activity with toddlers on Skye – as well as sheep, young animal and bird-enthusiasts will love trying to spy highland cattle, Golden Eagles and cows. Stop in at the Serpentarium (handy if in need of Skye indoor activities), or seek sea life on a Glass Bottom boat for even more wildlife.
4. Find a park with gorgeous views
An Isle of Skye playground is quite tricky to come across, they are few and far between, but the bonus is that, when you do find one, they are often empty and the setting is breathtaking. If you're a whisky fan, there's a lovely little outdoor kids play area just down the road from the Talisker Distillery, so you can send your other half off for an hour while the toddler wears themselves out at the park.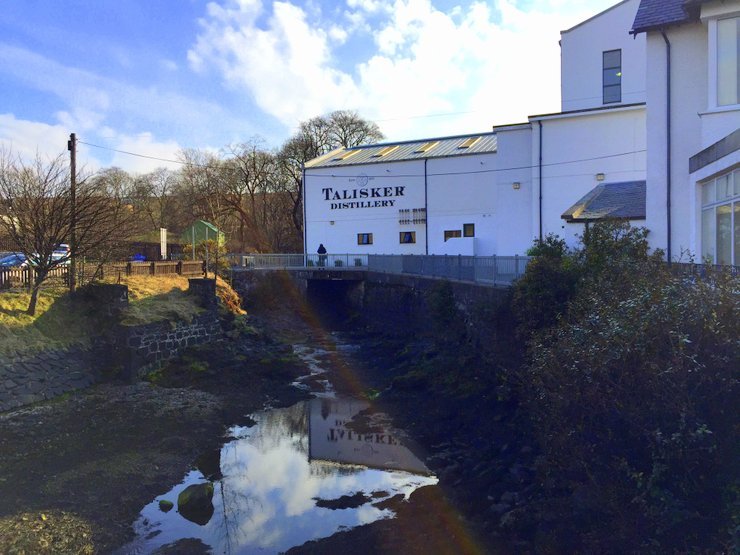 5. The Fairy Glen
There be magic in these parts. The Fairy Glen's green cone-shaped hills are enough to convince anyone that fairies do in fact live here. Totally gorgeous and a magical place to explore with kids. NB. this place didn't used to be sign-posted from the road.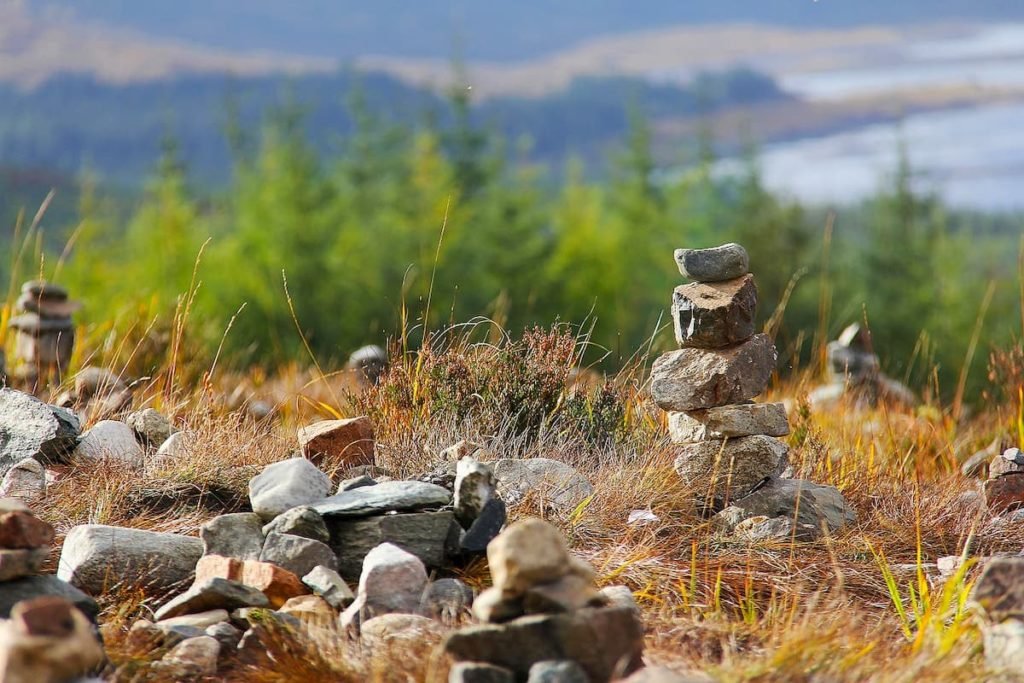 6. Isle of Skye's famous lighthouse at Neist Point
One of Scotland's most famous lighthouses, Neist Point and surrounding Keepers' Cottages have taken a battering from the weather over the years. It's a tricky walk up and down with a toddler as the path can get quite steep at times – if they're little enough, strap them into some kind of carrier to make life easier. But the lighthouse at the end and flatter, sheep grazing area is quite fun for them. The views are spectacular  – dramatic, vast and unspoilt – as is most often the case on Skye.
7. Skye outdoor activities: Old Man of Storr
One of the must-do activities in Isle of Skye, but you might need a good Haggis breakfast for this one. If you're up for hiking with a couple of extra stone on your back, then the Isle of Skye's Old Man of Storr is a good hike to do with a toddler…if you're happy to carry them up the steep rocky path. The view from the top – or even just half way up – is totally worth it though and you can spend hours trying to work out if you can see the Old Man's face or not!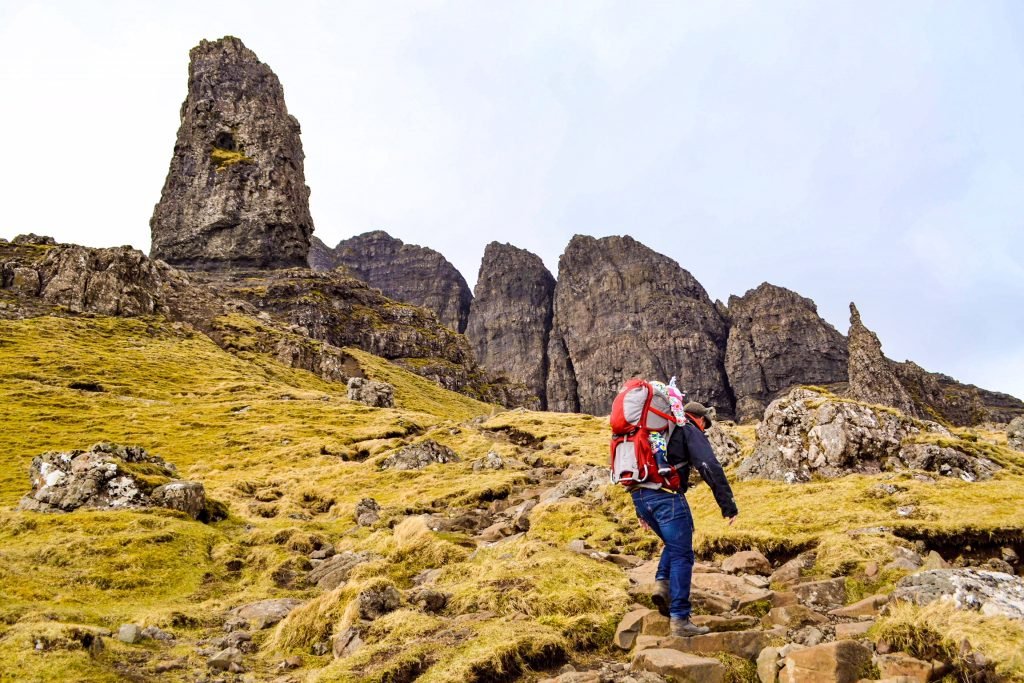 Isle of Skye with kids – getting there and getting around
Despite it's remote location, the Isle of Skye is a relatively easy Scottish Island to get to, which is handy when travelling with kids in tow. We travelled from Bristol to Isle of Skye with toddler in tow. We took a flight from Bristol airport to Inverness in the Scottish Highlands, where we hired a car and then hit the road, passing the gorgeous Eilean Donan Castle, glittering locks and snow-dusted mountains to reach the Isle of Skye by bridge from the mainland.
It does take a while to get from A to B on the island, so its worth planning your day to coincide car-time with naps or get some good road-trip games under your belt (see my tips for road-tripping with a toddler). It's also worth noting we left the buggy behind and sling/backpacked it for the entire time we were there.
Prefer to see Isle of Skye activities on video?
Ok, so it's not going to win any awards and I'm not quite the female David Attenborough of our time but any footage of the beautiful Isle of Skye is worth a gander, plus there's a nice Scottish ditty.
Liked the sound of outdoor activities Skye? Read more:
Things to do on Mull with kids
Like this post on Isle of Skye for kids? Pin it for later: