Travelling with toddlers is no easy feat, especially on long car journeys when entertainment is limited and their concentration span, even more so. In recent years, we've come to prefer travel by car and ferry over air travel, thanks to the independence it gives us on our holidays, the comparative ease of passport control and the ability it gives us to take bikes/paddleboards and other equipment. That's how we've ended up doing many a long-haul road trip with a toddler, including several big mileage jaunts from the UK to France.
Going by ferry can be significantly easier than flying with young kids. There's no limit on fluids, no having to remove shoes, belts and extra layers, no x-rays or waiting for luggage to appear, no limit on using electronic devices and sometimes, if you're held up en route, you can normally jump on the next ship.
Given the recent cancellation and queues disasters experienced by UK passengers and flights, I expect we will continue to seek out this type of travel when it comes to booking trips abroad. As such, I've got a few nifty tips and tricks up my sleeve to make the journey a teeny tiny bit easier, so if you're considering doing a UK to France road trip with a toddler, these are for you.
*Disclosure: This post may contain affiliate links, which means we may receive a commission if you click a link and purchase something that we have recommended. While clicking these links won't cost you any extra money, they will help us keep this site up and running!
UK to France road trip with a toddler
Decide what time of day to travel
When it comes to planning a road trip with a toddler from the UK to France, the first thing to consider is time of day to travel. We've tried and tested several approaches – driving through the night, adding in a stopover en route (my preferred option!), leaving early to drive through the day and starting the journey off late afternoon and driving into the night. People have asked me which I think is best, but there are pros and cons to them all:
Driving through the night:
When we drove from Bristol to Hossegor in France, we decided the best way forward was to take turns driving through the night. We booked an evening ferry and arrived into Calais at 8.30pm. We figured, given our sleep-repelling toddler had been training us up ever since she were born, drilling us through endless sleepless nights, we'd be totally prepared for a 10-hour overnight drive.
Tired from the ferry and the later bedtime, we hoped she'd drift off to sleep easily with the lull of the engine, and we'd have a peaceful run down to our destination. It worked, she slept and we arrived at our destination at around 5am in the morning. BUT we were knackered for about 2 days after that.
The plus sides:
You'll have easy, empty roads driving at night and a nice quiet car.
You don't have to think up a million different ways to entertain your children. Or hand out 40,000 snacks.
One of you will be able to catch some zzzs in the passenger seat when you swap drivers.
You can save money on accommodation.
The downsides:
If you're driving a UK car, the French motorway toll péages will be on the passenger side, meaning if you're trying to catch up on sleep while your partner drives, you'll be disturbed every time you reach one (and they have a canny knack of appearing just as you're dropping off!)
I'll be honest, it's exhausting and it took me a couple of days to recover from the tiredness.
If your toddler doesn't fall asleep as planned, you'll still have to entertain them fairly late into the night (which also happened to us on one journey), meaning you won't be able to maximise your snoozes anyway!
This only works well if you can get into your accommodation that same night or really early the day you arrive. On our recent Eurocamp holiday to Le Brasilia in the South of France, we had the mobile booked out for the night we were arriving (at 2am). The campsite are used to people arriving at this late hour and were ready with the keys for us to go in and go to sleep. If you have to hang around all day to check in with all your stuff in the car, this might not be so convenient.
You might find it hard to stay awake, particularly if you're starting point is already 'knackered parent'. Coffee, ready-bottled Frappuccinos, CocaCola, podcasts and music can all help.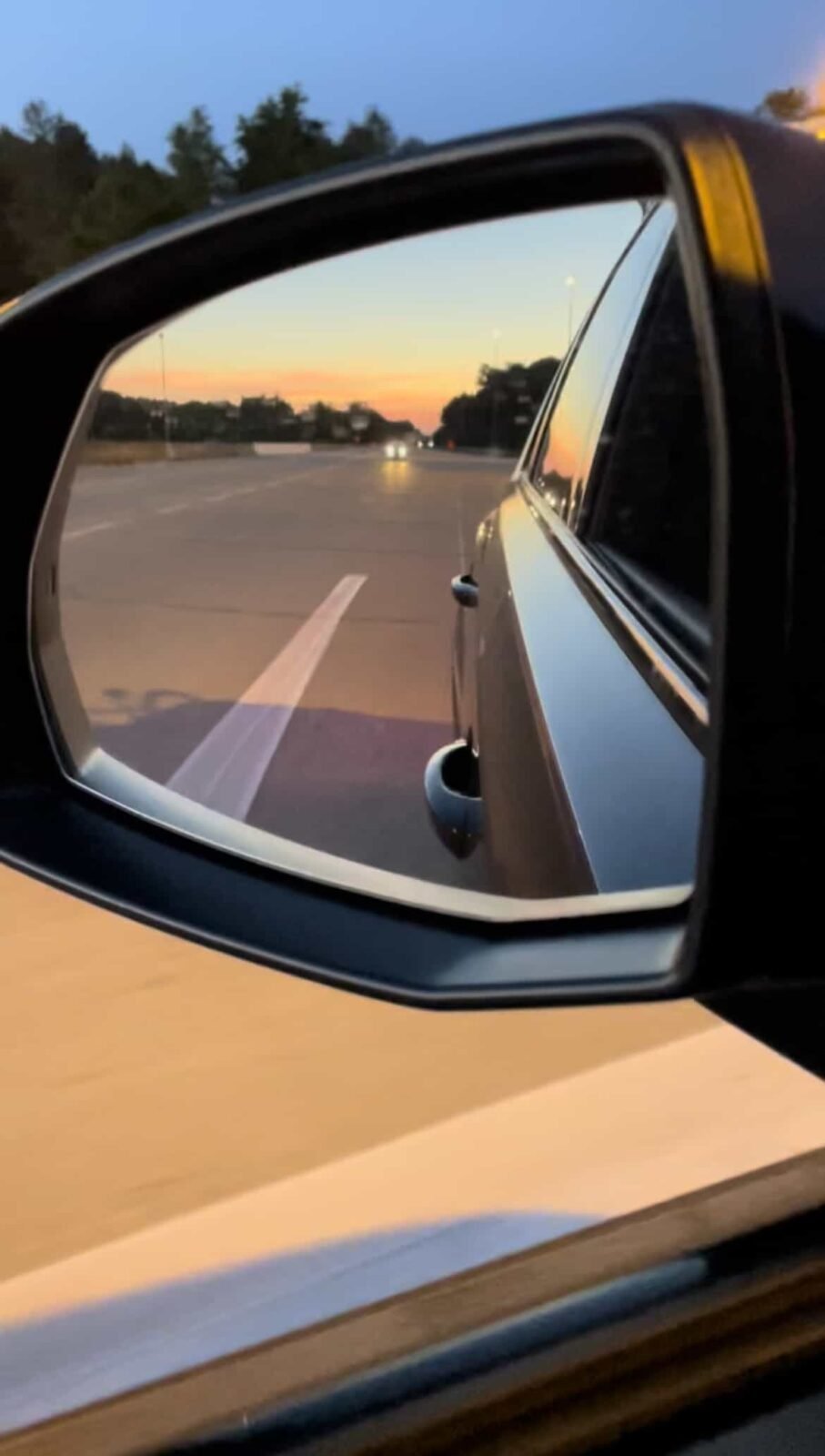 Stopping off en route
When planning a road trip with a toddler, my husband and I like to try and make life as easy as possible for ourselves (why do a long road trip with a toddler then?, you might ask). Where once we would have slept on an airport floor for a few hours, thrown accommodation options to the wind or piled into a crammed bus along with a chicken or two, we now tend to throw money at a situation to (try and) save our sanity and it's always worth it.
The plus sides:
If you have time, adding in a stopover on your journey can ease the pressure on getting to your destination at a certain time, you can factor in extra breaks and make sure little legs can have a good run around. Stopping over also means everyone can get some much-needed rest.
Pick a fairytale French town to stop in and you've got yourself an extra family adventure! That's how we ended up in Saumur on our road trip to France and Spain.
If you'd rather not stop for long, looking for super cheap options like F1 hotels just off the motorway in France can be an good way to do this.
The downsides:
You need to factor in extra time for stopping overnight somewhere into your holiday, which is tricky, say, if you're only going away for a week. It's not so difficult if you're going for longer and have a bit more time to play with.
If you're a family of 5, it can be hard to get a last minute cheap family room – we would have had to have bought two rooms and split into two groups. Make sure you book well in advance.
Driving through the day
The best approach to driving through the day is to work with your nap times. For example, if they're just about to fall asleep before the ferry docks, do everything you can to keep them awake to save the snooze for the car! You want to try and get as much driving under your belt as you can while they're asleep/groggy from just waking up.
When you need to stop, there are plenty of 'aires' along the French motorway. These will often have a toilet, cafe and sometimes a small playground, which are great for breaking up the day and giving the kids a bit of a run around.
Some people swear by leaving super early – like 4am kinda early, so the kids go back to sleep – but I'm not a fan, mainly because my kids are so excited by the fact they're going on holiday/have had enough sleep by that point that they don't actually go back to sleep.
The plus sides
Driving through the day should mean that the parent driving shouldn't be overly tired and can see the road easily (unless caught in an almighty downpour).
You can take in the scenery.
The downsides to driving through the day
The front passenger may have to spend quite a lot of time turning round in their seat in the name of child-pacifying and entertaining, singing every nursery rhyme under the sun and lending their arm to be held, which may or may not be harder than a night of sleep deprivation!
You might bring your best child-entertaining game and STILL end up with an antsy toddler that just wants to be freed from their seatbelt. And who can blame them?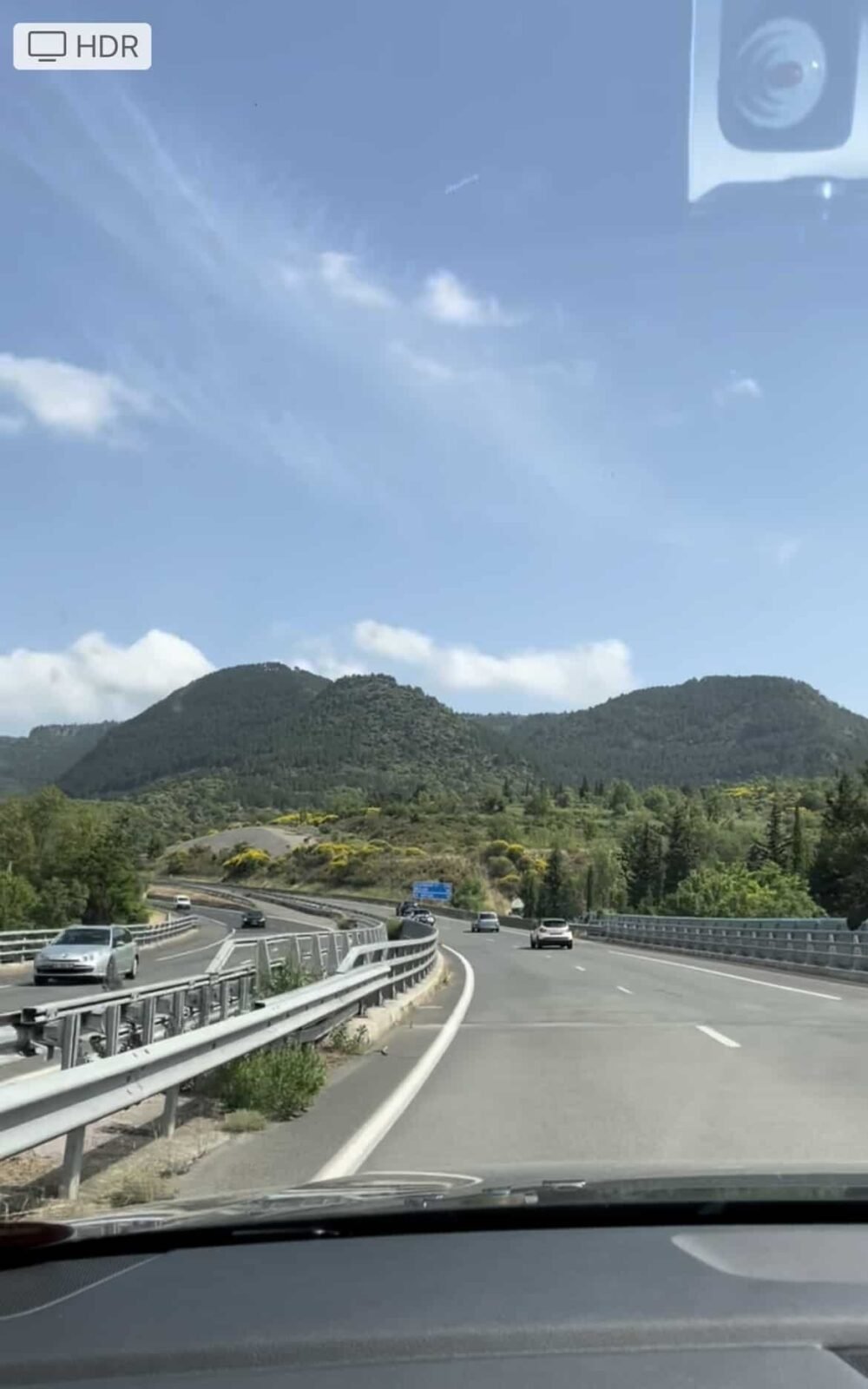 Choose your ferry crossing to France wisely
Choosing a ferry will of course depend on where you live and which port is the easiest to get to.
The ferry crossing from Dover to Calais is the quickest and cheapest and as there are so many crossings during the day and night, you can often jump on another ferry should you be earlier or later than the original booking (you just might have to pay the difference in price).
However, since Brexit, these ports have been experiencing long queues for border control (and the UK's border force in Calais is particularly inept, causing us to miss our ferry). To get through the checks, they ask you to arrive 90 minutes prior to check-in closing, which is 60 minutes before your booked sailing time – so 2.5 hours in advance.
After our most recent trip, I have personally vowed never to do Dover-Calais with P&O ferries again (who also have their staffing troubles at the moment). But it's also the furthest away from where we live, so that makes it an easy decision for me.
I much prefer the longer crossings from Portsmouth and Poole, which are more expensive, although I'd argue that you may save the difference on fuel and tolls. On these journeys you can book a cabin to dump your stuff in, the designated driver can have a rest, you get your own toilet, kids love hanging out on the bunk beds and there's often a play room or games room to entertain the kids in somewhere on the ship.
The ferry also makes the perfect wear-out zone before a road trip with a toddler – restaurants, family areas, the odd shop and lots of fresh air out on deck.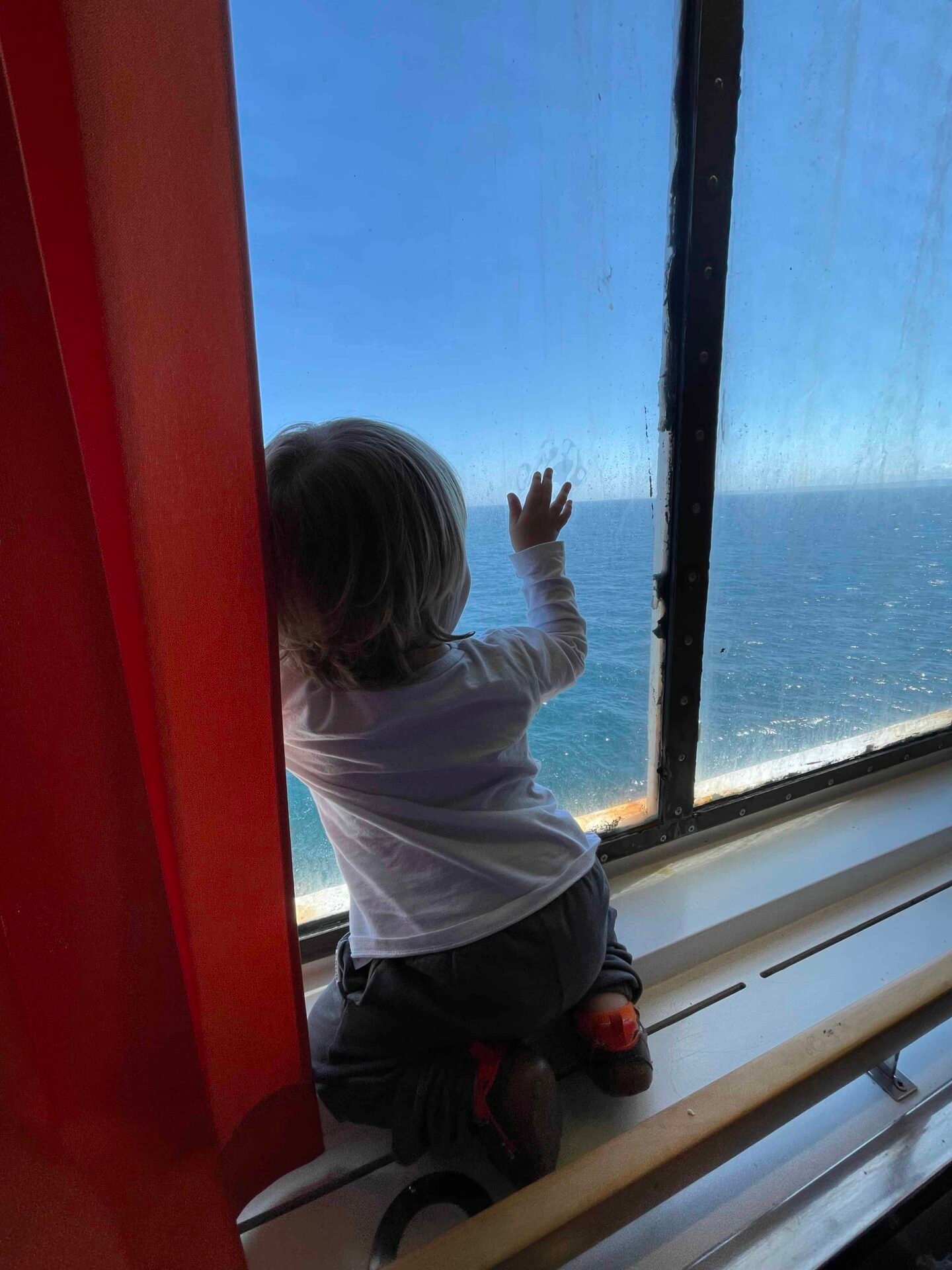 Plan what you'll need for the ferry and pack it separately
Put together a 'ferry bag' in advance, filled with things to entertain your kids onboard – stickers, snacks, books etc – and treat them to a couple of new things to keep interest high. Pack bottles of milk, changes of clothes (for you and all the miniature humans), PLENTY of wipes and nappies separately from your main luggage. For older kids, these compact games are great for whiling a way an hour or two.
Take food and drinks that you may want on your journey in a cool bag and be aware that the ferry restaurants will not heat up any baby food you bring on board.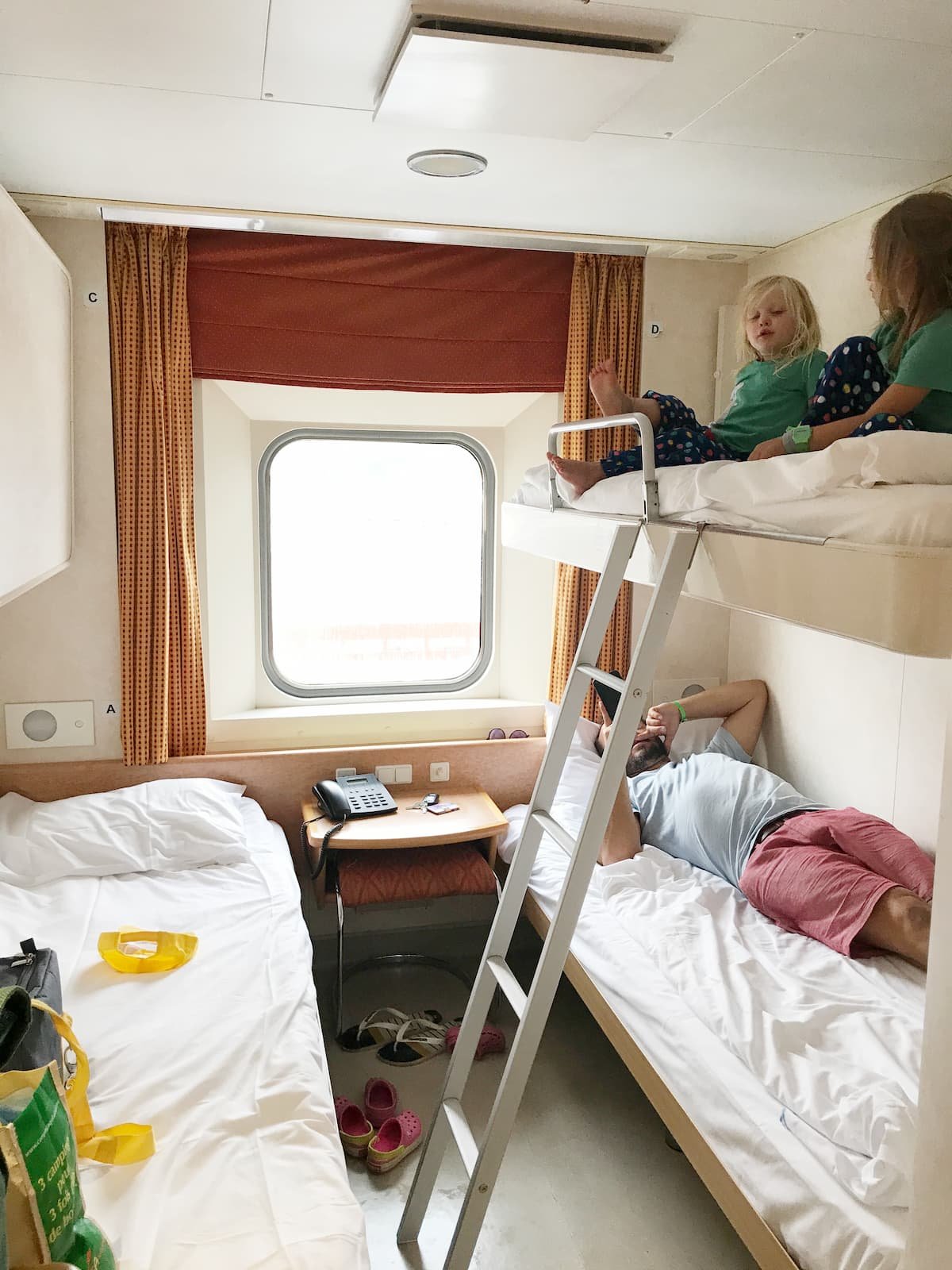 Pack snacks
Your very best friend is snacks. Healthy, unhealthy, whatever. Snacks are worth their weight in gold on a road trip with a toddler. Make sure you also pack a picnic into a cool bag (because French service station sandwiches were all rejected by my children – I hadn't made any in advance because I'd read it was forbidden to take in certain fruit, veg and milk products to Europe from the UK after Brexit, but this was never checked or policed anywhere that I saw). Basically pack as much food as you think you'll need and then double it.
You'll want to keep a steady drip feed of food going, but be strategic – avoid the kind of Organix carrot sticks snacks otherwise EVERYTHING will be covered in orange.
Ideas for snacks on a road trip with a toddler:
Ella's pouches
Veggie straws
Coconut rolls
Wafers
Pomme Bears
Pre-chopped cucumber in a Tupperware
Baby crisps
Melty buttons
BelVita
Milk on a road trip with a toddler
I don't about you, but my toddler is still a milk guzzler. He's on cow's milk now, but this is a tricky thing to transport for any amount of time, especially when they require it at a particular temperature.
The easiest way I've found to make sure they get their milk while on the road, is to take baby formula, a thermos with boiling water inside, a water bottle with cold water in and a formula divider pot with the correct amount of powder in.
You could also invest in the nifty portable Inoby bottle warmer – a cordless, rechargeable (via USB) device that can warm up milk to the correct baby-drinking temperature in 10 minutes.
Toys
What toys keep your toddler occupied for the longest at home? Our little boy is obsessed with cars, trains, tractors and lorries (helpful as we could point these out to him all day on the road trip!), so I made sure to pack a variety of little toys, and his favourite car books. Small things like calpol sticks double as handy entertainment/necessities!
I also got a couple of new bits, like this Toddler Busy Board, as he loves a clip! My older two enjoy it too.
Devices
Before you go, download as many child-friendly movies, Peppa Pig episodes, CBeebies series, Spotify playlists and Disney albums as you can. Ok, so 16-month olds might not or play with an iPad or watch a movie for very long, BUT they will watch it for a BIT! We have an 8 year old and 6 year old, so were always going to have a device or two onboard and we made sure our toddler could see it from his seat if he was interested.
We put the toddler in the middle, the girls on either side, and bought these Cheekyboo backseat organisers to act as screen mounts and store child-friendly entertainment, headphones, snacks etc. It definitely bought us some time.
Music
Make sure you download some of your toddler's favourite songs offline onto a Spotify account (or wherever you get your tunes). Equally important is creating your own playlists/podcasts etc to get you through the long drive.
Bring headphones for your older children, not only does it stop the clash of sounds in the car, mine just simply loved wearing their headphones for the novelty factor!
Window shades
The sun didn't bother our smallest kiddo as we actually ended up putting him in the middle of the car so our daughters could watch their own device, and not argue over what was going to be watched.
However, it was good for blocking out the sun for them, to stop it affecting their screens.
If you have your toddler at the side of the car, these sucker blinds are really good for nap time. Make sure it's a good one though, like this one, as we've had ones in the past whose suckers fall off the whole time and you can never find them when you need them.
Don't stop if you're on a roll!
Busting for the toilet but the kids are quiet? Desperate for a hot beverage but there's not a single whine coming from the back seat? DON'T STOP! Continue on a roll for as long as possible, you'll know when it's time to pull over.
Bring PJs for a road trip with a toddler
You won't be able to do the full bedtime routine, but you can do bits of it to let toddlers know it's time for the big sleep. Take their PJs, their favourite cuddly toy, a dummy (if they have one) and clip (so they can't throw it out of reach on the floor), a book and a light tog travel sleeping bag – the ones which have a velcro opening for the seat belt to go through. The latter have the added bonus that should you need to try and transfer them from the car for any reason (like you reach your destination), they're already snuggly in their sleeping bag.
It's quite nice to have a couple of blankets for kids in the bag – especially if you're travelling from warmer weather to cold, as they'll likely be in their shorts and T-shirt.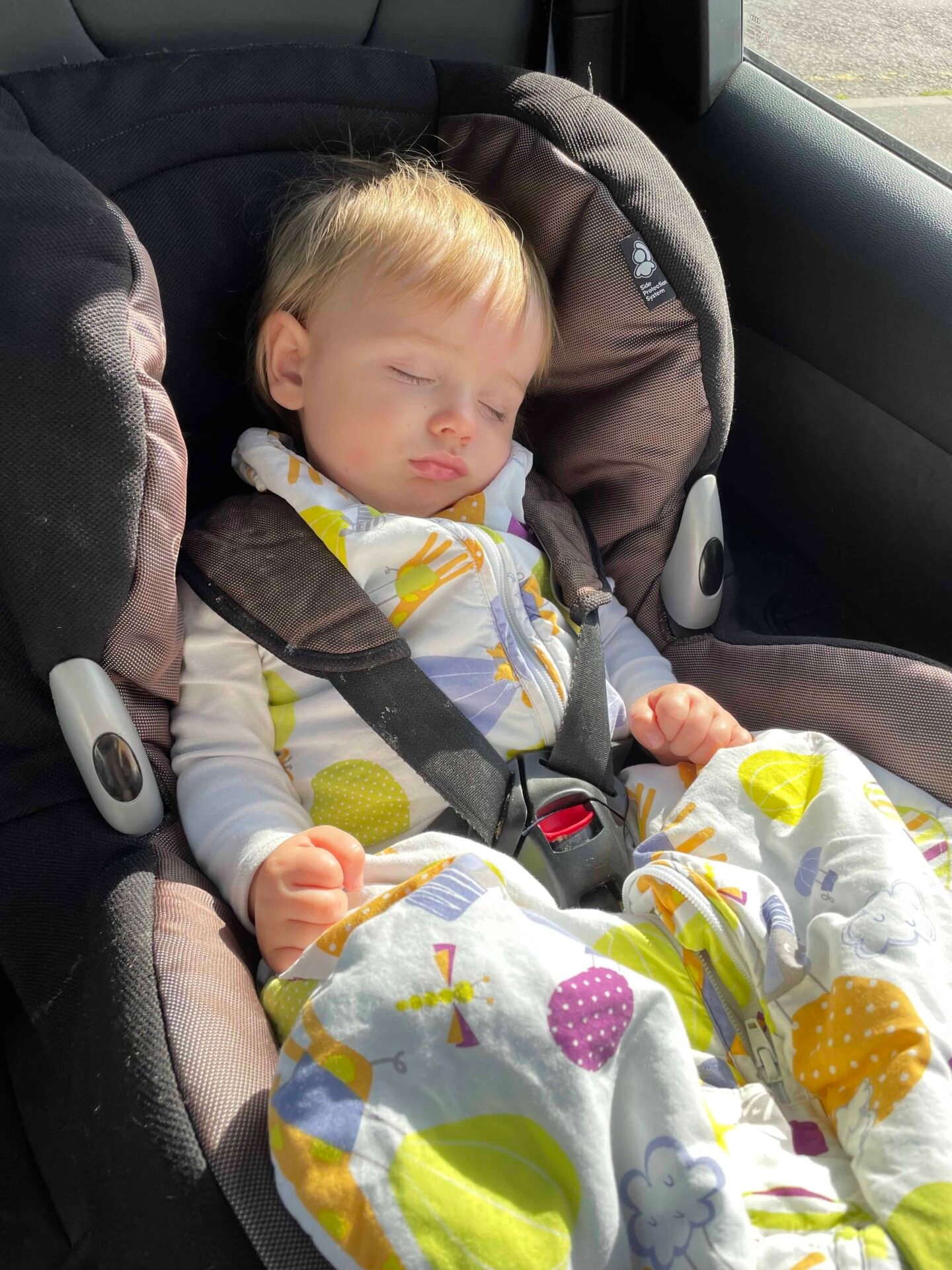 Put them in a nappy for the road trip duration
This is really for older toddlers. It might go against the potty-training rules, but if you're on a roll, miles from the next toilet or get stuck in motorway traffic, it's great for emergencies. Adult ones included – yep, definitely haven't ever resorted to putting on a nappy in order to avoid stopping and waking the baby…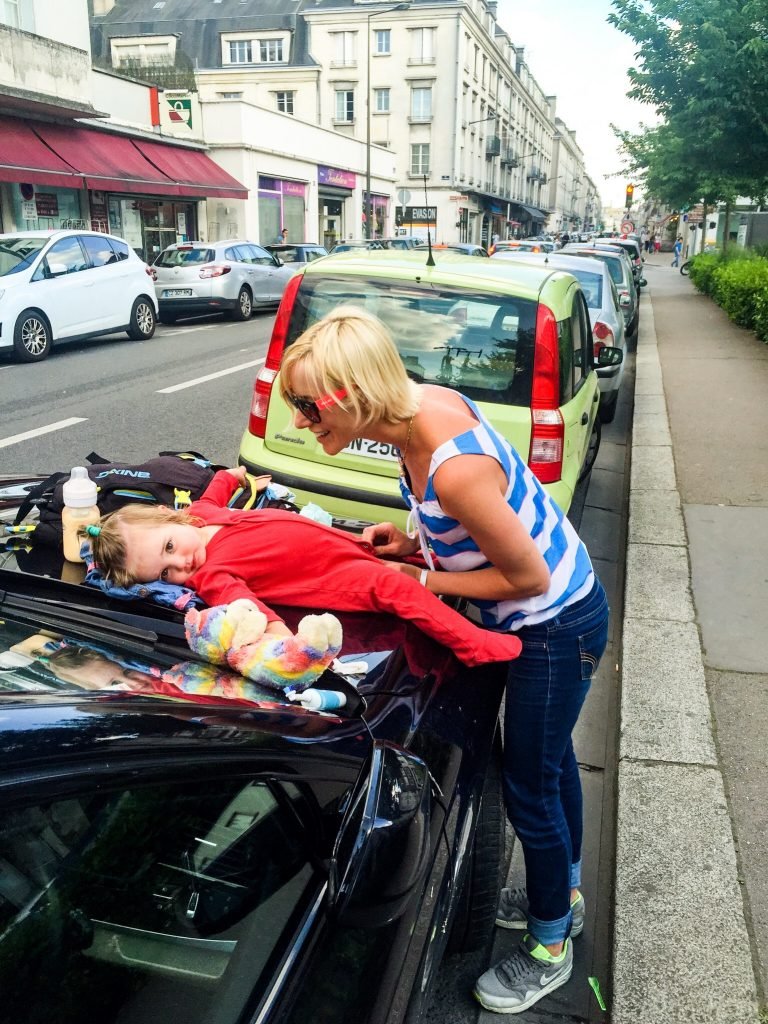 Consider sitting in the back of the car
Sitting in the back of the car can be quite a good strategic move, as it may save you several hours craning your neck back to meet toddler demands, or sitting at an awkward angle when they insist on holding your hand. Particularly necessary if you're travelling with a toddler and a newborn baby.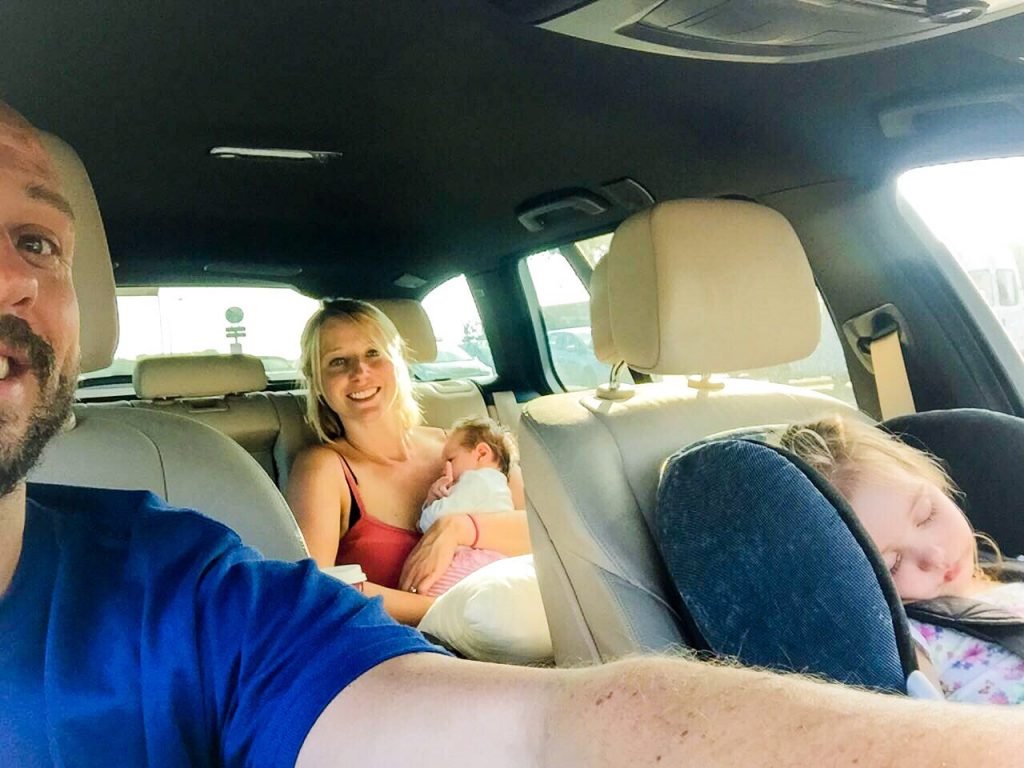 Take bin/nappy bags
For the amount of sticky mess the kids are able to create in the car! Just having one bag you can pile it all into, and then take out to empty when you stop makes road trip life a little less chaotic.
Know the rules for driving in France
With post-Brexit changes in place and different rules abroad it's important to check the most updated laws on what you need when driving in France. You'll need to sort things like breathalysers, headlamp convertors, UK stickers, warning triangles with Hi-Vis vests, spare bulb kit, insurance documents, MOT certificate and driving licence.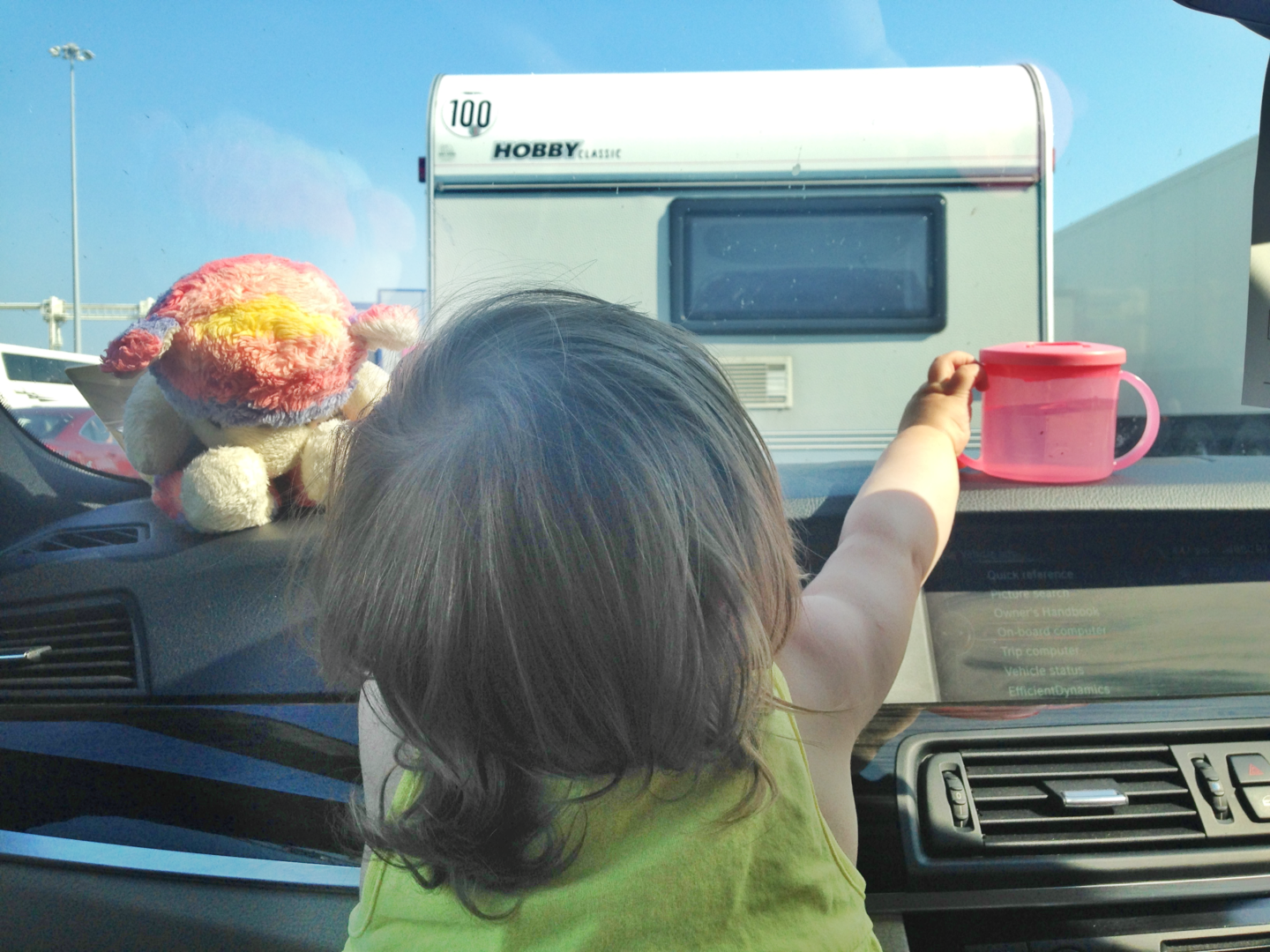 Pack light, but not too light
You have the car so make the most of it. Buying everything brand new when you get to your end destination can be expensive (particularly these days as France seems to be much pricier than I remember), so if you're camping or staying in self-catering accommodation, load up with salt, pepper, English tea, coffee, olive oil – things that will make your life easier when you arrive and save you an immediate trip to the supermarket.
My top tip for driving with a roof box is to get the bags that go with it – that way you don't have to play luggage Jenga! You just pack a bag for each family member and slot them in.
Download Waze
I'm probably quite late to Waze, I hadn't heard of it until recently, but it proved invaluable on our recent road trip to France. It basically gives realtime driving directions based on live traffic updates, notifies you of speed cameras, police, accidents and even warns you if there's an object on the road ahead.
Get a Post Office Travel Money Card
The majority of the toll booths on French motorways are now unmanned and it's much easier to pay contactless – especially if you're driving at night and don't want to be scrabbling around for euro shrapnel.
The Post Office Travel Money Card is basically a pre-paid, reloadable, multi-currency card (not linked to your bank account), with no charges when you spend abroad. You can easily top it up or transfer between currencies using the Post Office Travel Money App.
It can be used anywhere there is a Mastercard symbol, not just for tolls!
Pack easy-to-reach wipes, hand-gel, sick bags
One of my children can stare at an iPad on their lap for an entire 12 hours, the other throws up on a ten-minute car journey down the road. Her travel sickness began in toddlerdom, on our first UK to France road trip with a toddler. Over the years we've sought out the best medication to counteract this (phenergan for us), plus vessels to throw up into (swipe some sick bags off the ferry or Tupperware boxes work well as you can put the lid on!) and a lot of wipes, just in case.
Give the kids what they want
Well, within reason of course, but that old saying, 'pick your battles', is never truer than when travelling with kids. Ok, you might not want another them to be ingesting some disgusting-smelling candy spray for hours on end, but if your child has been particularly well-behaved, suffered hours in the car with the promise of freedom at some incomprehensible future date, then just let them have it…
It's slightly different with toddlers as I'm not going to give in to a ton of sugary sweets for a 16-month old, but I did have to let some more 'frowned upon' things go, like letting them join in on a McDonalds occasionally, get in on the adult crisps and give into chocolate biscuits.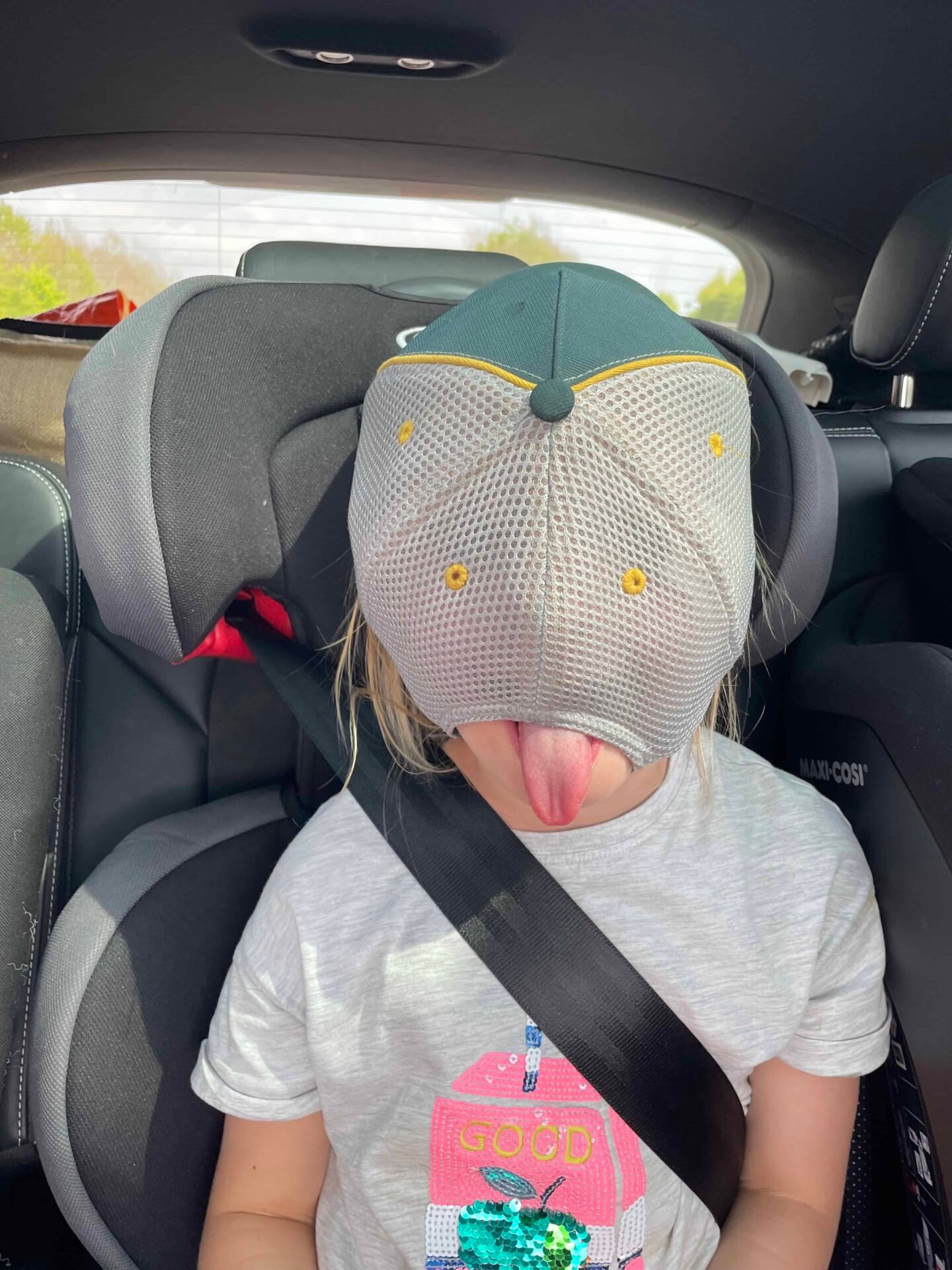 Take a spare car key
Earlier this year, my parents were holidaying on the Isle of Harris, and my highly efficient father (who normally zips important items into his jacket), managed to lose their car key on a 7 mile walk. They were rescued by a local fireman, who drove them to the mainland (an hour away), and then had to hire a car until they very fortunately found them upon retracing their steps the next day. In the meantime they asked their neighbour to send the spare car keys, which didn't arrive for a week!
To avoid such a situation, a spare car key kept in a safe, separate space is always a good idea!
Remember a road trip with a toddler WILL be worth it!
Think of those beaches…the glorious mountain views…the food…Yes you could probably have a great time somewhere closer, in Brittany or Northern France, but it was the HEAT that I was really after. Balmy evenings, scorching hot days, wanting to throw yourself into a swimming pool to cool off, to ENJOY rather than ENDURE time on a beach, lingering over lunch just to shelter in the shade, rather than hunkering behind a wind break! I didn't want our first holiday abroad in 2.5 years to be a rainy wash out (like a previous May Half Term in a Eurocamp an hour from Paris), I wanted a guaranteed hot holiday. After powering through the road trip with a toddler and two older kids, that is what I got, so it really was worth it, even for a week!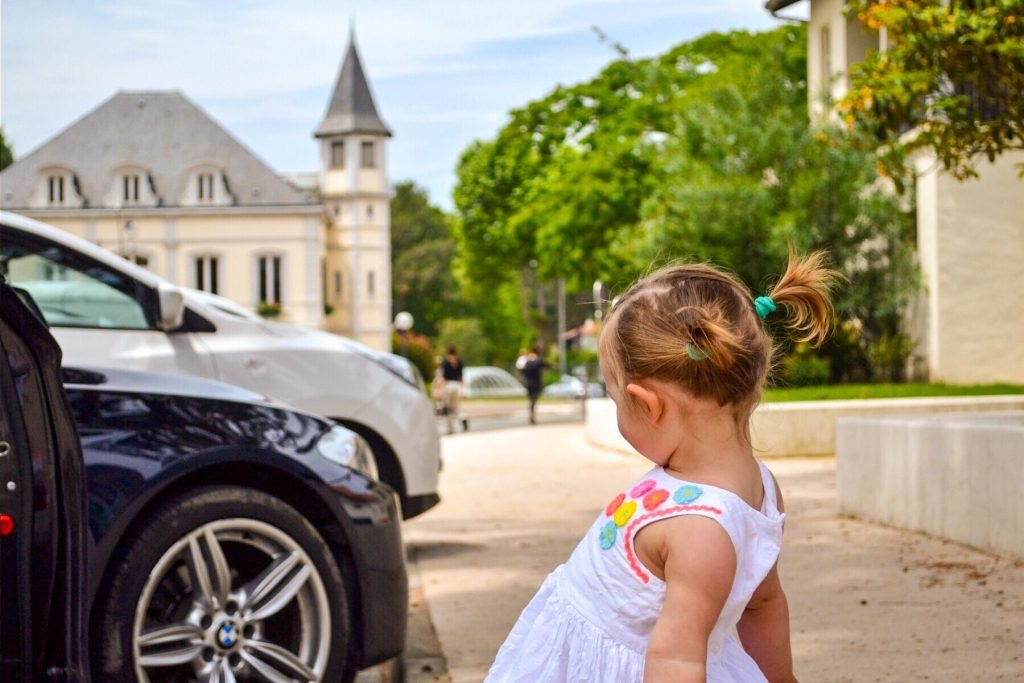 Road trip with a toddler shopping list
In case you lost it in the text above, here's a handy shopping list for a road trip with a toddler.
Kids
Nappies
Wipes
Travel sickness medicine
Nappy bags
Breadsticks

Coconut rolls

Pomme Bears
Veggie sticks
Mini sandwiches

Chopped cucumber

Fruit pouches (Aldi are cheapest!)
Wafers
Crisps
Mini cheese crackers
Formula milk
Dummy and clip
Toys etc.
Device (and a holder)

Toy organiser (see the Cheekyboo ones mentioned above)

Your toddlers favourite small toys + a couple of new ones they've never seen before

A calpol stick!
Favourite books
Pyjamas ready to hand
Toddler travel sleeping bag
Blankets for night travel
Window sunshade/blind
You
Car picnic for the family

Music/podcasts downloaded offline

Items needed to drive in France – see list.

Post Office Travel Money Card

Water – hot and cold
Thermos
Passports
Euros
Spare car key
Sick bags (take some from the ferry!)
Hand gel
What did you find worked for you on a road trip with a toddler? I'd love to hear your tips!
Read more:
Campsites on the Dordogne river: Camping le Capeyrou, Beynac France
Camping in South West France – Review: Cote d'Argent campsite