If you're a family with young kids that likes a little bit of adventure, a spot of hiking, a relaxed weekend walk, or perhaps you just loathe lugging a buggy around, the conundrum you're likely to face is, how best to transport the offspring around? We've tried all sorts of contraptions to remedy this dilemma, including the Ergobaby 360 sling, and the Ergobaby Embrace (for newborns), but once they grow out of this and get more chunk on them, a bigger-kiddo-shipping-receptacle is needed. Enter the Osprey Poco Child Carrier, which is created with safety and practicality in mind. Here's my review on why the Osprey Poco backpack is the best toddler carrier for hiking.
*Disclosure: This post contains affiliate links, which means I may receive a commission if you click a link and purchase something that I have recommended. While clicking these links won't cost you any extra money, they will help me keep this site up and running!
Why is the Osprey backpack the best toddler carrier?
A ton of science has gone into making the backpack super comfy to wear
One of the reasons the Osprey backpack is the best toddler carrier for hiking is because it comes equipped with an AG AntiGravity™ 3D suspended mesh backsystem, which basically means they help prevent you from getting a sweaty back when lugging children around. I find this extra ventilation is particularly appreciated by my warm-blooded husband, whose temperature levels are on an entirely different scale to my own. It feels nice and springy against the skin and we've never had any issues with sore rubbing patches.
The Osprey backpack is unisex
The torso length on the backpanel back system can be easily adjusted for XS, S, M and L-sized bodies – clearly marked with lines on the backpack mesh. This makes it's suitable for all body frame sizes so mums, dads, pops', grannies and uncles can all hoik the little'uns up and help share the load (pun intended) when out and about. There is also an adjustable sternum strap for additional carrying support around the hips and waist.
*There aren't many photos of me wearing it I'm afraid as when these images were taken, I'm either recovering from a back operation, have a bad back, or I'm pregnant, so my willing volunteers are lugging the bairns around for me.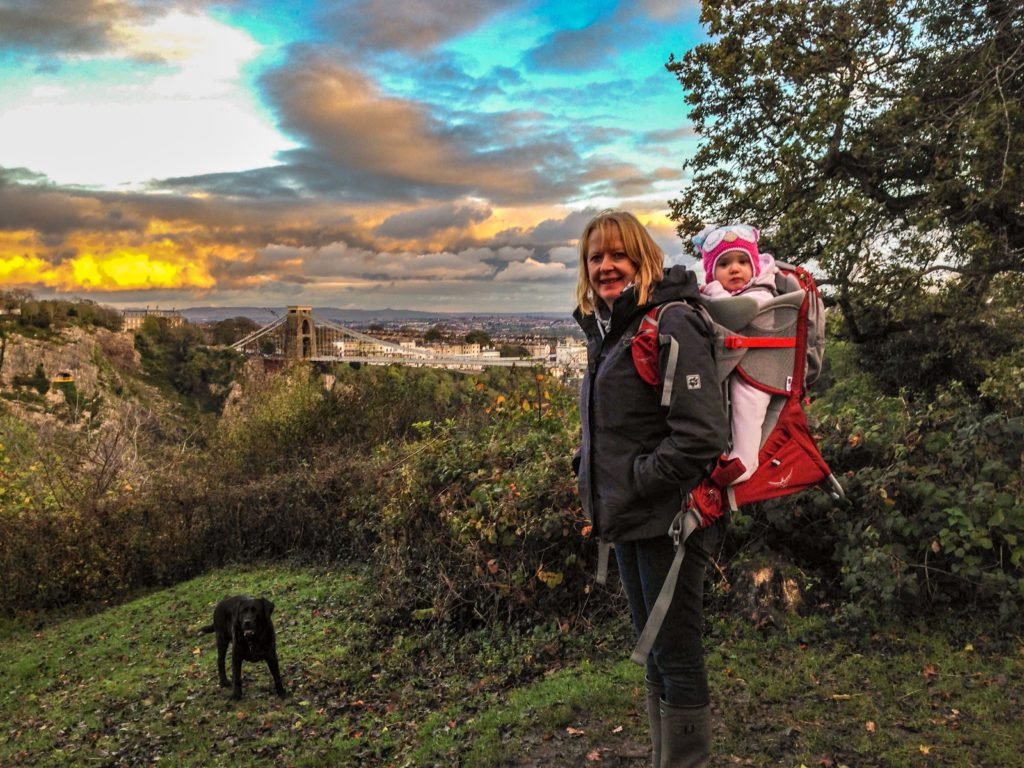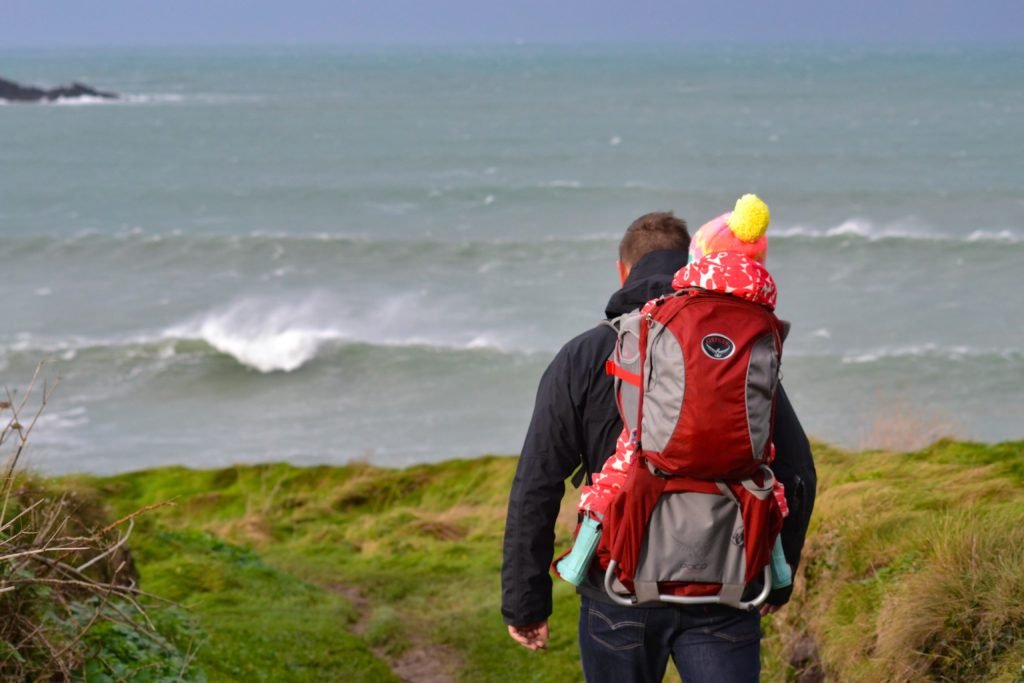 The Osprey toddler carrier fits different sizes of children inside
The Osprey backpack is aimed at kids aged from 6 months to 3.5 years (approximately) with a maximum weight of 3.13kg. The child saddle inside can be easily adjusted as kids grow from super ickle bubbas to toddlers. The child safety harness, seat and foot stirrups are also adjustable to fit a wide variety of child sizes, shapes and weights, so you're sure to get lots of use out of it if you buy it when they're young.
One exceptionally handy feature is the removable and washable drool pad (which those tiny ones love to suck!) and the baby carrier rucksack comes fully accredited with a TUV GS safety certification.
Nifty inbuilt protection against the elements
For days of scorching sunshine or slightly unruly wind, there's a fancy sounding 'rapid deploy Poco Sun-Shade' with an SPF50 rating to protect your little cargo from harmful sun rays. The shade is tucked away in a discreet zip-up pocket and simply pulls up and pings out – hence the title 'rapid deploy'!
Once up, it also has the added bonus of making a lovely shady spot for a nap (and they can drool to their heart's content thanks to the removable and washable drool pad!) And if the heavens should open while you're out and about, fear not! There's also a flashy integrated backpack rain cover to protect your child from a downpour…although if it really is blasting you from all angles, I can't guarantee they won't remain entirely unimpressed, despite being the driest one out there.
The backpack comes with a detachable 11-litre daypack
I think the zip-on, zip-off 11-litre detachable daypack might be my favourite part of the Osprey Poco backpack. It's perfect for a family day out with kids as you can pack it with the essentials – water, snacks, nappies, wipes etc and then remove it for use, say in a pub, while the backpack sits propped up tidily in the corner out of the way. I've actually used this mini day bag loads, even on days when we're not using the backpack mothership, as it's nice and compact.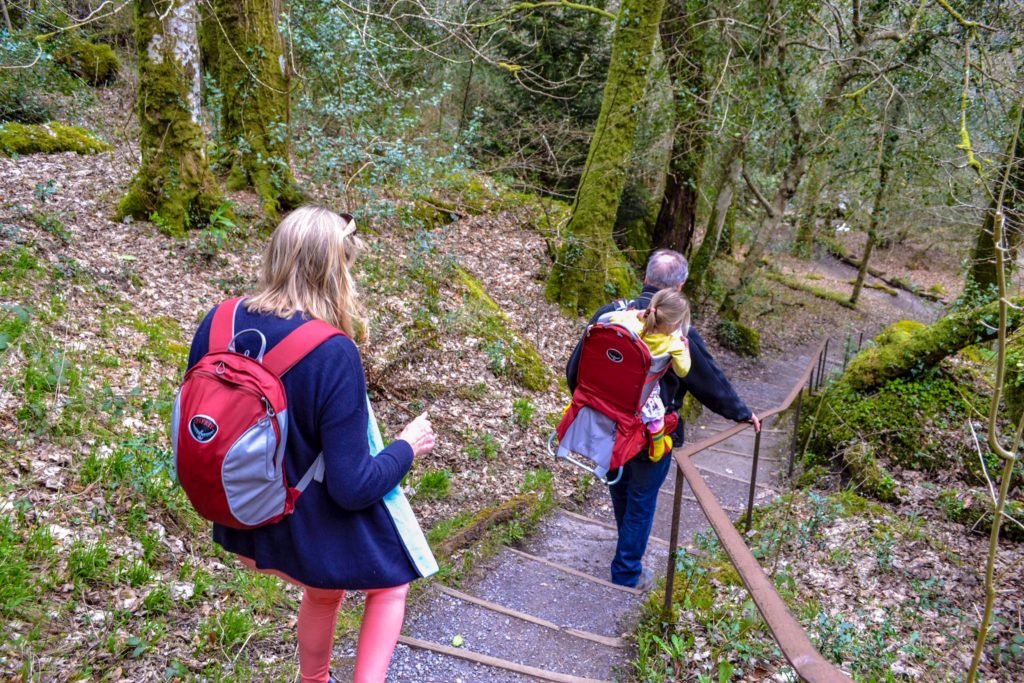 There are tons of storage pockets
As well as the detachable daypack, there's also a large easy-to-access-on-the-go front pocket. I must confess, in the past I've over-packed this compartment with books, snacks and water bottles and other child-related paraphernalia, which in hindsight was an error given the gradient of the hills my husband had to walk up with it strapped to his back. But it does go to show how much space there is in there! He remains unaware of the cause of the extra weight that he was lugging around to this day…well it'll be a good test of whether he reads this blog 🙂
You'll also find handy zipped hip belt pockets for close-to-hand essentials, pockets on the detachable daypack, pockets on the straps and dual side stretch-mesh pockets – like I said, pockets, pockets, pockets!
It's easy to fold away and store
With two little nippers in residence, our tiny terraced house in Bristol is severely lacking in room to put stuff. Luckily the Osprey Poco child carrier backpack can be easily folded up in order to store it away when it isn't being used.
The Osprey Poco toddler carrier stands securely on the ground
The toddler carrier backpack has a bar that pulls out to help it balance safely on the ground, so you can insert your child easily before lifting the little darling onto your back. This is extremely useful if you've experimented with baby slings that require a willing passerby to assist in attaching the bambino to your body while you're out and about. My children have even been known to sit in the backpack and watch TV while strapped in, just for fun…which is a massive bonus for many reasons!
Click here to check the price of the Osprey Poco baby carrier backpack from Go Outdoors
Where to buy the best toddler carrier?
If you agree that the Osprey backpack sounds like the best toddler carrier out there, then here's where you can get your hands on one for yourself:
And to really make the most of your hiking experience with little ones, make sure you deck your kids out in suitable hiking gear for children. Good outdoor gear ensureS they don't get too wet, hot, or cold – which means less whining too! Win win!
Read more: