There's a whiff of Aperol Spritz in the air, Brits are going giddy for a bit of sunshine and school's out for summer! So how to entertain the little squirrels? Luckily there are literally hundreds of events taking place in the city over the summer – and even more things to do with kids in Bristol when you're at a loose end. May I present you with the ultimate family-friendly list of fun things to do in Bristol with kids in summer 2023, featuring festivals, outdoorsy and wildlife events, arts, crafts, theatre, live music and oodles of excitement at Bristol's attractions.
Disclaimer: This post on Bristol summer holidays contains affiliate links. If you click to purchase, it is at no additional cost to you, but I receive a small commission to help keep this blog going.
Summer holiday activities Bristol
Summer activities for kids at Bristol attractions
Bristol is one of the best UK city breaks for families and having lived in the city for many years, we're always thanking our lucky stars for how much child-friendly entertainment there is on the doorstep. From exciting FREE things to do in Bristol for kids, to splash parks, soft plays and brilliant playgrounds, pub gardens with a play area, or easy must-do day trips from Bristol in summer, there's no shortage of ways to entertain youngsters.
Bristol's top attractions always run events during the school holidays, so you get extra bang for your buck.
For the Summer Holidays, Bristol Aquarium (21 July-3 Sept) will be inviting visitors to discover the wonders of coral reefs. Add your creativity to a coral reef fish mural and get your own coral crown.
Join Aerospace Bristol for a summer of art! Make, draw and explore your creative side throughout the summer holidays, with an array of artistic activities that celebrate The Art of Flight. Don't miss their Supersonic LEGO® brick event on 15 July!
Due to the fire at We The Curious roof in April 2022, they won't be able to open their doors as usual. Instead, they're heading out and about, sharing a whole range of Bristol summer activities, from exploring robots and how they interact with the world to creating your own constellations and stories.
Enjoy a 45-40 minute cruise around Bristol's historic Harbour on board The Matthew.
Enjoy a guided tour of the current night sky in the immersive planetarium dome experience at Arnos Vale Cemetery (29-30 July). You'll travel to the International Space Station, zoom across the Solar System in the distant future, and handle a famous meteorite from outer space.
Clifton Summer Screenings with Bristol Film Festival, The Mall Gardens (28-30 July)
Bristol Film Festival's inaugural Clifton Summer Screenings, bring an exciting programme of blockbusters back to the big screen this July.
There'll be fifteen classic films playing all day throughout the weekend; from Star Wars to Shrek, Moana, Tangled, Mamma Mia and Chicken, see their website for full listings.
Things to do in Bristol summer summer holidays: theatre
Grab your compass and join an intrepid explorer across uncharted territories to discover a pre-historic world of astonishing (and life-like) dinosaurs. Meet a host of impressive creatures, including the Tyrannosaurus Rex, a Triceratops, Giraffatitan, Microraptor and Segnosaurus!
Louis Pearl has been thrilling audiences worldwide for over 30 years with the art, magic, science and fun of bubbles.
An Edinburgh Fringe favourite, Louis explores the breathtaking dynamics of bubbles, combining comedy and artistry with audience participation and enough spellbinding bubble tricks to keep everyone mesmerized.
Join the intrepid rangers on a quest to recover the data crystal, restore power to the island and save the Dinosaurs!
An unforgettable Jurassic experience for all the family to enjoy. Learn their history with our amazing Dino-facts, meet the baby dinosaurs and even feed them!
The Snail and The Whale at The Playhouse, Weston-super-Mare (26-27 July)
Join an adventurous young girl and her seafaring father as they reimagine the story of a tiny snail's incredible trip around the world, inspired by Julia Donaldson and Axel Scheffler's much-loved picture book.
Join Peter and his naughty cousin Benjamin on their hair-raising adventures in Quantum Theatre's delightful adaptation of Beatrix Potter's much-loved tales.
11am & 2pm | £10 (ages 2 and under go free)
A brand new Kid Carpet & The Noisy Animals show for family audiences. Featuring their signature relaxed performance style of catchy songs, lofi puppetry and video magic, audience participation and games!
Join Heartbreak Productions for David Walliams' best-seller Bad Dad on the outdoor stage. Pack a picnic, grab a chair and dress for the weather. Packed with fun, humour and a heart-warming message.
Something brand new for kids and families from Kid Carpet at The Wardrobe Theatre
While good King Richard is away fighting the crusades, his friend Robin Hood resolves to relieve corrupt landowners of their wealth.
Spaces on the lawn are on a first-come- first-served basis. Please bring your own chair or picnic blanket as seating is not provided.
Click your heels and ease on down the yellow brick road as Immersion Theatre proudly presents a brand new adaptation of The Wizard of Oz, a magical family show guaranteed to have you in stitches from beginning to end!
Shrek the Musical at Bristol Hippodrome (25 Aug-18 Sept)
Spectacularly reimagined using the latest theatrical innovations, this beloved 'tale as old as time' will be brought to life on stage like never before…This new production features all the spellbinding music and lyrics of Alan Menken, Howard Ashman and Tim Rice.
Wildlife summer activities in Bristol
Based on Eric Carle's best-selling book, The Very Hungry Caterpillar Trail, recreates the journey of the caterpillar from egg to butterfly, through a series of larger-than-life 3D installations at Bristol Zoo Project (formerly Wild Place Project).
Visitors can crawl, climb and 'munch' their way through the caterpillar's giant fruit sculptures, which come to life through augmented reality. The trail ends in Tower Meadow with giant cocoon swings, a caterpillar slide and a butterfly.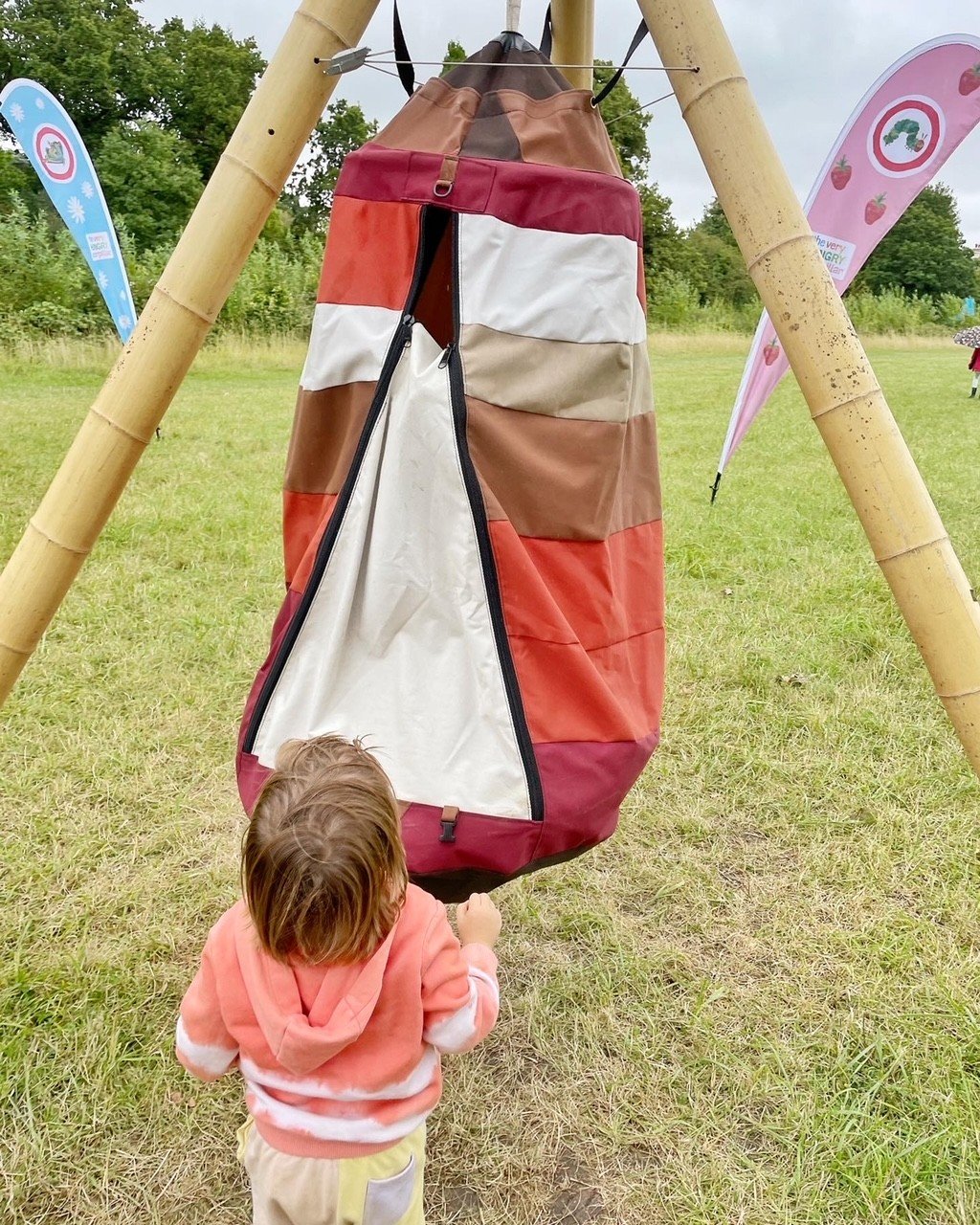 To celebrate 135 years of helping, healing and homing the city's vulnerable animals, Bristol Animal Rescue Centre has created an interactive adventure trail.
Hide & Sheep trail at Noah's Ark Zoo Farm
Noah's Ark has teamed up with Aardman to stage a baa-rilliant new event for 2023 summer days out. Get set for a farm-tastic experience with an augmented reality trail starring Shaun the Sheep.
Download the free app for The Hide & Sheep trail, enter Noah's Ark unique location code 1999, and find the 11 Shaun the Sheep markers around the zoo. The trail is fully accessible to wheelchair users and buggies, with plenty of rest stops around the zoo to enjoy too. Once found, these markers will bring the popular character to life at the zoo in 3D.
Summer festivals in Bristol
Itching to dust off your dancing shoes, deck yourself out in neon and shimmy your cares away, cider in hand? Here's my round up of family-friendly festivals in Bristol that are set to take place in 2023, including Valley Fest (3-6 August) and Bristol International Balloon Fiesta (10-13 August)!
Don't miss Old City Sounds (12 – 6pm on 26 August) – a new free, day-long music festival with genre-based musical zones across the Old City area of Bristol. Zones include Old City Jazz with live jazz, folk, funk and swing music and Old Kids Area with bubble artists, jugglers, circus performers and giant garden games.
Mendip basecamp are hosting a summer of free outdoor live music and entertainment featuring local musicians and bands, playing live under their magical canopy from around 7pm.
The Lodge will be open for food and drink, serving stone-baked craft pizzas, loaded fries and Pieminister Pies plus local beer and cider from Butcombe, Thatchers and the Bristol Beer Factory.
Arts, crafts and making
Create your very own graffiti artwork using water-based spray paints and laser cut stencils with 'Spray Sessions at Where The Wall (various dates in July & August)
Summer holiday classes at Cooking it! include teaching kids how to make curry, baked treats, tapas, Japanese cuisine, Indian, Mexican and more! Check the website for more details.
Local businesses will open onto the street showcasing what they do with special offers, tasters and displays. There will be music, arts and crafts, kids activities and more at local community hubs.
This summer, stories will be jumping off the pages into John Wesley's New Room.
Exploring a different story read each week, followed by a fun craft activity and then a trip to the explore the museum.
11am – 12pm or 2pm – 3pm – £4 per child
27 July: In Every House, On Every Street By Jess Hitchman
3 August: Iggy Peck, Architect By David Roberts and Andrea Beaty
10 August: Goram and Ghyston – The Bristol Giants By Oliver Rigby
Bristol exhibitions
This brand new 20,000sqft immersive exhibition of light and sound has been curated by renowned art collective Squidsoup and will be open from 1 July until September.
Inside, neon orbs illuminate pitch darkness, leading you around the vast space of the installation, their ethereal flashing set to eerie, sometimes almost ominous music. Some lights resemble a glowing, suspended caterpillar, others a wave of rainbow light…
The whole thing takes around half an hour and is a unique experience if you fancy doing something different this summer.
It is family-friendly although having been on my own, I feel like the toddler would be a non-relaxing liability 😂 (although he'd love it). There are loud noises (which mine aren't so keen on), but perfect for older ones too.
Described as 'the world's first amazement park', it's hard to put into words just what exactly this place is. A fantastical, immersive, interactive realm (so convincing my kids were worried we might not make it back to Bristol), visitors make their way through a portal to the mysterious world of Meridia.
Think Harry Potter meets Avatar meets meets a less-terrifying Stranger Things mixed in with all the weird, surreal and wonderful daydreams you've ever had. Secret doors, bookcases disguising hidden rooms, a mystical land discovered through a wardrobe, upside down areas, glowing neon worlds and the chance to touch, interact, press buttons that make things happen and seek out the secrets. Plus so much more. Utterly magical, needs to be seen to be believed!
Watch my reel of the experience here
The cave art of Lascaux at Bristol Museum and Art Gallery
Step back in time 21,000 years and experience the incredible Stone Age cave art of World Heritage site, Lascaux in immersive 3D at Bristol Museum and Art Gallery. Some 600 animals, mysterious symbols and a lone human figure adorn what has been called 'the Sistine Chapel of prehistory'.
Outdoor summer events and activities in Bristol
Explore where Romans used to live right on Bristol's doorstep and discover amazing mosaic floors, underfloor heating and the only Roman bath suite in Bristol.
A family-friendly open day at Kings Weston Roman Villa with stories, activities and artefacts.
Based in the top part of Ashton Court Estate, this fun mini railway run by Bristol Model Engineers is a firm favourite with families. Featuring a selection of real steam, electric and petrol driven trains (£1.75 per ride, or 5 for £7.50), it's brilliant, cheap fun. Take a picnic and make a day of it!
Summer day trips from Bristol – what's on nearby?
With so many excellent family attractions, iconic landmarks and glorious countryside within easy reach of the city, Bristol makes a brilliant base for exploring the West Country. There are tons of options for family days out nearby so I've rounded up 36 of my favourite must-do day trips from Bristol, under two hours from the city, here.
Reimagine the wonder of wetlands and nature through the eyes of the UK's best loved illustrator. Collect an illustrated guide full of Quentin Blake's drawings and journey around Slimbridge.
A whole host of art and illustration activities aimed at all ages and abilities, including nature-inspired creative challenge and art workshops.
Berkeley Castle
Budding historians should head to Berkeley Castle for Tudor-inspired summer holiday activities. Head to the castle on 30 July to watch Henry VIII find a wife, or visit on a Monday between 30 July and 21 August for archery, Tuesdays for dancing, Wednesdays for Tudor Zoolab, Warrior Day on 13 August, falconry on 20 August and jousting 27-28 August.
Zog Activity Trail at Westonbirt Arboretum
Get ready to join Zog on his latest forest adventure with a family activity trail and free app at Westonbirt Arboretum until 19 September! Grab the Zog trail activity pack for £4 from the Westonbirt shop and collect golden stars as your little dragons learn how they can help care for the forest, and how the forests can care for them.
Create a culinary masterpiece in the play kitchen at Old Lodge, make your own chalk work of art on big boards or tablecloths, get active with sports inspired by local 17th-century enthusiast Robert Dover's 'Olimpick' games, with running and skipping races on the lawn, bean bag throwing challenges, balance boards and beams.
Travel back in time and try your hand at Victorian games. Test your aim with skittles, team up for boccia, unleash your competitive side with croquet and see if you've got the skills to excel at playground games of the past!
Meet animals, explore Dinosaur Valley and its gigantic animatronic creatures, go off-roading in a mini jeep safari, have a go on the adventure playgrounds, boing on the giant pillows, ride the miniature railway, play mini golf or race go-carts, play on the indoor soft play and more, all summer long at Avon Valley Adventure and Wildlife park.
As well as the usual rides and attractions, splash at the sand and water play area, swoosh down the giant slip n slide*, and end each day with a foam party!
They are also offering a 'Boomerang Ticket' you get 25% off your 2nd visit, 50% off your 3rd visit, 75% off your 4th visit and your 5th visit is FREE.
Discover more family-friendly days out in Somerset this summer
Join The Helicopter Museum for a roarsome time with re-imagined live dinosaur shows.
Escape the heat and head for water
Need some respite when Bristol swelters in a heatwave (we should be so lucky this year!)? Make staying cool one of you fun things to do with the kids this summer in Bristol! The Wave will be running its popular 'play in the bay' sessions and there are plenty of splashtastic ways to keep cool in Bristol to be found, including lidos, fountains, a marine lake, splash pads and water parks when the temperature rises.
Alternatively, make your way to the beach from the city within 1.5 hours.
Nearby seaside towns Weston-super-Mare and Clevedon have tons of fun things to do this summer for families.
Discover more fun things to do in Bristol for families
25 Bristol attractions to see with kids
50 free things to do in Bristol with kids
Buggy and pram friendly walks around Bristol