My husband Doug had been begging me to get a new rucksack for aaaages. My very average Superdry backpack had been through the mill after being used for various beach holidays, cycle commutes in all weathers and days out with kids, and was now grey, stained, crumb-filled and smelly. I was in agreement, but was holding out for The Travel Hack backpack – I'd heard rave reviews about the larger suitcase version, and this pint-sized carry-on adaptation looked just as stylish and functional. As well as being the best carry-on backpack for women that I've ever laid my hands on, it's also a brilliant day-to-day bag too. Read on for my review of The Travel Hack Stowaway Cabin backpack (which will be back in stock in May!)
*Disclaimer: This article contains some affiliate links, any purchases you make are unaffected but I may receive a small commission at no extra cost to you to help me keep this blog running – thanks.
The Travel Hack stowaway cabin rucksack: best carry-on backpack for women
I'm definitely a rucksack girl, always have been – even before I had two kids to chase around after. I own one gorgeous black Lulu Guinness handbag and a neon palm tree clutch (both thanks to friends who work in the fashion world) and that's about the extent of my posh lady bags. I only ever use them on special occasions though! Backpacks are far more practical for my lifestyle and I like having two hands free in case I end up having to hoik various children's paraphernalia around. So I was extremely excited to get my hands on a classy looking ladies' rucksack that also ticked the practical box.
The Travel Hack Backpack was designed by travel blogger Monica Stott (founder of The Travel Hack blog), whose experience adventuring around the world translates into brilliant travel bag design. She's included all the functionality you subconsciously wanted (but hadn't yet found!) from a rucksack to make transporting your stuff around so much smoother. Think easily-accessible pockets for phones and passports, a cushioned slot for a laptop, tons of interior pockets and a suitcase-style front opening.
Watch my review of The Travel Hack Backpack here:
A stylish ladies' backpack that's affordable and spacious
As far as rucksacks go, The Travel Hack Stowaway Cabin Backpack is my most stylish and ladylike-looking bag to date and when brandishing it alongside my Travel Hack Pro Cabin Case, I feel like a real-life grown-up! There's even a strap on the back for you to attach both together if you own the set. Coordinating luggage is not something I'd ever thought I'd be seen sporting, but both The Travel Hack bags are really affordable and not only do they look great together, they are both darn spacious.
A backpack for women that's perfect for travel
The dimensions of The Travel Hack Backpack mean it's ideal as carry-on luggage for flights, especially on budget airlines. It was sized to comply with the Ryanair 40x20x25cm free underseat hand-luggage rules, which we tried and tested on our recent trip to Spain.
As well as saving us money on the flight (we only took carry-on bags), knowing that the bag was approved for Ryanair's strict regulations saved us a lot of time worrying about whether we'd be stung for oversize baggage. Being able to stow it away underneath the seat meant I was able to reach the contents of my carry-on backpack really easily without having to faff about with the overhead locker throughout the journey. This was ideal as it was full of kid (and adult)-friendly in-flight entertainment
For the ultimate in packing as much stuff into this compact bag as possible, there are also light pink The Travel Hack packing cubes available to purchase.
Inside The Travel Hack backpack
The backpack is just as stylish on the inside as it is on the outside. The light pink interior has two 3D packing pockets with rose gold zips and 20 litre capacity. It feels really roomy and fits loads inside.
The Travel Hack backpack exterior
The chic external shell is showerproof to protect your valuables. The shoulder straps are cushioned and the back compartment is quilted making it really comfy to wear. One of my favourite bits about the bag is the rose gold detailing (goes with my jewellery!) An eco-leather ID holder is attached to the bag (although I have removed this as I didn't feel it necessary for every day usage).
There are also two spacious side pockets, one is zippable and made from a neo-premey kind of material which is a great fit for a water bottle (I have a reusable Chilly's one and it slots in perfectly).
The Travel Hack backpack front zip pocket
The Travel Hack Backpack for women has a black quilted front pocket with tassel zip – which looks funky and is an excellent place to store documents like passports, tickets and travel info. Anything you need to access easily and quickly, yet still keep secure.
Carry-on backpack top zip pocket
The top zip pocket on this carry-on backpack for women is an ingenious place for storing items that normally get lost in the contents of a jam-packed bag. It's an ideal place to keep your phone, headphones or passport, especially if you normally end up with the remnants of kids' snacks that make their way into your phone's charge point in your main bag! This is really handy when you're travelling but also when you're just out and about with the kids and want to grab your phone out quickly to snap a quick action pic of them.
Back pocket on The Travel Hack backpack
There is a sleek back pocket which is laptop compatible for devices up to 13″. However I did try with my 13″ inch Macbook Air and I couldn't quite squeeze it in, it did fit in the main compartment perfectly though. If your laptop is larger or you're not travelling with it in this slim back pocket, it's a handy place to store things that you'd like to keep flat and secure, such as important travel documents.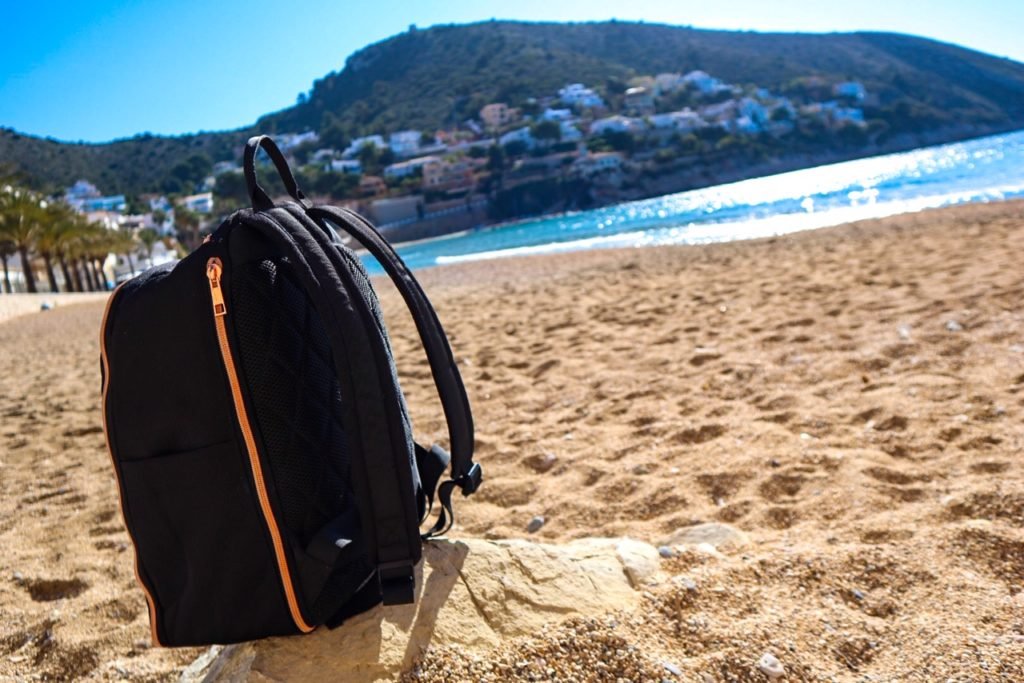 A carry-on backpack for women that's not just for travel
Although The Travel Hack backpack has been designed with trips and travel in mind, it also works brilliantly as a 'mummy' day bag and I'm sure this is where Monica's experience as a mama herself shines through. It's lightweight, and comfy to wear which is just what you need if you're also having to lug a small child/scooter/shopping bag or kid's bikes around!
The 3D packing pockets are perfect for storing snacks, cuddly toys, wipes, nappies and everything else little ones might need in addition to your stuff. Despite its compact size, the bag is deceptively roomy and seems to be able to fit SO much inside. And because it opens like a suitcase, it's really easy to retrieve items demanded at a moment's notice!
An affordable, trendy, carry-on backpack
For such a handy, useful and trendy backpack, you'd think the price would be at the higher end of the scale, but it's actually really modest. Retailing at £30, if you search around, you can often pick it up on offer (Cabin Max – the company The Travel Hack collaborated with – were selling it for £22.50 last time I checked) and it will soon be back in stock on Amazon in May.
Where I've been with The Travel Hack Backpack for women
So far, The Travel Hack Backpack has come with me on our recent trip to Spain, on a kid-free night away at Carbis Bay Hotel and Spa in Cornwall, and on numerous family days out. Each time, I've relished stuffing it full with everything I need, and it is currently in pristine condition!
Final thoughts on The Travel Hack Backpack
The Travel Hack Backpack has been perfectly designed to comply with all major (and budget) airline's hand luggage restrictions, meaning you can now fly with this one bag, safe in the knowledge that you'll not be stung with any extra luggage charges! It feels like a stylish accessory whether you're travelling or heading out on a day out with the kids. It's fantastic value for money, comfy to wear and adorned with handy pockets which make reaching individual items super easy. Definitely one of the best carry-on backpacks for women around in my opinion.
Any downsides to The Travel Hack Backpack?
As it's primarily a lady's bag, my husband Doug is not that keen on wearing it and thereby sharing the load, but as it's so light and compact it's really easy to wear anyway. And as I'm often taking the kids out by myself or sporting my share of the hand luggage, it's not really a problem!
Read more:
Camping bunk beds for kids: Hi Gear Duo Bunk review
Osprey toddler carrier for hiking
Review: Toddler travel car seat – Trunki BoostApak
Pin it