Desperate for a glimpse of the sunshine after Britain's never-ending winter? Lanzarote's ace card is that it has year-round warm sunshine – making it the perfect sunny short haul destination during Europe's cold season. Or so they said…We went in March and it was freezing both in and out of the water, blowing a gale and raining most days. Needless to say, we went out of our way to find unusual things to do in Lanzarote with kids to fill our days.
We hired a car and stayed in the north of the island, at eco-glamping accomodation, Finca de Arrieta – a far cry from the package holiday resorts and British pubs of the south that the island is renowned for.
If you experience bad weather in Lanzarote, are in need of child-friendly fun on your family holiday to this Canary Island, want to explore more than loll about on a sunlounger, or just fancy getting off the beaten track a bit, here's what to do on Lanzarote.
*Disclaimer: This post on things to do in Lanzarote when it rains contains affiliate links, which means I may receive a commission if you click a link and purchase something that I have recommended. While clicking these links won't cost you any extra money, they will help me keep this blog up and running!
Best things to do in Lanzarote
The following activities in Lanzarote would make equally good day trips on rainy, sunny summer or winter days in Lanzarote.
This place is about as close as you can get to experiencing landing on Mars. The spectacular multi-coloured rocky landscape of Timanfaya National Park – largely unchanged since the volcano's last eruption in the 1800s – resembles coloured sand art on a gigantic scale. It's extremely popular so you may end up queueing in your cars to get in, so arrive early!
A coach will transport you around the park (included in the entry fee as you can't just wander freely for environmental reasons), or you can take a tour on a camel (!) or in an electric buggy. Marvel at the underground heat bubbling just a few metres below the surface – dry brush catches fire straight away and little geysers are produced from pouring water into a bore hole.
Lunch is just as exciting, eat at El Diablo restaurant and watch your Canarian meal being cooked on geothermal heat over a giant hole! The restaurant is a 360-degree panoramic glass affair – the perfect way to fuel up on this other-worldly day out.
The Timanfaya National Park is open seven days a week from 9am until 5.45pm.
Prices: Note that payment by card at the cash desk at the entrance is not accepted, due to difficulties in connecting to the internet in this natural area.
Animals + water park = a no-brainer for entertainment with kids and can go on your what to do in Lanzarote when it rains list as it doesn't really matter if it's drizzling while your here. We drove here in our hire car, but the park actually runs a FREE bus service. You can check out the list of Rancho Texas bus stops here.
There are dozens of exotic animals to coo over, all set against a Texan desert-ranch-style backdrop, which is quite fun given the desert-like nature of the surrounding Lanzarote landscape.
Spot sleeping crocs, performing sea lions, white tigers, eagles, parrots, birds of prey, farm animals and lots more before hitting the water park for some splash-tastic fun. There's a huge swimming pool with fountains and sunbathing area, water slides and a splash park with Wild West vibes. Prepare yourself if you're in Lanzarote in March though – the water was chilly.
The park is open everyday from 9.30am-5.30pm.
Rancho Texas prices: Adults €30, Children (3-12yrs) €22.
Located in the north of the island, visiting this Cesar Manrique-designed clifftop structure feels a bit like entering some kind of James Bond layer. Surrounded by a vast rocky expanse, this lava-integrated, ex-military lookout post blends into the clifftop effortlessly, hiding a smooth, whitewashed cafe within its walls. If you're looking for indoor things to do in Lanzarote, you can sit inside sipping on a smoothie while gazing over stupendous views of the dramatic coastline and nearby Graciosa Island.
There are viewing points outside the cafe too, with jaw-dropping panoramic vistas – just be warned it can be a wee bit nerve-racking on the outside edge if you've got unruly toddlers in tow as the wall is quite low (see pic below).
To see more of Manrique's work, head to Guatiza to see his cactus garden, the grotto at Los Jameos del Agua, or his stunning house, built on a lava flow, at Tahiche. If you plan on visiting several attraction points in Lanzarote, ask to buy a multi-ticket.
El Mirador del Rio is open from 10am-5.45pm everyday and until 6.45pm in summer until 30 September.
Price: Adults €4.50, Child (7-12yrs) €2.25.
4. Seek out the sun in Playa Blanca, Lanzarote
We were staying at luxury glamping eco retreat, Finca de Arrieta (you can read my review of the place here) on the north-eastern side of the island. Maybe it was our imagination, but the weather in Playa Blanca Lanzarote seemed a lot warmer than the windier and colder north.
In order to try and get a dose of this vitamin D, we hopped in our hire car and drove down to the southern Playa Blanca, one of the most popular tourist spots on the island, thanks to its sandy beaches, restaurants, bars, shops, hotels and entertainment for kids.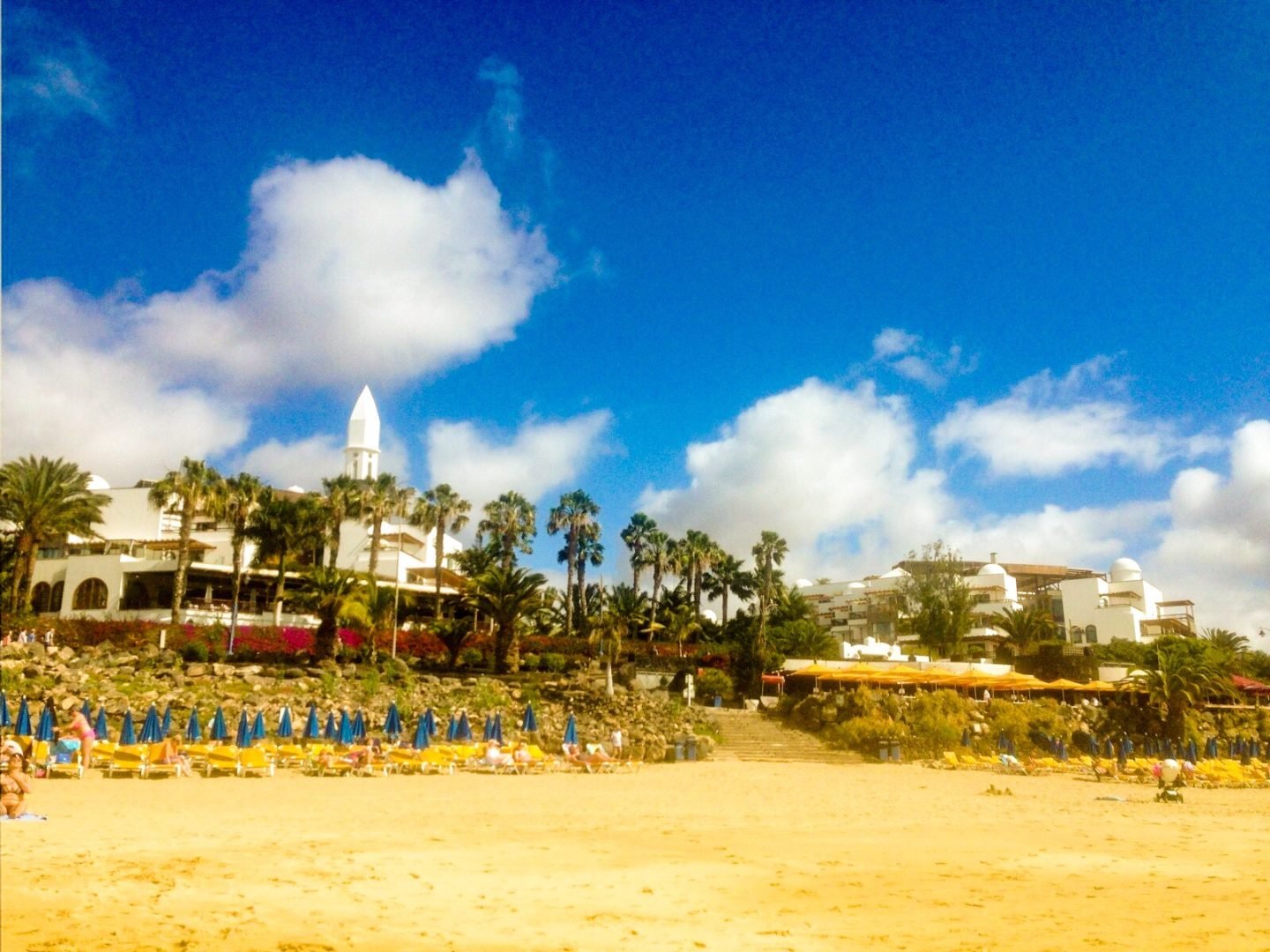 5. Just drive around Lanzarote
A road trip is well worth it – the scenery in Lanzarote is mind-blowingly beautiful and highly photogenic in a very other-planetary way. The landscape, with its varying rock colours, dramatic mountains and vast expanses of emptiness, contrasted with whitewashed, flat-roofed buildings is really quite spectacular.
Find an authentic Canary Island take-away on your return journey (there is a really nice, family-run pizza take away in Arrieta called Pizzeria La Artesana Arrieta) and hunker down in your apartment.
6. Hit a quieter beach
The Lanzarote beaches in the south can get very busy, but the north is much quieter and the landscape backdrop is incredibly dramatic. If you've timed your stay on the island, like us, with the chance (?!) to see Lanzarote in the rain (and howling wind), the northern beaches are well worth a gander.
Little ones also won't care a jot about the weather an they'll be happy as Larry playing in the waves and digging in the sand, and if you can construct some kind of windbreak, you're (almost) laughing.
Not convinced by Lanzarote? Choose another Canary Island.
Like the idea of a Spanish island? Read more Spanish content: