From Bristol to Tuscany! I had to do a write up of camping Park Albatros following our stay – it remains one of the best family holidays we've ever had, and many many people have texted me to say, they gave Park Albatros a whirl after seeing our holiday there and loved every second! Here's why we loved our stay at Park Albatros Tuscany Eurocamp.
Deep beneath a forest of twisting Tuscan trees, gazing over gently rolling hills, lies one of the best campsites in Tuscany, Park Albatros; a family holiday wonderland that is just a short hop from the beach. If you're looking for an outdoorsy, easy, family campsite in Tuscany, close to excellent food, culture (Pisa is an hour away) and warm tempertures, Park Albatros is your knight, glimmering in the Tuscan sun.
*Disclaimer: This article on Eurocamp Park Albatros contains some affiliate links, any purchases you make are unaffected but I may receive a small commission at no extra cost to you to help me keep this blog running – thanks. 
Park Albatros Eurocamp
Check out the video below to see Park Albatros San Vincenzo Eurocamp from above and below!
Albatros Eurocamp San Vincenzo accommodation
We rented one of Eurocamp Parc Albatros Tuscany's three-bedroom mobiles for a family of four, with a shower, toilet, kitchen, inside dining area and big shaded outside dining deck, a BBQ, blackout blinds and a toddler security gate to stop little ones from ninja-ing off. You can choose from various 'essentials' packs including towels, sheets, potty, a cot – even a 'trundle wagon' to transport your kit and kids around in.
If you're driving to Parc Albatros San Vincenzo, it's a lot easier to bring all your holiday paraphernalia. Limited luggage allowance when you're flying scuppers this a bit, so pre-booking the above items is far easier.
While I've stayed in slightly more upmarket mobile homes elsewhere (this one was definitely on the tireder side), the outdoor lifestyle and sunshine mean you'll only really use them for sleeping in anyway.
Like camping, close-knit mobile home life is a pretty social affair, meaning other kids wander over to play with yours and morning hellos in different languages are common.
Camp Albatros Tuscany swimming pools
Whatever the ages of your offspring, Parc Albatros' numerous pools are geared up for all ages. Tinies will love the shallow pools, decked out with raised islands, fountains, tunnels and a special micro-grip surface, meaning they can totter and splash safely in front of you.
There's also a free-for-all water slide and an Olympic-sized swimming pool for larking around in, or if you're feeling energetic in the morning, lane swimming from 9-10am. Get there early to bag a pool-side lounger as even out of school holidays, these filled up quickly. You'll also find a free-to-use air canister to blow up inflatables to save your puff.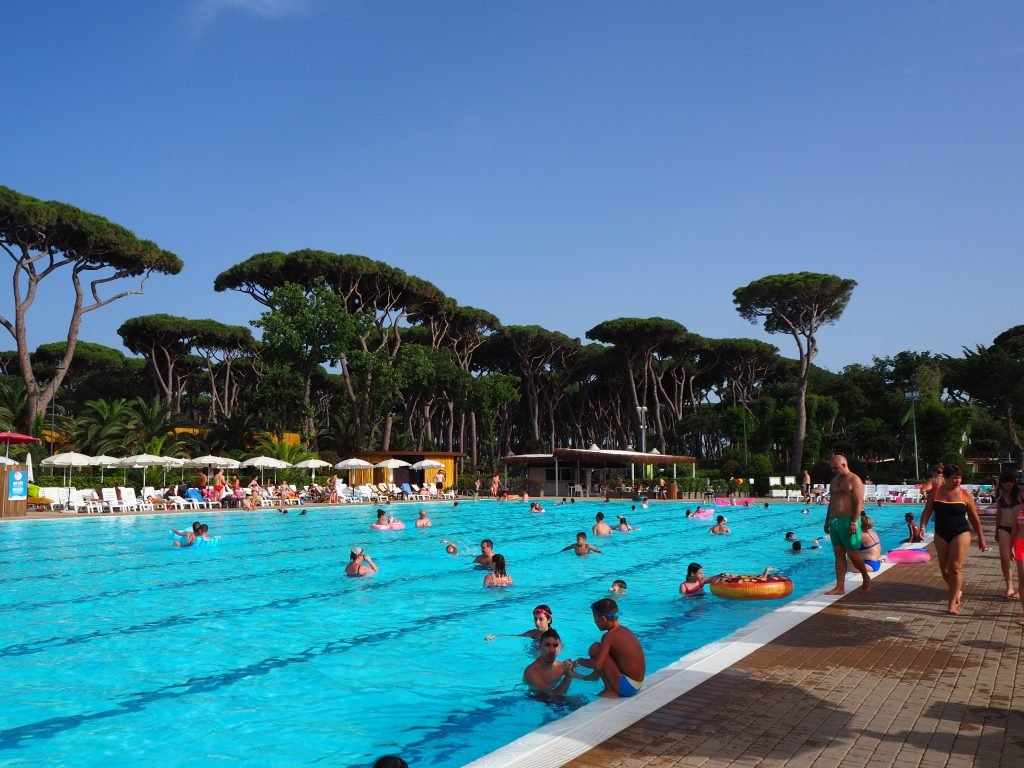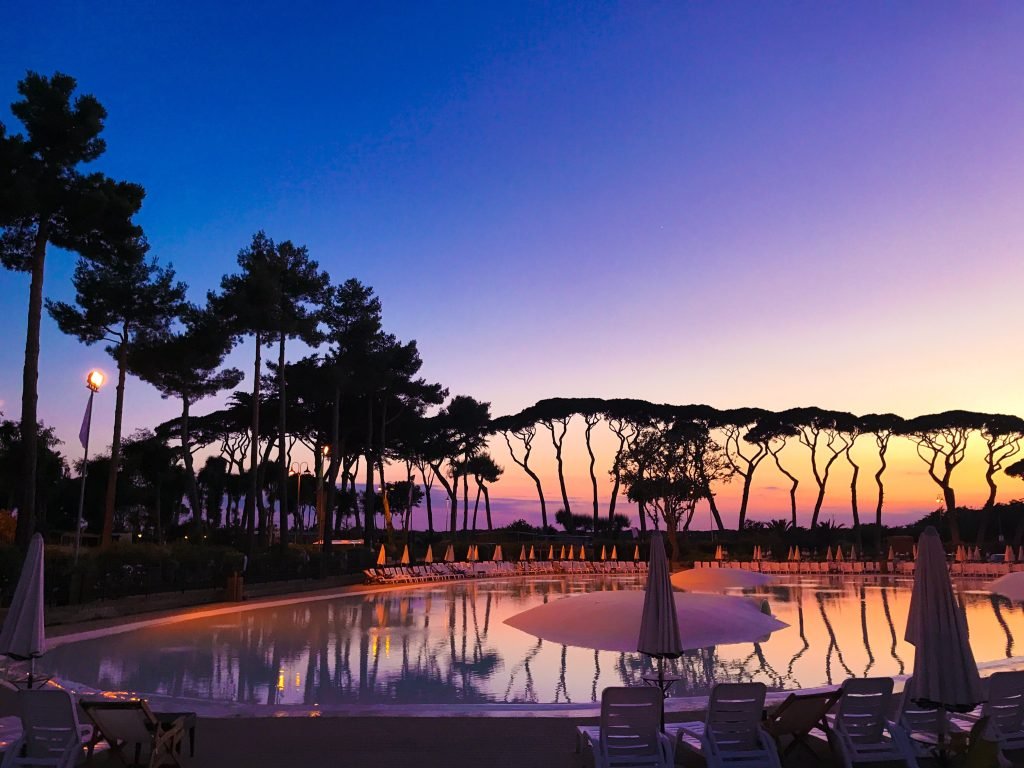 Camping Albatros Italy – kid-friendly entertainment
If you manage to extract your kids from the fantastic swimming complex at this Tuscany camping site, there's a lovely shaded park, complete with sand pile for digging, a high ropes course for older kids, mini golf and a daily mini club where children can hang, colour and climb on the soft play, plus a whole array of planned entertainment.
Every day between the hours of 9am-1pm and 4pm-8pm a free mini train runs circuits around the campsite and each night young'uns and their parents rock out to a mini disco with Albi the dancing celebrity squirrel (or chipmunk – it's hard to tell). Ping pong tables are dotted around the camp, bikes are available for hire with child seats and older kiddos will love the freedom of the rentable Go Karts to whizz around the campsite on too. If you can fit them in, I highly recommend packing kid's scooters – the pathways are wide, concreted and flat and the little ones spent the entire holiday zooming around on them.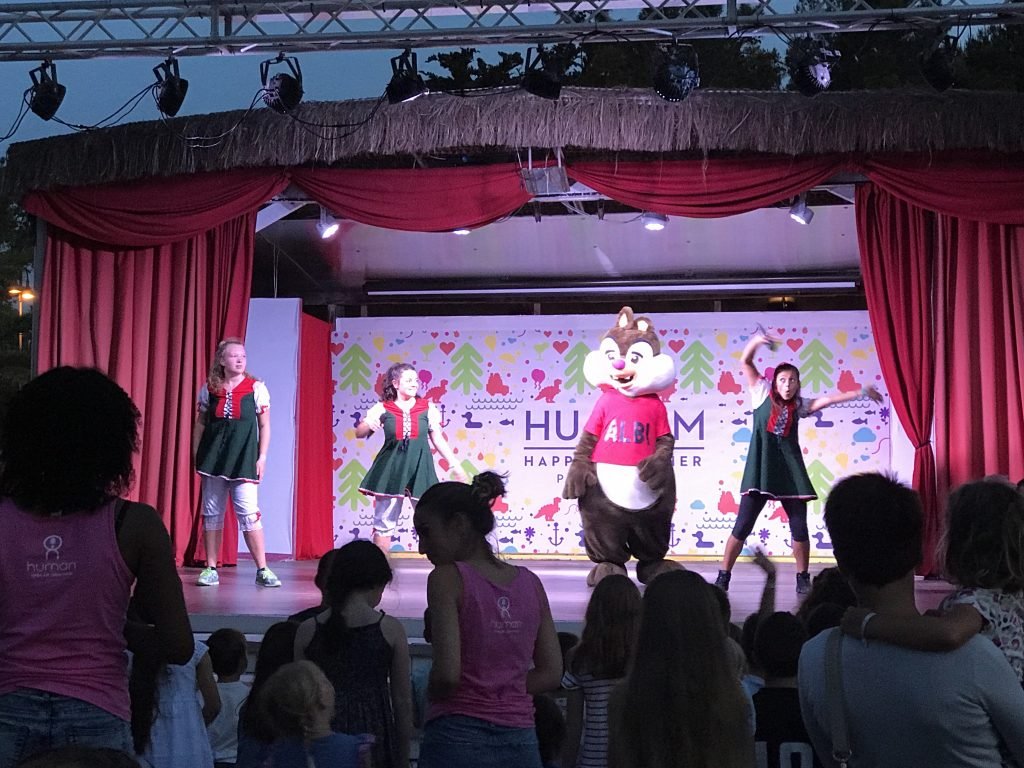 Park Albatros onsite shops
The onsite supermarket at this Tuscany eurocamp is filled with everything you could possibly need during your stay; nappies, baby food, alcohol, mosquito spray, even a 'wine fuelling station' where you can fill up your vessel with vino as you would a car – cheap and brilliant! Roll them out everywhere I say!
As with all foreign supermarkets, there's also a delightful dose of local produce – think Tuscan honey, multi-coloured pasta, fresh gnocchi and ravioli, rich olive oil and a bakery counter with Italian sweet treats, pizza and breads. Kids desperate for an inflatable unicorn? Made a bikini blunder? You'll find all that and more in the ever-so-well-equipped pool-side shop. While we didn't notice a huge difference in price, it is worth stocking up at a big supermarket and there are several COOPs and Conads located nearby.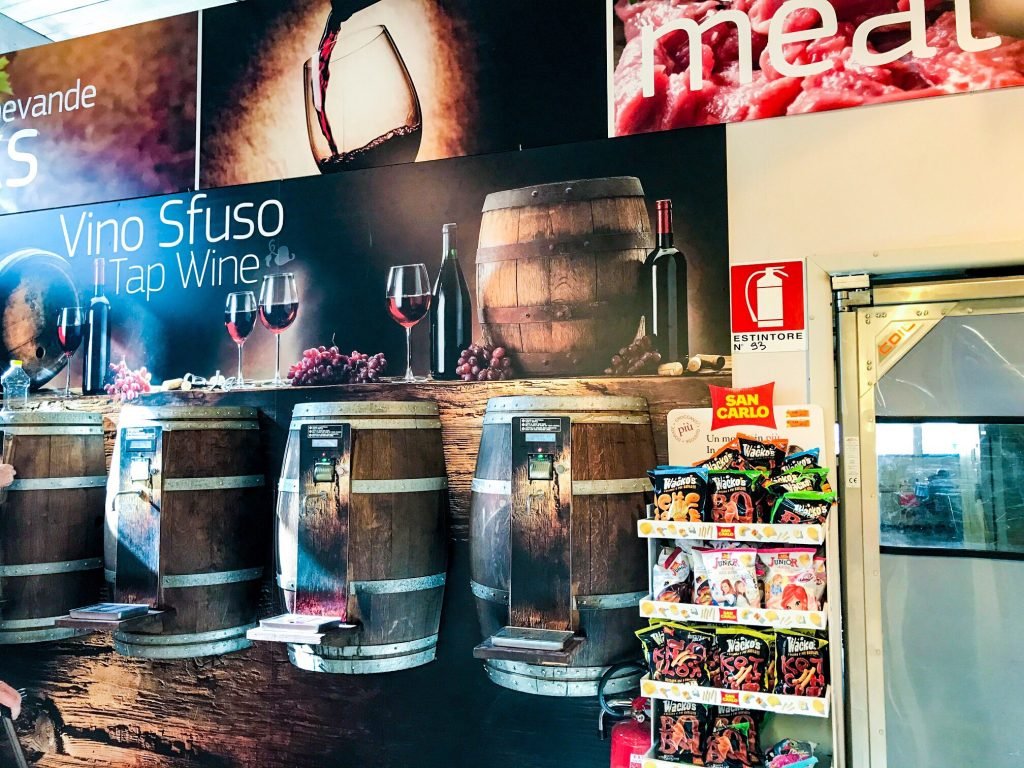 Campsite wellness and spa activities
For me, a family holiday isn't complete without a bit of 'me-time', especially when it comes in the form of massage or neon nails – both available at Albatros Park Tuscany next to the pools. You can also get a hair cut or colourful hair braids woven into your kiddos hair, much to their delight.
The surrounding area
Surrounded by the Rimigliano pine forest, Park Albatros Italy shelters under beautiful Mediterranean pines which change colour depending on the time of day, glowing a glorious red come sundown. You can hire bikes on the campsite and head right out of Park Albatros along a wide, flat cycle path and delve into the pine trees to discover numerous beaches.
Head left and the shallow, calm, sparkling waters of Baratti Bay are also just a cycle-ride away. Above, surveying the land from its ancient perch, sits the old Etruscan city of Populonia. It's 15th century walls hide terracotta rooftops and cobbled streets with charming shops and restaurants, beautiful cypress trees, loud cicadas and a castle with breathtaking views along the coastline all the way to Elba.
The enchanting countryside is peppered with wine and olive producers (and vibrant wildflowers in June), including the award-winning Tenuta Poggio Rosso, just down the road from Park Alabatros. Pop in for an afternoon of delicious wine tasting (kids can run free in the gorgeous grounds or hit them up with the iPad in the delicate-object-laden tasting room!).
Pisa with it's world-famous leaning tower is just an hour away by car and other Italian cities like Rome, Lucca and Florence are also day trip-able for an injection of world-famous culture during your holiday.
The restaurants in Tuscany
If you don't want to venture far, you'll find a variety of restaurants within the grounds of Park Albatros – one buffet-style, one traditional Italian, a pizzeria (with takeaway), a snack bar, creperie, sweet shop and a couple of gelaterias that serve scrummy home-made gelato. There's also a couple of bars, the best one located right next to the park – perfect for a sundowner while watching the kids play.
Nearby, there's plenty of Italian eateries to explore (although we were not impressed nearby Al Tramonto with its gritty seafood and unwelcoming service), just be warned if you cycle out at night, street lights are rare in the area!
Final thoughts on Park Albatros
If you like laid back, outdoorsy living, scoffing Italian food, spectacular sightseeing, child-friendly sandy beaches, being a big kid, sunshine and swimming, then camping holidays in Tuscany are for you! It can be hard to fully relax on holiday with young kids, but the set up here couldn't have been more perfect for toddlers and pre-schoolers. Watching families with older kids, it looked like they were equally loving the freedom. This holiday's going down as an all-round win and in my opinion as one of the best campsites in Italy for families.
Click here to check latest prices and availability at at Park Albatros.
Liked this post on Eurocamp Albatros Italy? You might also like to read:
Have you got a favourite campsite that was perfect for your family holidays? I'd love to hear your recommendations in the comments below.
Pin it for later: