Off to Ibiza with the fam? How does a private pool, mountain view and nearby beach sound? Ibiza family holidays in this villa are dreamy. Read my review…
*Disclosure: This post may contain affiliate links, which means we may receive a commission if you click a link and purchase something that we have recommended. While clicking these links won't cost you any extra money, they will help us keep this site up and running!
Ibiza family holidays – child-friendly villa review
When our friends invited us to their wedding in Ibiza, our first thought was 'cowabunga!'…or something along those lines. Our second thoughts were childcare and where to stay. Their Balearic nuptials included a boat party, plus a ceremony a couple of days later, so our options were: hire a nanny out in Ibiza, leave the kids in the UK or turn it into a multi-generational holiday and persuade the grandparents to join us and help take care of the little'uns. As we'd decided to make a week's holiday out of it, you can guess which one they opted for…So the search commenced for a family-friendly villa to rent in Ibiza that would fit us all in.
Where to look for a family-friendly villa to rent in Ibiza
We trawled all sorts of accommodation sites and settled on this large self-catering villa on Airbnb with its own pool, so that we'd have somewhere to hang out with a few drinks and BBQ in the evenings when the kids were asleep. There was also plenty of space for the children to go nuts in. I'd also heard that Santa Eulàlia – about half way down the coast on the eastern side of the island – was a beautiful, quieter and more family-friendly part of the island, so we focused our search in that area.
Unbeknownst to us, it was closing parties week on the dates we were searching for a family-friendly villa to rent in Ibiza (21-28 September) and places were going like hot cakes. This party-tastic time was driving the prices up, so I'd advise checking beforehand and avoiding that time of year for a cheaper deal.
The villa, 5 minutes from Santa Eulalia caught our eye thanks to the huge, picturesque swimming pool sitting in lush gardens in front of its whitewashed facade. A few days before our stay, our helpful host Yolanda texted us the exact location of the house and upon landing, let us check in early – always a relief after a flight at the crack of dawn.
Ibiza family holidays : getting to the villa
If you're hiring a car, the villa is an easy 25-minute drive from the airport, although the roads were inexplicably busy a lot of the time, so if you're in a rush, bear that in mind. Set back from the main road, the villa is reached via a small track and surrounded by countryside, you're just a short 200m hop across the road to the nearest beach, Niu Blau – it's easily walkable with kids in tow, although if you're lugging a day's worth of seaside paraphernalia with you, take the car and park next to the restaurant. The nearest supermarket is also walkable (along the main road), however if you're expecting to heave several bottles of gin while herding kids, it's much easier to nip across in the car.
Ibiza Villa outside space
On arrival, you enter colourful gardens with palm trees, lavender, vibrant flowers and a high hedge for privacy. An old wagon snuggled amid the foliage adds a splash of old farmhouse character and there are mountains visible in the distance to get you in the Mediterranean mood. There's plenty of sun-lounging equipment to mooch on and much to the delight of little ones, the odd gecko or frog pops up now and again to say 'hola'! You'll find a shaded eating area outside the villa with a BBQ, wicker furniture for a lazy evening drink as well as a large dining table – a lovely to spot to watch the sun sink over the distant hills.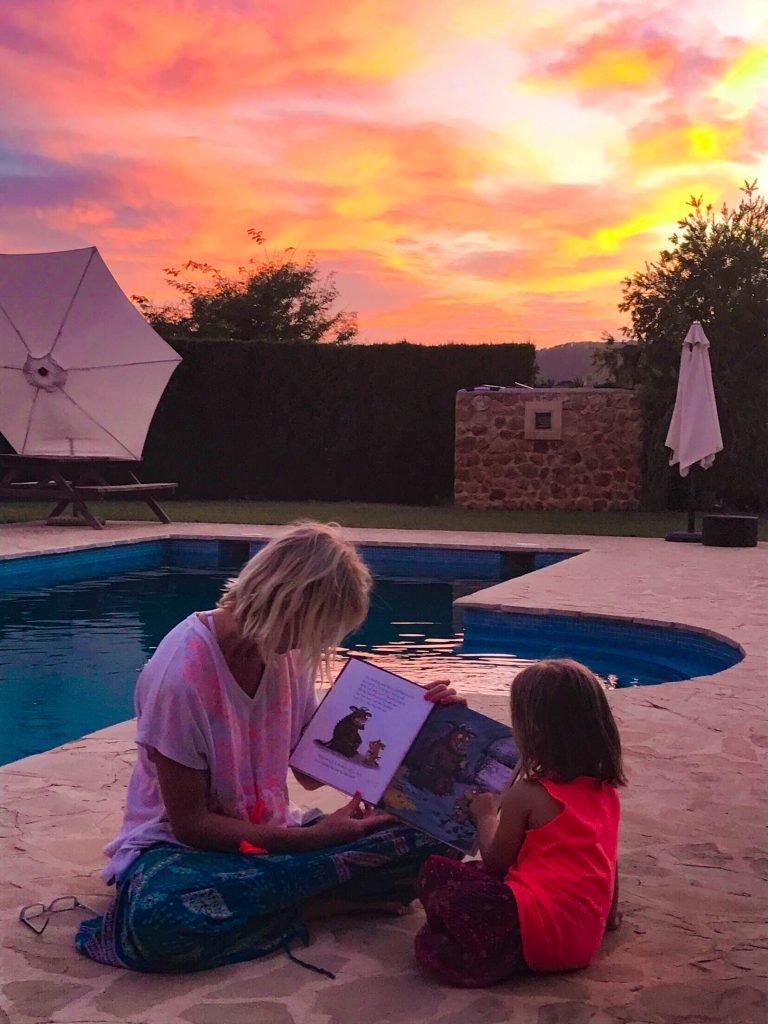 Ibiza family holidays : The swimming pool
The pool itself seems larger in real life and is certainly on the more refreshing side of warm, but on scorching hot days this isn't an issue. There's no shallow end to speak of, so if your toddler has a thing about deep water, they might be happy playing on the little steps in the middle. If you're worried about young kids near the pool, it looks from the villa's photos online like you can ask for a fence to put around it, although we were just extra-vigilant with our 3 and 1 year-old.
Inside the family-friendly villa Ibiza
Stout wooden doors open into an inside dining and lounge area – although we rarely used these with the sun shining – and a well-equipped kitchen. The villa is all on one level with three double bedrooms rooms leading off one main corridor. There are three bathrooms, one is ensuite and has a jacuzzi bath (although this wasn't working when we stayed). There's air con in the bedrooms and all the windows have bars and mosquito nets on for peace of mind, if you luck out with the master bedroom there's a great walk-in wardrobe for storing all your stuff. When the shutters are closed it is completely pitch black – so no need for baby black-out blinds here! Furniture is minimal but functional and there are built-in wardrobes with tons of space for clothes, plus some pictures on the wall for a splash of colour. A cot and high chair are available on request. See inside the villa here.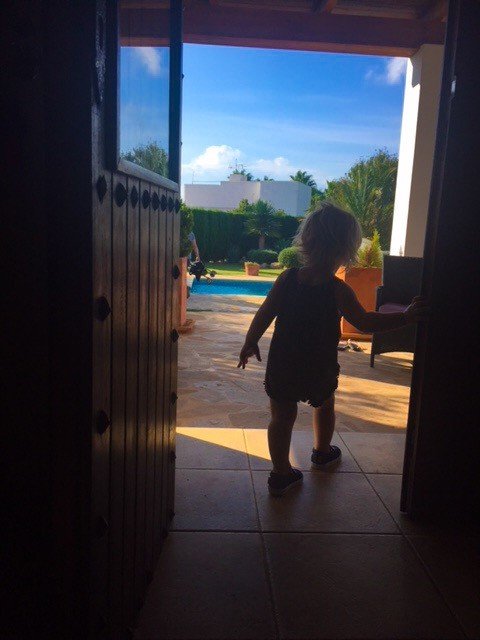 If you're beach holidaying with pre-school age kids, you need little more than a beach and a swimming pool for a full-on day of entertainment. We loved the location of this villa – there are lots of beautiful sandy beaches with calm water nearby – perfect to keep toddlers busy digging and splashing for hours. If you get them to nap on the beach too you might be in with a chance of feeling like you've had an actual holiday yourself! The closest beach is Niu Blau, a lovely little bay with a handy restaurant where you can tuck into alioli and bread, seafood, pasta and pizza in between building sandcastles and sunning yourself.
25-minutes north in the car is another sandy bay, Cala Llenya. The beach is reached via boardwalk, which makes it easy if you're dragging a buggy along with you – and useful if you're doing the 'nap walk' (pacing up and down to get your kid to snooze). There's also a cheap and cheerful snack bar here where you can get a dirty burger and a beach beer. Cala Mastella and Es Figueral are other great beaches to explore in the area.
Hippy markets in Ibiza
If you're anything like me and can't get enough neon, pom poms and bohemian-style clothing and jewelry in your life…or just want to peruse a glorious market – one of the top attractions on the island – Es Caná hippy flea market is only 5-minutes drive away from the villa. It takes place every Wednesday in Es Caná and the Las Dalias Hippy Market on Saturday in San Carlos, so be sure to factor that into your time in Ibiza.
It's ever so easy to while away a few hours in hip and unpretentious La Paloma Restaurant, a 20-minute drive from the villa in the little town of San Lorenzo. Nicely ramshackle but oozing boho sophistication, this family-run eatery prides itself on being 'a place to eat, drink and feel the love'. And you do! Serving up delicious, fresh rainbow salads, hearty meat-filled flatbreads and Tuscan-inspired dishes on their terrace, this place encapsulates the epitome of slow-living and is an absolute must-visit. Kids are catered for with a view-gazing play area and next door is a delightful treasure trove of a shop filled with gorgeous clothing to make all your island-living dreams come true. I'd go back to Ibiza just to soak up the atmosphere here again!
View this post on Instagram
Santa Eulàlia, Ibiza
Santa Eularia (or Santa Eulàlia) is 5-minutes away from the villa, with a variety of restaurants and bars, a marina to stroll around and a great little kids park (parque infantil Santa Eulalia) right next to the seafront walkway, opposite some big boats and Ibiza Yachting club. We came here on a cloudy morning in search of some non-beach, child-friendly entertainment and this was perfect.
Final thoughts on Ibiza family holidays in this villa
While the AirBnb description reads 'luxury' villa I'd definitely say this is more rustic-chic. However, it's very family-friendly and didn't feel cramped at all with six of us holidaying inside. The location was perfect, slightly removed from the built-up party mecca of the south and more in touch with the laid-back, creative, hippy island vibes Ibiza was once so famous for. Near the villa there are plenty of beaches to loll on, and it's just a short drive to plenty of places of interest. It's also fantastic to have a huge pool to yourself, as well as the option of a nearby beach for an easy day out with kids in Ibiza. Host Yolanda's family live next door and she's easily contactable should you have any problems.
How to get to Ibiza for a family holiday
We took an early morning Easyjet flight from Bristol, although flights leave from all over the UK.
Pin it for later: