In search of an easy glamping getaway near Bristol, my Bristol Brood and I headed for Andrewshayes Holiday Park for three sunny (but chilly!) days in May. We spent the weekend exploring East Devon with kids and I wrote up this little weekend itinerary as a guide for fun things to do in the area with young children.
Itinerary: Things to do in East Devon
Morning – Seaton seafront for brunch
Just a 15-minute drive away from Andrewshayes Holiday Park is the seaside town of Seaton, an unflashy place with a long stretch of pebbled beach and a white-cliffed bay that dazzles in sunshine. I'd read about The Hideaway Cafe on Flipflopsorwellies.com (campsite owner and local, Clare's blog, which features tons of stuff to do in East Devon), so we gave that a whirl for brunch.
It's aptly named – tucked away in the nook of a cliff, behind a line of pretty coloured seaside huts, you don't know it's there until you stumble across it. Inside is homely and modern, with goodies to buy alongside a tempting array of cakes, plus items like eggs and avocado toast, bacon sarnies and a full English on the menu. If the weather is good, go for one of the outside tables for a spectacular view and a beach to let the kids loose while you keep a watchful eye.
Afternoon: Seaton Tramway
A short walk away (opposite East Devon's cheapest car park) is Seaton Tramway. For those that have been lucky enough to encounter Franschhoek's Wine Tram, it looks almost identical (although there is less vino involved).
It's a really fun one to do with kiddos. A double decker electric tram, it has all the airs and old-fashioned graces of travel from another time, the so-called 'Golden Age of travel'. We started off on the bottom floor, whose wide-open sides make you feel close to the action as you – I want to say whizz, but it's slower than that – meander through three miles of beautiful countryside, along the Axe Valley.
There's a mid-way stop at Colyford, where you'll find a pub, can get off to visit the village or walk along the river to Colyton, or stay on board, spotting dinosaurs all the way to Colyton. At the station there's a kids' playground to entertain the little'uns while you wait for a return tram (roughly every 20 minutes). I highly recommend travelling on the top deck – reached via an extremely narrow flight of steps, it's surprisingly warmer up there in the sunshine even on a blowy day then it is in the shadowed lower carriage.
There's an ingenious way of flipping the wooden seats so you can face who you choose and of course, you've got the panoramic views. Look out for the pink tram – by far the cutest and most appealing to my neon-loving nature. They also do a Polar Express tram at Christmas and a special pirate tram!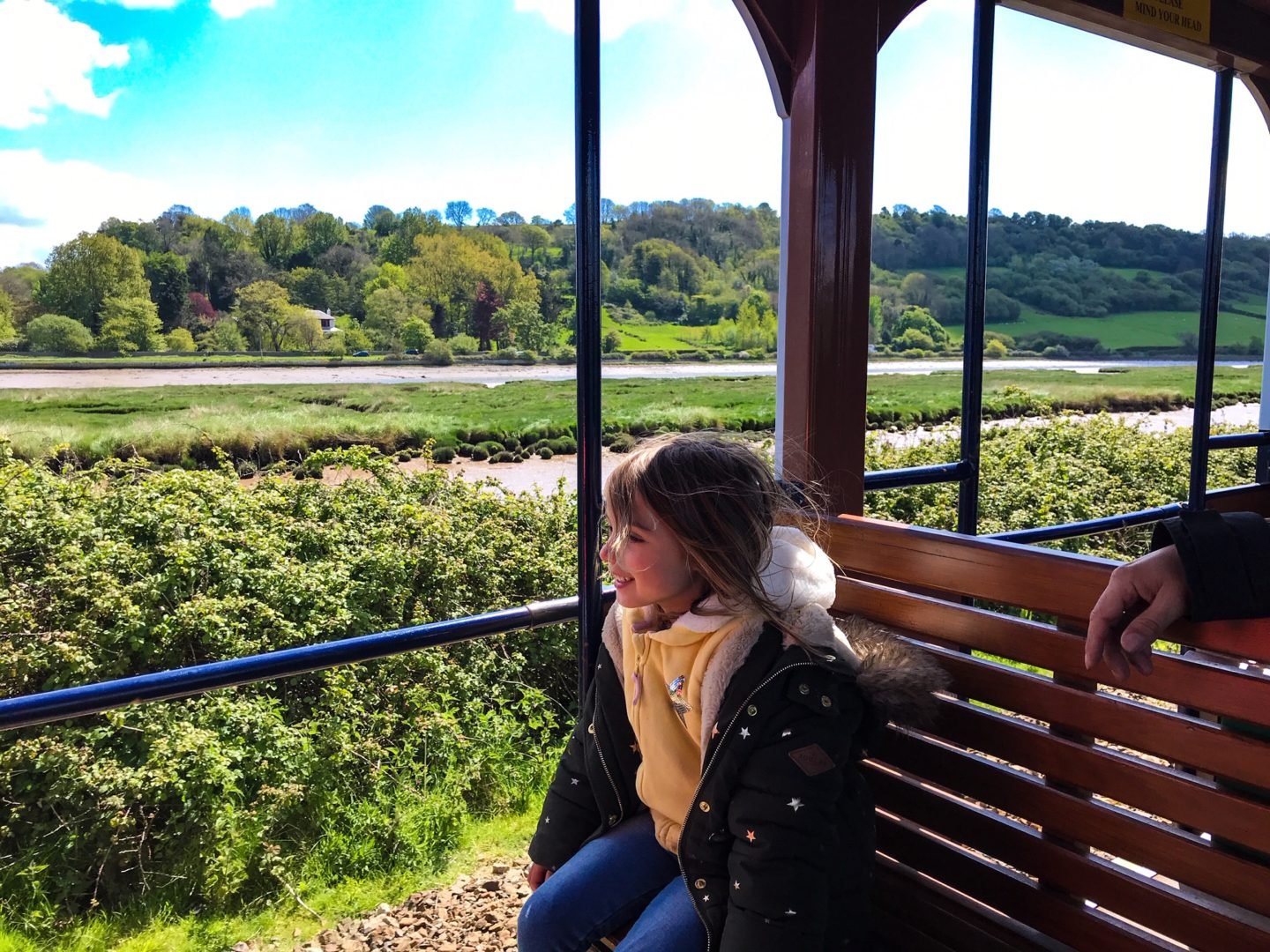 On the way to Seaton, our well-trained, eagle eyes spotted the sign for Lyme Bay Winery and Distillery. Located inside a fashionably-clad warehouse at the end of Shute village. Stop by to pick up some locally-crafted goodies from the shop – we went for Lyme Bay white wine (Sandbar) and the gin, of course to enjoy back at our tent that evening.
Day 2: Morning – Lyme Regis
Lyme's wiggling, hilly roads are packed with cafes, little seaside shops and the odd pub. If the sun is shining, get there early to find parking as this quaint English coastal town definitely knows how to pull the crowds on a warm day. As well as the shops, one of the big draws is the sandy beach – located near the Harbour wall.
Don't worry if you forget your beach kit, there's plenty of places to pick up a bucket and spade. A popular paddle boarding spot, you'll see plenty of people pumping up their boards to take them for a spin on a flat, waveless ocean. If you'd rather stay on dry land, the wall makes a nice stroll out to sea to look back at the town and boats.
Where to eat in Lyme Regis
Food-wise there are a number of places I'd suggest. For sea views, al fresco eating (indoor is also an option) and sun on your face, The Lyme Bay to the left of the big anchor on the seafront serves up a banging brunch. The Eggs Royale with chunky salmon and Maple syrup bacon pancakes were lip-smackingly good.
The Town Mill Bakery is a breakfast experience. Long tables are laid out for customers to sit down in a friendly environment, and it's all about tucking in. Big pots of jam and butter sit on the tables so you can dig in and get lathering those slices of toast, pastries and the like – kids love it.
We didn't get to nibble their wares during this visit, but my sights for next time are highly set on HIX Oyster and Fish House which overlooks the sandier end of Lyme beach from its hillside perch. With big windows making the most of the view, an outside decking area with tables to tuck into fresh seafood on, and rocking a general rustic-chic seaside vibe, it looks like a special spot for lunch.
Evening: Local pub – Tuckers Arms
Walk or drive the mile to the pretty local village pub, The Tuckers Arms, all thatched, beamed and olde worlde inside, it ticks all the boxes for country pub. We didn't make it this time around, but it's definitely on the list for next time!
Day 3: Things to do in East Devon
Morning: Fossil hunting in Charmouth
I remember the excitement of fossil hunting along the Jurassic Coast as a kid and it's amazing to think that people still regularly discover the ancient markings of creatures that existed so many millions of years ago. After a (very average) bacon and sausage bap at the cafe next to Charmouth beach, we headed off in search of fossils of our own. "Your eyes are your best tool" we were told, and scanned the pebbles along the beach for signs of something dinosaur-ish…with success! Albeit it was just a tiny imprint of an ammonite, but still we were happy.
To take a look at some seriously impressive finds, check out Charmouth Fossils shops near the car park on the beach; a treasure trove of glittering gemstones, magnificent dino remains, crystals and the like, it took everything within our power to persuade our kiddos they didn't need to buy everything in the shop.
Luckily, to distract them, just above, on the first floor, is the family-friendly Charmouth Heritage Coast Centre, where you can uncover fossils hiding in sand, view Attenborough's Sea Dragon, have a go at various fossil-related activities and show your beach findings to experts to analyse.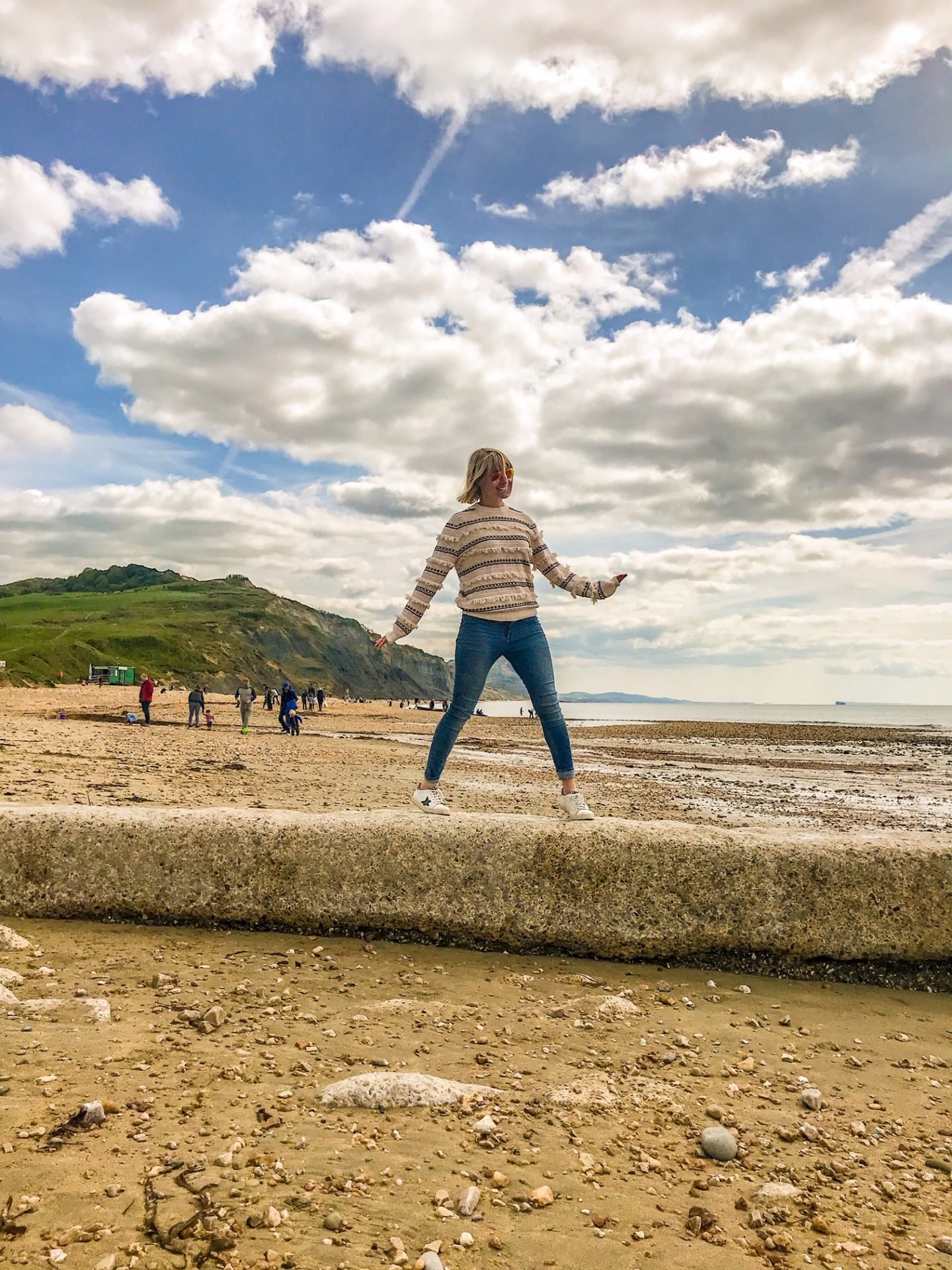 Read more:
Family-friendly days out in Dorset (near Poole)
Glamping in Devon: Andrewshayes Holiday Park