If ever a campsite was to exceed expectations, Camping le Capeyrou is it. I find it hard to believe that we could ever find a more magical campsite than this one in Beynac, France. Sitting beneath the cliff-top sentinel Château de Beynac, next to one of the prettiest medieval villages in the country, is one of the most brilliant, family-friendly campsites on the Dordogne river.
After visiting this region of France, my love for all things French was reignited. Not that my France-loving flame wasn't burning happily before, but this particular region truly throws at you everything that is so quintessentially, wonderfully French that I defy you to leave without being transformed into a Francophile. In fact this place is SO good, we've now visited twice and wouldn't hesitate to go again.
*Disclaimer: This article contains some affiliate links, any purchases you make are unaffected but I may receive a small commission at no extra cost to you to help me keep this blog running – thanks. 
Watch what we got up to while camping in the Dordogne…
Beynac: Campsites on the Dordogne river
The Chateau-rich lands of the Dordogne are brimming with medieval market towns, ancient UNESCO world heritage sites, underground caves and entire villages built seamlessly into honey-coloured rock. To say there is tons to explore is some what of an understatement. The scenery, plenty of it unspoilt or unchanged for centuries, is vast and extremely picturesque, alive with turrets, flags, ramparts and the elaborate parapets of beautiful stone castles. Running through its heart is the Dordogne river, where holidaymakers flock in the summer months to cruise down its shallow waters. The food is excellent, heavily duck-based and the wine is great, add to this an array of family-friendly activities that can be done rain or shine and you've got yourself one hell of a holiday. 
If you're hoping to holiday in the region and are looking for campsites on the Dordogne river, Camping le Capeyrou, in Beynac-et-Cazenac, makes a perfectly-positioned, kid-friendly, scenic base. Here's my review of our time at the campsite and I cannot sing its praises enough!
Our pitch
The campsite is in a government-designated protected area, so there are only 120 tent pitches on the five hectare area of flat land, as well as a handful of Eurocamp safari tents. I used to think that the best pitches were dotted alongside the river banks, and don't get me wrong, they have fabulous views, BUT on our second visit we were placed opposite the kids' playground, which I now think is prime pitch surface area! It meant we could sit and have a drink outside our tent while the kids played for hours, making friends and buzzing back and forth to us. I'd recommend the pitches within the vicinity of the play park over all others for their adult-time-giving potential!
It's a grassy, pretty campsite, and pitches are separated by bushes. Our pitch was enormous, with trees to rig up a hammock and views of the castle – we were very happy. There are plenty of trees to make it feel leafy, although there are certain ones which will make your tent a little sappy on the top – nothing too serious! The majority of camping pitches are standard (around 80 of them) and measure between 100 to 110 m². You can opt for an electric point which can be between 2-20 metres distance from your pitch and water access points are available all over the site. It's possible to rent fridge space too if you want to save space transporting one abroad.
The campsite is returned to year-on-year by families who spread the word about its greatness afterwards because as campsites on the Dordogne river go with young kids, it is hard to find fault with this place. It therefore fills up quickly in summer, so you'll need to book well in advance to nab a pitch during the July/August peak season.  An extra bonus is that there are no fixed arrival days, so you can book your dates to suit.
As a family-oriented site, it's also quiet at night, although during our stay, the campsite was having problems with nearby travellers blaring music until 5am, however, this was sorted by a police intervention and it quickly returned to being its peaceful self. Come morning you may hear the tell-tale sounds of hot air balloons passing over!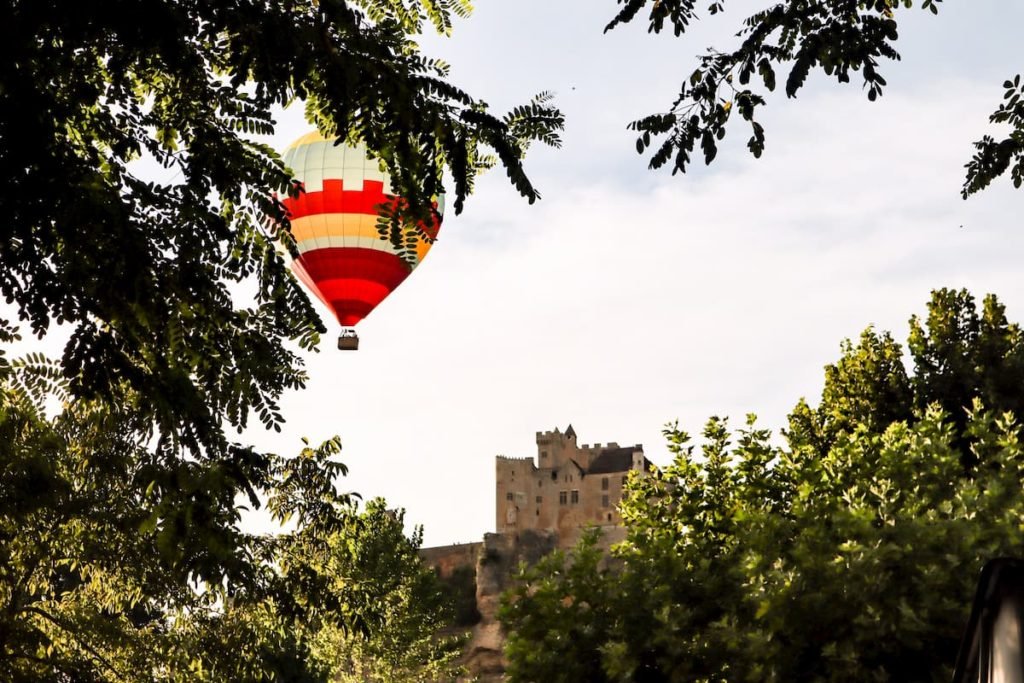 Camping le Capeyrou: facilities for families
The campsite has a lovely, good-size, heated swimming pool (men's bathing shorts allowed!) with loungers dotted around the edge and a toddler pool with water jets on the side. It's also got a spectacular view of the castle – a  which During our stay it tended to empty out around lunchtime while families went off in search of sustenance and then start gathering people and dive-bombing kids in the afternoon. 
There's also a volleyball court, table tennis tables, A kids' playground with a sandpit for 0-6 year olds in the centre of the campsite, as well as a trampoline and lovely football pitch field edged by cornfields at one end of the campsite. Near the bar, you'll find a spider climbing frame, wooden Wendy house and toys for kids, which keeps them entertained while you test out a Happy Hour drink or two. 
There are two ablutions blocks on the campsite, a disabled/family bathroom and a baby bathroom and I think we queued once to use them. You'll also find a launderette with two washing machines (it costs €5 a wash), iron and ironing board.
*Click here to check availability at Camping le Capeyrou*
Eating at the campsite and nearby
The onsite bar is a characterful place with outside patio area (great for a sundowner or two). This is where you'll find the best WiFi (free) as well as games for children, occasional musical soiree during the peak summer season, plus a huge hearth which is lit during the off-season. Food vans – Thai, sushi, pizza, frites etc – rock up on different nights, which you can see timetabled on the wall and pick when would be a good evening not to cook! It's all delicious. There's also a little grocery store and a bakery for your morning baguettes and croissants (and plenty of delectable french treats), plus a butcher's just across the road from the campsite entrance. 
Other eateries nearby include La Terrasse des Chateaux, Auberge Lembert, Hostellerie Maleville (great for steak frites and salads right next to the Dordogne river), plus a number of snack places at the top near the Chateau de Beynac.
Don't miss Beynac's unbelievably romantic La Petite Tonnelle restaurant, on the higgledy-piggledy street that leads up to the village. Built into the actual rock, this is affordable fine dining with all the trimmings of olde worlde atmospheric French magic. There are tables inside the restaurant – all exposed rock and wooden beams, but in the balmy evening heat, the al fresco tables are the best. It's also walkable from the campsite so you can have a drink!
Things to do when staying at Camping le Capeyrou
Camping le Capeyrou is perfectly positioned in eye-poppingly scenic countryside. Despite its rural location, you're a short stroll along the river away from the magical medieval village of Beynac-et-Cazenac, which tumbles down the hillside to the water's edge from the castle at the top. Within Beynac's age-old walls, there are cobblestone alleys, turreted buildings, restaurants to discover and spectacular viewpoints to ponder. It's a real treat to have this on your doorstep and to be able to wander out to dinner. There is masses to do with kids in the area come rain or shine – we've been twice now and could return again and again before we managed to fit all the historic Chateaux, vintage theme parks, caves, heritage sites, picturesque towns, kayaking and climbing activities! Here's a few things that we got up to and highly recommend if you're staying at campsites on the Dordogne river.
Hire a canoe or kayak from Canoe Dordogne (ask at reception) and float back to the campsite on the Dordogne river. You can choose the length of the route you think you and your kids can manage (although bear in mind children need to be over 5 and able to swim to be eligible). 

Take an inflatable paddleboard, drive up to one of the kayak launch points further up the Dordogne river and then paddle back downstream to swap over. 
This area of the Dordogne is home to umpteen natural wonders, caverns, grottes, ancient paintings and troglodyte caves, both prehistoric and medieval. We visited Grotte de Domme (a 20-minute drive from the campsite) – although this was stifling busy in August. Some that might appeal most to kids are Le Gouffre de Padirac (about an hour away), which is entered via a giant sink hole and includes a magical underground river punting tour and Grotte de Rouffignac (50-minutes north), which offers a fun guided train ride to discover the prehistoric drawings and engravings that date back 13,000 years.
Visit a fairytale castle – there are oodles to choose from! Known as the valley of the five castles, there are 100 chateaux within a 30km radius of the campsite. The closest to the campsite are Château de Beynac – a medieval fortress within walking distance through the beautiful village of Beynac, Castelnaud la Chapelle – visible across the way from the far end of the campsite (also walkable or a 10-minute drive) sits atop one of France's most beautiful 12th century villages (go early to try avoid the crowds) and Château des Milandes, on the other side of the Dordogne river from the campsite, is a Renaissance castle with a showbiz history.
Sample the regional specialities of the Dordogne at a local market.

What better than an early morning meander along the stalls, sampling potent

fromage de chèvre

(the goatier the better in my opinion),

vin rosé

and fragrant strawberries? Sarlat's historic market, Beynac and Roque Gageac's markets are all worth a gander.

If you only eat out once, eat at La Petite Tonnelle – a hugely atmospheric restaurant in the village of Beynac. Their

 

crème brûlée

is to die for.

Wander through the spectacular Jardins de Marqueyssac. Just a couple of km away from the campsite, these gardens boast wildly impressive views of the Dordogne Valley and tons of stuff for kids (think rock climbing, playgrounds, a giant spider net etc)
Prepare for the most booming of fireworks (the valley seems to make them extra loud) which make a breath-taking backdrop to the castle if you are in town on 15 August – Assumption of Mary day in France.

Visit La Roque-Gageac, YET ANOTHER of the prettiest villages in France.

Sitting on the banks of the Dordogne River with a steep cliff as a backdrop to its traditional Perigord rooftops, explorers will love the troglodyte fort snuggled in the cliffs 40 metres above and exotic garden vibes.
Take a trip to the medieval village of Rocamadour (an hour away) – it's quite a sight to behold. Clinging to the cliffside along the Alzou canyon, its buildings seem to blend seamlessly into the rock.  

Explore Sarlat's impeccably well-conserved streets – one of France's best examples of a 14th century town. Don't miss the daily indoor market housed inside converted Church Sainte Marie.

Make like Phileas Fogg and fly in a hot air balloon over the Dordogne Valley.  I guarantee it will be one of the most special experiences of your life.
For even more ideas on things to do in the Dordogne with kids, take a look at the Travelynn Family's suggestions here – they love the region as much as we do and have returned many times with their two boys.
*Click here to check availability at Camping le Capeyrou*
Read more:
Trip to France and Spain: our French road trip itinerary
Camping in South West France: Review: Camping Cote d'Argent
Travelling with toddlers: road trip to France
Pin it for later: