If you're looking for somewhere to go camping in South West France, somewhere close to the beach and a peaceful lake, with traffic-free cycle paths and little French beach town, then check out Cote d'Argent campsite in Hourtin Plage.
The first thing that hits you on arrival at Camping Cote d'Argent is the smell of the pine trees. Add to that several citronella candles (entirely superfluous here – there appear to be no mosquitoes or pesky insects), some frying lardons, chirruping crickets, and you've got yourself the makings of a camping holiday on France's Atlantic coast, that will stick in your sensory memory for years to come.
These were the memories from my youth – spent camping multiple times in South West France – that came barrelling back into my brain like a welcome reunion with an old friend. It was the first stop from our French road trip itinerary, and I really hope it will stir some nostalgia for my kids in year to come. Here's my review of this great family campsite in South West France, Camping Cote d'Argent.
*Disclaimer: This article contains some affiliate links, any purchases you make are unaffected but I may receive a small commission at no extra cost to you to help me keep this blog running – thanks.
Camping in South West France: Hourtin Plage
Cote d'argent translated literally means, 'the silver coast', and it refers to the 200km-long stretch of soft, sandy coastline in South West France. Hourtin Plage, in the Aquitaine region, is a popular holiday destination in summer thanks to its seemingly-endless stretch of sandy dune-guarded coastline that lures surfers and body boarders. Unlike bigger surfy towns, this small-scale, family-friendly town has a really inclusive, welcoming vibe, with a splattering of surf-minded shops to scout out and a handful of restaurants.
The surf here is powerful and lifeguards fiercely guard the safe bathing areas to prevent the current getting the better of swimmers. When the tide is high, there's a bit of a 'shore dump' experience, but when it's low, there are easier places to paddle with little ones. If you're careful though, there's no reason why you can't enjoy jumping the waves with young kids and there are two surf schools to enrol with should you need more expert advice on learning the ways of the wave. Although, be aware, you do need to book into these in advance if you want to take advantage of these.
Amid the shady pine forests there are also vast lakes with sandy shores and calmer, shallow waters that appeal to paddleboarding folk, families with younger kids and lilo lollers, plus miles and miles of excellently-maintained, mostly-flat cycle paths to satisfy both adventure-seekers and beach bums alike.
Mixing up our days between lake, ocean and forest is what made our stay at Hourtin Plage so enjoyable. Located an easy 300m stroll from the Atlantic coast and just a short 4km drive (or cycle) to the lake, our site, Camping Cote d'Argent, made the perfect base. It is busy in August, but we never had trouble finding a (free) parking space and could easily have stayed here much longer, whiling away the days digging ocean-defying sand cars, wallowing in the warm lake waters and watching the sun set over the sea.
The campsite – Camping Cote d'Argent
A five star campsite that also features on the Eurocamp portfolio, Camping Cote d'Argent is a fairly large site that is readily geared up for families with kids of all ages, although I think slightly older children have it made here. Camping as one large group (my parents joined us in their own tent for this stint), we had a huge pitch and definitely lucked out by being placed in the far corner of the campsite, next to the fence which was overlooked by nothing but pine trees on one side, making it feel private and close to nature.
The pitch was also slightly raised, meaning the day it rained, we avoided the flooding fate of other campers. Although it was a slight trek to the toilet block, I'd take that over some of the roadside pitches that were more squeezed in, surrounded by other campers and much less private.
The ground underneath ours was sandy and pine needle-y, so do be prepared to gather lots of sand in your tent, particularly with kiddos who are oblivious to to sand-tent-shoe-etiquette! We had opted for power, but did need to borrow a long extension lead from reception on arrival to reach the nearest electrical point.
There are several ablution blocks which are kept spotlessly clean all day long by a group of young staff. Remember to take a toilet roll and soap though as there is none in any of the blocks though! Despite the hefty number of people on the site, we never once had to queue for a toilet or shower. There are also token-operated washing machines (€5 from reception), cool box hire and chemical toilet waste disposal toilets (after witnessing an upsetting incident involving somebody mistaking these for a kids' bath, I reiterate this here – THERE ARE NO CHILDRENS' TUBS HERE!.
We stayed here for one week (if you don't want to do Saturday to Saturday it's no problem, just let them know in the comments section on the booking form), but we met others who were here for a much longer haul and loving the laid-back site.
Family camping amenities at Camping Cote d'Argent
On arrival, guests are given a wristband to show they belong to the site, a 'bag for life' for shopping and a little welcome pack (open it quickly as there is a chocolate-covered marshmallow in side). You're also asked to pay a €20 deposit for the car barrier card, which is given back on its safe return.
The swimming pool complex was like a giant waterpark! There are four pools altogether, including a 'lazy river' (non-flowing) style pool for toddlers, water slides for big kids (over 104cm) and smaller ones, plus 'Aqua'Pirates' – a splash park where every few minutes a giant pirate head would dowse you in one giant slosh of water (my kids would go nowhere near this).
There are lifeguards on duty here, but do be aware, men must wear good ol' budgie smugglers to be allowed entry to the pools. You can buy some in town, but they are expensive.
There's also a kids' playground just opposite the pool, volley ball courts, and a kids' club, although children have to be over six years old to go to this so we weren't able to investigate. There are also a number of activities which take place from Monday to Friday, including fitness, tennis and archery, ping pong tables, snooker tables and evening shows which take a different theme each night and start at 10pm.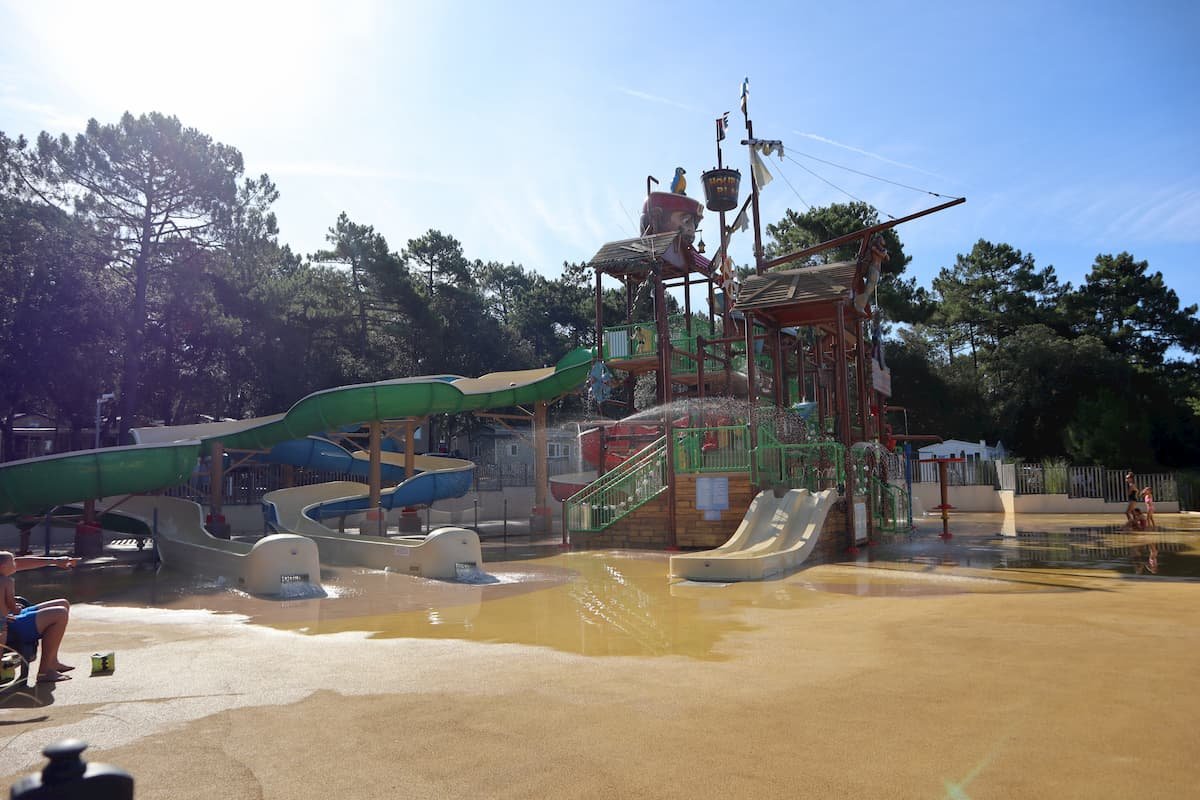 Food and restaurants near the campsite
As well as a bar, you'll find a restaurant which does take-away meals and pizzas, plus a mini grocery store onsite which sells fresh croissants and baguettes in the mornings and a wine cellar should you need any last minute vino. There is also a fruit and veg stall (La Tomate Surfeuse) across the road and a number of restaurants specialising in moules frites and other French delights just a short walk away in Hourtin Plage.
For bigger shopping trips, that work out a bit cheaper, try the Aldi in nearby Hourtin (about 10-minute drive).
Wifi is available onsite for a fee, but we just used the data on our phones for internet surfing.
Things to do near Hourtin Plage
It's unlikely you'll struggle for things to do in the area, there is tons for families – from tearing up the surf on the nearby beaches, floating in the warm waters of France's largest freshwater lake, exploring by bicycle or visiting a nearby vineyard and its Chateau (there's one which looks after the kids while you go wine tasting!). Here are a few tried and tested ideas for things to do in the area:
Wander into town for

moules frites

and a beer.

Visit the evening market (Mondays) to pick up local cheeses, saucissons and artisanal crafts or get little ones' hair braided.

Float in or on top of the warm, shallow waters of Lac d'Hourtin, a 10-minute drive away.

Hire a bike (and a kids' trailer) in Hourtin Plage and wind and wend your way along the miles of flat cycle paths through the pine trees.

Rent a surfboard from one of the surf shops in Hourtin Plage and ride some gnarly waves.

Pack a sundowner picnic and watch the sun set with a G&T (or a Pineau if you're going local) while the kids run free on the beach.

Day trip to Bordeaux to soak up some culture.
Hit up a nearby Chateau for a wine tour.
Camping in South West France: final thoughts
The Cote d'Argent campsite is a brilliant place to go camping in South West France and an excellent base for exploring this part of the Atlantic Coast. Outdoor-loving families will love the range of activities on offer and those who like to bask on beaches have huge stretches of coastline to choose from. The campsite is brilliantly equipped for families, although I would have liked some of the onsite 'animations' to take place slightly earlier as 10pm was a bit too late for our little ones. When you're booking, ideally try and get an outer ring pitch for extra privacy as some of the other ones looked squashed and close to the road.
You can book directly through their website, or click here to Book Now With Eurocamp
.
Pin it for later: