The first day of the Easter holidays was also the grand opening of the Big Bear Sculpture Trail at Wild Place Project, which runs from 6 April – 6 September. 20 six foot tall, brightly-coloured artist-painted bears have been dotted around the vast grounds of the wildlife attraction, which sits just moments off junction 17 of the M5 just outside Bristol.
*Disclaimer: Wild Place gifted me the tickets in exchange for a review, all views are my own.
Why bears? Well, Wild Place are gearing up for a new exhibit, Bear Wood, which is due to open in July 2019 and will see European brown bears, lynx, wolves and wolverine returned to UK woodland for the first time in hundreds of years. Visitors to Bear Wood will be able to walk through the exhibit on a raised walkway through the trees. 180-degree, floor-to-ceiling glass viewing areas and 'dens' will give punters an up-close view of the bears living alongside each other – sounds super exciting!
As huge fans of Wild Place Bristol and its many amazing animals – wolves, cheetahs, giraffes, zebras, eland, geladas, okapi, lemurs and more (!) – my daughters and I (aged 5 and 2) leapt at the chance to visit Wild Place and discover the four mini bear trails.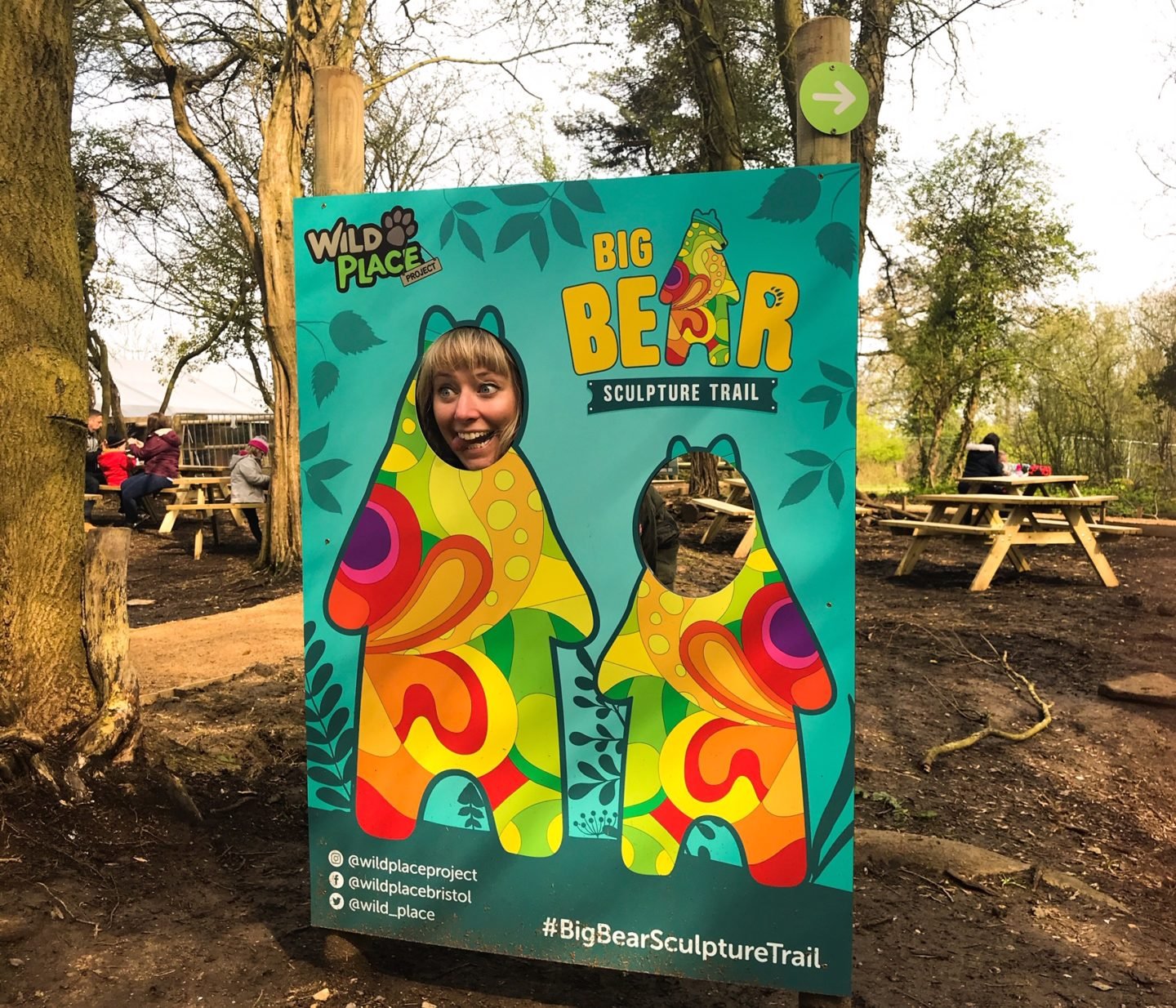 It always amazes me how something so simple as an image, or small task can turn reluctant walking kids into phenomenal hikers. And the Big Bear Sculpture Trail was no exception, my two girls were totally into hunting the coloured animals and squealed with delight whenever they spotted one.
The Bears, painted in a variety of guises by artists from Bristol and the UK had been given names – some pun-tastic, others inspired by the graphics emblazoned across their body. We all had favourites – mine was 'Bruin Bear' designed by tattooist Megan Heather Evans, which was inspired by the myths of Bristol – from the river-dwelling beast, alien sightings, haunted cinemas and giants fightings (the latter resulting in the creation of the Avon Gorge). My 2-year old loved Sunset Bear, which celebrates Bristol, its people, and the Great British summer. While my 5-year old's preferred bear was the funky Penny, by Mr Penfold based on Memphis Style – a type of 80s Pop Art.
There were so many awesome designs to discover, from a 'Builder Bear', located near the ongoing Bear Wood project work (along with some builders' helmets to style on your own noggin), to 'Bear'get our Ninja On', painted by Bristol-based CBBC Art Ninja presenter, Ricky Martin, as well as abstract and storytelling bears.
As you bear hunt your way around the park, there's tons to see, do, and clamber on, real-life animals to spot and activities to complete. The Barefoot Trail is by far my kids' most favourite area – where they get to whip their shoes and socks off and trot around a track with all sorts of different materials for their tootsies to feel underfoot. And, in their opinion, the muckier the better! *Note to self for next time – bring a towel, and don't put them in tights! They scampered round straw, pebbles, puddles, mud, balance beams and tyres over and over again, and would have spent hours there if I hadn't lured them away with the promise of an ice cream in Tower Meadow, just as the sun came out – glorious.
The Lemur Walkthrough was also particularly entertaining this time around as the lemurs seemed to be in a particularly playful mood, leaping and boinging in front of our faces. It's crazy how close you can get to these gentle and merry little creatures.
The giraffes are always spectacular, and the cheetahs and wolves were both easy to spot in their habitats, which are all themed around the countries where the animals hail from – for example Discover Madagascar comes complete with a Madagascan style school room and fruit stall. There's also a walled garden full of exotic birds and meerkats to explore, a huge meadow to run wild in, a number of play areas and an indoor Fun Fort (handy if the weather isn't playing ball).
If your kids are old enough – minimum age is 8 – you can challenge them to an adrenalin-pumping Leap of Faith, an outdoor climbing adventure sure to test your nerves. The course takes around an hour to complete and includes a giant 25ft swing.
Hunting bears is a hunger-inducing exercise, so we packed a picnic to nibble on the way round, but there was also barbecued burgers and veggie hot dogs for sale at one of the kiosks, as well as sandwiches and light bites at the Courtyard Cafe, if you wanted to pitch up and eat onsite.
Final thoughts on Big Bear Sculpture Trail at Wild Place Bristol
If you're after exciting, outdoorsy family entertainment with tons of green space, buggy-friendly paths, amazing wildlife to spot and activities galore, then this is going to be right up your street.
The Big Bear Sculpture Trail will be at Wild Place Project from April 6 until September 1. And don't forget to upload your piccies of your favourite bear on Facebook, Twitter or Instagram, using the hashtag #BigBearSculptureTrail!
Read more:
Just off the motorway: family-friendly M5 stop offs near Bristol
What to see in Bristol with kids: 25 family-friendly attractions
Easy family-friendly autumn walks in Bristol
Pin it for later: