I knew a little about Snowdonia before we booked a long weekend there at the end of February half term. I'd heard tales of its beauty, its ancient rocks, extinct volcanoes rising out of the sea and the rare wildlife that lives in its secret valleys. I'd listened to stories of the people that live there, holders of the key to this mountainous land and unwavering in their duty to protect one of Britain's most spectacular national parks. But I'm not sure I was quite prepared for the rugged, breath-taking beauty of this area in uncharacteristically warm February weather – it totally blew us away! Exploring from our cosy Snowdonia lodge, Y Felin, a gorgeous, remote mill in rural Wales, we lived out our wildest country living dreams. If you're looking for a short break to Snowdonia, you will not be disappointed here!
*Disclaimer: This article contains some affiliate links, any purchases you make are unaffected but I may receive a small commission at no extra cost to you to help me keep this blog running – thanks. 
Cosy Snowdonia lodge holiday
If you can, drive in daylight to Y Felin, because the journey to this Snowdonia lodge is one hell of a photogenic road trip. We drove from Bristol, and I was blown away by how soon we hit rolling hills and open countryside on the other side of the Severn Bridge.
Those magnificent hills half silhouetted in darkness, half glowing orange in the afternoon sun, loomed alongside our car all the way to our destination in the southern part of Snowdonia National Park, finishing with a final fifteen minute flourish of wow factor alongside Tal-y-llyn lake.
Y Felin means 'mill' in Welsh and this bucolic water mill dates back to the 1600s. Snuggled between impossibly steep hills in 1200 acres of farmland – the house sits at the bottom of a dramatic glacial valley, slap bang next to the rushing Dysynni river.
Stepping out of the car, the first things that spark the senses are the sound of the river – it's almost deafening but peaceful at the same time – quickly followed by the freshness of the air and its mossy scent. Kids do need to be watched near the river, it's shallow but very fast flowing, with slippery stones. The lodge's water actually comes from their very own mountain spring and – for extra safety – goes through a purification process in the Storage Room.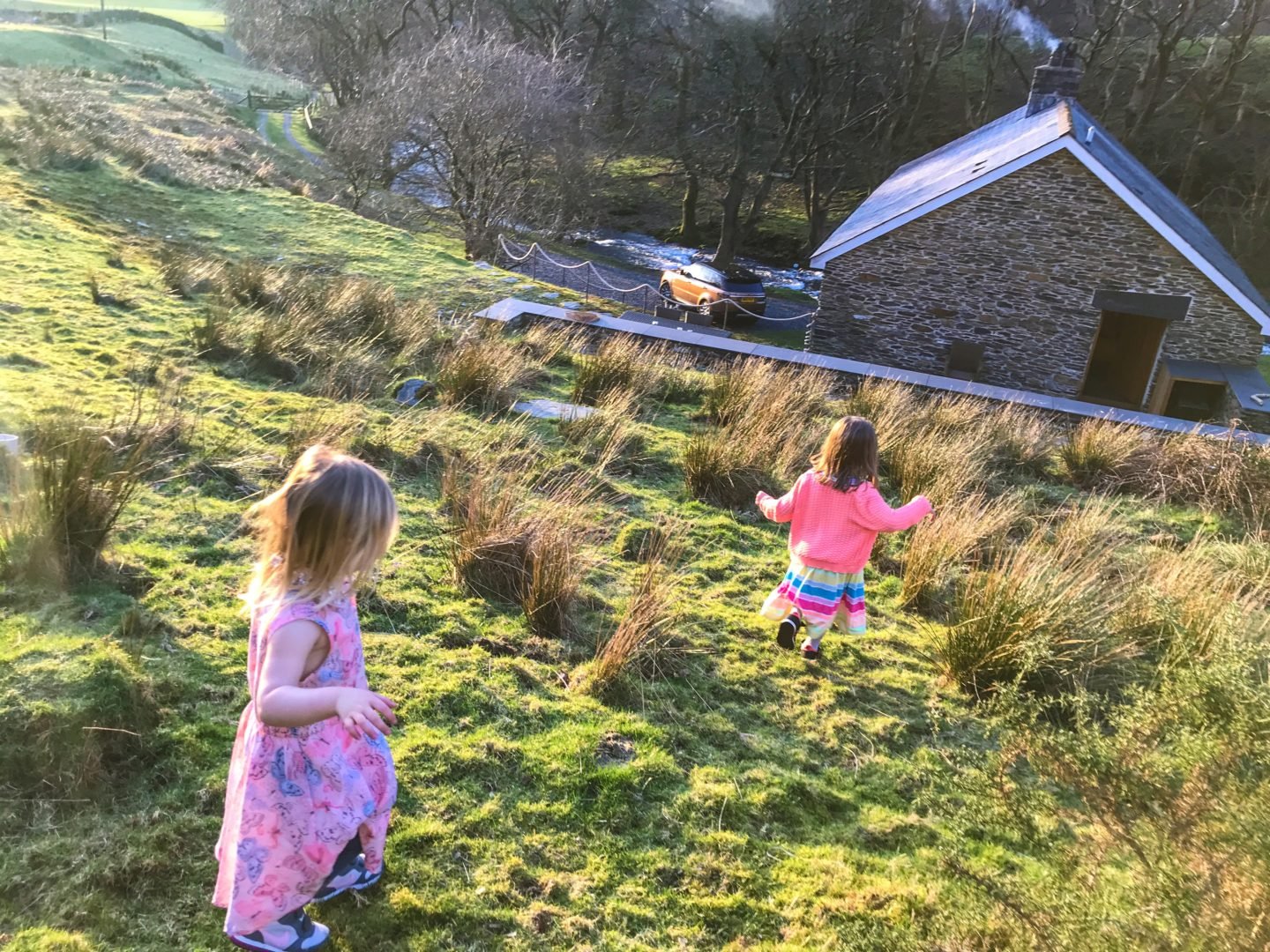 Inside cosy Snowdonia lodge, Y Felin
Inside, Y Felin is an upside down house (which delighted the kids no end) renovated tastefully using local oak, slate and stone. Downstairs there are three bedrooms – a kids room with two bunk beds, a double (with a cot provided by the owners on request) and a master bedroom with its own log burner (lighting it at night and falling asleep to the flickering flames and the sound of the stream was such a treat) and a bathroom – perfect for our two families of four.
Upstairs the lodge's big windows make the most of the surrounding panoramic views and neighbouring river, though you'll need to be sitting to see the tops of the hills as they're just below eye-level. That's no hard task though, there are three huge sofas on which you can soak up the scenery and get cosy next to the log burner (firewood from the farm is provided). There is further heating from an eco-friendly ground source pump.
The house is set up for good old fashioned family and friends time and there's no WiFi or TV, just a ton of games (Draughts, Backgammon, Chess, Monopoly, Cluedo, jigsaw puzzles, lego and more), books, maps and guides plus a music system with iPod docking system (the old kind, so you'll need an adapter if you have a new one…although we did leave ours there so you might be ok!) and a CD player.
Click here to check availability and book this cosy Snowdonia lodge
The kitchen has a big dining table and is very well stocked and you'll find real coffee, sugar, tea, salt, pepper, olive oil, balsamic vinegar, spices and ingredients for the bread maker (amazing), which you are free to use. There was also a lovely lemon cake was waiting for us in the fridge when we arrived, a welcoming little touch.
Food – high quality and sustainable – is very important to the owners and before you arrive, they'll give you plenty of information about how to order award-winning organic meat online, which can be delivered frozen, direct from Coombe Farm (we went for nitrate free bacon and four juicy steaks). You can also phone through an order (including fresh local fish, meat and bread) to the EuroSpar in Dolgellau, who are making a big effort to source local goods.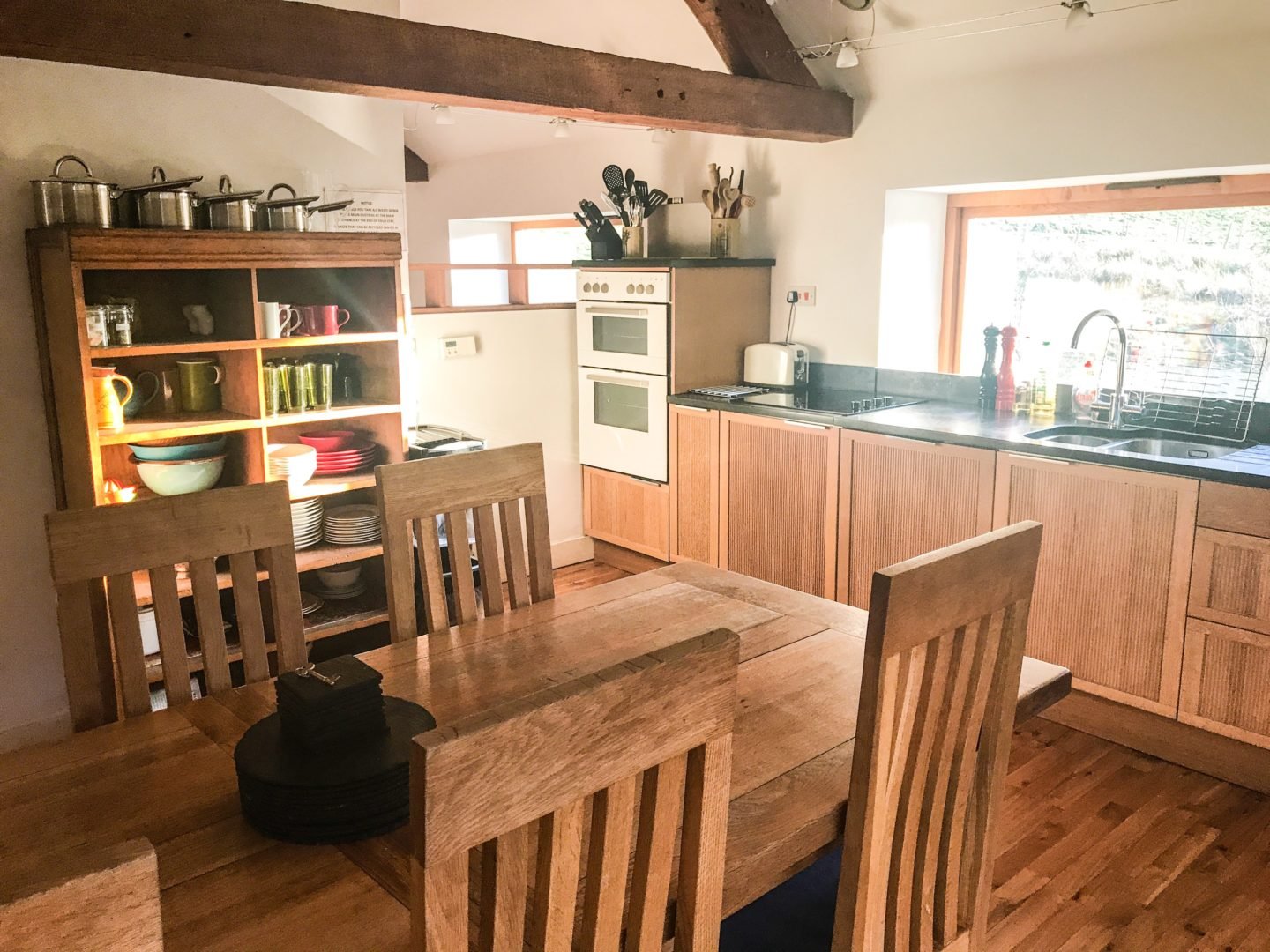 A door separates the open-plan living area and the end of the house with it's handy little boots area and another gigantic, fabulous bathroom and wet-room-style shower with it's own eye-level views to gaze over while you scrub. From here you can also exit onto your very own idyllic patio area beneath the dizzying Craig Coch slope, overlooking the hilly valley and stream one way, stone walls, farm gates and fields full of sheep the other. In fact the nearby farm raises up to 1500 lambs from 1100 ewes, so don't be surprised if you get your very own sheepish visitor. A fire pit is also provided, so you can sit out until late and gaze up at the spectacular stars in the darkest of nights.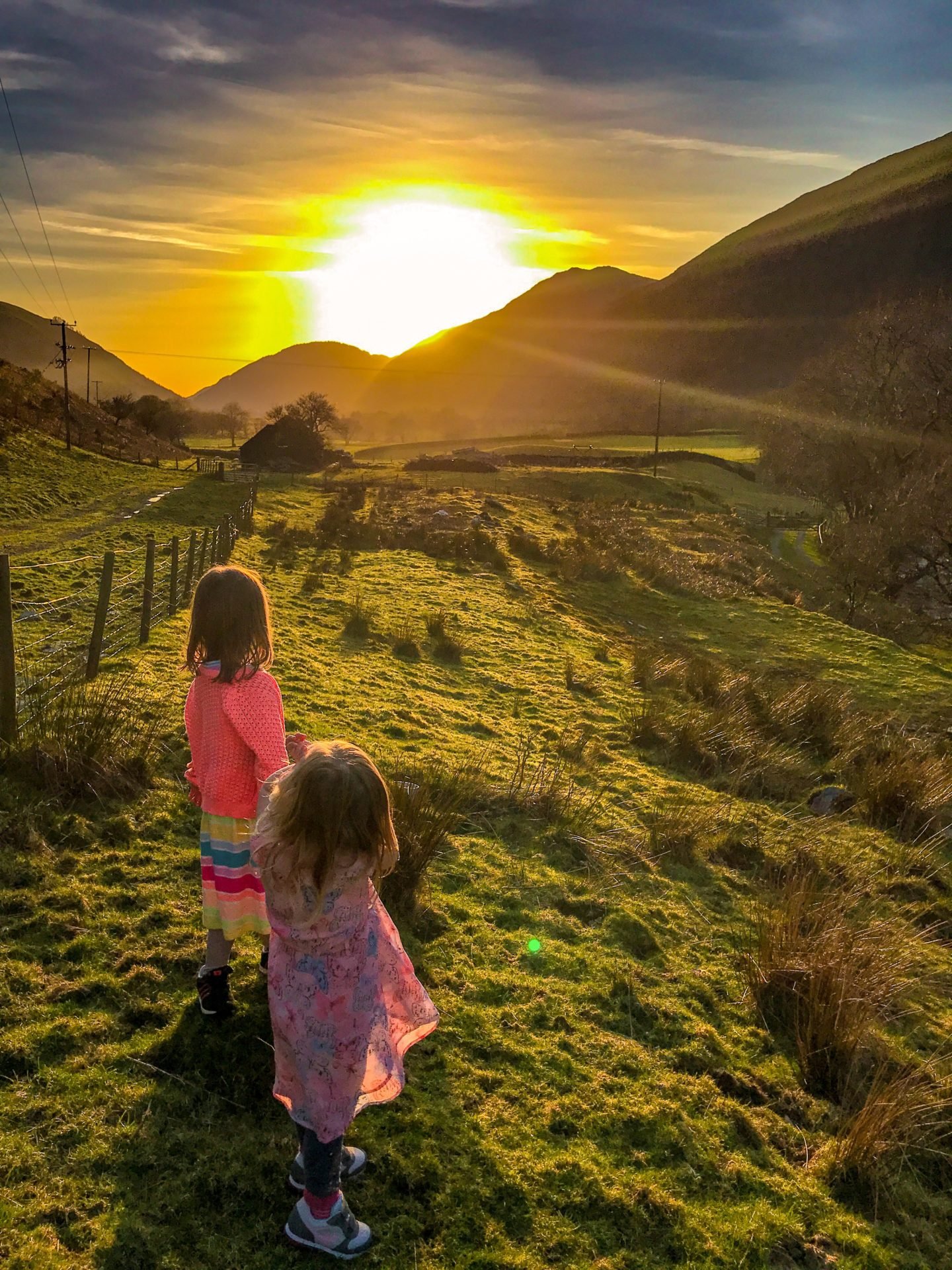 Things to do nearby
Get salty at the seaside, Aberdyfi beach is about 15 minutes drive away, looks out to distant hills and is huge, with sand dunes to play in, fish and chips on hand, plus yachting and golf if you're into that sort of thing.
Hit the pub – I highly recommend eating at Riverside in the pretty village of Pennal

between Machynlleth and Aberdyfi. It's another 15-minute drive away, on the way back to Y Felin.

Hop on the stupendously scenic Talyllyn Railway. Starting at Tywyn 9 miles away from Y Felin, the train runs the scenic route via Dolgoch falls to Abergynolwyn and Nant Gwernol.
Head out on a countryside hike from the cottage. The owners of Y Felin have thoughtfully left several maps with marked routes for walks that can be taken straight out of the back door of the holiday cottage.
Explore an ancient castle, Castell Y Bere, built by Llywelyn Fawr in the 1200s, was the last Welsh castle to fall to the English and is a 'demanding' walk away from Y Felin.
Get crafty at nearby Corris Craft Centre

(on the right of the A487 as you drive from Talyllyn to Machynlleth).

Explore underground slate caverns at King Arthur's Labyrinth, book online

 to avoid disappointment.
Click here for more information on the activities above! Things to do in Snowdonia National Park
Click here to check availability and book this cosy Snowdonia lodge
Click on one of the images below to save this Snowdonia lodge to your Pinterest board:
Read more:
Love the eco-friendly vibes of this place? You might like to read about Finca de Arrieta, a super green eco village in Lanzarote.
Discover more family-friendly eco places to stay, recommended by fellow family travel bloggers in this brilliant post by TraveLynn Family.