Stamford, Lincolnshire was my teenage stomping ground, but now when I return to visit my parents, it's things to do with kids that I seek out as opposed to trying to wheedle my way into nightclubs! As a former resident and regular returnee for the past 25 years, here are my top recommendations for things to do in Stamford, Lincolnshire and the surrounding area with kids…
My connection with Stamford, Lincolnshire
The exceptionally beautiful market town of Stamford in Lincolnshire is continually voted one of the best places to live in the country. Many of Stamford's streets have lain unchanged for centuries and there are a whopping 600 listed buildings. I moved to Stamford from Oxfordshire aged 12 and spent my formative years at Stamford High School. Perhaps not so appreciative of what this architecturally spectacular place had to offer as a teen – I was more interested in getting into a nightclub without I.D (didn't matter that it was Grade II* listed), or hanging around photogenic street corners with my buddies, rather than acknowledge the backdrop for period dramas like Middlemarch and Pride & Prejudice that lay behind us.
So now, rid of my teenage nonchalance and a mama myself, I have a completely different perspective on the town. I return regularly to visit my parents and what I find there to entertain the kids just keeps getting better. Where Woolworths and Wilkos once dominated the high street, trendy high-end fashion retailers, funky homeware shops and charismatic pubs and restaurants have sprung up in their place. Instead of late night drinking establishments and cheesy chips, there are characterful soft plays with great coffee. If you're unfamiliar with the area, or just passing by with youngsters in tow, here are my top recommendations for things to do with kids in and around Stamford.
Top things to do in Stamford, Lincolnshire with kids:
If you're going to have to do soft play, this is one of the least painful by far. Squeezed into a small industrial estate opposite Stamford's picturesque olde world buildings, The Yard is an indoor soft play centre and cafe dreamt up by two local mums. A big bright open kitchen area is adorned with scrumptious-looking sweet treats and yummy, healthy lunches are scrawled across the blackboard menu. The food is sourced from local suppliers and more inventive than your average soft play, giving it the feel of a trendy cafe with adult appeal. Children can run themselves ragged in the huge play structure, slides, ball pit and dangling apparatus. There's also a designated area for under 2s, push cars, guided craft sessions and lots of mama-friendly details like spare nappies, potties, a microwave, refillable squash, neon bins and kid lunches served in little shopping baskets. Brilliant.
If you're the owner of enthusiastic water babes, Stamford Leisure Pool is great for little fishes of all ages. For teeny tinies and less confident swimmers, there's a gently sloping shallow paddling area with water features which often has a few plastic toys floating around. For older kids, there's a large yellow water slide, wave machine and 25m swimming pool.
For a lovely view of Stamford's spire-filled skyline (the town has 11 churches altogether and a healthy amount of pubs too – 30 at the last count!), head to Stamford Meadows in the centre of town. Next to the River Welland, from here you can walk along the river bank and feed the ducks or take a picnic and make daisy chains on the grass. You're also a stone's throw from the atmospheric coaching inn, The George Hotel – a must visit for afternoon tea, ice cream or exquisite decorations and roaring log fires at Christmas. Virgin Balloon Flights occasionally launch from here, weather permitting, which are always wonderful to watch with kids.
If you're looking for things to do in Stamford with kids, no first-time visit is complete without a visit to the spectacular Burghley House, famous – amongst other things – for hosting the Burghley Horse Trials. The house also saved Stamford from any significant bombing during WWII since Hermann Goering, Commander-in-Chief of the Luftwaffe, had put dibs on it should Germany have invaded. Vast grounds surround the house, which are free to enter and walk in, however the magical Sculpture Garden is well worth a gander with children. Seek out hidden sculptures within the gorgeous gardens and picturesque lake, before ending up in the Garden of Surprises. Be sure to take wellies/crocs and a change of clothes for kids as there's lots of fountain splashing and water play to be done (and they're not allowed to paddle without them)! There's tons to explore, including a mirror maze, 'smoking cave' and interactive obelisks – it's baby sensory on a grand scale!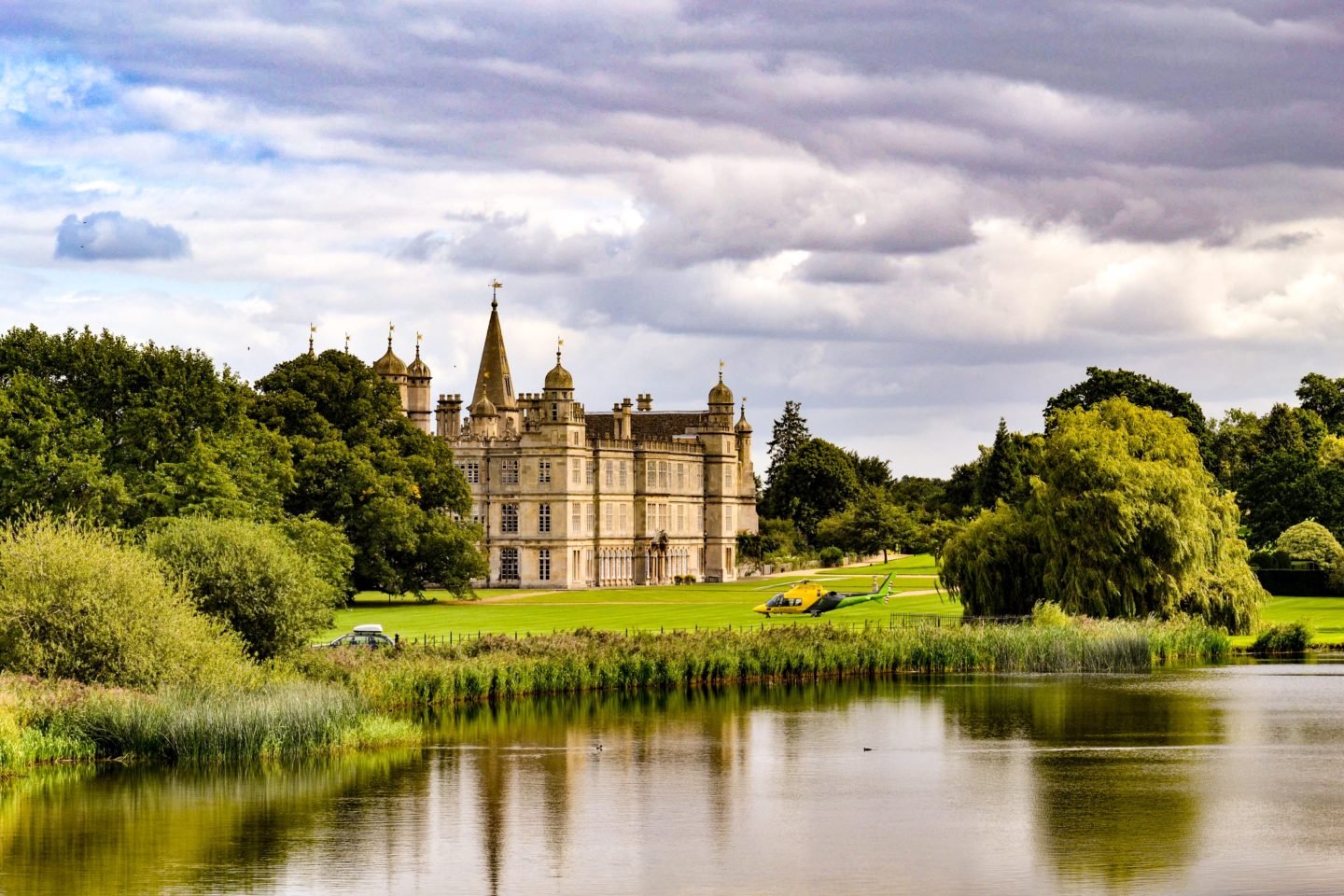 Hop on a heritage steam or diesel train as it choo choos alongside the beautiful River Nene, through the Ferry Meadows Country Park to Peterborough. The steam train Santa Specials are especially magical at Christmastime with kids – choose from standard carriage seats or go all out and book your own vintage compartment which includes a breakfast spread and a festive port. At other times of year there's a Wizard's Express for Harry Potter fans, Paddington drop-ins, pizza nights and lots more. It's also home to Thomas the Tank Engine!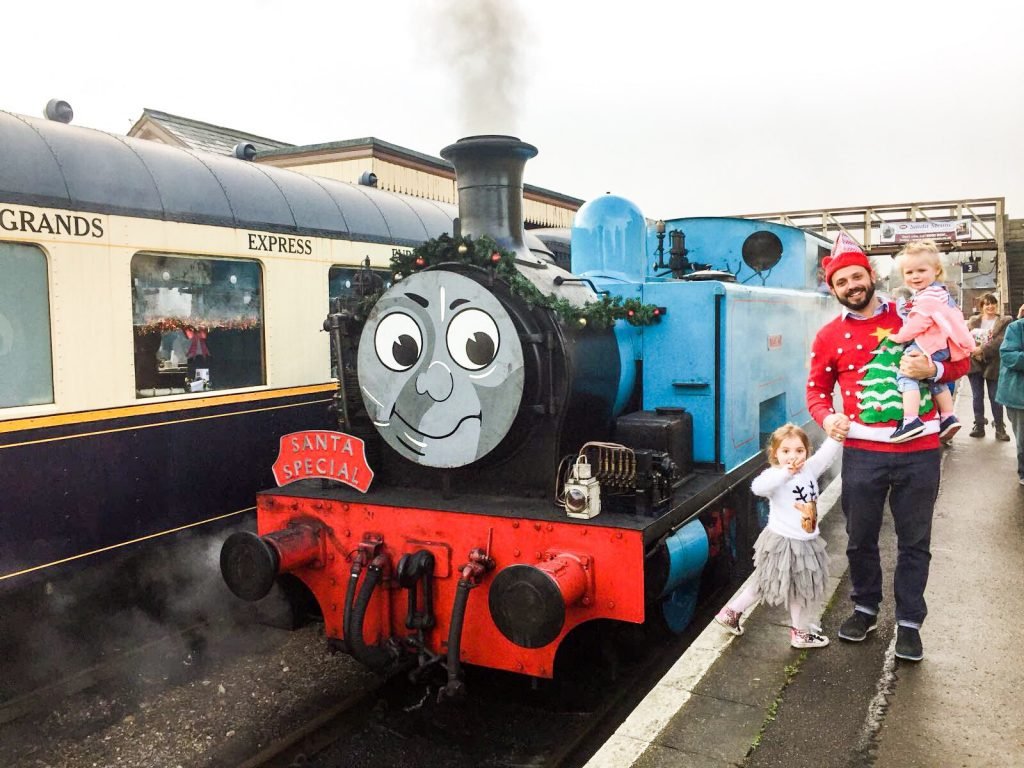 Have this lovely farm up your sleeve for a rainy day…or a hot, sunny one – it's great come rain or shine with kids. Outdoors you'll find an animal village (where you can stroke bunnies and guinea pigs), animal paddocks with goats, donkeys, alpacas, chickens and other farm animals as well as a mini maze, old farming equipment, kids play area and a blacksmith (lessons are available for the latter!) Stop for a picnic by the 18th century working watermill – the bridge over the stream here is perfect for 'Poohsticks' – or pick up some lunch in the onsite cafe. There are also tractor rides and an indoor soft play to well and truly wear little ones out! Or make a weekend of it and camp in the grounds, which overlook beautiful Cambridgeshire countryside (entrance to the farm is included if camping).
Laden yourselves with buggies, scooters, roller blades, buggies and bikes and head to Ferry Meadows in the heart of Nene Park for some wheel-friendly fun. There are lots of different routes to choose from, with children's' play areas to dip in and out of as you stroll round, plus lots of activities on water as well as land. There's a seasonal miniature train, beautiful lakes to sail on, water-sports, fishing and it's pooch-friendly if you have a four-legged friend in tow. Onsite parking is available if you're going by car, or combine with a Nene Valley Railway adventure – get off at Overton Station for Ferry Meadows.
Rutland's claim to fame is that it is the smallest county in the UK – only 18 miles long from north to south. It's also one of the prettiest. At its heart is a vast drinking water reservoir, Rutland water, a gorgeous spot for cycling, walking, boating, wildlife spotting and messing about on the water with the relatively new inflatable aqua park (for over 8s). For those with oodles of stamina and a baby seat or two, you can cycle around the entire reservoir (23 miles with the peninsula or 17 without) – don't worry if you don't have your own bikes, you can hire wheels for all the family at Normanton or Whitwell. If you'd rather see the reservoir in a slightly less strenuous way, hop aboard The Rutland Belle (running from April to October), which will take you on a cruise around the water with added commentary on the history of the lake.
Don't miss the 'Atlantis-esque' sunken church on your journey round, it's quite a sight. Or, take a leisurely wander, hit the man-made beach or look out for family drop in days with crafts, pond-dipping and mini beast hunting. Whatever you choose, it's a fantastic outdoorsy day out.
Older kids and adrenalin junkies should head to Tallington for all kinds of monkeying around. While most activities are a bit beyond the average toddler (water skiing, zorbing, stand up paddle boarding, raft building, skiing, snowboarding, windsurfing…the list goes on!), they do offer year-round tobogganing, as well as the festive 'tea and tobogganing with Santa' on the dry ski slope, a children's playground, climbing centre and a swimming pool. Mobile homes are available for hire around the lakeside, or just spend the day.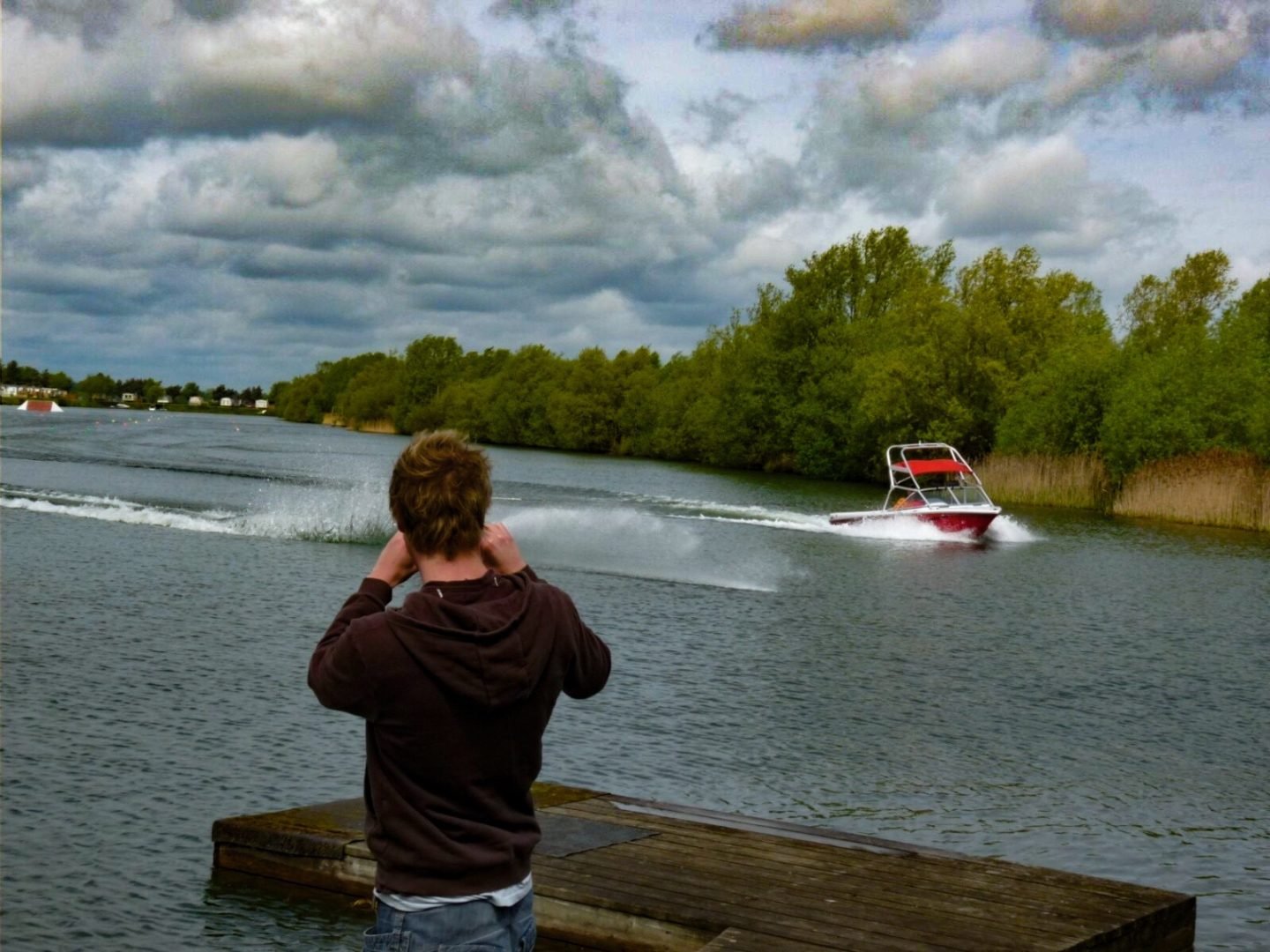 This brand new role play centre for kids has just opened up in a warehouse on an industrial estate in the village of Essendine. Inside is a miniature wooden town and play equipment for kids to live out all their make-believe dreams playing adults, including a vet, doctor, hair salon, shop, fire station, theatre, ice cream van, cafe and building site, all with lovely wooden toys. They run three sessions everyday, which last for an hour and a half each and there's a cafe overlooking the playtown where you can sit and eat cake while they play (unless of course they want you to be their patient/customer etc). The only downside to this thrilling kiddy experience is that you'll have to try and quell all your desires to tidy the toys into their rightful 'area' as you watch food from the supermarket ending up in the doctor's surgery and pets from the vet wandering off into the hair salon. If you can get over that though, it's just brilliant.
Fineshade Wood, with its towering pine trees feels a little bit like the Gironde region of France. It's a Forestry Commission site, so when the Highway Rat, Zog and Gruffalo trails do their rounds, you'll find one here. Pick up an activity pack from reception (normally around £3) and ta da, your kids miraculously have the ability to walk once Julia Donaldson's characters are involved. Trails lead through the woodland, to a treehouse-style playground and there's another wooden play area just outside the cafe. There's also a year-round Gruffalo orienteering course that you can get involved with, pick up a map for £1.50 from the Welcome Desk and head off into the undergrowth to find twelve Gruffalo markers hidden in the deep, dark wood.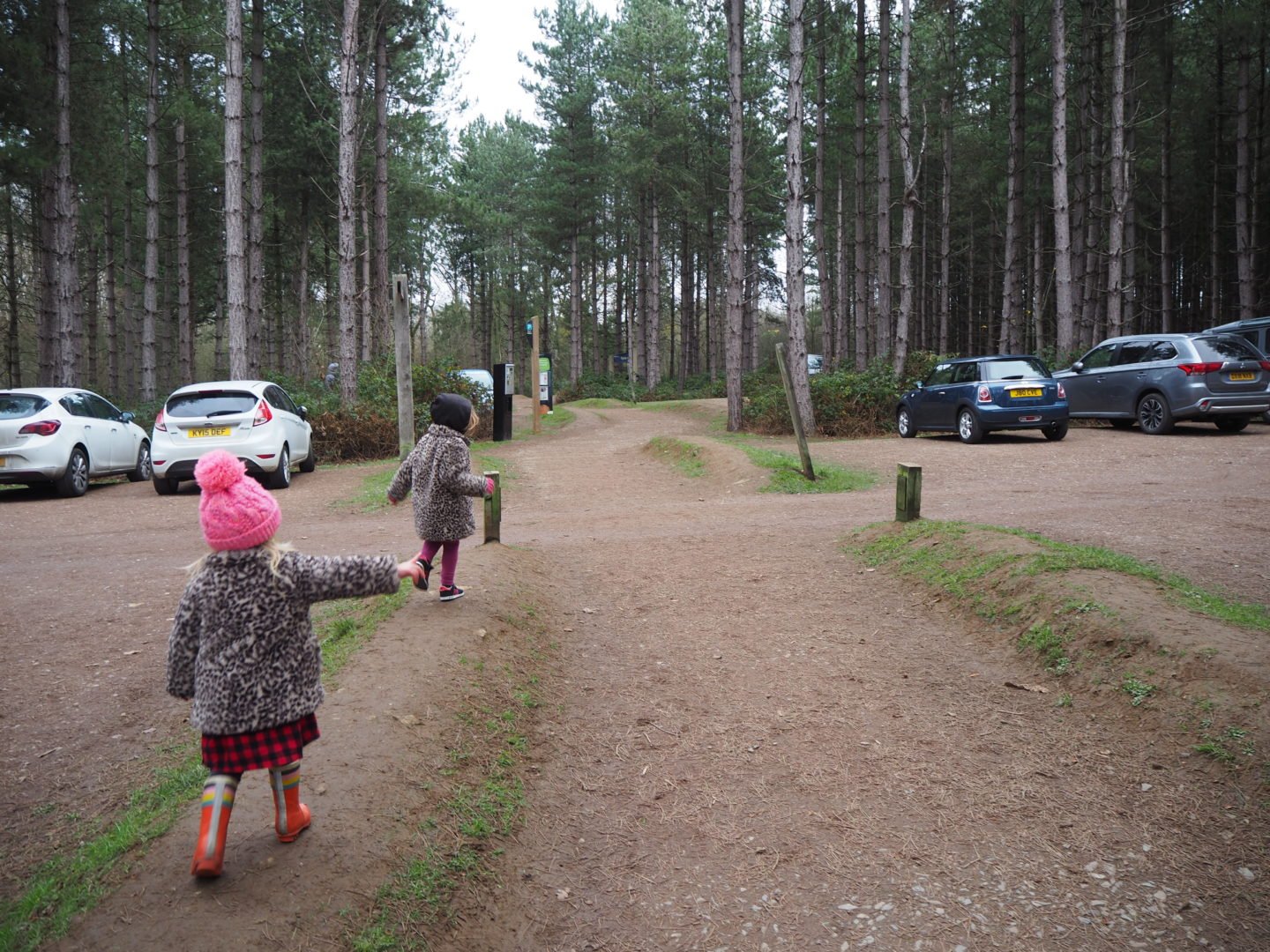 Pin it for later: