As a budget accommodation option for exploring the buzzing, foodie-famous city of San Sebastian, you can't beat Camping Bungalows Igueldo San Sebastián, but you do pay a price on comfort. Here's what I thought of camping in San Sebastian, Spain.
*Disclaimer: This article contains some affiliate links, any purchases you make are unaffected but I may receive a small commission at no extra cost to you to help me keep this blog running – thanks. 
View from the top of the campsite over the bungalows – if only we could have seen from our pitch!
Camping San Sebastian
It didn't start well. We'd driven for 4.5 hours from our gorgeous campsite in the Dordogne to the last place on our French and Spanish road trip, Camping Bungalows Igueldo, just outside San Sebastian. What greeted us when we got there, was the smallest pitch I had ever seen – our previous campsites Camping Cote d'Argent and Camping le Capeyrou seemed positively vast in comparison. There wasn't a chance our Berghaus Air 8 tent was going to fit on, and even if it did, there would be barely any living space for us at all.
Our camping pitch – this was one of the larger pitches and we only just squeezed on
It took us several trips back to reception brandishing maps and scouting potential other sites (of which very few were suitable and even fewer had electricity) in a race against other campers who, we were warned, may arrive and snap up the pitch we were looking at while we were looking at it. It seemed that despite booking back the campsite back in March, Igueldo had not actually reserved us a spot, pitches were given on a first-come-first-served basis, with those last to arrive left with sorry scraps. We eventually found a spot that could work, although it certainly lacked the charm of the French campsites where we had previously stayed on our French/Spanish road trip.
San Sebastian is renowned worldwide for its foodie offering. Alongside its umpteen pintxos restaurants, the city has the most Michelin-starred restaurants per square metre. It's also home to the best restaurant in the entire world! Add to this a gorgeous horseshoe bay, surf beaches, trendy citizens, family-friendly vibes, Old Town charm and a buzzing backstreet atmosphere and you've got yourself a city break that's hard to beat. People flock hear in their droves during the summer months and we heard plenty of French, Spanish and English accents in the crowds.
Camping San Sebastian: our pitch
Camping Bungalows Igueldo San Sebastian is located 5km up a winding hillside, outside the vibrant Basque city of San Sebastian. Set at the top of a hill, the campsite is steep, so if you bag a pitch at the bottom, do be prepared to work your leg muscles on a trip to the shop or bar. It's also not that easy for young kids to cycle or scoot as the main road is extremely steep. While some of the higher pitches benefit from mountain views, there are a fair few (like ours) where the foliage is pretty thick and obscures all views entirely.
I'm not sure if they'd had a lot of rain, but our pitch was completely sodden and there were also the telltale signs of a river that had recently flowed right through the middle of it. This worried us somewhat and we hoped the weather would be kind. Luckily, we had a large outdoor camping sheet that we could put down on top of the damp mud, which was nicer underfoot and stopped us traipsing it through the tent. It appeared that the campsite had attempted to 'dry out' the pitches using rocks and gravel, strewn across the pitches so I pity the poor folk who had to lie on top of that!
There are a couple of ablution blocks around the campsite, one sat just at the end of our road which was handy for toilets and showers, but there was a strong whiff of drains on at least two mornings during our stay – enough to put you off your breakfast! The toilets were kept up with toilet roll, but there was only one communal soap on the wall in the shower block to use and this was regularly empty.
The pitch was one of the most disappointing things about our stay at this campsite – the size, the location, the lack of upkeep (e.g a huge bunch of nettles surrounded the electrical box) and the fact we couldn't park our car nearby. Almost all the pitches we saw were very average, with campervans and campers squeezed into very tight spaces.
Camping San Sebastian: facilities for families
A large kids' playground can be found near the entrance, next to the bar/restaurant and small shop at the top of the campsite. This is ideal as you can sit and have a drink or food while the children play and there are views out to the mountains beyond. There's also a large swimming pool, with water on the chillier side, and activities for little ones run throughout the day. While there was a number of families staying on the site, there was also a strong backpacker contingent who seemed to rock up late at night and only stay a day or two. Compared to other family-oriented campsites we have stayed on, which shut down at 11pm and wake up around 7am, this means, there's often a fair amount of activity during the night, with late night tent-pitchers wandering about in the early hours. Nobody was ever disrespectfully noisy, but even flip flops passing your tent and van doors slamming on a regular basis can be pretty noticeable.
The small onsite shop has the bare essentials – fresh bread, pasta, milk, alcohol and a bit of fruit and veg.
The campsite also has free WiFi, which seemed to reach to most areas.
Where to eat at the campsite and nearby 
The onsite bar/restaurant serves lunch and dinner – things like pizza, pasta, salads and hamburgers – all of which are pretty tasty and quite cheap. You'll also find pintxos on the bar and pastries for breakfast. The drinks are also good value, so we often popped up for a couple to see the view and give the kids a run around at the park. However, it's not the cleanest place I've ever been – the toilets were actually disgusting on our first night there, I'll spare you the details…and cigarette butts and discarded napkins littered the terrace floor.
For those that like to barbecue, there were several communal BBQs located near the restaurant, with seating and mountain views. Note that supermarkets close on Sundays in Spain, even in the city, so if you need anything, be sure to get it before. The campsite shop is open everyday.
With our lack of love for the campsite and San Sebastian's reputation for food (there are more Michelin stars per square metre here than anywhere else in the world) however, we planned to eat out more than cook in during our time here. Wandering the backstreets of the Old Town is the place to go and soak up the atmosphere and find some tasty grub.
If you are planning on eating out somewhere specific in San Sebastian in summer, remember to book ahead as many places book up quickly. Lunch in San Sebastian runs from about 1pm – 3.30pm and in many places, dinner starts around 8.30pm. We would give the kids an afternoon siesta so they could cope with heading out for dinner much later than normal. You can't visit San Sebastian without tucking into Pintxos (bitesize tapas dishes), which can be picked up almost any time of day from most places. It all looks delicious and everyone seems to serve roughly the same nosh, but if you're after a recommendation, try Casa Vergara 1948 or Atari, near the old church, or nearby Nestor does some seriously good-looking steak.
If you're feeling flush, there's also a Michelin-starred restaurant linked to a swanky hotel, Akelarre, just a short stroll away from the campsite. It looks absolutely divine, with circular outdoor seating areas and to-die-for views over the ocean, but a menu here will set you back a whopping 240 euros per person. However, you can just pop in for a drink and snack in the cocktail bar for a little bit of luxury in your camping life.
A bit further down the road, is another upmarket restaurant Rekondo, with an outdoor terrace under the trees, a wine list that reads more like a telephone directory (there are so many !), and exquisite, if pricey food. The campsite bus also stops right outside.
If you're into health food and are lacking gut-friendly foods during your camping life, you can find products like kefir, kombucha and kids' food pouches at health food shop Veritas in San Sebastian.
Pintxos at Casa Vergara 1948
Bus to San Sebastian from the campsite
As the city is slightly out of town, there is a convenient bus stop right outside the campsite. The bus leaves every half an hour on the hour and runs until late. Kids go free and it's only €1.75 per person per trip.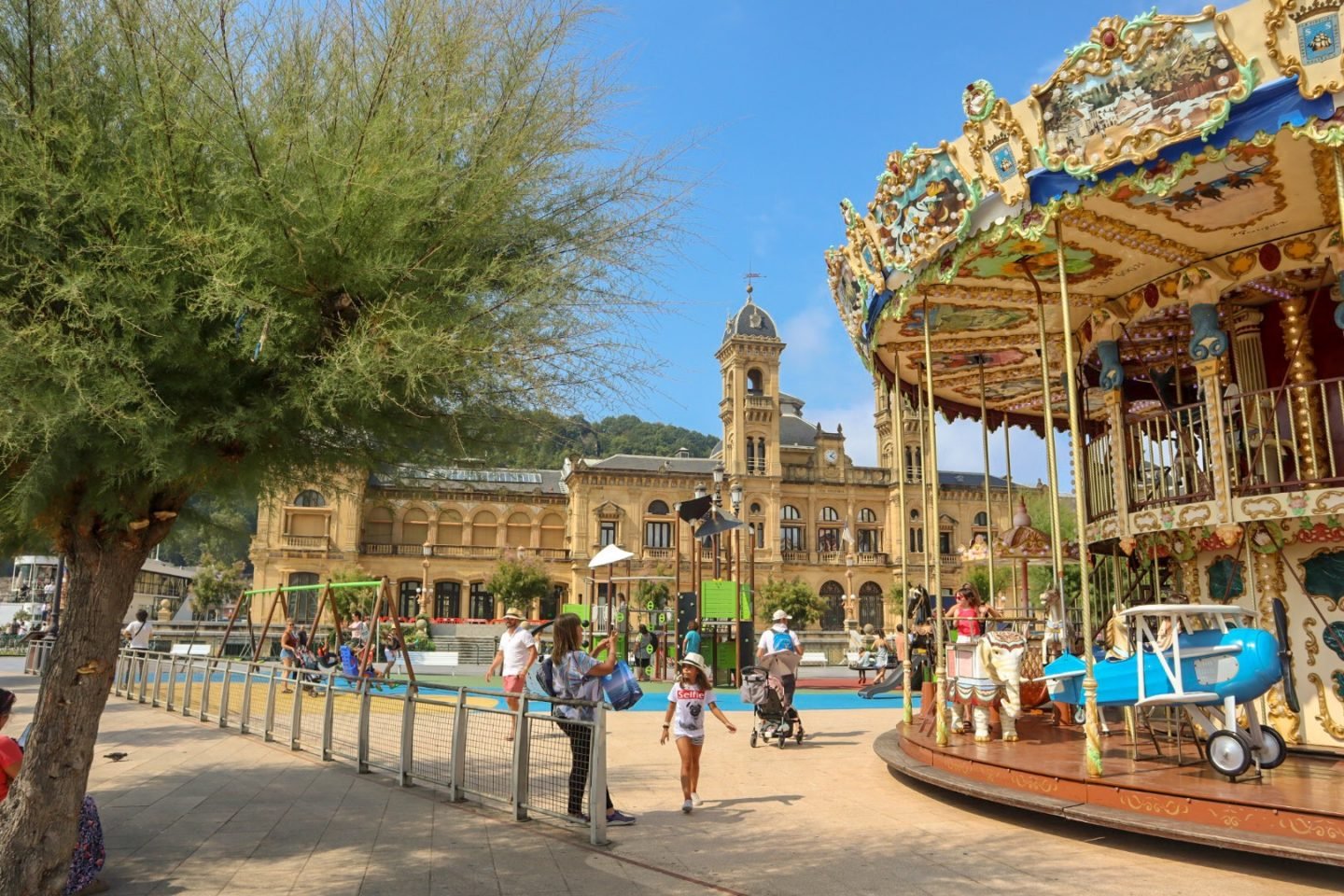 Alderdi Eder, Old Town San Sebastian
Camping San Sebastian: Things to do 
There are no shortage of things to do in San Sebastian, whatever the weather. See below for a few suggestions and check out the video for a glimpse of the city in summer.
Don't miss Monte Igueldo, a vintage theme park not far from the campsite with some seriously spectacular views across San Sebastian and lots to entertain young kids. If you want to go into town on foot, you can park here and catch the cable car down.
Take the old-fashioned cable car (the oldest in the Basque country!) from the top of Monte Igueldo into town and wander over to Miramar Gardens and Palace.
Set up camp on Playa de Ondarreta beach for the day. It does get busy in summer – the sand looks like it has been taken over by a pack of ants with cocktail umbrellas – but this is all part of the atmosphere and it didn't actually bother us. This is how I imagine the beaches around Rio de Janeiro to be! Parking can be tricky, but once you spy a spot, it's only around €5 for a day's parking opposite the beach (handy if you need to blow up a paddleboard!) or you can try one of the underground carparks which always had spaces.
Siesta the kids and head out on an evening bus for pintxos and a glass of local Txakoli (a bit like a sweet Prosecco). Wander the buzzing backstreets of the Old Town as the tapas-devouring hordes spill in to the alleyways, marvel at the architecture and soak up the atmosphere of this late night-loving city.

Order a glass of local cider and gaze in awe as it is poured from a great height before being served.

Head to Alderdi Eder on the waterfront and treat the kids to a turn on the seafront carousel, ferris wheel or playground in front of the impressive city hall library. Afterwards, wander the pretty plaza with an ice cream from one of the many gelato shops.
Try an iced lolly from Loco Polo and go prepared with a ton of wipes, they melt quickly and little ones can get very sticky!
Go surfing at San Sebastian's city beach Zurriola Hondartza or nearby Zarautz, further down the coast.
Venture to the waterfront aquarium on a rainy day – we didn't actually make it, but it's meant to be a good one!
Visit the Imaginarium toy shop – kids will love what's inside, plus the regular adult-sized door plus a smaller child-sized one too!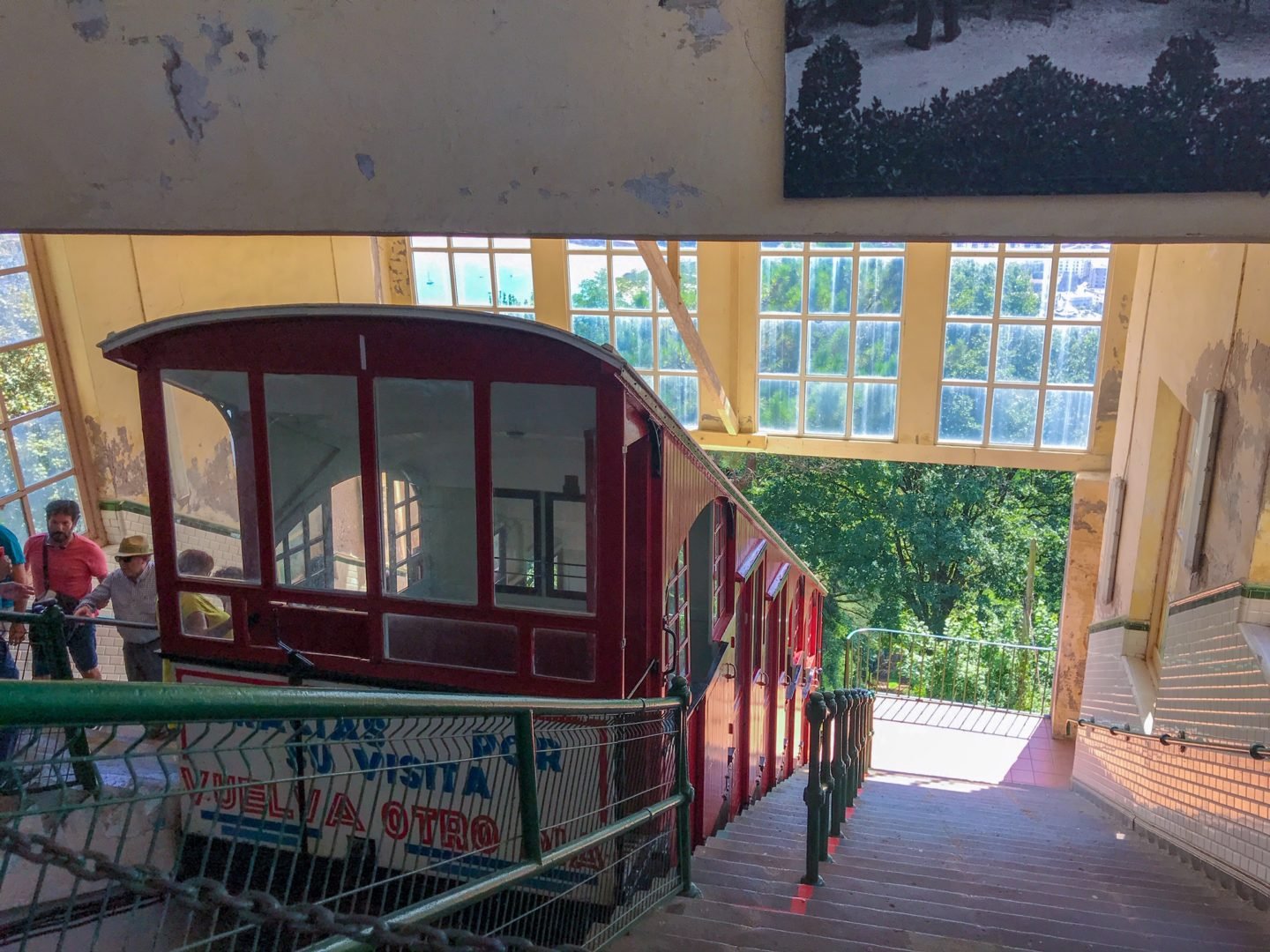 San Sebastian funicular
Final thoughts on Camping Bungalows Igueldo San Sebastian
I'm aware my review of this campsite is far from glowing, but we did kind of settle into it eventually and there were definitely some plus points. For example, if you're dying to see the San Sebastian, but your budget doesn't stretch to the peak season prices of hotels and Air BnBs in the area, camping near San Sebastian is a great, cheaper way to see the city. The campsite's playground is brilliant and adults can get a bit of chill-time while the kids play. There's also free WiFi across the campsite, which we hadn't found anywhere else. Staying here has definitely made me wonder if I want to camp at another Spanish campsite again, or stick to the French ones which just seem to be on a much higher par, but all in all, we loved our time in San Sebastian. 
Read more:
Camping in South West France – Review: Camping Cote d'Argent
Review: Camping le Capeyrou campsite Dordogne, France
Trip to France and Spain: our French road trip itinerary
Choose an image to pin for later: