I currently have a smashed-up camera courtesy of my tiniest squirrel, who in one of her hyped-up, manic gigglefests with her older sister in a restaurant (one of those oh-so relaxing dinners with kids) managed to kick the thing off the chair and get the video recording button permanently stuck down. At a cost of £200 to me. A fairly mundane story really, but it reminded me of a much more exciting tale of camera woe which took place on a Zambian safari many moons ago.
Technical disaster strikes on a Zambian safari
A wake-up call stirred our sleepy selves at 5am, a dazzling sunrise already streaming into our safari tent. Sipping sugary tea, we watched the fireball of light rise as a deep red orb, its rays seeping into the landscape. I broke the silence, joking, "imagine if some elephants walked across the river right now…". As if they'd heard my cue, from out of the forest trooped a family of three stately beings, their mammoth bodies silhouetted against this quintessential African sunrise.
We dine under canvas, on the banks of the river Luangwa while hippos doze like bulky battleships and bellow booming Frank Bruno-esque laughs just across the water. Our ride for the day is an open-top, old-fashioned trusty Land Rover Defender (my dream car!) – which provides ringside seats for the show of wildlife that plays out that steaming-hot morning in Africa. Our guide drives us expertly through wild animal-populated terrain, pointing out beasts long before our untrained eyes can spot them. Inquisitive hyena cubs sit agog and zebras sip from a pool, their monochrome reflections staring right back. Dainty impalas trot across the arid earth, a giant terrapin soaks up the sun. Reaching down to scratch my leg, I pull up a hand-sized, hairy crawling creature and startled with the discovery, squeal appropriately and swiftly throw it back into the undergrowth.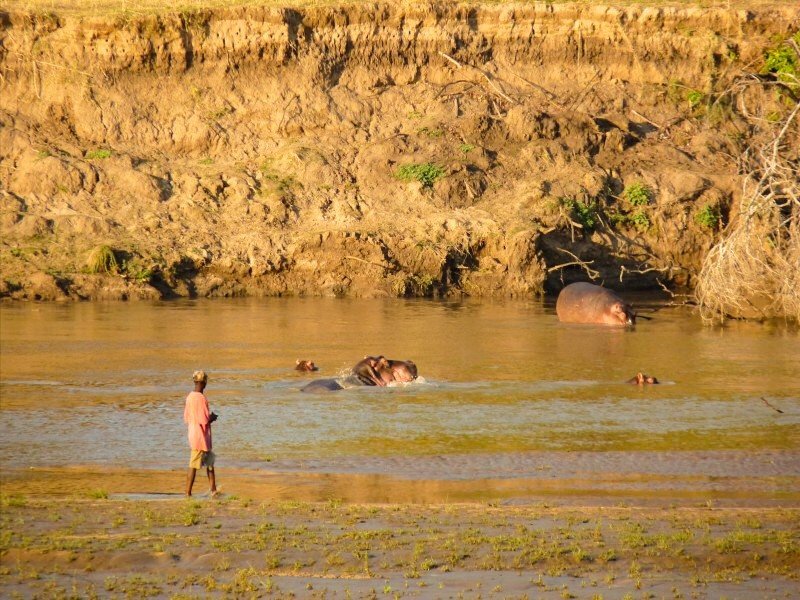 Veering sharply to avoid an oncoming safari vehicle, our guide misjudges the Land Rover lean and our wheels plough into thick mud, leaving us wedged at an angle in lion-roaming land. Nothing a little man-pushing-power and mud-splattering couldn't sort.
Late afternoon is a beautiful time to go for a safari game drive. The light is incredible, dappled and earthy cloaking ground and animals alike. Aglow in the dusk, giraffes strike a pose, nibble at treetops. In the fading light, parked up next to the river, a herd of gentle elephants plod past us, unperturbed by our presence, their adorable calves tripping along under their parents' legs. As the sun bids its rapid equatorial adieu, the sky blazes 50 shades of red on one side of the river, while agressive flashes of fork lightning illuminate the ominous grey horizon on the other. Unbeknownst to us, this was the calm before the storm and the dramatic clouds that had given such a mesmerising sunset had dramatic plans.
'Kumbuku kumbuku!!!!!" Excited chattering crackles over the radio – it is a tip-off for a leopard sighting, one of the most elusive of the African Big Five. Instead of heading back to camp, our guide Moses speeds off at full pelt, masterfully whipping the jeep through the darkness while the other ranger shines a spotlight into the trees, hunting out reflective eyes. "In 11 years of going on safari, I've never seen a leopard" declares Saskia, our fellow traveller. She'd never experienced rain on a game drive either…tonight was to be her lucky night.
Suddenly several things happen in quick succession; the guide's spotlight falls upon a leopard, it's muscly frame just metres from our vehicle. Whirling the torch around, he picks out a rare glimpse of another leopard, bloody-jawed and feeding on an impala kill, hanging awkwardly in the branches of a tree, all splayed limbs and stricken.
Our silent elation in witnessing the Big Five's prize jewel is momentary, because the exact same moment, the heavens open and the nut-dry air is suddenly full of thick, fat, African rain spewing from the sky, drowning everything in moments. Out of nowhere a gale force wind gathers breath, sucking the heat from the day. Our driver races into the blackness through newly-formed puddles, issuing orders to grab ponchos and dry boxes for our equipment. "Row, row, row your boat" Doug pipes up merrily on the bumpy wet drive back to camp, where, oblivious to our soggy plight, it remains miraculously dry.
My camera was not so fortunate though, I'd held out for the leopard photo and it had got too soggy before I'd managed to place it in the dry bag. RIP Panasonic Lumix! Was it worth it? Let me know in the comments below!
This trip with Kiboko Safaris was booked and organised by the Responsible Safari Company as part of our 'Wandermoon' (travelling honeymoon) as I like to call it. They also sorted out our entire trip around Malawi and I can't recommend them highly enough for their friendly service, excellent itinerary planning, knowledge of the country and company ethics on sustainable, experiential travel.
Read more:
From the travel diaries: my scariest travel moment
Living in Bristol: I live in Bristol because…