Oh that rarest of things – a kid-free night away at a coastal spa hotel, just before we went into lockdown! Here's my review of Carbis Bay Hotel near St Ives in Cornwall…
Back in November, I found myself venturing down a Instagram hole and somehow managed to discover Carbis Bay Hotel and Spa. It looked lovely on this particular Instagrammer's photos and when I clicked through to the hotel's page I saw they were having a Black Friday Sale. For around £200 the voucher included a 2 course meal, 30-minute spa treatment, private hot tub and welcome bubbles on arrival, so I thought it was a pretty good deal.
Being so close to Christmas, and without a lot of time on my hands for gift shopping, I thought it would make a great present for my husband. I figured if we had a hotel voucher booked, it would spur us on to sort babysitters and have a weekend away – such a rarity!
*Disclosure: We visited Carbis Bay Estate before the Covid 19 pandemic, see their website for important changes to how they currently operate.
This post contains affiliate links, which means I may receive a commission if you click a link and purchase something that I have recommended. While clicking these links won't cost you any extra money, they will help me keep this site up and running!
Watch a short video of our stay at Carbis Bay Hotel
Coastal spa hotel: location
Near St Ives in Cornwall, the hotel sits right on Carbis Bay Beach, on the edge of the Atlantic, perched above its own mile-long Blue Flag beach – the only hotel in Britain that can boast such an accolade. The main part of the hotel – a large white Victorian house – has stood here since 1894 – and bits have been added to it since then, most recently some (expensive) beachfront mega-pads with hot tubs.
The best rooms and communal parts of the hotel have far-reaching views over sea and sand, all the way to St Ives in one direction, Godrevy lighthouse in the other. Behind are the looming arches of a railway line, but trains are infrequent and hardly a nuisance. In fact, should you want to leave your car and explore St Ives (a mile and a half away), the branch-line train station is a five-minute walk from the hotel (and an 8-minute ride away).
Inside, the hotel is modern with a dash of seaside chic. On the ground floor, you'll find an ocean-gazing conservatory for lunch, afternoon tea and light bites, a lounge with a fire, a fine dining restaurant and the award-winning C Bay Spa.
The brand new beach lodges soak up the best views and if you've got the budget, these would make the ultimate beach retreat with their open air roof terrace and private hot tub. If the hotel's quiet, you'll sometimes be given access to the latter for your private hot tub experience. I recommend booking late afternoon, to watch the beginnings of the sunset – the colours are spectacular.
There's free parking for guests – reception will give you a ticket to put in your car when you check in.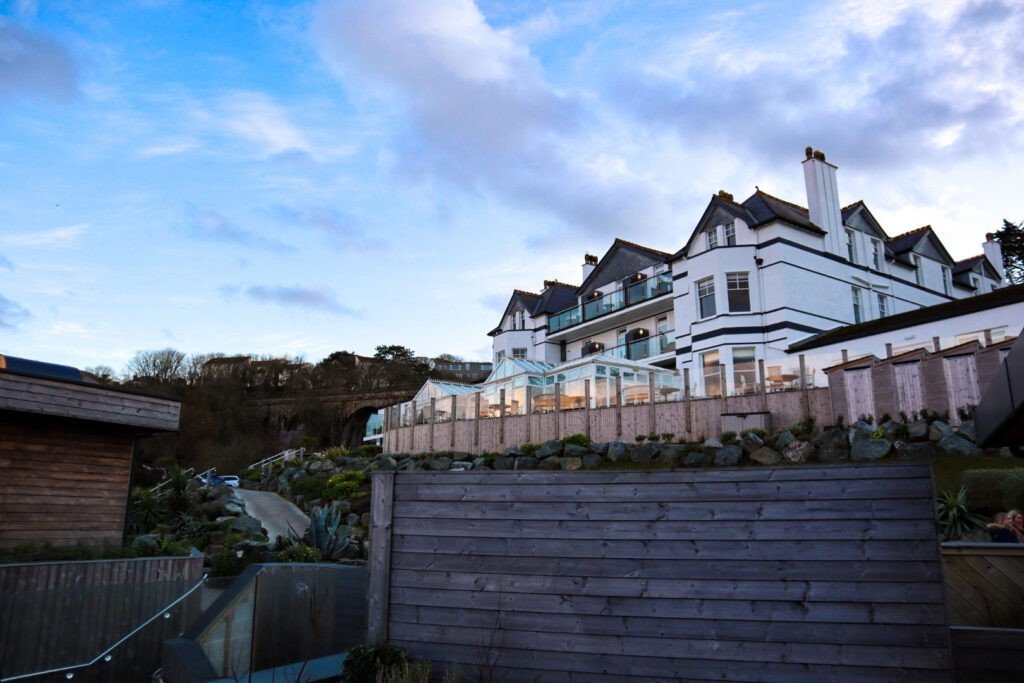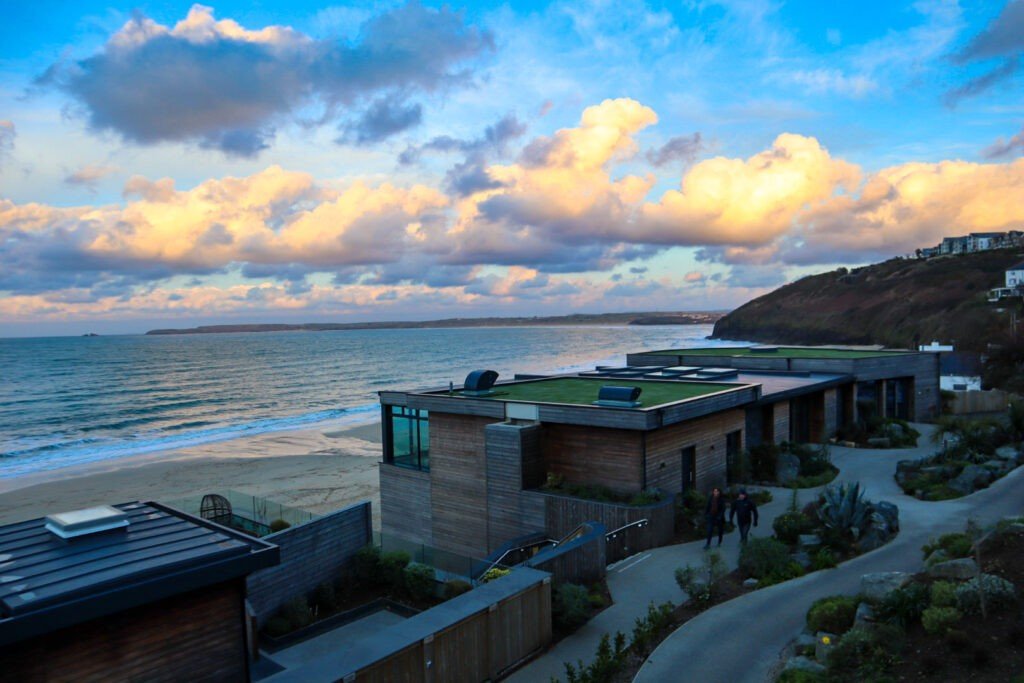 Bedrooms at the coastal spa hotel
Carbis Bay hotel has 45 bedrooms, of which I've seen two! As we were checking in, we were offered an upgrade (at an additional cost), and I must admit I'd have been a bit disappointed with the room had we not swapped to the pricier pad. Our original one was quite small and had no sea view, whereas the one we swapped to had an in-room bathtub (my favourite!), deep closet, huge comfy bed and little seating area with big bay windows soaking up the ocean views. The only downside was that these steamed up quite quickly from the bath and it was quite tricky to actually spot the sea!
The bedroom was immaculate and cosy, with a rain shower and Aromatherapy Associates products.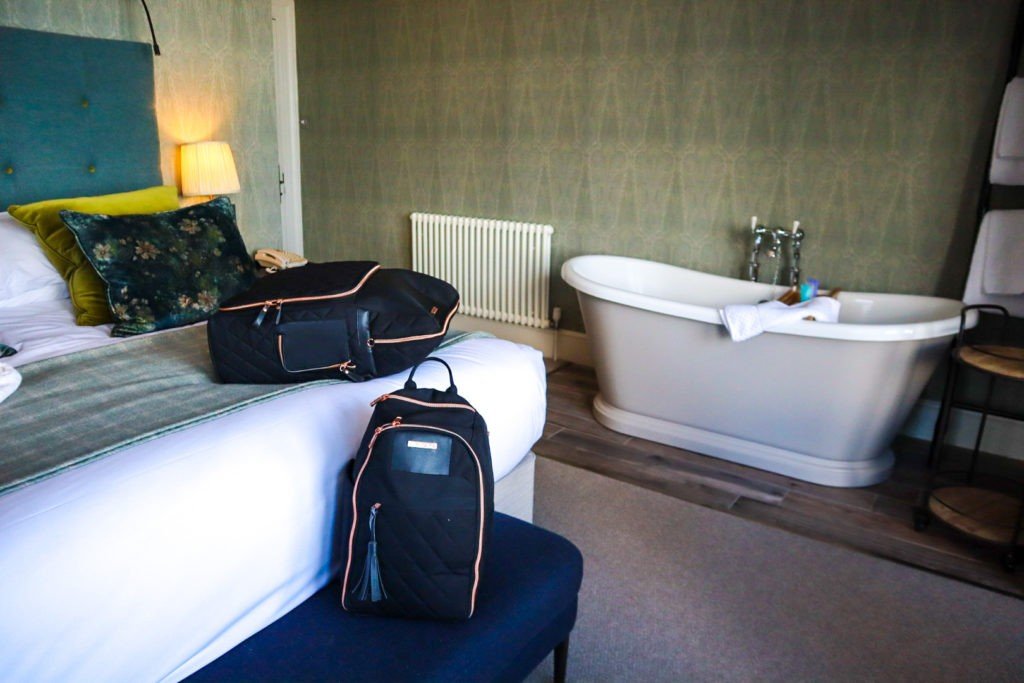 The C-Bay Spa at Carbis Bay
I must admit it feels quite funny walking through the restaurant to the spa in your dressing gown, once meal service begins this route is shut off and guests must take the long way round. However, being located at the far end of the hotel means the spa enjoys a secluded location with subtropical views. It's a real treat to cosy up on the sofas next to the fire after a treatment and gaze out to sea.
The outdoor heated pool was only just warm enough to swim in at the beginning of March (we braved it!), but I imagine it's lovely in hot weather and I would have been more into it if the barrel sauna had been warmer, but it was a bit tepid for my liking (I think the water was missing). For those that prefer a bit more heat to their dips, there's a jacuzzi right next to the pool and rules towards drinks are pretty relaxed, meaning, you can order a drink at the spa bar and sip it in the bubbling tub while looking out over the ocean.
There are a huge range of treatments available – from scrubs to manicures to aromatherapy experiences.. We picked a facial and a massage, both of which were super zen!
For the private hot tub experience, a beach hut rented can be rented for half an hour. However, If the hotel's quiet – as it was during our stay, you'll sometimes be given access to the three-storey Beach Lodges which have alfresco jacuzzis on their roof garden – utterly spectacular. I recommend booking one late afternoon to watch sundown – the colours are sublime.
Carbis Bay beach
On a sunny day, the mile-long, blue-flag Carbis Bay beach privately-owned by the hotel, resembles a Caribbean vision, all golden sands and turquoise sea. Surfers will be disappointed here as, due to its location, there are rarely any big waves, but its safe swimming waters make it a perfect spot for families with young kids.
On the beach, you'll find the Ocean Sports Centre, offering paddleboard and kayak hire and tuition. The hotel also has an eight-person Sunseeker yacht for hire.
The South West Coast Path also passes by on its way to St Ives.
Dining at Carbis Bay hotel and spa
There are a number of dining options available at Carbis Bay hotel, choose from formal dining at Restaurant 1894 (new for 2020), the Mediterranean-style Beach Club Restaurant down on the sand, the informal, all-day serving Conservatory or you can order to your room.
We arrived late around lunchtime and decided to treat ourselves to some light bites in the Conservatory, with very delectable scallops for me. As always I find, there are never quite enough scallops for my hunger, but they were super succulent and tasty!
For dinner, when we visited in March 2020, we went for the formal restaurant Sands (which is now the Restaurant 1894 I believe), as it seemed to be the most popular and was included in our voucher. The food was locally-sourced, British cuisine, very tasty and nicely presented.
Breakfast brought a light buffet with a selection of options to order off the menu.
Final thoughts on this coastal spa hotel
Overall, as far as Cornwall hotel and spas go, Carbis Bay Hotel makes a lovely getaway without kids for two knackered parents! As we visited during the school week, there were no other kids around and I probably wouldn't choose to bring ours here as in my experience, there are better family-friendly hotels for the money (like the epic Bedruthan Hotel and Spa). It's an extremely scenic spot and my favourite moments include the hot tub overlooking the sea, drinking afternoon bubbles in our room (courtesy of Doug's parents) and wallowing in the bath.
On their website it states the hotel is recognised as the best eco hotel in the UK, although I have to say I've stayed in more overtly 'green' places. I'm also glad we came on a voucher deal otherwise I think it would have been extremely expensive for the experience you get. While we enjoyed the stay very much, I'd have liked to have received a bit more 'luxury' treatment or pampering, or something…I can't quite put my finger on it! I would recommend this hotel to couples – particularly if you can take advantage of one of their voucher offers.
Click here to check out prices and availability at Carbis Bay Hotel
Pin it