Travelling with toddlers is no easy feat, here's what I learnt on a road from Bristol to Hossegor, France with a two year old in tow…
When it comes to travelling with toddlers and attempting a road trip to France, here's what you need to weigh up: do you a) drive through the night so they sleep the majority of the way, but leave yourself exhausted or b) drive through the day but risk meltdowns, a serious amount of whining, hunger rage, travel sickness and having to entertain them the entire way…leaving yourself exhausted. Hmm, what a choice! Everyone has their own approach, but here are my tips and tricks to make the journey a teeny tiny bit easier…
*Disclosure: This post may contain affiliate links, which means we may receive a commission if you click a link and purchase something that we have recommended. While clicking these links won't cost you any extra money, they will help us keep this site up and running!
Travelling with toddlers tip: Drive overnight
We were driving from Bristol in the South West of England, to Hossegor in France so decided the way forward was to take turns driving through the night. We booked an evening ferry and arrived into Calais at about 8.30pm. We figured, given our sleep-repelling toddler had been training us up ever since she were born, drilling us through endless sleepless nights, we'd be totally prepared for a 10-hour overnight drive such as this. We had attempted the same drive in the day and I spent hours child-pacifying and entertaining, singing every nursery rhyme and trying to deal with a ton of whining while turned half backwards in the front seat, which I personally think is harder than a night of sleep deprivation.
When placed in the car in the evening however, few little monkeys can resist the lull of the engine, so they'll hopefully drop off to sleep somewhere near their normal bedtime hour. You'll also most likely have empty roads driving at night, just be sure to swap drivers and catch some zzzs in the passenger seat when you do.
Nap when your partner is driving
Once your toddler is asleep, maximise your snoozes as you'll need to be as refreshed and as alert as possible when it's your turn to drive. You'll also feel a LOT better the next day, when come 5am the bairns are wide awake. If you're driving in Europe, the péages can be a right pain if you're driving in a UK car, as the front passenger (not the driver) has to wind down the window and pay – often just as you're dropping off – so try and snatch sleep when you can get it.
Bring your toddler's PJs for the road trip
You won't be able to do the full bedtime routine, but you can do bits of it to let toddlers know it's time for the big sleep. Take their PJs, their favourite cuddly toy, a book and a travel sleeping bag (great as you can keep them strapped in and snuggly) then let the motion of the car do the rest!
Put them in a nappy for the journey duration
This might go against the potty-training rules, but if you spend any amount of time crawling in motorway traffic, it's great for emergencies. Adult ones included…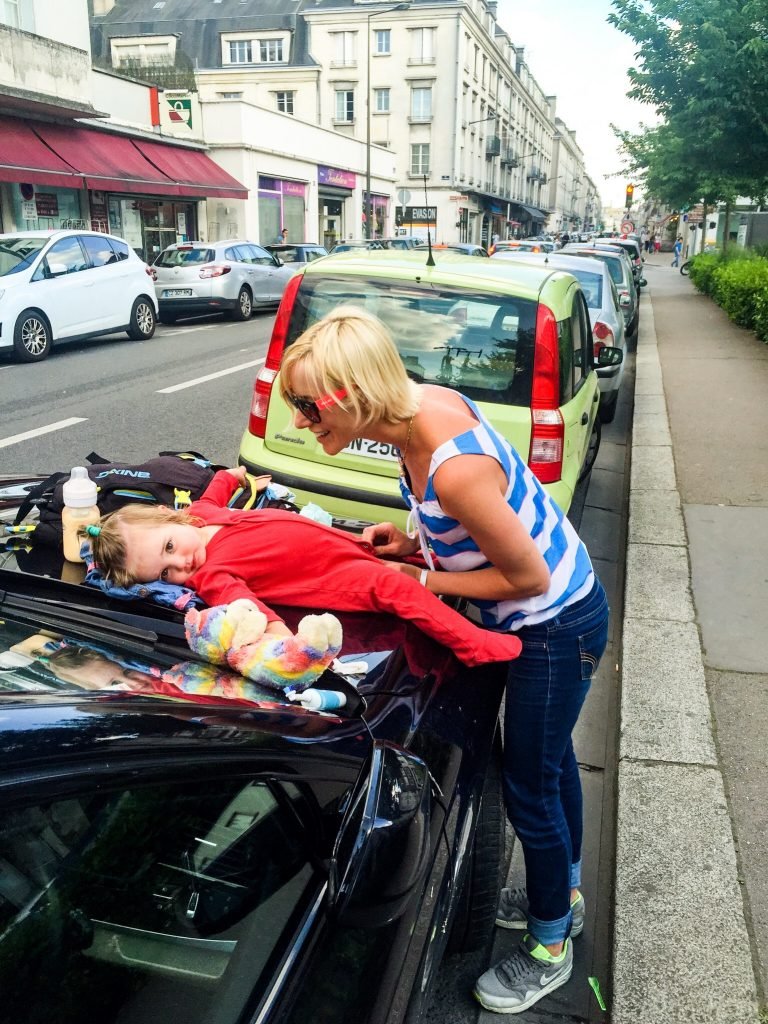 Sit in the back of the car if you're also travelling with a newborn
There has been more than one occasion where I've needed to try and breastfeed a screaming baby on a car journey with both of us strapped into our seats. The verdict? It's bloody difficult. It's significantly harder to do so if you also have a toddler in a car seat and have to try and wedge yourself into the middle while attempting a canny boob manoeuvre. If you can, pull over and do it a bit more comfortably – although this may take a while if they're super miniature and delay the car journey. Or put the toddler in the front (and turn off the airbag), so you can have more room in the back seat and not give yourself a back injury.
If it's just you guys and the toddler, sitting in the back of the car is quite a good strategic move as it may save you several hours craning your neck back to meet toddler demands, or sitting at an awkward angle when they insist on holding your hand.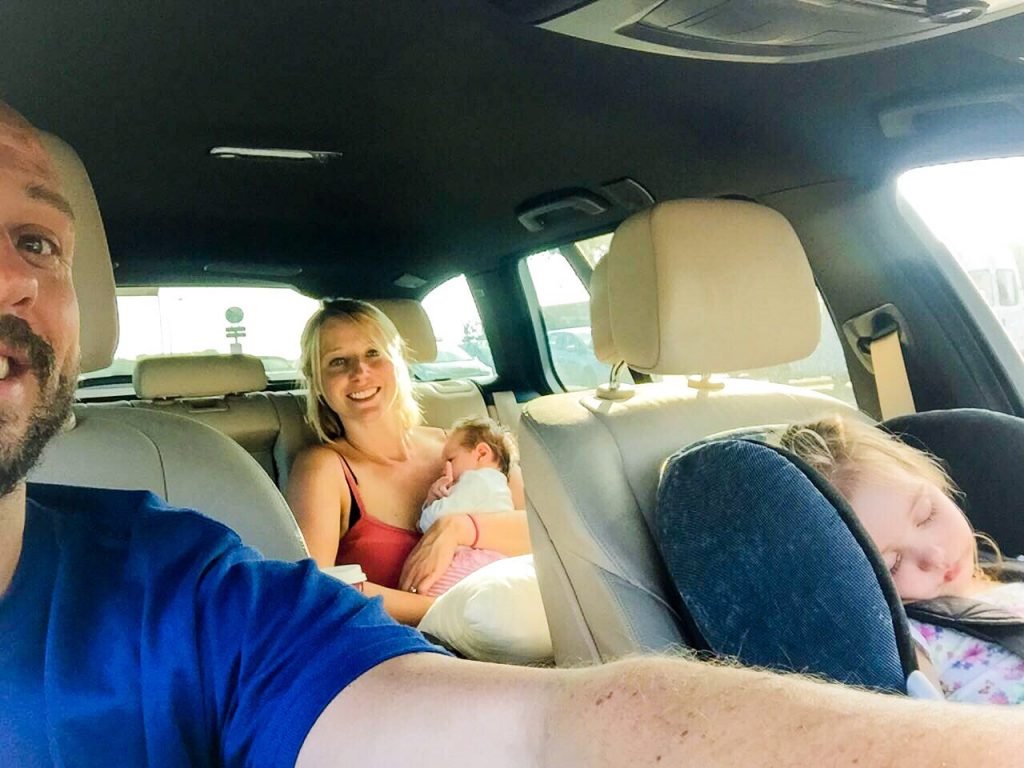 Choose your ferry crossing to France wisely
The ferry crossing from Dover to Calais is the quickest and cheapest and if you choose a 'Flexi' ticket, you can jump on another ferry should you be earlier or later than the original booking. There are plenty of other crossings from Portsmouth, Poole etc but these tend to be much longer, more expensive and often overnight, meaning you still have the issue of entertaining a toddler for a day's drive once you dock.
Going by ferry can be significantly easier than flying with young kids. There's no limit on fluids, no having to remove shoes, belts and extra layers, no x-rays or waiting for luggage to appear, no limit on using electronic devices and of course if you're held up en route you can normally jump on the next boat. Plus the ferry makes the perfect wear-out zone for little legs – restaurants, family areas, a shop stocked with Peppa and lots of fresh air out on deck. However, having to wake up your toddler to sleep on the floor under bright lights on a 02.40am crossing should be avoided at all costs (I speak from experience) – definitely worth forking out for more comfort, especially if you've been travelling all day.
Plan what you'll need for the car journey and pack it separately
Pack bottles of milk, changes of clothes (for you and all the miniature humans), PLENTY of wipes and nappies separately from your main luggage. Put together a 'ferry bag' in advance filled with things to entertain your toddler – stickers, snacks, Playdoh, books etc – and treat them to a couple of new things to keep interest high. Full-time travel family bloggers Children of Wanderlust have some excellent suggestions for compact games to entertain the kiddos here.
Take food and drinks that you may want on your journey in a cool bag and be aware that the ferry restaurants will not heat up any baby food you bring on board. You can always stock up on more along the way, but you might not want to stop too soon if you're on a roll! Also, if you child has a tendency to get car sick, be sure to pack the travel sick medicine and take plenty of sick bags with you.
Snacks are your friend when travelling with toddlers
Healthy, unhealthy, whatever. Snacks are worth their weight in gold on long drives with toddlers. Click here to stock up on Ella's pouches – they are always a winner and have nutritional value! I'd avoid those baby cheesy Organix carrot sticks though – they cover EVERYTHING in orange.
Pack light, but not too light
You have the car so make the most of it. Buying everything brand new when you get to your end destination can be expensive, so if you're camping or staying in self-catering accommodation, load up with salt, pepper, toilet roll, tea, coffee, toys – things that will make your life easier when you arrive and save you an immediate trip to the supermarket.
Check if you can check-in early at your holiday destination
Most places don't allow you to check in until the afternoon, but if you arrive well in advance, it's worth finding out if your accommodation could be ready early – they might take pity on you if they realise you've driven all night with a cheeky and unpredictable toddler!
Take an electronic device when travelling with toddlers
I cannot stress this enough, no matter what your pre-parenting views once were, get an iPad, download as many child-friendly movies, Peppa Pig episodes, CBeebies series, Spotify playlists, Disney albums and toddler-friendly apps as you can – it will buy you hours of childcare and save your sanity.

Pack baby wipes
I mentioned these earlier, but I'll say it again. Keep plenty of baby and Dettol wipes in the car. You WILL need them.
Make sure you have a SatNav in the car
Unless you want to end up separating from your partner. SatNavs make travelling so much easier, reduce arguments between couples and of course, you can keep driving while your partner sleeps without having to wake them to navigate.
Give the toddlers what they want when travelling
That old saying – pick your battles, is never truer with toddlers. Ok, you might not want another cuddly toy, but if your child has been particularly well-behaved, suffered hours in the car with little but your singing to entertain them and the promise of freedom at some incomprehensible future date, then just buy them that teddy they grow deeply attached to in the service station…the alternative isn't worth it.
Remember the travelling will all be totally worth it
Think of those beaches…the glorious mountain views…the heat…the snow, the food, the holiday awaiting you at the end of the drive. That is why you are dog tired, eyes on sticks and powering through the dark while everyone else around you sleeps.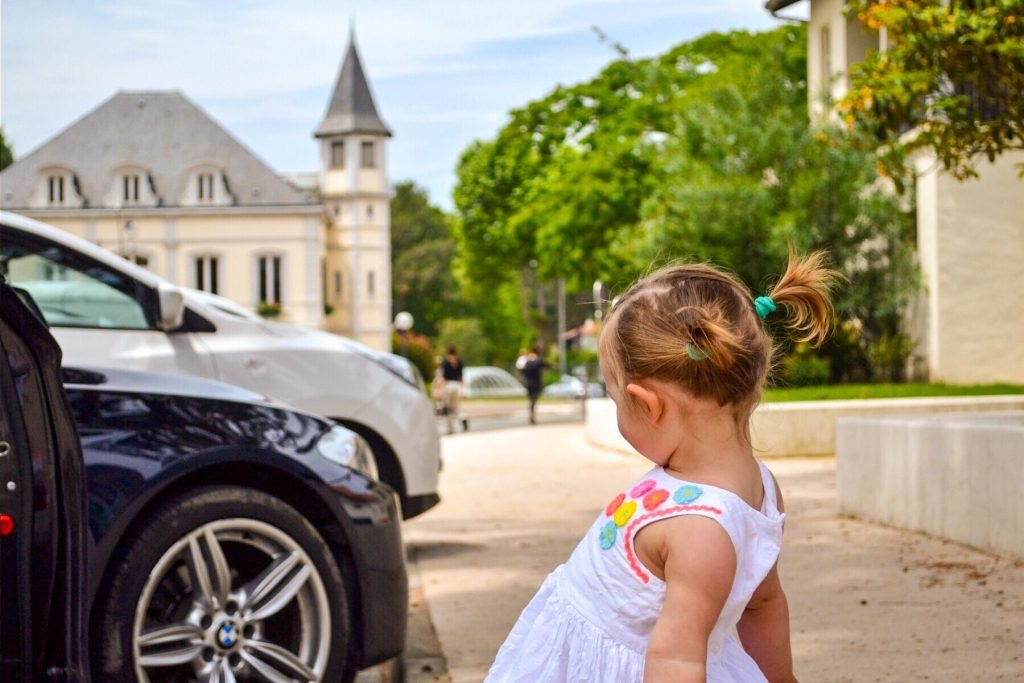 Don't give toddlers ice cream before the drive
They will go bat bonkers wild. For several hours. And there will be NO CHANCE of sleep.
Plan in extra travelling time so if it all goes wrong, you've got time to play with
If you're crawling in traffic, the kids are screaming, needing to feed, weeing, sh**ting, leaking or projectile vomiting and you've lost the will to live, then find somewhere to pull over, eat, let them run around and give you a chance to get your sanity back. Factor in extra time by booking a hotel room the night before a ferry, or planning stops on the journey and it'll help take some of the stress out of the situation…or not (if the hotel alarm goes off twice during the night -argh!)
What did you find worked for you? I'd love to hear your tips!
Pin it for later: