Local to the city or visiting Bristol for February half term? I've put together a family-friendly list of activities in and around the city to help you keep the kids entertained.
Animal encounters
Grab your exploring gear and discover exciting conservation projects from around the globe on an exciting family trail. Don't worry about the weather putting a dampener on your day out – 89% of the zoo's animals can be viewed under cover. Little ones can also get hands on with games and crafts at the Activity Centre from 11am to 4pm, or head to the Terrace Theatre for daily animal encounters.
*Book your tickets online a day or more in advance and save up to 10%.
Dig out your wellies (or not, because their Barefoot Trail is always a favourite with kids for its tantalising toe textures) and head to Wild Place Project to try their new fun-filled trail 'Who Lives Here?'
Uncover the secret homes of amazing creatures living right on your doorstep, travel back to 8000BC and keep your eyes peeled for bears, wolves, lynxes and wolverines as you walk along raised woodland walkways in the fantastic immersive Bear Wood experience and discover exotic animals from around the world. For an extra adrenaline rush there's Leap of Faith, a high-ropes aerial adventure (additional charge applies).
*Book online a day or more in advance and save 10%!
Meet Tamara, a real life mermaid, every day (10am-3pm) in February half term at Bristol Aquarium! Learn all about the creatures that lurk underwater – from river monsters to deep ocean-dwelling souls and craft your own monster too.
*Book online and save 10%
Complete the Zoo Couples Trail around Noah's Ark (14-22 February) to discover exciting facts about the animals' personalities and be in with a chance to win a family day ticket. There'll be Love Bug handing (17-21 Feb, 2-2:30pm) where visitors can get up close to Giant African Snails, Stick Insects and Cockroaches, plus a Farm Fun Fete with a coconut shy and a mini house of mirrors. After visiting the elephants, tigers, lion cubs, and other zoo animals, send the youngsters to let off steam in the giant indoor soft play area.
Scurry along to Brunel's SS Great Britain for ratty fun! Decorate and don a rat mask in the First Class Dining Saloon (11am – 4pm daily), then scuttle around the deepest nooks and crannies of the SS Great Britain searching for six squeaky stowaways on a family-friendly Hide & Squeak trail (10am – 4.30pm daily).
At 12pm, 1pm & 2pm daily, settle down on the Promenade Deck to hear hilarious tales of mischievous rodents on board the ship, taken from real-life stories of passengers and crew that once travelled on the great ship in Victorian times. Visitors will also have the chance to pet a live rat (11.30am, 12.30pm & 1.30pm, weekdays only: 16 – 20 February) and discover more about these creatures in a 20-minute workshop in collaboration with Bristol Zoo.
Lambing LIVE at Avon Valley Adventure & Wildlife Park 

(15-23 February)

Fawn over newborn lambies at Avon Valley Adventure & Wildlife Park. There are 20 ewes ready to lamb twins and triplets in the indoor animal handling barn and the shepherds will be chatting about the lambing process and sharing lots of baaaar-illiant sheep facts. There's even a chance to name the little cuties!
Puddle jumping at WWT Slimbridge

(15-23 February)

Few young kids are likely to turn down the opportunity of putting their wellies to good use and jumping in puddles! Practice your technique before seeing who can make the biggest splash in the Puddle Jumping Championships in WWT Slimbridge's Welly Boot Land at 2pm from 15-23 February.
Download the free Glow Trail app (click for iPhone and here for Google Play) before you go (signal can be patchy in the forest) to decipher the UV puzzles in Westonbirt Arboretum, pick up your pack (£3.50) from the café or Visitor Centre before setting off on the trail and complete challenges in order to grab a photo with Shaun and Lu-La the loveable alien as they appear in the forest before your very eyes!
Don't miss the natural wood children's play areas, tree top walk way and Gruffalo characters hidden in the woods.
*Aimed at families with kids aged 6 to 12 years old.
February trains at Avon Valley Railway (15-23 February)
Choo choo! All aboard at Avon Valley Railway! Heritage diesel locomotives will be running daily (except Monday and Friday) from 11am along three miles of scenic track from 15-23 February (except Monday and Friday).
Half term Bristol: family-friendly theatre shows
Redgrave Theatre
Clifton College's little theatre is really lovely and manageable with little ones. Kid's shows here tend to be the perfect length to hold young attention spans. Child-friendly performances in February include CBeebies' Sarah and Duck's Big Top Birthday (15-16 February), and The Amazing Bubble Man (17 February).
The Very Hungry Caterpillar at Bristol Old Vic (18-21 February)
Still delighting generations of readers since it was first published in 1969, this timeless classic by Eric Carle has made its way off the page and onto Bristol Old Vic stage. Created by Jonathan Rockefeller, the critically-acclaimed production of The Very Hungry Caterpillar Show features a menagerie of 75 puppets, faithfully adapting four of Eric Carle's stories, Brown Bear, Brown Bear, 10 Little Rubber Ducks, The Very Lonely Firefly and of course, the star of the show, The Very Hungry Caterpillar (18-21 February).
Wild Words: Mona & the Whale at St George's Bristol (19 February)
Join Mona on a quest across oceans deep and blue to confront the Alpha Breed of human greed in Wild Words' latest family show, which explores the environmental issues of today and tomorrow. (10.45am Playshop, 11.45am Show)
50 years since man first walked on the moon, Roustabout present a celebration of humankind's relationship with its closest cosmic companion. A rich adventure of storytelling, puppetry, music, history and science, Luna explores our earliest attempts to explain the moon's ever-changing presence, to Neil Armstrong taking that one small step. For over 5s and their families.
World record-breaking beatboxer SK Shlomo makes all kinds of music using just his mouth and a mic. Become one of this sonic superhero's very own sidekicks in a world of funny sounds, brilliant noises and cool music – perfect for anyone between the ages of 1 and 101!
Image credit: Nathan Gallagher
MiniBeats – Super Strings (23 February)
Join marvellous musicians from the Bristol Ensemble and presenter Laura Tanner to learn about the string section of the orchestra, then have a go on instruments after the show! Between performances families are also encouraged to join in with St George's Explore. Create. Share. FREE art activities! 10.15am show – suitable for ages 3-5, 12pm show  – suitable for ages 5-8, 2pm show – Relaxed Performance, suitable for all ages.
February half term Bristol at Tobacco Factory Theatres
Long Nose Puppets bring their playful show for little ones, Arthur's Dream Boat to Tobacco Factory Theatres from 20-22 February. Running time 40 minutes, plus time to meet the puppets.
If you've got a budding thespian, or are just looking for something a little different to keep your kids entertained throughout the holidays, check out the 'play in a day' half term sessions for 5-11 year olds which are all focused on the world of David Walliams.
Image: Arthur's Dream Boat
The Curious Crocodile and the Meaning of Life, DragonBird Theatre
This lovely little theatre band was put together by drama teachers/performers Tilly Langdon and Lotte Norgaard back in 2012. Their shows normally start with a little play, followed by interactive games that the whole audience can participate in. Children love it and the objects and games they dream up are creative and fun. The Curious Crocodile and the Meaning of Life is the theme of the February show (with half term Bristol, Bath and Clevedon dates), but get your tickets quick – they always sell out!
Head to Arnolfini for a morning of fantastic stories and fabulous tales with Drag Queen Story Time, hosted by Sally Savage (11.30-12.30am). By providing spaces in which kids are able to see people who defy rigid gender restrictions, Drag Queen Story Time allows them to imagine a world in which people can present as they wish; where dress up is real. Perfect for 3 – 11 year olds.
Take a stroll with the Nut Brown Hares and explore this well-loved classic in the beautiful grounds of Arnos Vale Cemetery. Follow the story, join in with the actions then make something to take home. £6 per child, suitable for 3+ (babies and under 3's go free with a paying sibling), parents do not need to purchase tickets.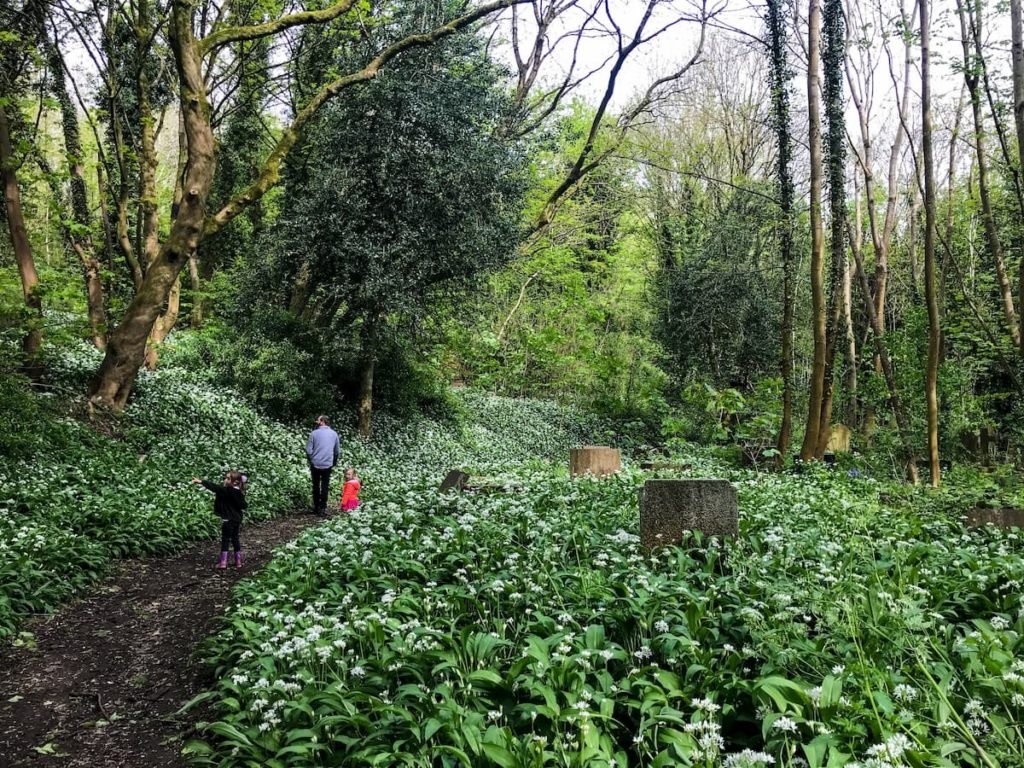 February half term Bristol art and crafts
Encourage your miniature buddy Banksy with a stencil art session with graffiti experts, Where the Wall at Hamilton House. Suitable for all ages and abilities, it's a great opportunity for kids to 'get their hands on the cans' and take home some self-made artwork.
Get creative at a free morning of fun and informal art and drawing activities (15 February, 10.30am-12.30pm) at Easton Community Centre. This free creative drawing workshop is run by RWA (Royal West of England Academy) and designed for adults and kids of all ages to do together. No pre-booking required.
Have fun mixing light and shadow play to create installations and drawings with artist Laura Phillimore. This session, which takes place from 2-4pm is suitable for all the family. Laura Phillimore trained at Bristol Old Vic theatre school in Theatre and Costume design and is founder of Dream and Make, which explores narrative-led immersive art experiences for children and families. £3 per participant, booking advised.
Junior Drawing School at RWA (18-19 February)
This workshop hosted by Wot Pots in Westbury on Trym (20 February, 2-3.30pm) lets kids be super creative. Children will be taught how to make a standard pot by using the pinch pot technique then they will design their pot as they wish. It could be a unicorn, a cat or even a minion! Each child will have individual support in helping them make their chosen design.
Childrens Scrapstore events, Bristol
Children's Scrapstore are a reuse charity dedicated to helping businesses divert reusable waste away from landfill/energy recovery to art and play opportunities for children, young people and adults. Arty February half-term activities include winter Windows, Make a mess for under 2s and under 5s, Marvellous Machines, Flight of the Starlings, We are Explorers, Creatures of the Deep and World Book Day costumes.
Paint a bird box at The Kitchen, Almondsbury Garden Centre (17-21 February)
Paint beautiful bird boxes for your feathered friends at 2 or 3.30pm from 17-21 February. £6.99 per child, includes Bird Box, all paints, cookie and squash.
February half term Bristol outdoor activities
Woodland Tribe at Windmill Hill City Farm (18 February)
Come fly with us, creative workspace Bristol, make a marble run (18 feb), cinema saturday
Whatever the weather indoor February half term fun
Discover over 250 years of creativity and innovation at the oldest, continuously-working theatre in the English-speaking world, Bristol Old Vic. Take a tour of the building with surprise characters popping up along the way, complete an activity trail with games to play and questions to answer, join in with magical storytelling sessions for under 5s and become Bristol Old Vic's newest costume designer by creating a paper doll or mask.
Zion Mardi Gras, Zion Community Space (21 February)
Bring the family along to celebrate Mardi Gras with the Bristol Pan Sonic Band at Zion Community Space. As well as mask making, there'll be a steel pan workshop plus music, street food and a full bar. Suitable for all ages, doors at 6-10pm, adults £3, kids £2 (18 months and over), booking advised.
Bump Rollerdisco returns to Millennium Square just in time for half term! Various session times are available and everyone over the age of three can have a go. Skates are available to hire onsite and don't worry if you're a bit wobbly on your wheels – there are Roller Boys and Girls to help you out.
Aerospace Bristol has a packed programme of events, including daily make-and-take activities, story time sessions for under 5s (11am), and fascinating Spotlight Talks.
February half term Bristol: We The Curious (15-23 February)
Electrify your kiddo's curiosity with a day at Bristol's fantastic Science Centre, We The Curious. As well as two floors of interactive, mind-blowing, hands-on fun for children, there are fun workshops and space adventure shows in the Planetarium, plus a live science show, Expedition Earth. Get crafty in the eco-invention workshop and learn all about Glorious Garlic in the Greenhouse.
February half term days out near Bristol
Family marbling workshops at Tyntesfield (17-21 February)
Get creative at National Trust Tyntesfield by making your own marbled bookmark or greeting card (use William Gibbs' stunning copy of Don Quixote on display in the library for inspiration) in a number of family workshops. No need to book, pay on the day. 17-21 February, 11am-2pm.
Over 30 of Cheltenham's landmark buildings will be illuminated for three weeks in February. If you're in town when February half term begins (Valentine's Day!), it'll be glowing red to mark the occasion! A giant observation wheel in Imperial Gardens will give visitors a chance to view the light spectacular from above and guided tours of this beautiful Regency town are available.
Secret Spies at Sudeley Castle (15-23 February)
Put your super sleuthing skills to the test and solve the Sudeley mystery this February half term by completing a trail of puzzles, codes and riddles. There are seven specially designed clues to decode in Hieroglyphics, Morse Code, Nautical Flags and more. Mighty minds will be rewarded with a special prize! Once you've cracked the code, explored the ancient castle and it's gorgeous gardens, there's a magnificent playground to play in.
February half term at Dyrham Park (15-23 February)
Get back to nature with wildlife activities in the spectacular grounds of the National Trust's Dyrham Park. Make bird feeders and perches to take home (Mon, Wed and Fri 11am-2pm) or tackle crafts linked to Dyrham animals on Tuesdays and Thursday morning ( between11am and 12.30pm).
Sarum Lights – a light and sound spectacular at Salisbury Cathedral (18-22 February)
This immersive, family-friendly light and sound spectacular explores the 800-year history of Salisbury Cathedral. Combining soundscapes and breath-taking light projections themed around different aspects of the Cathedral's story takes about an hour to view in full.