Parent? Then you'll be in need of a child-friendly boozer! I've rounded up my favourite family-friendly pubs with outdoor play areas in Bristol…
Finding a good child-friendly pub with an outdoor play area is on my to-do list most weekends. I'm talking about somewhere the adults can get twirly on delectable locally-distilled gin while the offspring wear themselves out tearing around the playground. Somewhere you can talk in actual uninterrupted sentences with other grown-ups, because the kiddos are busied racing around the garden.
It also helps if the pub in question has baby-changing facilities, a great atmosphere and staff who don't blink twice through all the boob feeds, discarded food on the floor, tantrums and sea of buggies. Here's my golden list of the best pubs with outdoor play areas in Bristol.
Pubs with outdoor play areas in Bristol
I can't shout from the rooftops enough about this place, it's no wonder it won an award for it's child-friendly efforts. Inside is huge – there's tons of seating where family groups can snuggle themselves away and toys are available in the kids area to entertain the young'uns. Baby and toddler groups run riot in the skittle alley/soft play room on weekdays and there's a vast garden with great outdoor play area, including swings, slide and wooden climbing structure. To top it all off there are ducks and bunnies too! Parking onsite is a bonus and the food's tasty too.
What a treat it was to discover that our local pub serves delicious grub, a lovely range of meals for kids and has a great outdoor play area and pizza oven! There are toys and books should children get a bit antsy while you're eating and the staff are forgiving (should your toddler try and join them behind the bar) and helpful too.
To find a drinking establishment in Bristol with this much outside space is excellent indeed. Inside it's rustic industrial-chic, while outside is a large garden with artificial grass, tables and booths to sit and enjoy a beverage or two and little wooden wendy house for kids to play in. There's also games corner for kids, who are welcome until 7pm. The owners also own The Windmill in Bedminster, which is equally family-friendly. Crack-a-lacking.
This child-friendly pub belongs to the same family as the Eastfield Inn and ticks all the boxes when it comes to good ol' family boozers. Inside is huge, so it's particularly good if there's a gathering of a few families with young kids and there's a fenced-off indoor children's area to keep little'uns entertained while you catch up over a swift half or two. They also have a big outdoor play area with lots of tables and chairs for kids to run wild in warmer weather.
This family-friendly Bristol pub has that gastro vibe going on, so it's perfect for a special lunch or evening meal out when the kids are in bed. However, if you're planning on taking them along with you, the pub caters perfectly for them. The extensive menu features lots of locally-sourced, award-winning food, plus imaginative dishes for kids. In summer it's great for whiling away a sunny afternoon in their garden while the kids run amok in the wooden castle and tyres.
If it's a good ol' family-friendly country pub with outdoor space you're after, about a 15-minute drive out of Bristol, you'll find this characterful boozer in the country village of Littleton-on-Severn. Once a 17th Century farmhouse, inside oozes old-world charm, while outside there's a great big garden with picnic tables and lovely views (although not an actual playground per se). Borrow a blanket if there's a nip in the air. It's also dog-friendly if you've got a pooch in tow.
This Michelin-starred pub, run by Bristol's celebrity chef Josh Eggleton, makes me want to up sticks and go and live the Chew Magna country lifestyle. Only 20 or so minutes from central Bristol, you're in rural countryside here with rolling North Somerset hills, farms and fields to gaze out from the outdoor tables. While there's no 'play area' as such here, there's a ton of gorgeous outside space with orchard and veggie patch to explore if your kids won't sit still at the table. The food, service, vibe and view here are all phenomenal.
The Salthouse, Clevedon
Based in a listed building right next to the start of Poet's Walk and Clevedon Marine Lake, this lovely pub has an outdoor play area within view of some of the outdoor seating area, so you can sit, eat, and drink in pints and views while the kids play (the perfect parenting combo right?) It's a picturesque spot, particularly on a sunny day and the perfect place to refuel after a coastal stroll or dip in the marine lake. For extra family entertainment, there's often a bouncy castle pitched just across the way on warm days, and the Salthouse Fields miniature train skirts the field opposite.
The Salthouse has a small-ish car park right next door and if you manage to get a space here you can redeem the cost against your food and drinks. If it's full, there is a bigger car park right next door.
During Covid, the pub are currently offering a reduced menu and table service for food and drink.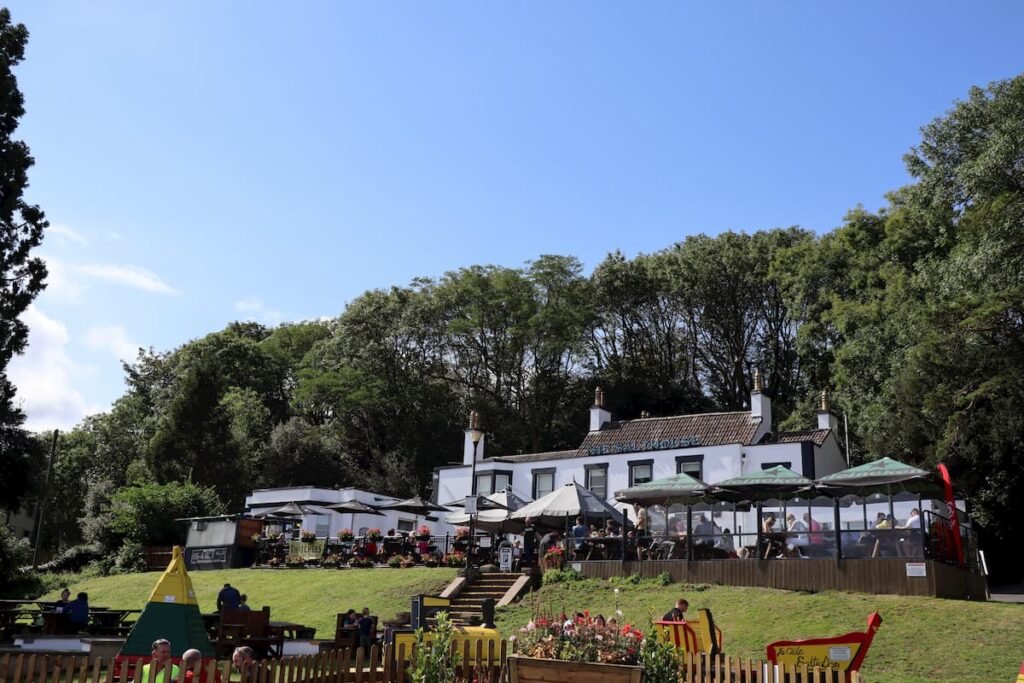 A 10-minute drive from Bristol (and Bath!), the Lock Keeper -as the name suggests – sits in a pretty spot on the banks of the River Avon, next to a lock. It's been a licensed public house since the 1700s (albeit under a different name) and is a cracker of a pub that ticks a lot of boxes when it comes to kid-friendly boozers – massive outside beer garden (just watch them near the river!), tasty grub and they serve an excellent-looking gin. Their grounds are also large enough to fit in their very own Petanque pitch and there's a large grassy area where you can see the water rushing over the weir up-close.
If you fancy a pre- or post-pub stroll, there are riverside walks to Bath (Swineford) in one direction and Bristol (past the old Fry's Chocolate factory) in the other.
It never fails to amaze me how you can drive just 25 minutes out of Bristol and find yourself in rolling rural countryside. Sitting at the foot of sloping hills and overlooking fields this Bath Ales-owned,
family-friendly pub is a great place to end up after doing a walk nearby. Inside the pub has a characterful charm, with cosy country inn vibes and a roaring fire in the hearth on cold days, while outside you'll find beer garden tables overlooking an outdoor children's play area, where you can enjoy your pint while the little ones play. 
Not far from the Swan at Swineford, tucked away in the midst of rolling green hills and fields is Park Farm – the home of The Bath Soft Cheese Company. If you've ever tasted the award-winning, artisan handmade cheese, it's idyllic countryside origins will go a long way to explaining why it's so damn delicious. Although more of a cafe/restaurant than a pub, you can still sink a cider or beer (alongside some of that scrumptious cheese) and there is a great outdoor play area for kids while you do it!
Their website shows some fantastic country walks to do in the area – I recommend the short circular, riverside walk with young kids, before refuelling back at the cafe. *Tip: take an empty bottle with you to fill up with their super creamy milk before you leave.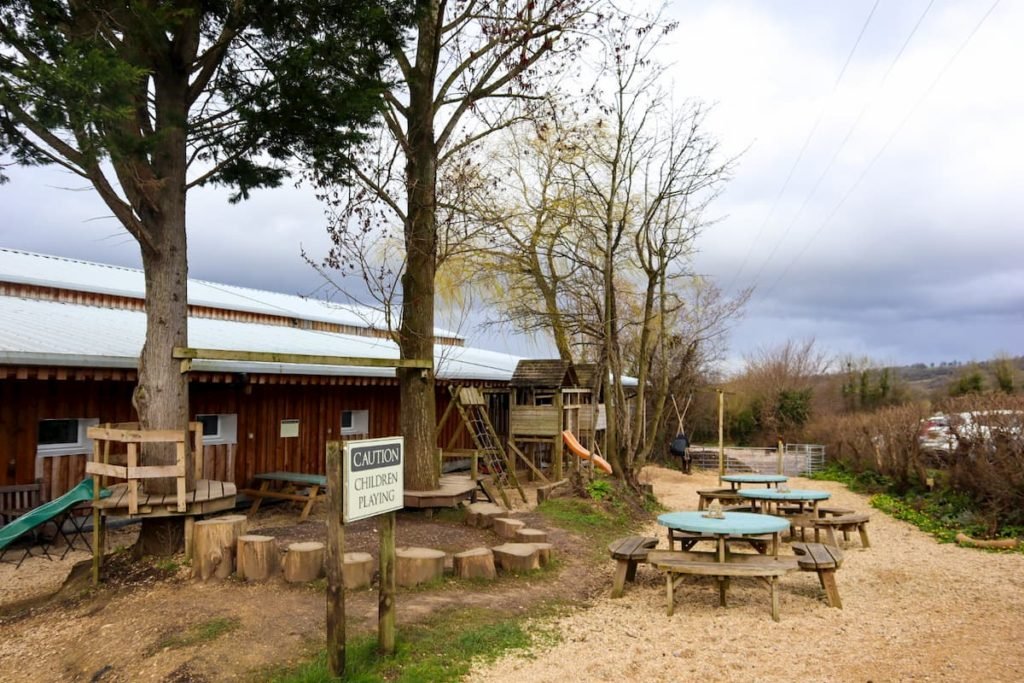 Discover more child-friendly places and things to do in Bristol with kids:
Pin it for later: