Have you planned your Easter holidays yet? There are some cracking (sorry) Easter activities for kids taking place in Bristol, and it's not all about egg-hunting. There are bear, llama, wildlife, unicorn horseshoe and glow-in-the-dark eggs to be sought out at attractions in and around Bristol, plus lots of other special Easter activities. Just take a look at this egg-cellent (sorry) lot…
Easter egg hunts and trails in and around Bristol:
Pick up an activity sheet from The Bristol Cheesemonger (or Better Food Company if it's a Monday), and search for bright coloured eggs in the windows of Wapping Wharf's restaurants and independent shops. Employ your cleverest clue-cracking whizzes to spell out an Easter-themed sentence in exchange for an egg-citing reward.
Go on a bear hunt and go and catch a big one…or twenty ginormous ones at Wild Place Project this Easter. Ahead of their summer Bear Wood opening (when they will become home to real life bears), the six foot tall, artist-painted bear sculptures have been hidden around the grounds, with four mini trails to complete while seeking them out.
52 Calmer Llamas decorated by local schools and youth groups have been hidden around Broadmead, The Arcade, The Galleries, and Cabot Circus using special maps (available from The New Room, Specsavers on Merchant Street, Barber Browns on Bond Street and Cabot Circus the information desk). Extra activities will take place at The New Room throughout the Easter holidays, including a 'Calmer Llama celebration week' when all the llamas will be displayed.
Clifton Observatory invites Easter sleuths to take part in their Giants' Easter Hunt! Explore the Camera Obscura and the Giant's Cave searching for clues that will lead to an Easter surprise. Head to the Observatory and ask the receptionist for your pack.
14 unusual birds are making a home for themselves at WWT Slimbridge Wetland Centre this Easter. The giant Dusty Ducks have been designed by celebrities – including Steve Backshall, Joanna Lumley, Chris Packham and Kate Humble –  and will form a trail around the wetlands as part of their farewell tour before they go to auction. Slimbridge are also running Aardman Model Making workshops on 17 April (Dusty Duck is designed by Aardman).
If you're a National Trust member, Easter is a great time to maximise your membership! Discover more about Gibbs family, inhabitants of Tyntesfield during the 1800s. There are Victorian activities to get involved with, such as speaking Spanish, cup and ball, and quoits and a yummy treat at the end…
Sniff out all the eggs, including three bonus golden eggs, hidden around the zoo in this animal-themed Giant Easter Egg Hunt. There are chocolate eggs on offer for victorious trail hunters as well as Easter arts and crafts for a small donation towards their chosen charity, the World Land Trust.
Ahh the best kind of trail I've heard of so far – a NEON glowing egg trail! Cheddar's Easter Bunny has hidden glow-in-the-dark eggs in Gough's Cave and left behind mysterious clues for egg-seeking families to solve, in return for an edible treat! Don't miss the Easter crafts taking place in the Museum of Prehistory.
What does it really mean if you spot six magpies? Were blackbirds really once baked in a pie? The spectacular Dyrham Park (another National Trust place, towards Bath), will be exploring
17th century
myths and legends from nature in an Easter trail around the ancient parkland. And if little ones need a little motivation, know there is a C
adbury Easter Egg Hunt if you complete the trail. The egg trail
costs £2.50 per trail on top of normal entry.
Easter weekend is expected to be busy so if you prefer a quieter time, aim for a mid-week visit.
Avon Valley are turning Easter into magical, fairytale fest! As well as a Golden Egg trail (with choccie egg and return park visit to win), there will also be egg decorating, plus lots of unicorn and fairytale-themed activities including a Dragon's Lair Mini Maze, unicorn trick show, unicorn horseshoe trail, Princess meet and greets plus lots more! Enchanting.
Explore the delightful Victorian walled garden next to Blaise House Museum (2-4pm), before taking part in the Easter Bunny Trail. There will be various art and growing activities to take part in during the day for budding Easter crafters.
Hosted by Blaise Castle Museum, Bristol Museum & Art Gallery and Avon Wildlife Trust at Blaise Castle Estate, this Easter eggs-ploration is not a hunt for choccie eggs, but real ones!
Drop in any time between 1pm-4pm to help create a giant birds nest, decorate an egg, make a bird feeder to take home and explore the nature table. There will also be a nature walk at 2.30pm, so be sure to reserve your free place on the day.
Complete the Easter trail around Windmill Hill City Farm, then join in with chopping wood and making pancakes over a fire! Sessions run between 10am to 12 noon and 1pm to 3pm. Suitable for over 4s, £2 per child, no need to book, just drop in.
Dragons will be swooping into the magnificent Berkeley Castle for a 'roarsome' egg-stravaganza! Look out for dragon babies, dragon puppetry, dragon tales in the Great Hall told by mystical dragon handlers, dragon face painting and a Chinese dragon procession to take part in. There'll also be an egg and bunny Easter hunt around the Castle grounds (plus a reward for finding them!)
Easter activities for kids in Bristol:
The ever-popular Funderworld fair returns to The Downs in Bristol. There are over 50 rides and attractions including all the faves – classic ghost trains, dodgems, and waltzers, as well as new and thrilling rides.
See the retelling of the story of Holy Week and Easter within the walls of the cathedral.
Easter is all about positive actions that humans can take to tackle the challenges facing our future on Planet Earth. Investigate what's in the air we breathe, become an Air Detective and check out the data behind the news headlines, examine the role of protein in our diets and cook up an alternative storm in the Kitchen. You can even journey into outer space for a fascinating view of our impact on the climate in Spring Stargazing 3D, plus lots more!
Celebrate 10 fish-tastic years of Bristol Aquarium with games, interactive activities and talks. Discover the wonders of the deep, find out about eggs-traordinary marine animal births and the strange lives of underwater creatures.
Budding palaeontologists can geek out on dinosaurs in a hands-on workshop. Meet the Bristol dinosaur, handle fossils, dress up and make a fossil cast to take home. Suitable for children aged 6-8 years.
Get your kids outside this Easter and take them along to play in the woods, create Easter decorations using natural materials, and dig in the mud at Arnos Vale Cemetery in this Easter-themed Forest School.
Calling all vintage transport lovers! Head to Avon Valley Railway over this weekend to admire some of the original Star Tugs from the 1980s TV series. There will be also be a vintage fire engine at Bitton (featured in the TV detective series Endeavour) and, operational demands permitting, a modern fire appliance from Kingswood Fire Station on Saturday afternoon as well as all the normal steam and diesel services. You can even take a trip onboard Bristol's historic Pyronaut, which will be joining Avon Valley and offering short trips on the River Avon at the end of the line (a small extra charge applies).
Join bird expert Michael Johnson for an early morning stroll and discover how to identify birds on The Downs in Bristol before heading back to the Zoo for a spot of breakfast – meat or veggie options available.
Bristol-based Fry's Chocolate, was the first company in the whole world to make chocolate bars, and one of the very first to manufacture chocolate Easter eggs? So it's fitting that Avon Valley Railway will be celebrating the return of the old Fry's chocolate factory steam locomotive from Keynsham over the Easter weekend. And there'll be free Fry's chocolate for every lucky kiddo!
This drop-in session for kids will take place from 11.30am-2pm at the lovely Tobacco Factory Sunday Market. Children can have a go at making pom poms and then turning them into a cup cake or ice cream cone. This is a free event and all materials are provided but donations are appreciated. Treat yourselves to some scrummy street food from the market afterwards.
Watch blacksmiths Kingdom Forge (named after Isambard KINGDOM Brunel) demonstrating traditional Victorian metalworking and crafting methods in a bustling Victorian Dockyard. They'll be using the same processes used to make the rivets and chains of the magnificent SS Great Britain alongside 'real-life' characters from the Victorian age. You'll also be able to get involved with coal shovelling and riveting, chat to the blacksmiths, climb the rigging (if you dare!), explore the sights and smells of the ship and accompanying museum, Being Brunel.
Got some budding GBBO contestants in your household? Send them off to learn how to make and decorate their own Easter Egg on 9 April at Cooking It! Other Easter holiday cookery classes for 7-13 year olds include baking classes, Yankee Doodle classes (involving handmade burgers, brownies, cowboys in blankets and burger buns) and a Mad Hatters Tea Party Workshop.
This year's festival features more sculptures than ever before. All inspired by faraway shores, there are Greek gods, sculpted animals, twirling figures, stained glass creations and more.
Navigate your way through the retelling of the story of Holy Week and Easter within the stunning walls of the cathedral.
Got a kiddo who's crazy about dinos? This hit stage show starring dinosaur aficionado Dr Ben Garrod will take you on a thrilling pre-historic adventure through the deadliest predators that ever roamed the planet. This interactive, educational and engaging show uses film footage from the BBC's 'Planet Dinosaur' and pits the knowledge of parents against their clever kids.
Family-friendly Easter theatre in Bristol
The Park Family embark on an adventure into a misty past in this hilarious take on Spielberg's classic. It's a theatrical celebration of cinematic nostalgia and a powerful reminder of the ones we love. Suitable for ages 8+.
Princess Ida presents a comedic twist on a traditional medieval fairytale. Betrothed in childhood to a Prince, Ida rebels,  renounces mankind and founds a university for women instead. Hilarity ensues with the prince trying to win back his promised bride. For an extra dollop of fun, take the whole family to the matinee performance on 6 April and dress up as a prince, soldier or princess to join the cast onstage!
A delicate dance-theatre performance from Peut-Être Theatre for children and grown-ups, playfully exploring sound and silence. Two characters set out on a journey through a world filled with Boings, Whooshes, Tick-Tocks and Cacophony!
Have you ever dreamt of swimming with dolphins? Arm wrestling an octopus? Exploring the ocean in a submarine? Then join Alph, Betty and Gammo on this magical, interactive journey across the seven seas meeting incredible creatures, exploring unmapped shores and tackling unwelcome plastic with plenty of songs, humour and audience particpation along the way.
Easter activities for kids – Bristol boat trips 
Take a break from scoffing chocolate and head down to Bristol Harbourside for a wacky, watery adventure with Bristol Ferry. Boats will be leaving from Prince Street Bridge Landing, leaving on the hour and cruising around the Floating Harbour for 45 minutes. You'll discover the unexpected story of Easter and receive an Easter gift! Suitable for kids up to 12 years old.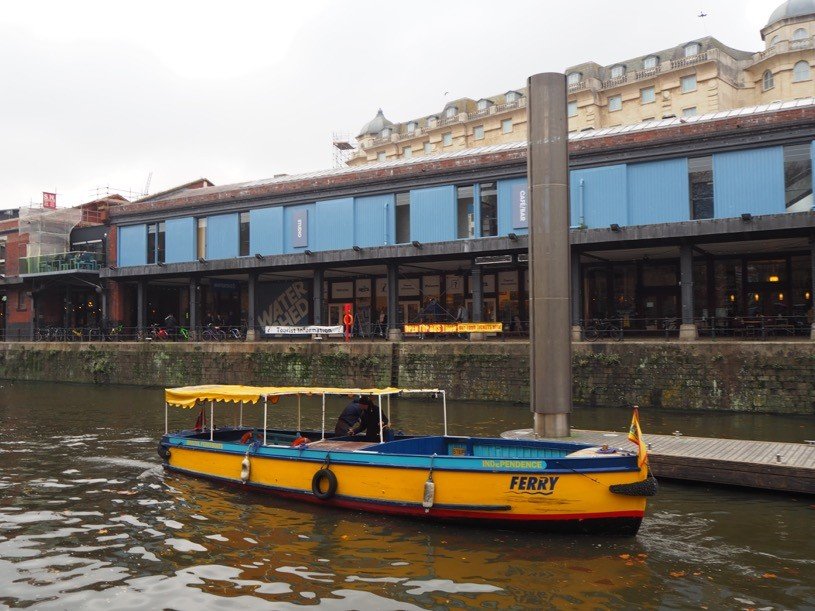 On this spectacular mini voyage, you'll pass under Clifton Suspension Bridge and along the Avon Gorge to Pill and back, on one of Bristol's most famous ships, The Matthew (a replica caravel of the one John Cabot discovered North America in hundreds of years ago). You'll also have the chance to lock out into the river through one of the deepest locks in the world. Trips are tide-dependent, so early booking is advised! You can also bring your own food and buy booze, soft drinks, teas and coffees at the onboard bar.
Learn more about Brunel's famous landmarks with Bristol Ferry during this 2hrs 40min trip. Set sail from Bristol Temple Meads, next to Brunel's first tunnel bridges, before floating past Brunel's SS Great Britain and towards the historic lock gates. From there you'll see another famous work from his portfolio – Clifton Suspension Bridge – before heading home.
Even more Easter activities in Bristol…
It's always the way, I publish my blog post and then discover a whole host of other Easter events!
37. Easter Holiday Dragonbird Theatre
This creative, fun, little theatre band was put together by drama teachers/performers Tilly Langdon and Lotte Norgaard back in 2012. Their shows normally start with a play, followed by interactive games that the whole audience (adults and children) can participate in. The Sun, the Moon, and The Things They Do' is the theme of the April show (and family sessions are available during the Easter holidays), but get your tickets quick – they always sell out!
1 April: Kelvin Players, Gloucester Road – 10am & 11:15am
2 April: St Werburghs Community Centre – 10am & 11:15am
3 April & 10 April*: The Greenbank, Easton – 10am*, 11:15am* & 1:15pm *FAMILY SESSIONS
4 April: Windmill Hill Community Centre – 10am & 11:15am
5 & 29 April: Clifton/Redland: 10am & 11:15am
9 April: Long Ashton Community Centre: 10am & 11:15am – FAMILY SESSIONS
Taking place at one of Bristol's best baby/kid-friendly cafes, this Easter event will include Easter themed activities, arts and crafts, a Treasure Hunt, Interactive Disco and a meet and greet with Donald Duck! Suitable for 4-7 year olds.
Easter workshops will be running at The Flamingo Centre on Southmead Road. Morning sessions run 10am – 11:30am for 5 – 10 year olds, while afternoon sessions run 12pm – 13:30pm for 11 – 15 year olds (although they can be flexible on the age ranges if you contact them beforehand to discuss). Workshops range from fused glass sun catchers and Easter eggs to yoga and mindfulness, needle felt, hair plaiting and more!
Join the quest to find the number eggs hidden around the Garden Centre to earn your very own magic beans! All donations to St Peter's Hospice.
Find Reg the Rabbit and his friends hiding out at Ashton Court Mansion! Pop into the Courtyard Cafe to collect your trail sheet then head down to the Rose Garden to look for pictures of animals or insects. Jot down their names to reveal the winning words. This fun free wildlife trail is suitable for children aged 4-8 years.
There's free music, singing and theatre workshops with Naomi from Jolly Tots at colourful Bambalan from 10:30am on selected dates. Hang around for a spot of lunch and the kids can eat for free!
Bristol's two leading family theatre experts Soap Soup Theatre and Tessa Bide Productions are collaborating to bring Oscar Wilde's touching children's story The Selfish Giant to life in The Weston Studio. Grinter the giant lives alone behind huge walls, shut out from the world long ago. One day, the children – tired of playing on hard roads and grey rooftops – find a chink in the giant's wall and climb through, changing the course of the children's and Grinter's lives forever. Expect storytelling, captivating puppetry, enchanting music and a sprinkling of magic.1.30pm, 10.30am (Tue Mat) From £6 (Kids) / £10 (Adults) /£25 Family Ticket. Ages 4 – 10.
Bristol's favourite maker of silliness and rock'n'roll theatre shows Kid Carpet is back with the fourth instalment of his Noisy Animals adventure – Noisy Holiday! Expect flying tents, diving bears, massive carrots and Ibiza anthems in this ridiculous and hilarious tale of going on your holidays. 10.30am, 1.30pm. From £8. Ages 3 – 8.
1766 Bar & Kitchen is holding free School Holiday storytelling sessions on Coopers' Balcony. Experienced story tellers will be taking children on enchanting adventures through their tale telling, while parents and carers are able to chill out with a cuppa downstairs. After each story session, youngsters will be invited to draw and write their own stories, inspired by the adventure they have just heard. The unticketed event is aimed at kids aged 4-8 on a first come, first serve basis.
Want these kind of posts straight to your inbox? Sign up to receive my newsletter below:
SIGN ME UP FOR THE NEWSLETTER
Discover more things to do in Bristol with kids:
What to do in Bristol with kids when it's raining
10 Coolest things to do in Bristol with kids
Pubs with outdoor play areas in Bristol